Readers!
It sure looks like the world of EDH finance is moving a lot faster than it used to. Back before I popularized the EDHREC method, we used to have weeks to months to wait for people to fine-tune their decks and while that's still the case, we're also seeing very, very early spikes in "obvious" cards for these decks. People used to not bother because most of the finance community thought EDH was for, to quote an mtg finance thought leader earlier on twitter, "filthy casuals."
Everyone plays EDH these days and everyone who is successful at MtG finance these days recognizes that EDH is the primary price mover in Magic. It can't always spike cards as hard as other formats but it certainly moves a wider array of prices, lends some cross-format applicability to the cards spiked by other formats and doesn't rotate or have the kind of ban-risk other formats have. If we can get over the FOMO of seeing other people leap at cards like Aurelia's Fury and just stick to our fundamentals, there is plenty of actual, sustainable, non-speculative money to be made. Aurelia's Fury is going to spike hard because it's obvious but it's not likely to hold the price it peaks at because the amount of play it gets will be high but not as high as the hype.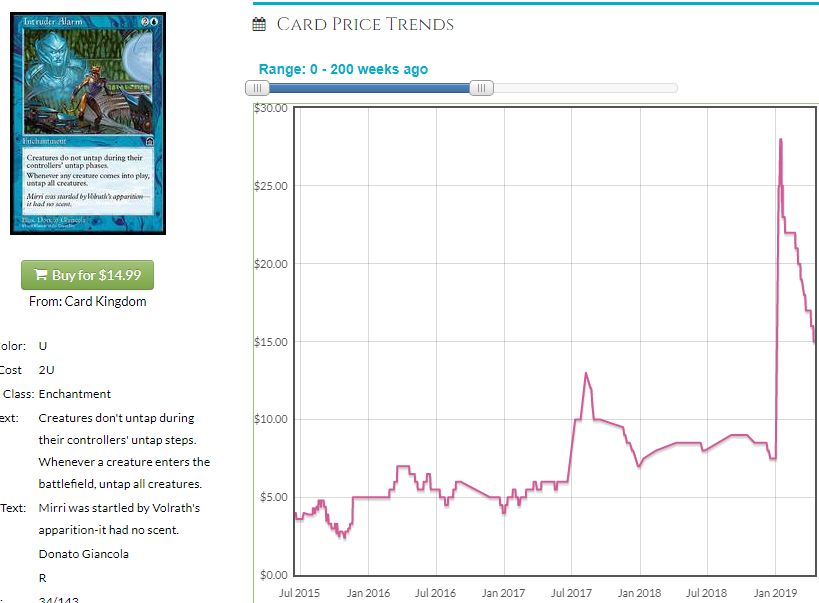 Hype fades, let's aim for sustainability.
Luckily the world of EDHREC data is moving a bit faster these days and we have a few lists to work with before the spoilers. It's still early and people who are very early builders can skew the data a lot so it's best to regard it with caution so I'm going to mostly ignore the numbers. What I'm aiming at is ideas right now – cards builders find that the average person who knows EDH players will want Feather, some lands, probably a Sol Ring and an Aurelia's Fury but couldn't fill in the rest of the list won't be able to figure out. Let's leverage our tools, shall we?
The set isn't even spoiled and we have 11 Ilharg, the Raze Boar decks to look at. Ilharg could be this set's Nikya, something the speculator community isn't as keen on but which will end up being more popular than a deck they are more keen on. I think Feather is an exception in that it's hype because the cards are obvious and also hype because the deck is just going to be fun and interesting to play – it's Teysa Karlov and Vannifar in one. So what's the set's Nikya? Let's look at what Ilharg has spiked already.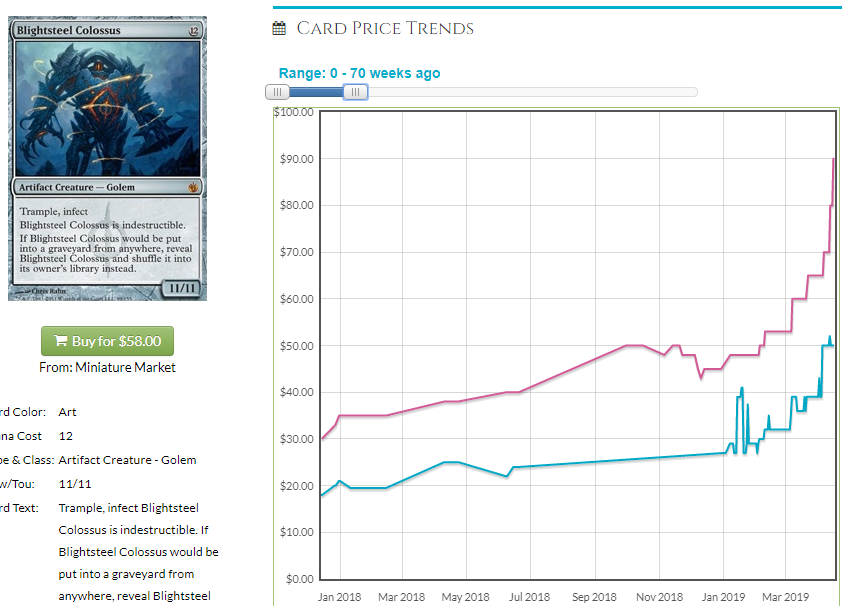 Blighty was already on its way up but this sort of cemented it. This card badly needs a reprint and unfortunately, during the time period it would have needed to have been noticed to get us a reprint anytime soon, its price was creeping up slowly (CK in pink, best industry buylist [probably also CK] in blue) and now it's making a sprint for $100 like some giant monster just put it into play tapped and attacking for, you know, lethal.
Ilharg hype contributed to this move and while this card is "obvious" I think there's more to uncover here and 11 decks may not tell us the proper ratios of inclusion but it can tell us what 11 people are going to buy and that number will grow every day.
I tend to avoid Legendary creatures because being a commander isn't always enough in my view, but look at those numbers already. Neheb generates a ton of mana which makes him just as good in the 99 as he is in the command zone. Ilharg is a mana-hungry deck because if Ilharg goes down you need to cast those fatties and not only that, you can really get ahead by casting stuff on top of the freebie every turn. Neheb is at an all-time high but being a Legendary creature significantly lowers his reprint risk IMO so I think this is a pretty good play. You can't make a ton buying in above $7 but I think the growth is significant and it's unlikely to slow with a new Mono-Red fatties commander being printed.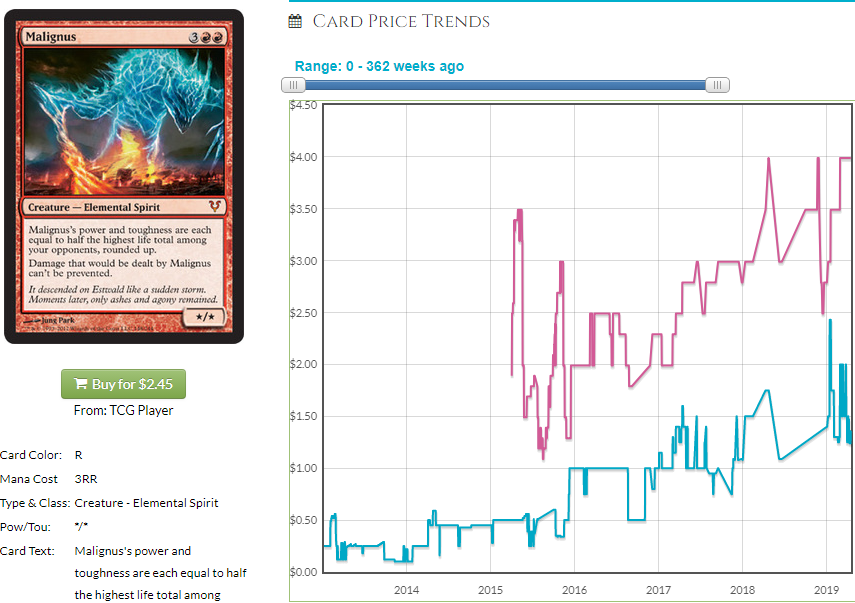 Malignus is an odd mix of casual raw power and appeal, being old, being a mythic and not being that expensive. It doesn't get played in a ton of decks but in the decks where it is played, it's an all star. It's up irrespective of Ilharg hype and I see it as a strong contender to move some more.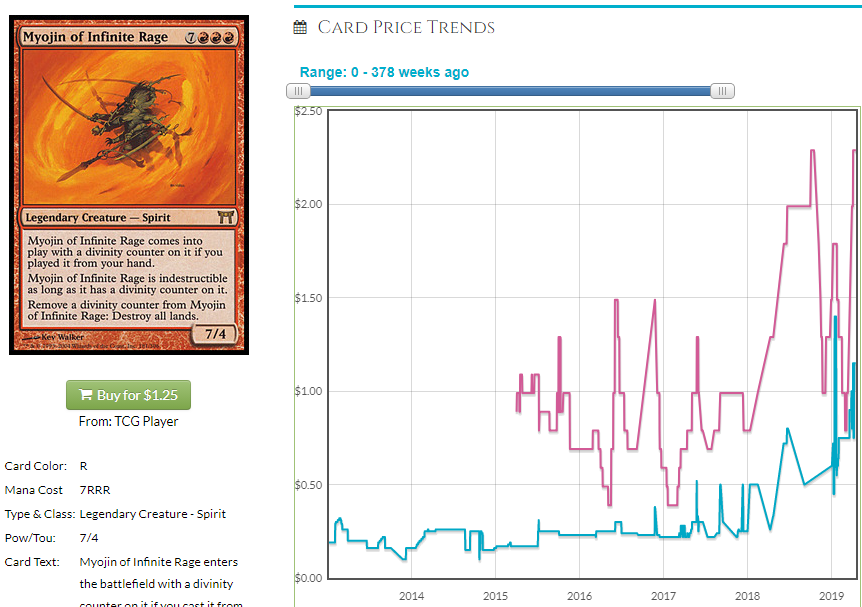 I hope this shows up in some decks but I also hope people look up how this works with Ilharg. It's a big mana red deck and you can usually cast this from your hand and when you nuke all lands, you're getting a free creature every combat and they can't play spells. You wrap the game up quickly. I don't know if this will catch on and it's in like a quarter of those 11 decks but it's a thing, at least.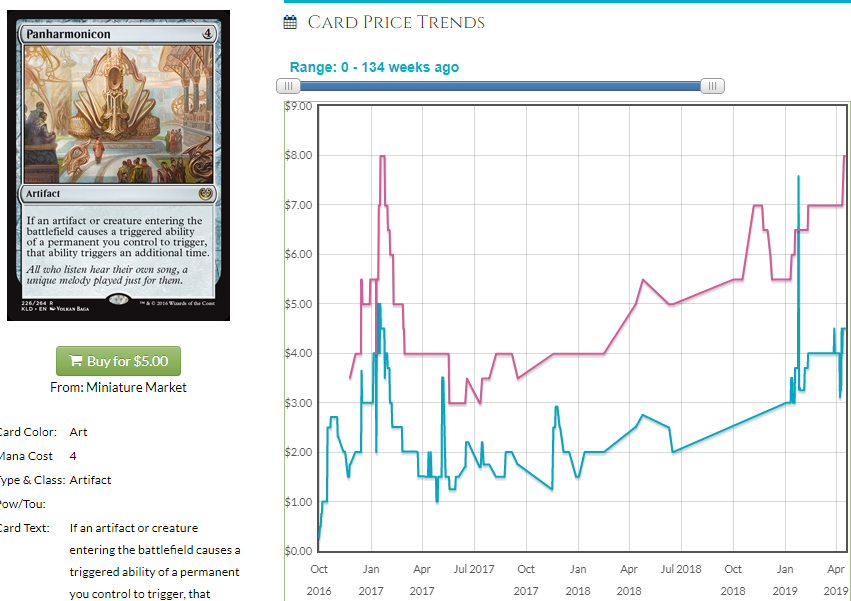 See the blue line going above the pink one? That's arbitrage, baby! That's an arbitrage opportunity buying the card on Card Kingdom, one of the most expensive sites. This card will go up steadily until it's reprinted, which may take a minute since it was only like $3 a year ago. This is free money but how much I don't know. Specs that go from a quarter to $6 are sexier.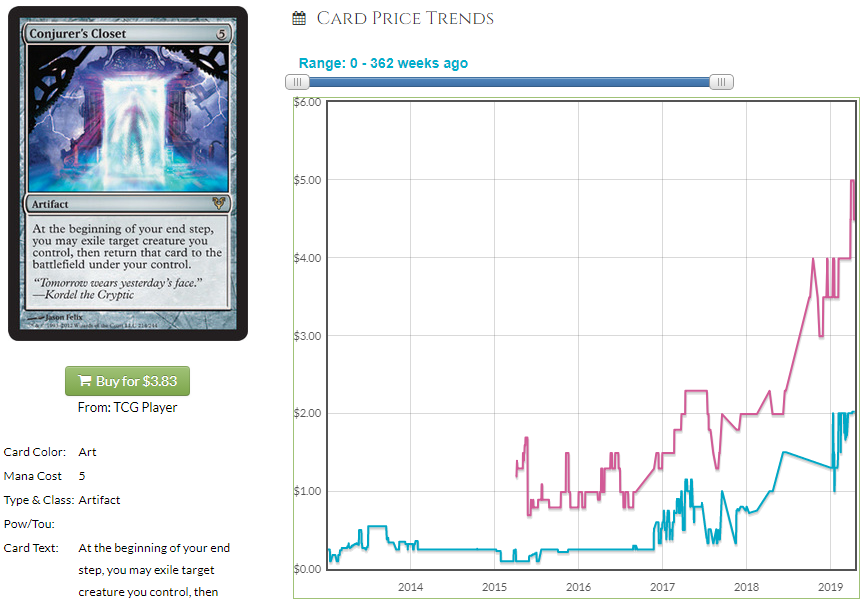 Finally a card that not only interacts with Ilharg in a pretty disgusting manner, it also shrugged off a commander deck reprinting (albeit very long ago) and is an artifact so it can go in a lot more decks than a red card giving you a lot of non-Ilharg chances to recoup. If this gets reprinted in a commander deck, it will likely be so good in that commander deck that loose copies are less likely to hit the market and you should be insulated a bit. Look at that growth since 2015 – a reprint is nothing but an opportunity to buy in at the bottom of a U-shaped graph, you know, my favorite thing.
That's all for me, readers. Thanks for tuning in and remember, ignore FOMO and focus on the technique we developed here these last 5 years. Until next time!