This is likely the best weekend of the year when it comes to Constructed Magic.
We've got the double whammy of four sets leaving Standard and a new set coming in. The cardpool is narrower, the brewing is hot and heavy, and there's an Arena event that is just perfect to get people burning wildcards.
Thank goodness SCG is broadcasting this weekend, a Team Constructed event that's likely to focus on the Standard player but this first week, all bets are off.
We've had some impressive movement on cards, some of which is permanent and some of which is a motivation to sell…
One thing to keep in mind about Throne of Eldraine cards: They are about to be legal in Standard for the next two years. These are going to be cheaper in three months, and that's when I'm planning on buying lots and lots of some of these, the staples and the most-easily-abused cards.
Oko, Thief of Crowns ($36)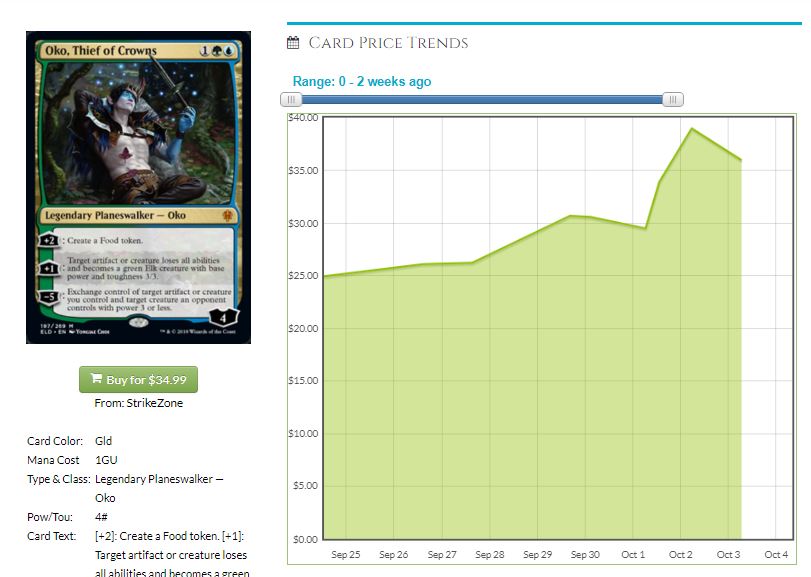 I was super wrong about Oko. I didn't see the Food synergies coming, nor the brokenness with Gilded Goose, and there's a lot more ways to abuse the Food than I'd expected. I also didn't see how high the loyalty can get, until I saw some games with it and against it. Pretty sick stuff. Oko is going to be all over the place this weekend, but this price is an artifact of the enforced scarcity of prerelease week. If you opened one, I'd sell right now, as the orders can go out as of today and the price will fall back under $30, more likely to $25.
Knight of the Ebon Legion ($10)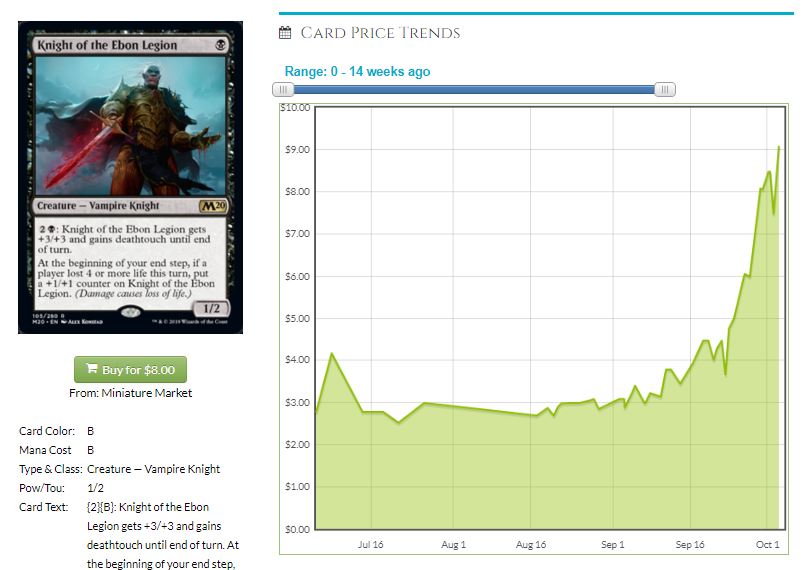 A month ago, this was $3. Knights are well-positioned for Week 1, and this is also good in an aggressive black shell. The price has been climbing steadily these past four weeks, and I'm a seller at this point. It's pretty unusual for a rare to break $10 without a lot of cross-format appeal, and the only reason this is doing so is because it's a four-of in every deck that's playing it.
For reference, here's the cards worth $10 or more from the last few sets:
Set
Cards
Price
Core Set 2020
Chandra, Awakened Inferno
Knight of the Ebon Legion
$14
$10
War of the Spark
Teferi, Time Raveler
Liliana, Dreadhorde General
Finale of Devastation
$14
$12
$11
Ravnica Allegiance
Hydroid Krasis
Breeding Pool
Godless Shrine
Blood Crypt
Stomping Ground
$19
$15
$10
$10
$10
Guilds of Ravnica
Assassin's Trophy
Watery Grave
$17
$11
Knight of the Ebon Legion is good, but you'll be best served getting rid of all extra copies in the next couple of weeks.
Once Upon a Time ($12)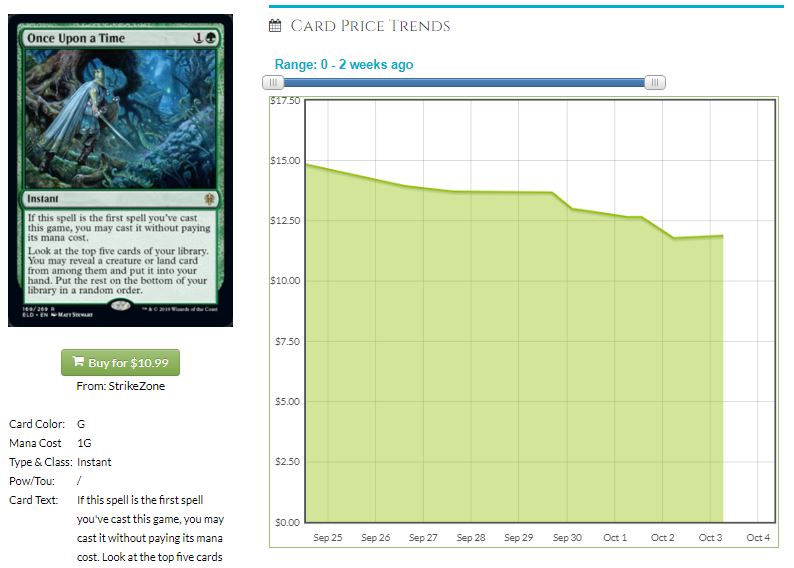 This has been trending downwards in the last couple of weeks, and that's a surprise to me, given the number of decks that likely want to play this effect. I think $12 is too high in the long term, but what I'm eyeballing are the foils and the special versions. If this card is Modern-level good, it's going to be $20 easily. The pack foils are $25 or so right now, and that's a very tempting buy-in price.
Spawn of Mayhem ($8)
A card that's doubled in price in the last two weeks, there's a lot to like. It's a mythic, it's cheap to play, good in multiples, and if you are in the aggro deck, it's possible that the other player is just dead before they can answer it effectively.
I'm not buying in at $8 and hoping it climbs to $15 or $20…yet. Let me see one or two good matches on camera, and then I'll be in to buy at this price.
Murderous Rider ($12)
I really can't believe this is a card. I keep thinking that there's got to be more of a drawback than the two life, that it can't possibly be this good. We know that Hero's Downfall and Vraska's Contempt both hit early $10 highs, and then fell back down to earth while it was in print, then popped back up to be a staple for the duration of Standard. Here's the graph for Vraska's Contempt: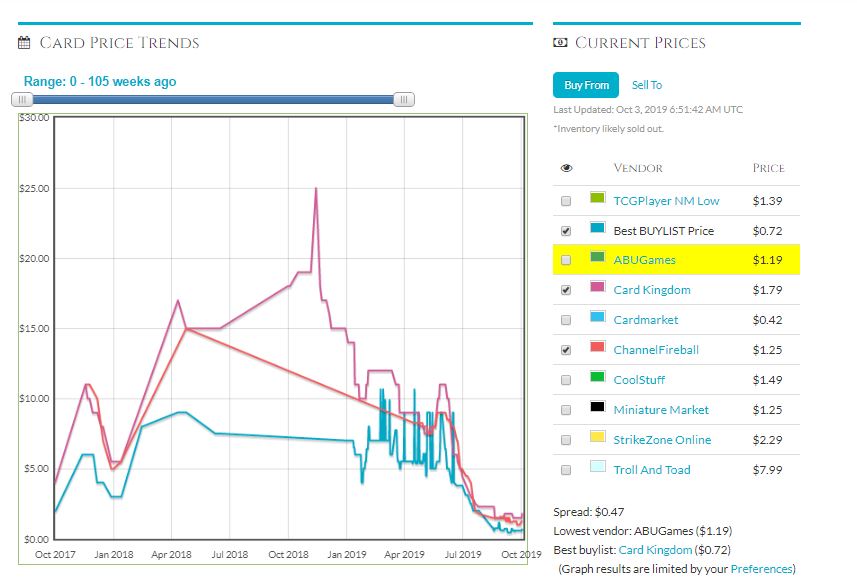 Murderous Rider is going to drop in price. That's a given. How far can the best removal spell in years fall? This is enormous value, and given how many annoying planeswalkers are running around, the Rider is going to be a mainstay for years.
I'm a seller at $12, but I no longer think it's going to go as low as $5. Instead, $7 feels like the floor, as people realize they are going to need four copies for the next two years.
The Great Henge ($12)
Now this, I'm a buyer on. It's been a long time since I saw such an unfair card for any format, and don't overlook how Commander players are going to be sapping copies out of the market. There's blessed few cards I want more in any creature strategy, and luckily that's a wide swath of Commander decks.
I think that someone is going to go off with this card on camera this weekend, and it's going to rocket to $20+. It's definitely the card with the most long-term casual appeal, and that makes me feel pretty safe and sound when it comes to picking up extra copies. It's got two years to make waves in Standard, and even if that doesn't pan out, it's a solid Commander pickup. I am waiting to see what the extended art foils go for, though. How high can it go?
Fires of Invention ($3)
This was a little over $1 early on, but people have figured out that this is good. Who knew? I like this as a component of decks that want to use activated abilities, especially Planeswalkers. It's important to note that on your turn four, you can put this into play and then immediately play one more spell. Yes, the enchantment is one of your two spells, and while that's no fun, this is a card that is going to get broken. I would have preferred the $1 price, but if this does well, I can see it rocketing up to $10 early in the season before settling back down.
Cliff (@WordOfCommander) has been writing for MTGPrice since 2013, and is an eager Commander player, Draft enthusiast, and Cube fanatic. A high school science teacher by day, he's also the official substitute teacher of the MTG Fast Finance podcast. If you're ever at a GP and you see a giant flashing 'CUBE DRAFT' sign, go over, say hi, and be ready to draft.