Pioneer is here! We've been expecting a new nonrotating format for a while, and having the fetches be banned is going to determine the outline of the format. The preliminary look of the thing is wild, with Modern's bans not shaping the new format…yet.
I get it, I do, that Wizards wants to give people a chance. There's not going to be an Eldrazi winter, since Temple, Eye, and the Tron lands aren't legal. Heck, there's not even bouncelands!
What we do have are some strong opportunities for gaining value, and while you've heard some of them, others are yet unpicked…
First of all, two caveats:
Stuff is going to get banned. Sure, there's no fetchlands, and that makes Deathrite Shaman a lot less busted, but does that mean Treasure Cruise is bad? Dig Through Time, Energy decks, Saheeli Rai plus Felidar Guardian…all of these are too good for a format like Modern, and Pioneer has a lot less answers.
Stuff is going to get reprinted. Aaron Forsythe went on Twitch and said that Mystery this November isn't Pioneer Masters, but it seems silly that they'd premier a new format without giving availability a boost. The reprints might not be soon, but they will happen. Masters sets sell far too well for this to not happen.
Keep both of these factors in mind. When a card spikes, sell and sell hard.
Heart of Kiran ($2.50 nonfoil/$14 foil)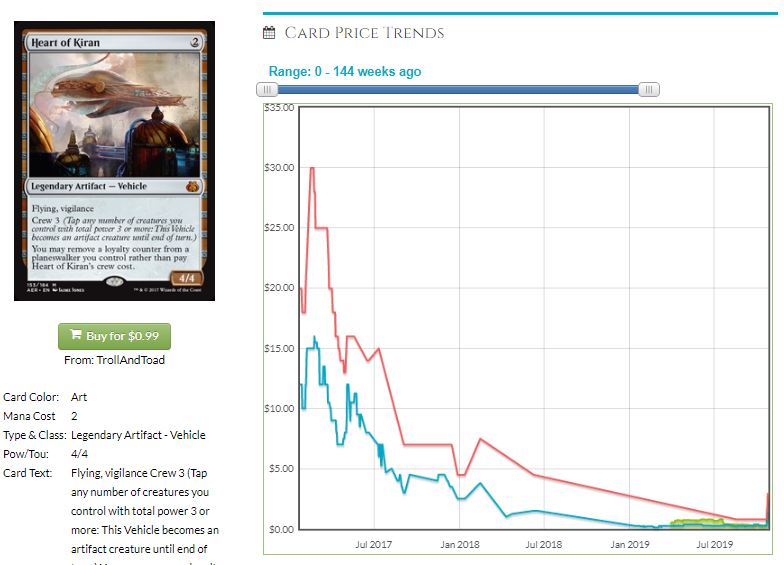 Travis picked this to hit $5 on Monday, and I think he's being super pessimistic. This is going to be $10 again, until Abrade becomes a maindeck card. We have two three-drop planeswalkers that have two plus abilities. Heart into The Royal Scions is SIX first strike, flying, trample damage coming in on turn three and that Heart will be available for defense too!
Smuggler's Copter is the Vehicle getting all the attention, because it's amazing and pushed, but Heart is the one that's got a lot less of a chance to get eventually banned.
Prized Amalgam ($2.50/$5)
There is a Dredge deck in Pioneer, but more accurately it'll be a self-mill deck. Satyr Wayfinder, Glowspore Shaman, and Grisly Salvage are going to fuel a deck that just keeps coming back again and again. I'm not sure what form it will take, but the payoffs are going to be Amalgam, Narcomeba, and likely Haunted Dead. Amalgam is the only rare I'm interested in from this deck.
Pack Rat ($2/$7)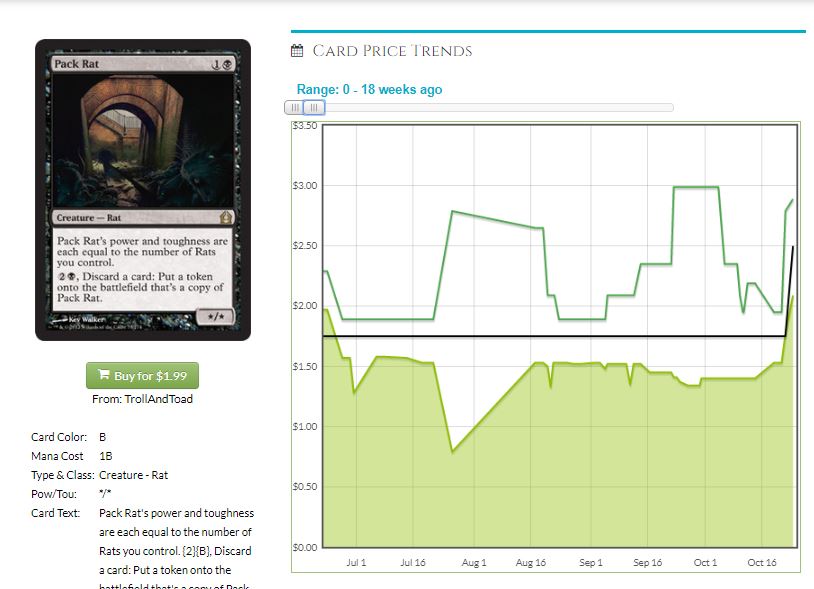 Amazingly, this has dodged a reprint all these years. People are going to start Pioneer off by rediscovering the hits of the past, and Pack Rat is one of the most resilient cards ever printed. I'm not sure if Mono-Black Devotion is going to be a thing (Or if Devotion returns when we go back to Theros in January) but the Rat was an integral piece to that deck. Thoughtseize is back up to $20, Collective Brutality is $13 (very tempting) but the discard suite is real in Pioneer, with Duress and Lay Bare the Heart likely the best options left.
Elder Deep-Fiend ($1/$2)
Wow did I hate this card in Standard, tapping my lands on my upkeep or tapping down blockers I was going to need. There's a lot of lists floating around but the good news is that people want to chain these together, turn after turn, which means you're playing the full four. As a small-set rare, there's a lot less of these out there than you might expect, and it's going to have a time where it spikes to $5 or more. Get your copies now, and feel free to hit up foils since they aren't that much more expensive.
Kozilek's Return ($2/$7)
The higher price on this is because it's absurd in Commander, with the number of giant Eldrazi and the need to clean up the little ones. Yes, in case you forgot, this plays VERY well with the Deep-Fiend, and nonfoils should make it back up to $10 when people see this wreak havoc all over the place.
Master of Waves ($2/$5/$2 Duel Deck foil)
Allow me to introduce you to a little combo I like to call "Oh no…oh yes":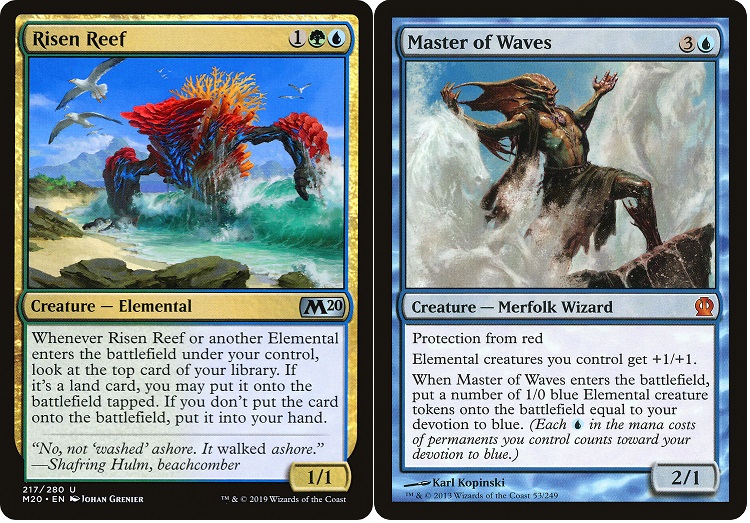 Yes, this is a combo. There's a lot of Elemental goodness to be had in Pioneer, such as Voice of Resurgence, but this is the build-around I'm fascinated with. The presence of a Duel Deck foil doesn't faze me at all, because I know how well the Master does when you manage to draw more than one. People are going to play a lot of copies, and that's to the good. Get your now before the camera shines and the spike hits.
Part the Waterveil ($1/$7)
What's lovely about this card is that it's going to give you an extra turn and hit your opponent like a truck, all at once. Yes, it exiles itself, but Nexus of Fate is legal in this format too. Waterveil is the best of the rest of the options for extra turns, unless you feel like going deep on Magistrate's Scepter somehow. If you've never cast one of these with Awaken, you're in for a good time, and dollar mythics almost never go lower. Grab a few now for when they hit big.
The Pioneer Creaturelands (fifty cents to $1.50 for nonfoils, $3-$7 foil)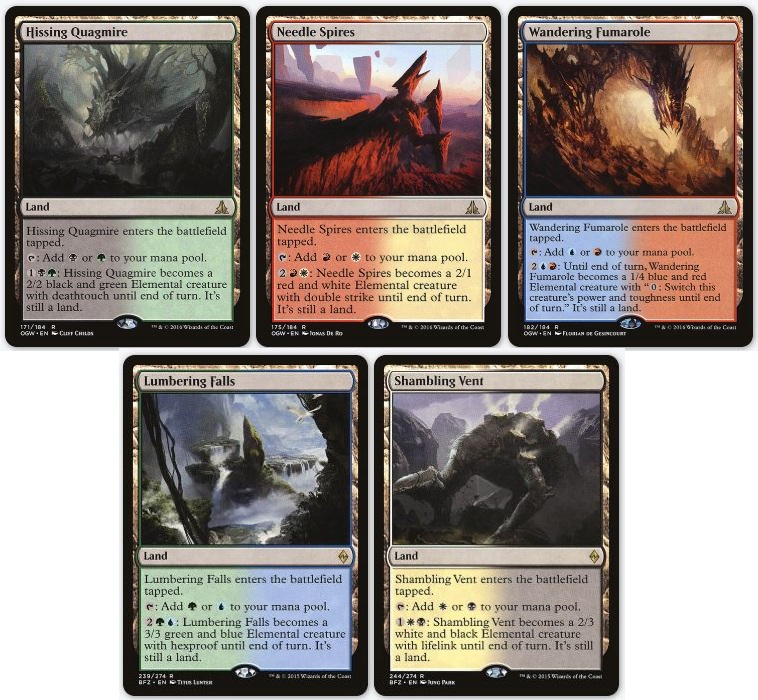 There's a lot of talk about what the manabases are for Pioneer, and so far, not enough people are addressing the creaturelands. Mutavault and Mobilized District are options too, but colorless lands need to be a bit better in this format, and all of these have seen some play when they were in Standard.
I think the default ranking is going to be shocks-buddylands-fastlands, but please don't sleep on these. All of them are still cheap, haven't moved much, and haven't been printed in several years. The good times are going to roll when all of these make it back up to $5+, and my guess would be for the BG and BW ones to be first.
Cliff (@WordOfCommander) has been writing for MTGPrice since 2013, and is an eager Commander player, Draft enthusiast, and Cube fanatic. A high school science teacher by day, he's also the official substitute teacher of the MTG Fast Finance podcast. If you're ever at a GP and you see a giant flashing 'CUBE DRAFT' sign, go over, say hi, and be ready to draft.