I think that Wizards really appreciates Commander as a format. If it hadn't been invented and codified years ago (remember, the first release was 2011!) then they would have had to do something to come up with a format like this.
A nonrotating, variable power level format where 99.9% of cards are legal, allowing players to pursue the foils, the foreign languages, the miscuts, the alters, just to make their deck unique.
If it weren't for Commander, I don't think we'd have the wide range of products and versions of cards that we have today.
Commander is also responsible for a big slice of the #mtgfinance pie. For a certain set of cards, the question is 'When will Commander players notice this card and make it jump 5x in price?' and that's both a silly thing and a very very relevant thing.
This past Wednesday, Wizards gave us a few tidbits for what's coming up, and there's a lot to unpack in the announcement…
First of all, here's the official announcement. Read it if you have a moment.
Here's the first quote that is relevant to us: "I can't possibly reprint everything, but I think many of you will be happy with the reprints coming throughout 2020."
That's the first set of alarm bells for me.
Next, we are told that the Ikoria: Lair of Behemoths release won't have Planeswalker decks, but instead will have the yearly Commander release, with more new cards than ever.
Zendikar Rising, the Fall 2020 set, will have a couple of Commander decks too but only three new cards per deck.
Then, the two biggest pieces of information:
The Commander Collection: Green is apparently taking the place of the Signature Spellbook (or alongside it?) and will have eight cards. The higher-level WPN stores will get the all-foil versions for selling, and the more plebian ones will only get the nonfoil packages to sell.
Finally, we're told of Commander Legends, a draftable Commander set. It's bigger than a normal set, a foil in every pack and two legends per pack. It'll have some mix of reprints and new cards: "It is larger than a normal set, with oft-asked-for Commander reprints and new cards alike."
Wow.
My first reaction is that this is all to the good, that more stuff for Commander players is always welcome. And then I start really thinking about it.
Takeaway #1: Dump anything you're holding for Commander purposes.
I mean this with every fiber of my being. We are going into a year of heavy-duty reprints. Hopefully, it's the medium prices like Primal Vigor and the high prices like Bloom Tender. The things that ought to have been reprinted at some point but just haven't gotten more cards somehow.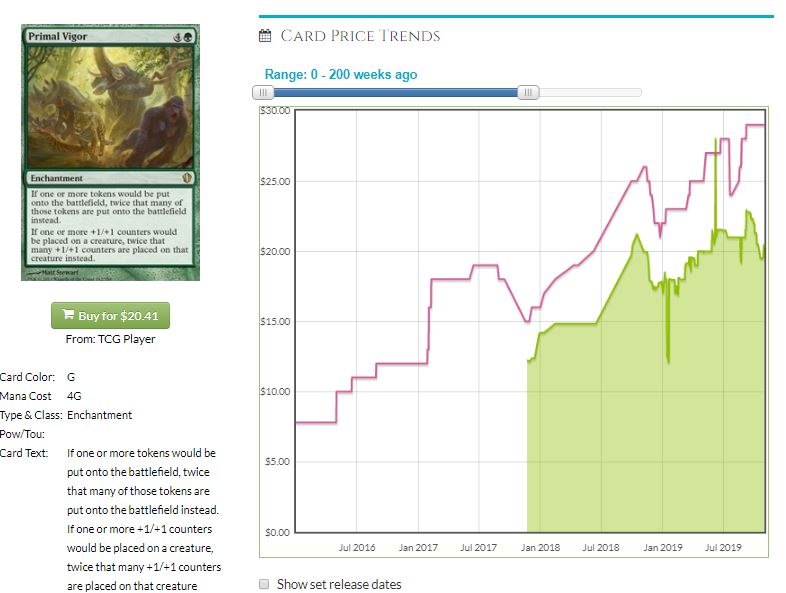 I'm going to spend the time between now and Christmas reviewing what's in my collection, with 'Is this going to take a huge dive when it gets reprinted?' as my guiding light.
Takeaway #2: We are going to see a lot of new legends, and therefore a lot of spikes. Be prepared to sell into the hype.
While I'm sorting out the things I want to get rid of, I also need to make sure that what I do have is easily accessible. Maybe you have too many cards for a binder and you're using a spreadsheet, but the important thing is that you're able to find the cards when you need to. Generally speaking, you've got about two to three days to sell into some hype, and it's vitally important that you do.
The examples are many, but let's focus on the sort of spike we're going to see with new legends. Some new card is released, and there's new synergies, and all of a sudden, a bulk rare is flying high…for four days. I give you Knucklebone Witch: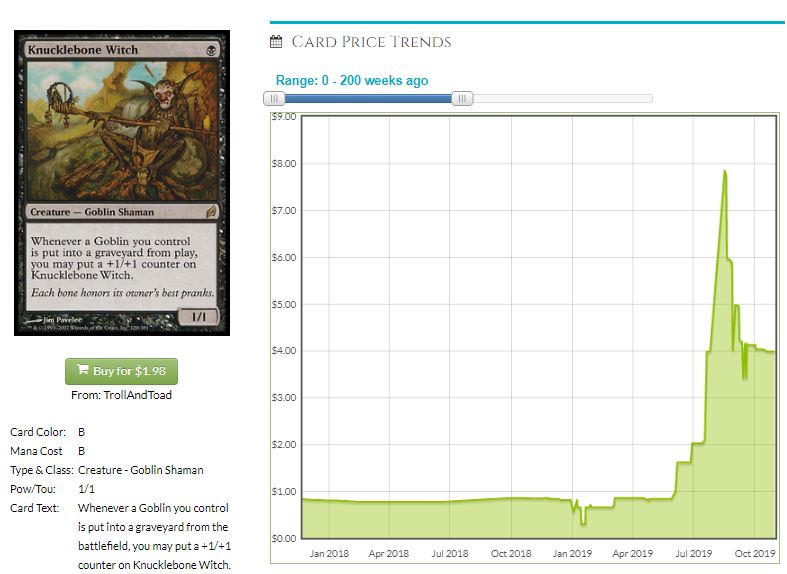 Yes, it's still selling for a big amount more than it was, but you want to be at the height of the wave. Be prepared, and avoid the situation of putting something up for sale, then being unable to find it. It's a terrible feeling and it's quite the stain on your reputation as a seller on any platform.
Takeaway #3: Prices will bottom out…but they will rise again.
The thing about staples is that they are super popular. You see this with every reprint set, how the value tanks but then rises again over time. Yes, lots of prices are going to tank, but when they do, that's the time to pick up spare copies, because there's going to be more Commander players and more Commander decks built. There's going to be a lot of reprints in 2020. Not necessarily in 2021, though.
With these ideas in mind, here's a couple of other cards for your consideration, keeping in mind that they might well get printed at some point, given the sheer number of reprints coming:
Demonic Pact ($1 nonfoil/$4 foil)
It seems likely that we will get another 'here you go' Commander in the vein of Zedruu the Greathearted. Black should get a piece of the action this time, as we've got cards like Sleeper Agent and Xantcha, Sleeper Agent to fit nicely into such a theme. If you agree with those suppositions, Pact is going to have a great time.
Weatherlight ($.50/$2.50)
I think we're going to get something that cares about historic cards, and Weatherlight can do some amazing work in that context. Jhoira, Weatherlight Captain might also be a consideration if you're willing to stomach the reprint risk.
And a couple of cards I know I'm not keeping:
Doubling Season ($40/$160 for Ravnica pack foil)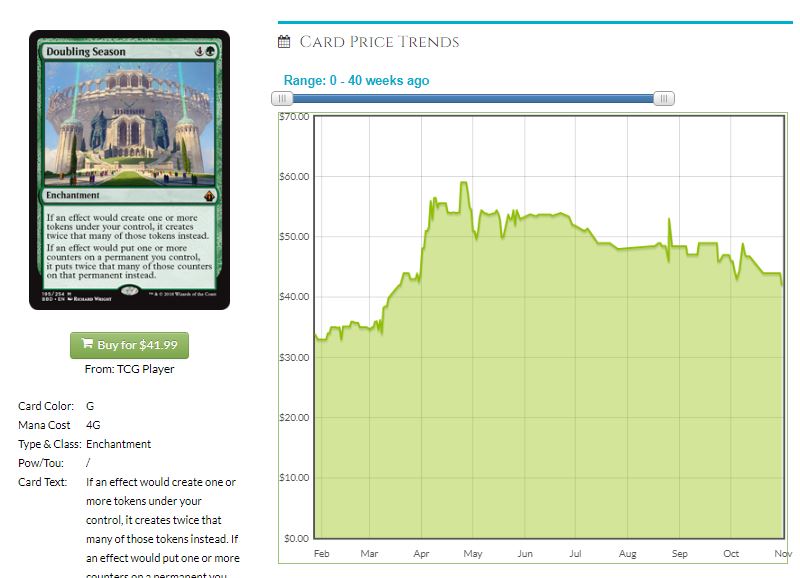 Having been reprinted several times ad some of that being a promo, you'd think this would stay down. Nope! And frankly, it never will. The Season is going to be printed again, and when it gets back to $20, I'll happily scoop up lots and lots of copies for the inevitable growth.
Oracle of Mul Daya ($29/$84)
Never reprinted in ten years, one of the most efficient ramping creatures, a card that demands to be killed immediately…and a lock to be reprinted next year. I can't wait to buy copies left and right at $10, or maybe even less.
Cliff (@WordOfCommander) has been writing for MTGPrice since 2013, and is an eager Commander player, Draft enthusiast, and Cube fanatic. A high school science teacher by day, he's also the official substitute teacher of the MTG Fast Finance podcast. If you're ever at a GP and you see a giant flashing 'CUBE DRAFT' sign, go over, say hi, and be ready to draft.