Readers,
I alluded to Kenrith having some cards we cared about for Kenrith decks in an earlier article and if you want to refresh your memory, go for it, I'll wait here. Kenrith looked a bit like a generic "WUBRG goodstuff deck" but if you monkey with the filters a bit, you can drill down a bit and see separate approaches begin to materialize and those different approaches are all individual axes that can all push growth while being under the umbrella of "Kenrith." We can check what percentage of the total Kenrith decks are occupied by these side strategies and that's good to know, especially if they could affect future cards.
Last article we talked about how Biomancer's Familiar will never be able to grow just based on one EDH deck and how Training Grounds is likely to get a reprint and there isn't much room for growth at its current price. There is another card I want to discuss, though, before we play with filters at all.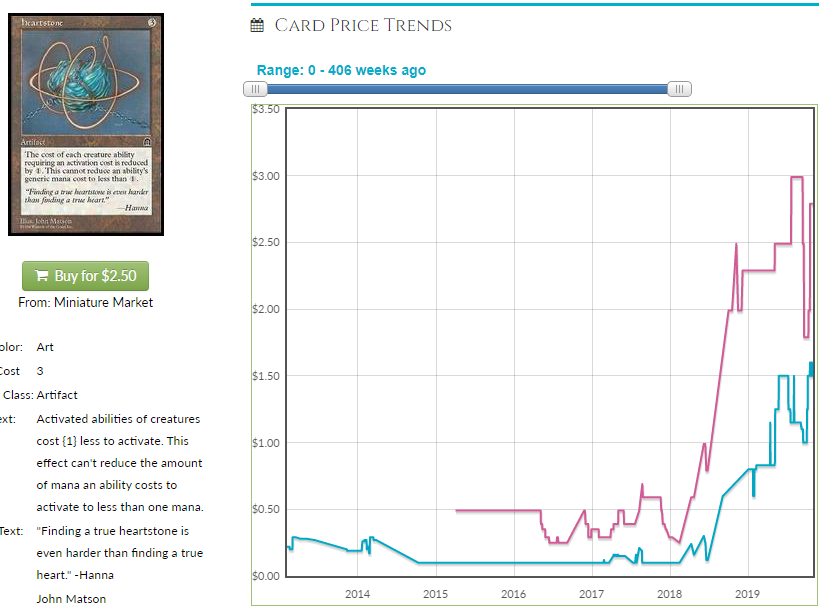 This is basically Heartstone's time. It isn't all Kenrith doing this, obviously, but the more commander cards they print with colorless activation costs, the better this card gets. The Premium fol version is pretty bad and while this is an uncommon, it's an uncommon from Stronghold which means there are more copies of Throne of Eldraine borderless mythic rares than there are copies of this card. It's up, you may even have these in bulk since they were $0.50 a year ago and this card isn't getting worse. Kenrith could make this $5 and if not, some other card will very soon.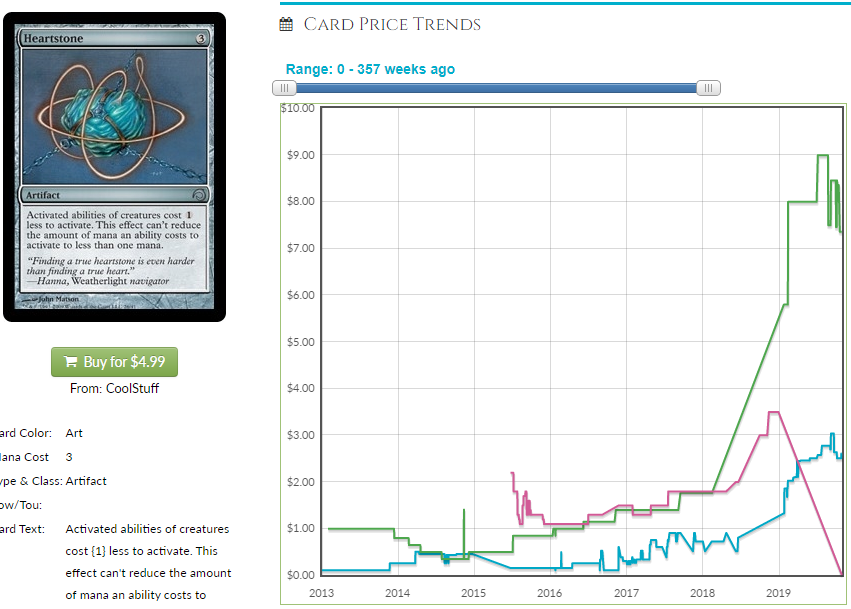 This is an ugly-ass foil but it's worth noting that the price surge has been even more profound for the premium Slivers deck copies and they're going to dry up faster since stock is lower. I think this could hit $10, especially if we all give it a little nudge. This may be the best money you can spend on the basis of Kenrith decks. I should have probably done this card last, you're all going to just close this article and go buy out Coolstuff. Go read my articles while you're over there.
Take My Picture Because I Won't Remember
Still here? That's great, thanks for sticking with it. I think there's more than meets the eye to Kenrith decks and I want to show you how to navigate EDHREC a little bit to find more opportunities.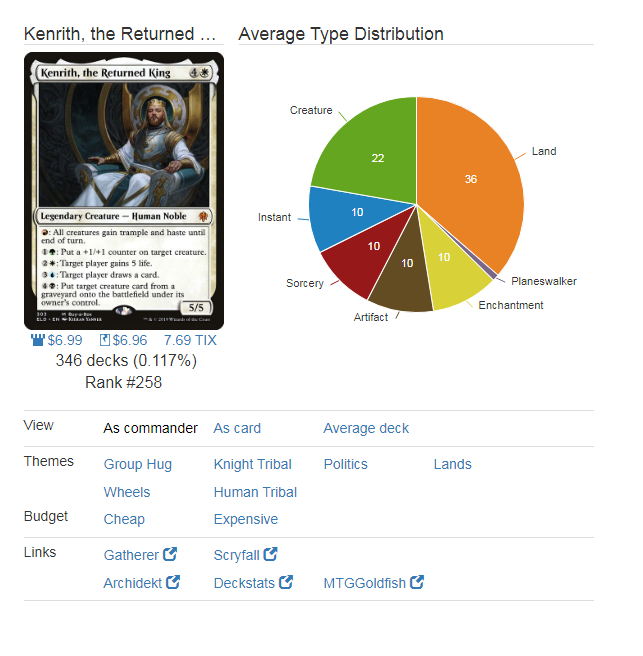 The top, left-hand portion of the page has this information and everything blue is clickable. We still have the same filters and those are all the way over on the right-hand side.

The advanced filter allows you to include or exclude certain cards or filter by price and that mostly isn't necessary now that we include the "Cheap" and "Expensive" options in the "Budget" row on the left. Before, I would use the Advanced Filter to only pull up decks with Mana Crypt to see what the people for whom money is no object were up to, whether they were a baller or a theorycrafter. What's more interesting than that, though, is using the tags. These tags are unique to each commander and they're selected based on what people who submit decks consider their build to be.

Enough people are building Kenrith as a Wheels deck, which I might not have suspected (he's a great reanimator, though) and a lot of people are using him as a 5 color Lands deck commander despite Golos, you know, existing. I guess people really like the idea of having Obelisk of Alara as their commander.
Group Hug and Politics decks are probably the same within like 5 or 7 cards but it's worth looking at what those decks are. Kenrith is hardly the go-to when you think about Wheel decks, but Kenrith may be the best Group Hug Commander printed recently because unlike Kyanaios and Tiro, he's 5 colors and his Black ability is very powerful. Kynaois and Tiro is likely better overall as a commander but that's an old card, people like new cards. To see a completely new list of top cards, high synergy cards and category inclusions, just click either Group Hug or Politics and see what I saw.

Kynaois and Tiro is a really good inclusion in this deck and the rest of it looks like ways to make sure everyone can play lots of lands. Group Hug is a really weird way to play Magic and I don't really understand the deck. One thing we can use EDHREC for in a case like this where the cards all baffle us is to check the synergy rating.
Want to know what Synergy is? Let's take a sneak peek at a section of EDHREC's EDH wiki that is coming soon.
What is "Synergy"? What is the "Signature Cards" section?
Many cards across EDHREC will have a rating of synergy that will show up as a percentage that either has a + or a – in front of it. For example, this Eldrazi Displacer has a +75% synergy rating on the Rasputin Dreamweaver [link] page.
Synergy rating is intended to show cards that are particularly important to the commander or theme you are currently viewing. This is opposed to just cards that are generally played in most decks that are popular because they are individually strong. We did this because we wanted to show what cards were interesting to a commander in the Signature Cards section at the top of the page. It gives a quick look at what cards define a deck, as opposed to just showing a bunch of cards like Cyclonic Rift and Sol Ring that aren't interesting because they are in a bunch of decks.
Synergy score is calculated as: [% decks this card is in for commander/theme] – [% decks this card is in for color identity]
In the Eldrazi Displacer and Rasputin example, a +75% synergy score means that it's seen way more than in other U/W decks. It's calculated by taking the 86% of Rasputin decks it is in, then subtracting the 11% of other U/W decks it is in. Leaving us +75% synergy score, making it pretty clear this card is not generally popular in most U/W decks but particularly popular in Rasputin decks.
A high synergy score is indicative of the card being mostly used in those particular decks much more than in the average deck in those colors. It's not a percentage, it's a differential, so don't let the percent sign fool you. If you look outside the high synergy cards, the synergy score can tell you the extent to which this deck is solely responsible for putting pressure on the price, and this score can help you evaluate your picks in other categories. Here's an example of what I mean by that.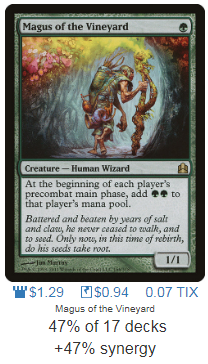 Magus of the Vineyard doesn't seem like the strongest card to me because while it's in half of the decks tagged "Group Hug" it's also got a very high synergy score which means it's mostly in this small handful of niche decks. Is it a good pickup under $1? Maybe, but we don't know that based on just this info, we should click on the card and go to the card's page.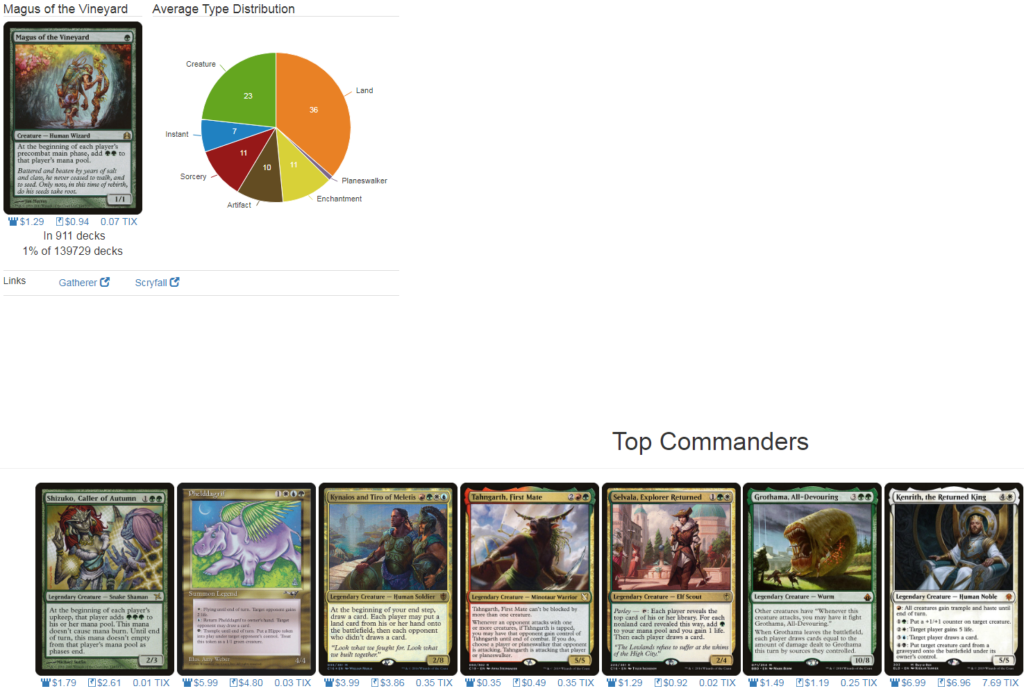 This is pretty clearly a Group Hug card and since that strategy almost always involves Green, it might not be that bad a choice.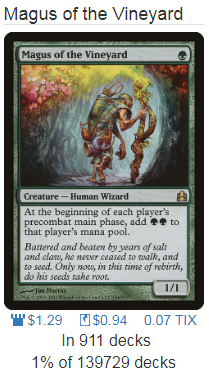 Only 1% of the total Green decks seems low, and 911 raw decks total seems low, also, and I don't like this as a spec, but I like it more than I did just seeing it on the Group Hug page, so it's always worth clicking on the card and seeing its data with more context.
Looking at the Group Hug cards, it's pretty clear that most of the cards are Group Hug deck staples. There isn't much that's unique to Kenrith – every non-black card in the high synergy and top cards section is in the same section for K&T. I'm glad we looked, but I'm moving on to "Politics."
"Politics" appears to be code for "Cards from Conspiracy" from what I can tell.

A full half of these cards have "Will of the Council" or "Council's Dilemma" abilities, which is very narrow. Those cards aren't played enough elsewhere to soak up supply and Politics decks are 15 of the 346 Kenrith decks registered so far, so these are very fringe cards.
I didn't find much I like drilling down into Kenrith but I wanted to show you my search technique in case you wanted to apply it to other commanders.
Here, briefly since this has been a long piece that's fruitless so far, is what I think is actionable.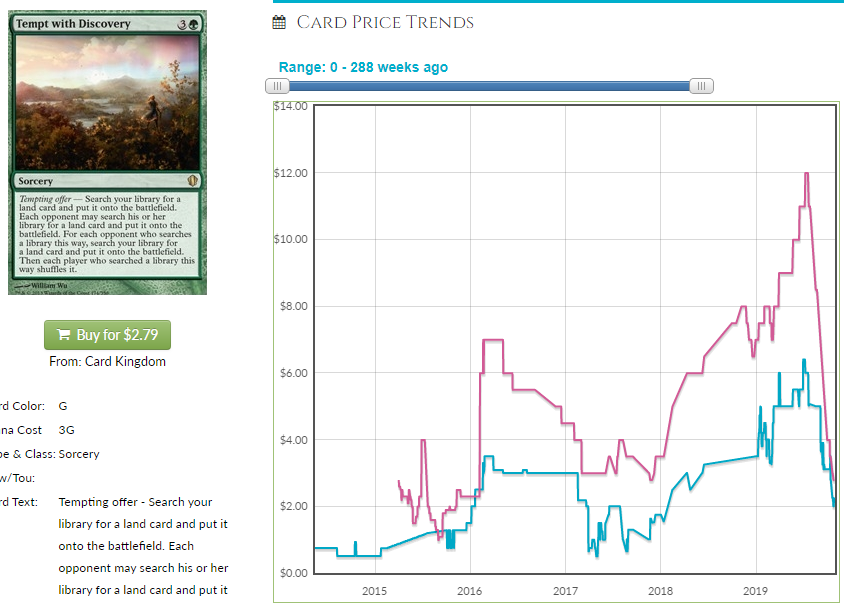 This gets printed every 3 years and it shrugged off its 2016 reprinting in a big way. Tempt with Discovery was in the K&T deck, which was the second-worst-selling, but people inclined to play Kenrith likely already have a K&T deck. That's not to say I don't love this card at its current price because I really do. This just got reprinted and some sites have it above $5 already.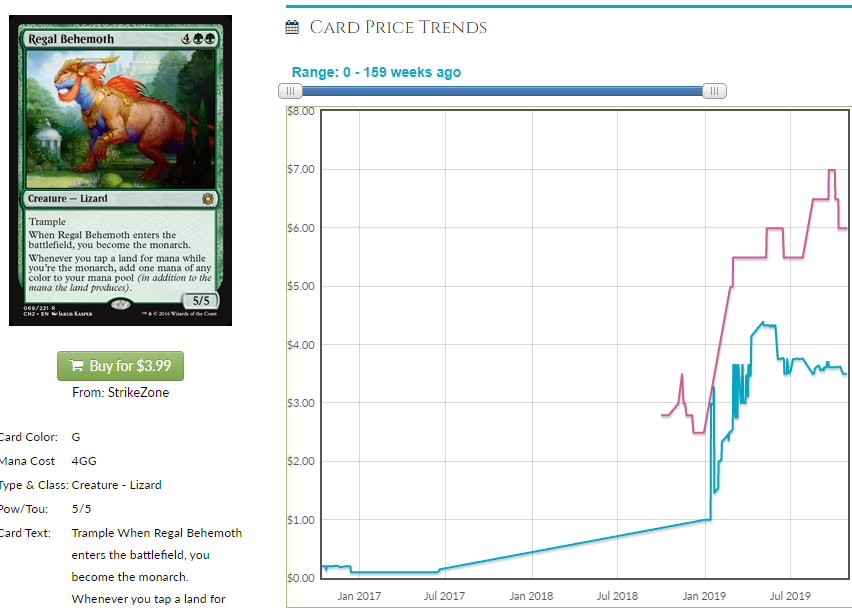 Strike Zone wants to sell you 2 copies of this card for $4 when it's $6 everywhere else. Oblige them.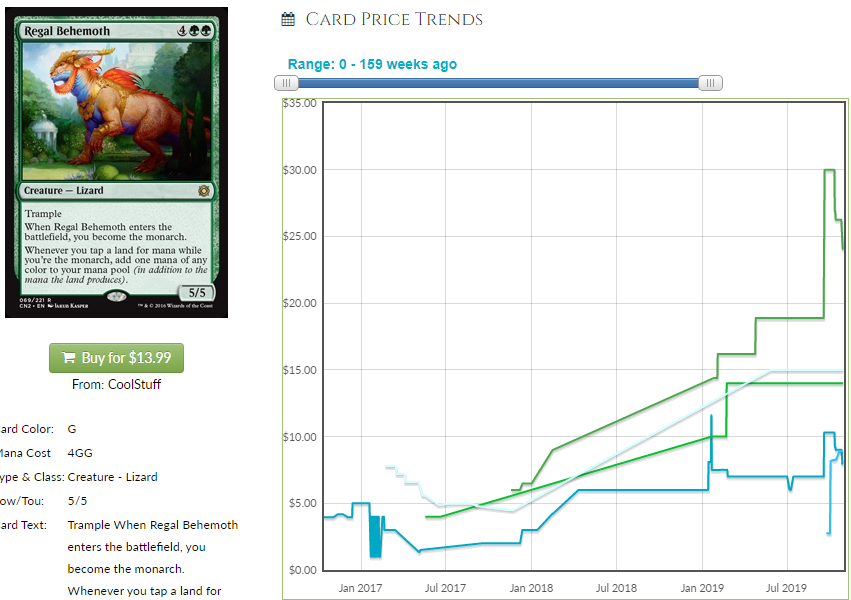 Coolstuff wants to sell you 1 foil copy of this card where its $24 everywhere else. Oblige them.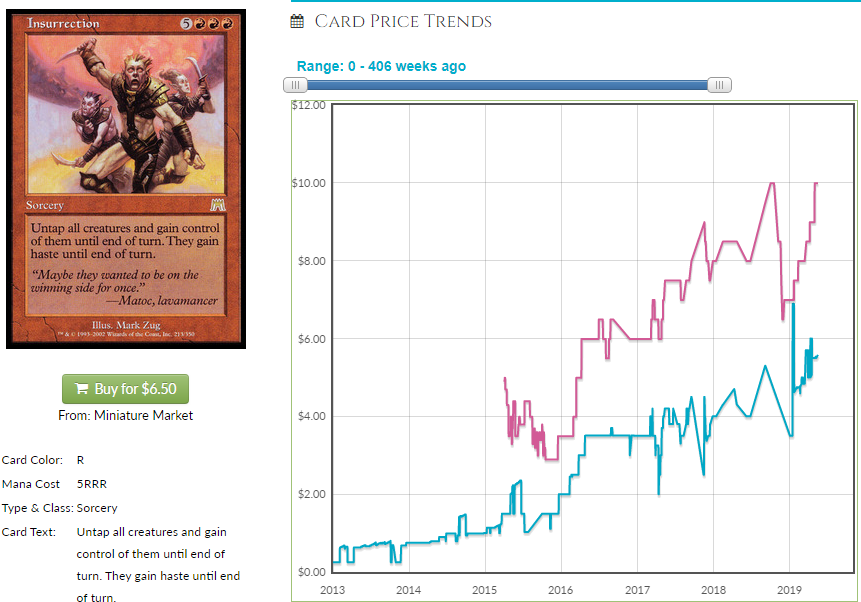 This card doesn't see enough play. I don't know if the price is wrong but it's climbing to $10 some places and staying flat others. That's usually a sign of an upcoming correction.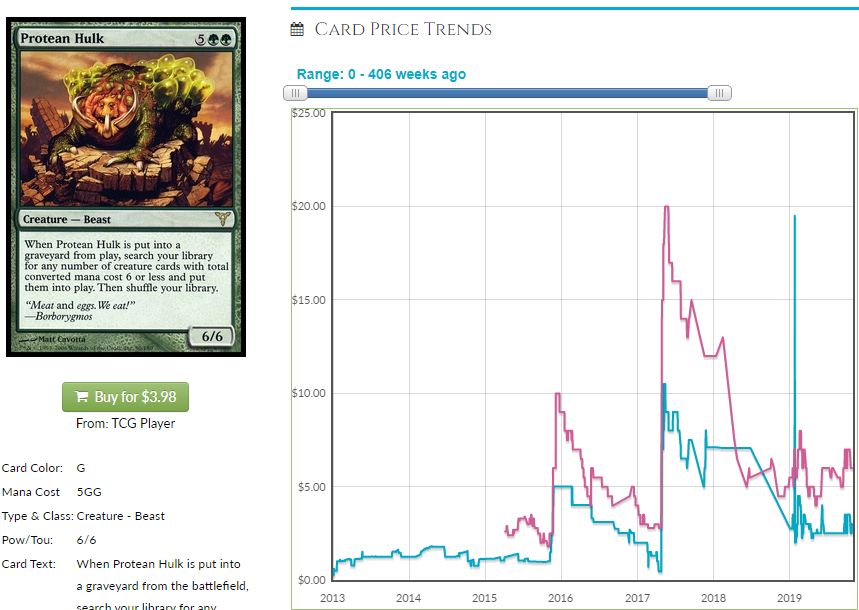 It's time for this to begin its long recovery. It will never be "Oh snap, they UNBANNED THAT?" $20 again, but it can be more than $5. I think it's at its floor.
That does it for me this week. Join me next week where I stop putting off looking at the other Brawl decks. Join me, won't you? Until next time!