Normally I'd be all over the Mythic Championship, held at MagicFest+ Richmond, which included a Hall of Fame induction and some more changes to the Players Tour…and I can't keep it going. Why is high-level Magic so confusing?
My true interest, though, has been these damn Mystery boosters. I can't remember the last time a set was completely unknown until packs started getting opened, and that's an experience I love. I dive right into other peoples' Cubes, and the only thing I want to know is if it's got Power in it. Fresh Magic experiences are to be savored, and Mystery didn't disappoint.
We are going to get the official card list on Monday, but there's already some things we know and some things worth acting on…
First of all, the only new cards revealed so far (subject to change come Monday) are the Playtest cards. These are printed cards made to look like Wizards' own internal playtest cards, which are stickers slapped onto older cards. (A friend of mine who designs games once said that the greatest thing Magic ever did was put millions of free cards into the hands of would-be game designers, and now the circle is closed!)
The Playtest cards are super neat and do some really interesting things. They are all marked as "Not for Tournament Play" and I imagine that individual Commander groups are going to decide for themselves if they are going to allow someone to play a Sliver Eldrazi, or the dying-to-be-broken How To Keep An Izzet Mage Busy.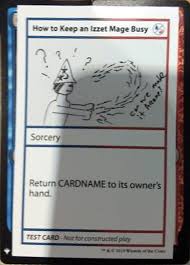 Financially, the Playtest cards are going to struggle to be expensive. Every MagicFest is going to have Mystery events and this will be a thing until they run out of packs sometime next year. There might be one or two that are expensive because of niche appeal or the meme value (e.g. Dr. Richard Garfield, PhD.) but these sorts of things, even if rare, aren't automatically expensive. I stocked up on foil Cogwork Librarian back when Conspiracy first came out, and over five years, that card hasn't budged. The Conspiracies from CN2 are the same way. Hard to use and incredibly powerful, the niche wasn't there and they aren't expensive.
If you want to collect the Playtest cards for fun, do so. Magic is really catering to those who like different things, and there's been a run of stuff worth collecting for the fun even if the long-term value might not be amazing: the JPN alternate walkers, the Showcase frames in Throne of Eldraine, and now these. I don't anticipate the full set of Playtest cards being a super-chase item though.
More relevant financially is that the set is otherwise 100% reprints, and it's not the Pioneer Masters people predicted/hoped for. It's a Chaos Draft + Future Sight environment, one where the packs are seeded for color but not rarity. Here's Gavin Verhey on Twitter: "Each pack has 2 C/U of each color, 1 Multi C/U, 1 artifact/land C/U, 1 playtest card, 1 M15 forward R/M and one pre-M15 card in its original frame." Theoretically, a pack could have 13 uncommons. Or 13 commons. In browsing streams and Twitter, I saw that the pre-M15 card was occasionally a rare, so double-rare or double-mythic packs were possible too.
Notably, no foils. That's a big ouch for the people who paid $75 to be part of the first event.
We were told this morning by Mark Rosewater on Tumblr that the game store version of Mystery will not have these playtest cards. Most likely, that's a foil slot opening up but we will see.
Now, the reprints. They are keeping the original set symbol but these are reprinted cards, and are marked as such by a planeswalker symbol in the lower left. These cards were reprinted direct from the old card files, so the old copyright date and original printed text are on the cards. Odd aesthetic choice, but what the heck.
Thanks to the efforts of people participating in the Discord channels (and really, you ought to be a participant) we've identified 15 mythics and 62 rares, as of Monday morning, as well as some reprints in the common/uncommon slot that are notably expensive.
Given that these packs are going to be opened at MagicFests for the next year or so, plus the amounts of Mystery packs going to local stores, I'd expect that all of these prices take a small hit. Keeping the original look, including original set symbol, but adding the planeswalker symbol is probably equivalent to a new card with a new set symbol.
A couple of cards you ought to know about:
Bloom Tender ($50 nonfoil/$300 foil)
Eventide was a small set, and was the last set before Magic's rebirth in 2009 with Magic 2010 and Zendikar. Stock was never high on this card, and every time it wasn't reprinted, the price ticked up more. I'm glad we are finally getting more copies of this on the market. It's not the most broken mana generator, but it's capable of some disgusting jumps in mana.
I would expect the originals to lose maybe $10 or $15, before stabilizing. The new ones are going to end up in the $15 range once the initial feeding frenzy ends.
Mana Crypt ($190/$250/$400 Invention)
Let's take a moment and toast a card that has gone from $50 a bare eighteen months ago to $150 now: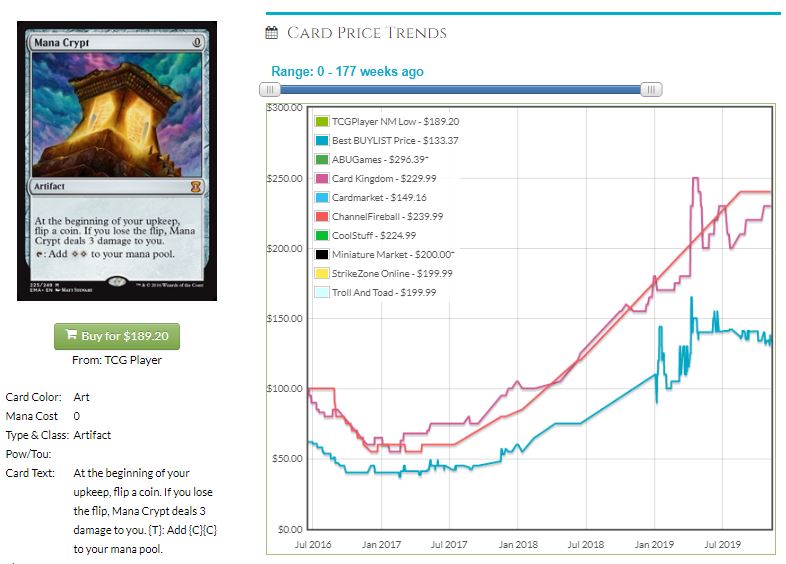 Then let's reflect on what a new influx of supply means. Is Mana Crypt going to be $50 again? Probably not. EMA was pretty heavily opened by drafters and collectors alike, and we'll see if Mystery gets the same level of attention. Is it a $75 card? Maybe $100 fresh from a pack? I'm not sure where it ends up but I do know that when the Mystery packs are no longer being opened, I'll want to pick up a few of these for the inevitable rise. The only worry about this card would be a Commander banning, likely on the same day that Sol Ring gets hit. (So, basically never.)
There's a lot more to come, but I'm already over my word count and the full list is coming. Maybe we won't get foils after all? Let's find out Monday!
Cliff (@WordOfCommander) has been writing for MTGPrice since 2013, and is an eager Commander player, Draft enthusiast, and Cube fanatic. A high school science teacher by day, he's also the official substitute teacher of the MTG Fast Finance podcast. If you're ever at a GP and you see a giant flashing 'CUBE DRAFT' sign, go over, say hi, and be ready to draft.