It needs to be said: 2020 is going to be a rough year for some of our collections.
Wizards is planning on releasing a swarm of Commander-oriented products, and there's going to be no caveats like "Well, I'll get a foil, Commander decks don't print foils" or "This mechanic is really niche, they won't reprint this for a while" or my favorite "If they put this expensive card in a deck people will only buy this deck like True-Name Nemesis all over again!"
This came up when we were recording MTG Fast Finance the other night, and it's true: The Mystery Boosters in stores will have some number of foils, and that's in addition to the product already being opened in GP events.
We're going to experience 2020 as a minefield of reprints, and some of us are going to get caught. Fear not, though. There's some principles to apply here and some condolences to fan ourselves with.
Principle #1: Diversify!
I don't imagine there are many of you who buy lots and lots of copies of a card. I've gone crazy three times, all for cheap cards, and it's all bitten me on the ass: 50x Prophet of Kruphix at a buck each, 80x foil Avacyn's Judgment at 75 cents, and 100x Yawgmoth's Vile Offering at a quarter each.
None of those have worked out for me, though I take some comfort in being able to buylist the Prophets and even my money out if I needed to. My rationale for each of these was sound, and since they were all quite cheap, I went a little overboard.
Please don't do this. Buying hordes of a card and pinning your hopes on it is an easy way to loathe yourself and your bulk rare box. Instead, limit yourself to a certain number of copies or a certain dollar amount. They aren't going to reprint everything you buy.
Principle #2: They Can't Reprint Everything! (aka the Oracle of Mul Daya Problem)
I do think Oracle will get reprinted, and for right now, I wouldn't be buying copies. The problem is that Commander is such a wide format, with so many things at prices which indicate a need for reprints, Wizards would need several years straight to catch up with everything. Plenty of cards are going to fall through the cracks, and we'll be shaking our heads at how they messed this up yet again.
Principle #3: Even if Reprinted, Staples Remain Staples
Let's look at the price graph for a card that really exemplifies Commander: Doubling Season.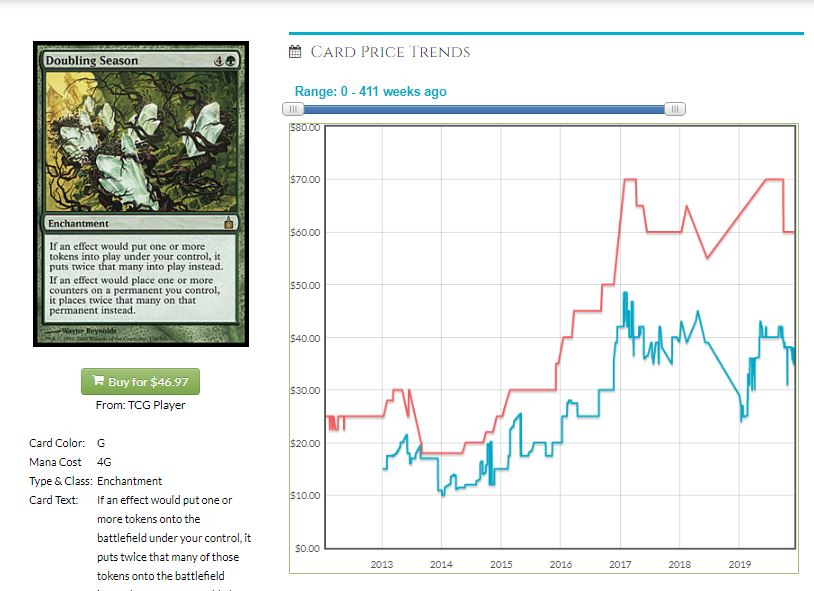 I can't chart all of the follies on this card's price, as we can only go back in time ~8 years and this was released in 2010, a Judge Promo in 2011, a *rare* in Modern Masters 2013, and then a mythic in Battlebond for the summer of 2018.
And still, the cheapest version of the card is nearly $50. Every time it's printed, it takes a slight dip and then starts climbing again. Commander players open this card, trade for this card, buy this card, put it in one deck after another, and the overall effect is to remove copies from circulation, increasing the price.
Almost exactly a year ago, in December 2013, the TCG price on this was $35. That was after a summer of the incredibly fun Battlebond experience, and the price slid for a few months as a result of the new copies coming into the market. Then those prices started climbing again. We can't help it. The card is just too much fun, and sits at the intersection of three overarching themes: planeswalkers, +1/+1 counters, and tokens.
Doubling Season will get printed again this coming year, and when it does, buy some spare copies. This idea holds with any Commander 'staple' that gets reprinted in the coming year. Want another example? How about Mana Crypt: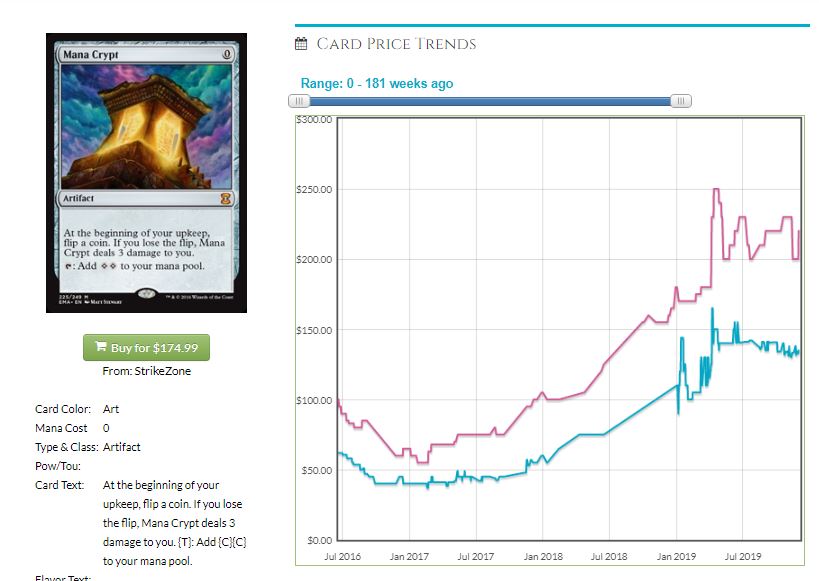 The new printing made it under $50 when it was being opened. This is played in Commander and Cube. That's it. It's getting printed in the new Mystery Boosters and if you like value, wait a while and buy yourself an extra copy or two of this, and then be patient. You'll get there again.
Principle #4: If Not Reprinted, Price Spikes
We saw this every year with Modern Masters, and frankly we see echoes of it with every set that has reprints, whether it's a Masters or a Horizons. A great example here is Nykthos, Shrine to Nyx.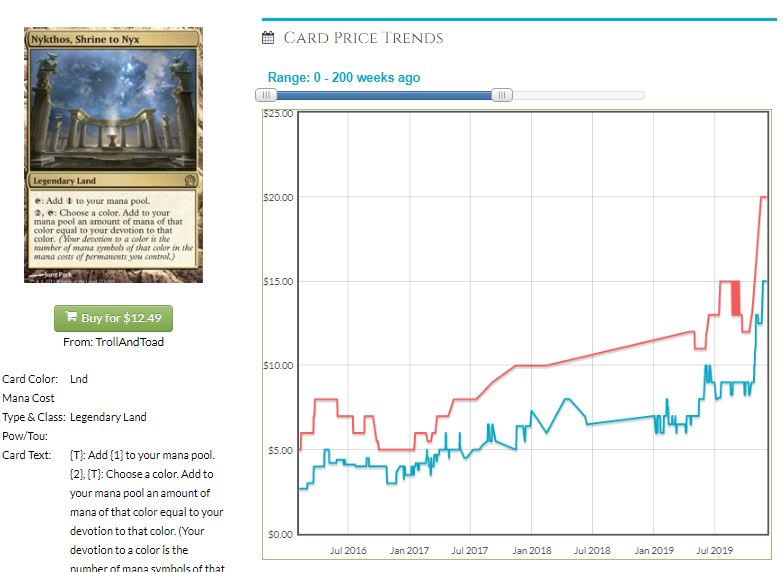 Nykthos has jumped in price recently because of Pioneer, but the next set is crying out to reprint the card. Cards like the Cavalier cycle and the hybrid uncommon cycle in Eldraine are pointing up towards a reprint…but if it's not there, this immediately becomes a $30 card and will stay that way until its time in a Commander product.
Principle #5: There's always Standard
With Eldraine having two years to make a splash in Standard, that set is fully ripe for the picking once we start opening Theros Beyond boosters. Buy your Murderous Riders and Fabled Passages now, because those are format staples and will have 20 months to make an impact. Traditionally, the time to sell will be about a year after opening, or eight months before rotation. That's usually when the price is highest.
Focusing on Standard might make you long for the profits of obscure foils but if you really hate the risk associated with Commander for all of 2020, maybe you'd be more comfortable staying away entirely.
Cliff (@WordOfCommander) has been writing for MTGPrice since 2013, and is an eager Commander player, Draft enthusiast, and Cube fanatic. A high school science teacher by day, he's also the official substitute teacher of the MTG Fast Finance podcast. If you're ever at a GP and you see a giant flashing 'CUBE DRAFT' sign, go over, say hi, and be ready to draft.