We know 26 of the 40 Box Toppers, and we know a lot of the rares. It's pretty likely that three of the remaining Toppers are the other three Swords, so let's look at some pricing and comparisons, to see where these prices might go.
Now, we have prices on some of these, but it takes a seller with a lot of confidence to pre-sell these, especially in foil. Keep in mind that the VIP boosters are the ONLY way to get foil versions of the box toppers. I'm going to list the current low price for a foil on TCG as of Thursday night, and get some comparisons where I can. Not everything has a price yet, so be kind.
For most of these, there's going to be a dip as soon as the VIP packs arrive and people rush to crack the value. Given the relatively small amount out there, though, I expect prices to recover at a decent pace. One more wrinkle to consider is that, according to the official Magic Twitter, "All borderless showcase cards with a rare expansion symbol will appear twice as frequently as those with a mythic rare expansion symbol. This is true of box toppers in #MTG2XM booster boxes as well as the premium foils of these cards in VIP Edition."
So the slots for the toppers will have a 1/3 chance of being a mythic, and 2/3 of being rare. Even more math!
Karn Liberated ($108) – We have the Ultimate Masters Box Topper to compare to, and that's right about $100, so the big question is, do you like the art? The Karn face is meme-ing all over the Magic community, and Mark Tedin has owned it, making it his Facebook profile pic: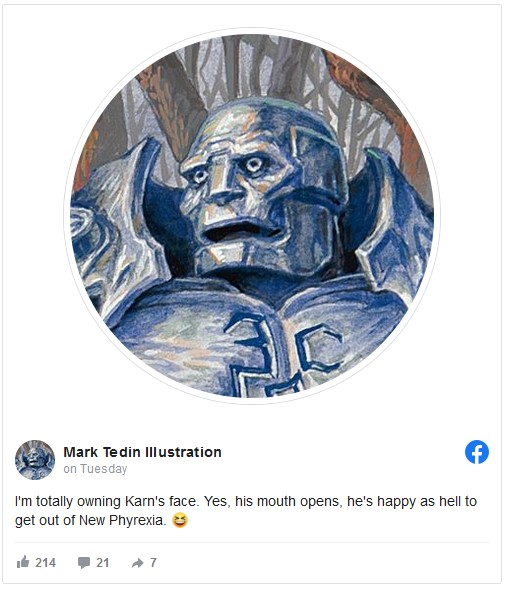 Jokes aside, $100 seems totally reasonable for this foil. You've got your pick of art, with Jason Chan's take being both iconic and powerful. It's worth remembering that the people who like this are going to want to collect the matching Urza lands, which we'll get back to.
Jace, the Mind Sculptor ($170) – Worldwake foils are at a cool $500, with Mythic Edition checking in at $175. That's the only version that doesn't use the original art, but now we get the original with a sweet frame. I think this is too closely priced to the Mythic price, and I'll expect this JTMS to inch a little higher, likely to about $250. I don't think you want to preorder yet, but there should be fewer of this than the Mythic Edition.
Council's Judgment ($90) – As compared to the $70 Conspiracy foil, this seems perfectly reasonable. That was from a small set, and not opened a lot because people didn't like the format. Keep in mind, too, that's a release from 2014. As such, I think this is going to fall a bit from $90, and end up below the pack foil. Yes, it's a way to get rid of True-Name Nemesis in Legacy, but there's not the same level of demand as there is for Jace or some of these others, being in only 3800 decks on EDHREC.
Cyclonic Rift ($85) – The original foil is $60 or so, but this is new art and a new frame for one of the most annoyingly iconic Commander cards around. There's no defense. Protection, hexproof, or shroud, it doesn't matter. It's been a rare twice and gotten a Commander reprint, and is in 91k decks online. That is an enormous amount of bouncing. Given all of that, I think $85 is too low for the foils, and it'll stabilize about $120.
Phyrexian Metamorph ($50) – The pack foil is $15, so this seems like a big jump over that. Being in 15,000 decks online helps push this price upward. It'll come down some from $50, but I'm expecting it to rebound nicely into the $60 range.
Dark Confidant ($100) – As a mythic, it'll have a higher price than the rares, but $100 seems high, given the number of times it's been reprinted. The Judge foil, using the original art and an old border, can be had for $125, so keeping this at $100 seems a tad high. Not too many people want this card, so a correction down into the $80 range is likely.
Sneak Attack ($60) – Given a judge foil of $40 and that this is a mythic, this is in the right range. It's got a Legacy deck, but not a lot of Commander pull, so I'd expect it to go a touch lower.
Crop Rotation ($43) – Until Double Masters, there was only one foil: the original from Urza's Legacy, the first set with foils. It was a common, even! About 20,000 people play this in their Commander decks online, and it's a four-of in Legacy Lands, so there's going to be a fair level of demand. Even with that, I think this is about the floor for foil box toppers from this set and it's a decent price for now.
Doubling Season ($120) – This is $30 more than the original pack foil, and that feels off to me. It's rare but possible for the new version to be pricier than the pack foil, but this has been printed a bunch of times, yet always climbs back up to $40. The nonfoil being $90 is definitely too high, but this one should fall back to the $90 or so of the original. It's cute art, but not quite as iconic, and won't command a premium.
Exploration ($90) – Okay, now this one is weird. Right now, the foil and the nonfoil box topper are within five bucks of each other. We can infer that one of two things is going on: Either the nonfoil is horribly overpriced, or the foils are horribly underpriced. My inclination is to say that the nonfoils are overpriced, because these foil, while absolutely gorgeous, are not going to be $150ish. More likely is that the foil comes down a little and the nonfoil comes down a lot.
Noble Hierarch ($90) – This is too high. The Judge foil with the old border, a lot more iconic than this frame, can be had in NM for about $15 more. The Ultimate Box Topper is a $60 foil. While it's new art and a new treatment, it's not enough for such a price jump.
Atraxa, Praetors' Voice ($120) – This is a hard prediction to make. On one hand, the original Atraxa was Commander-only, and was $35 despite being reprinted in Commander Anthology 2. This is new art, and it's been four years since the reprint. I'm going to guess that this foil stays in the $100 range, between the people who are upgrading from old Atraxa and also the ones who pick this up and then build a Commander deck around her. This is the #2 all time commander on EDHREC, so that's the list of staples I'll be keeping an eye on.
Kaalia of the Vast ($120) – In a lot of ways, the same pattern as Atraxa, only older. Kaalia was an original Commander, way back in 2011, and then reprinted in the first Anthology. She's farther down the list than Atraxa, and encourages a different deckbuild. She also leaves out the two best colors in Commander, with no UG shenanigans. I don't think she can hold this price, and I'd expect her to come down to about $80.
Next week I'll finish the list!
Cliff (@WordOfCommander) has been writing for MTGPrice since 2013, and is an eager Commander player, Draft enthusiast, and Cube fanatic. A high school science teacher by day, he's also the official substitute teacher of the MTG Fast Finance podcast. If you're ever at a GP and you see a giant flashing 'CUBE DRAFT' sign, go over, say hi, and be ready to draft.