Zendikar Rising release is just around the corner, and now that we've had the full set spoiled – sorry, previewed – I want to take a look at some of the best cards from the set that I want to be finding low points to buy in at. Because of the fact that we have non-foil Expeditions as box toppers in every box, that's going to suck up a decent amount of EV and push regular card prices down, and as with Battle for Zendikar I expect that this is going to be a highly opened set, crushing prices even further – but that just means better opportunities to buy cards.
I think there are going to be a load of good targets here and I'm itching to spend money on this set, but need to be patient for the most part and wait for peak supply on the big hits. I'm going to focus on just a few of (what I think are) the best ones here and set my entry targets, but will be keeping a close eye on prices so that I can start buying when things bottom out.
I'm not going to waste your time here talking about the super-obvious targets from Zendikar Rising like the Pathway duals and Lithoform Engine, but instead I'll go the next level down and talk about some of the best cards you might have missed. There are plenty more that I don't have the space to write about here, but I'm sure I'll hit on a few in the future. Oh, and for context, I'm talking about all these cards from an EDH standpoint.
Thieving Skydiver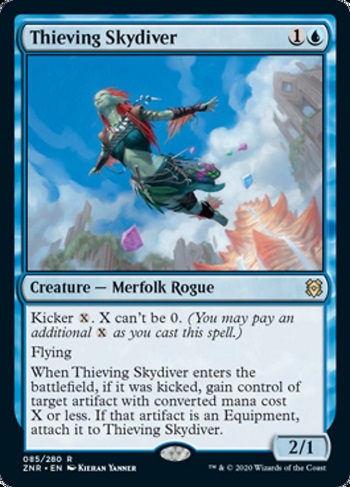 Target buy price: $1
Possible future price: $4
This isn't one of the big splashy mythics, but that doesn't change the fact that I'm quite excited about this card. There are very few blue EDH decks that I can't see this having a place in, because low cost mana rocks are perhaps the cornerstone that most EDH decks are built on. Being able to steal a Sol Ring, Mana Crypt or Mana Vault for only three mana and getting a semi-relevant body alongside that is just so much value – and the best part? You don't even lose the artifact when Skydiver dies. You just get to keep it. You could even steal a Skullclamp and kill your Skydiver straight away just to make a point. It's the perfect way to punish that player that seems to always have the turn one Sol Ring and turn that to your advantage, whilst hopefully not painting too big a target on your own head.
Currently preordering for around $3 on TCG and €2 on MKM, I think that this has the chance to get down close to $1. I doubt that many people are going to be picking this up for competitive play, and at a rare I don't think it'll quite hit bulk status but it should get lower than its current price at peak supply. I'm looking to pick a stack of these up and find a buylist exit in 12-24 months, and will probably grab some of the EA foils when they bottom out too (hoping for around $10 or lower on those but really can't say for sure right now).
Ashaya, Soul of the Wild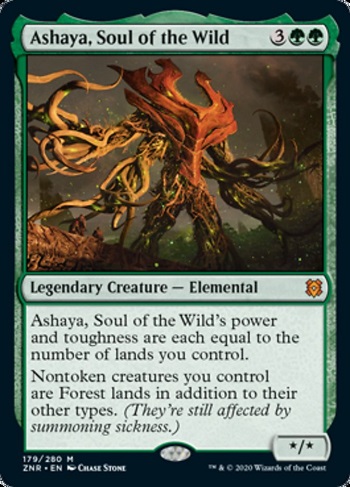 Target buy price: $5
Possible future price: $10
Now this one is much closer to a big splashy mythic than Skydiver, and has an interesting new effect on it. We've had plenty of cards in the past that turn Forests (or other lands) into creatures, but the closest we've got to turning your creatures into lands before now was Life and Limb, which only worked for Saprolings (and turned your lands into creatures too which is always a very dangerous thing to do in EDH). Effectively tacking a Llanowar Elves onto all your non-token creatures makes for a serious amount of ramp, and as well as that Ashaya is probably going to be a 6/6 or bigger most of the time. I think that this is a powerful card that's going to slot into a lot of green decks, and EDHREC is already backing that up, showing it as 2nd most popular card from the set so far.
TCG preorders for Ashaya are silly high and spread thin right now, but over in Europe these are going for €4 already. I don't know if it gets lower than that really, especially in the US where EDH demand is much higher than in Europe, so I'm quite happy to pick these up around that mark and just buy more if they go any lower. I'd be a little less excited about this if it were a rare, but at mythic I feel like demand is going to be strong enough to push this card up towards $10 in around 12 months, maybe less.
Moraug, Fury of Akoum (Showcase Foil)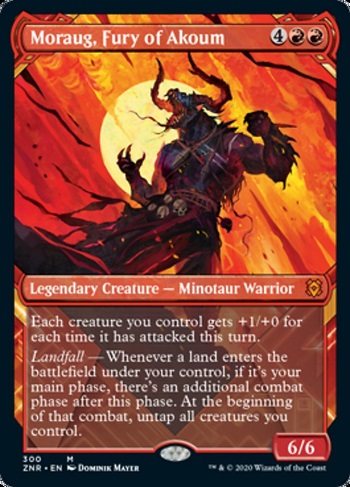 Target buy price: $15
Possible future price: $30
We're definitely into splashy mythic territory now, and WOW is this card good. Reasonable stats as a 6 mana 6/6, but the Landfall ability on Moraug is pretty wild. Whenever you trigger Landfall you get an extra combat step, and your creatures all untap and get buffed for each extra one. So play a fetchland, and you get 3 total combat steps. Got something that lets you play extra lands? There's a good chance that everyone else at the table is going to be dead by the end of your turn.
I don't think that this is going to be hugely built as a commander because all the extra land effects you really want to be playing are in green, but I do think that this is going to end up in a lot of RG+ decks as a really strong finisher. Imagine dropping this with an extra land or two the turn after you play an Avenger of Zendikar!
I'm specifically calling out the showcase foils here because the showcase art is honestly stunning, and so I think a lot of players will be drawn to it over the normal version, but I like picking regular copies up if they fall to around $5 as well. As with all my picks today, these are already available way cheaper in Europe if you have access to that market – and if you don't, then watch out for one of the group buys coming soon in the MTGPrice Protrader Discord…
---
David Sharman (@accidentprune on Twitter) has been playing Magic since 2013, dabbling in almost all formats but with a main focus on Modern, EDH and Pioneer. Based in the UK and a new writer for MTGPrice in 2020, he's an active MTG finance speculator specialising in cross-border arbitrage.