Readers!
Last week I wrote what I think was some pretty riveting stuff and this week I'm writing a sequel, but like a sequel that was better than the first one, like Aliens or Terminator 2 or Leonard Part 6. If you didn't read last week's article, or if you'd like to refresh your memory, give it another read right now and we can call that the preamble part of this article. If you're about to crash headlong into a paywall you didn't know was there, last week's piece is unlocked already, just like every new article is unlocked on Thursday so everyone can get these sweet picks.
This week I'm going to use the same three commanders but since we have another week of data collection, I'm going to re-populate the lists because we've had another week of data collection. Now, the odds that a card that's great in all 3 decks or even two of them wasn't conceived of a week ago and is now in enough decks to make all three lists is so remote it's not worth discussing, but I feel like it wouldn't be scientific to collect as much data as we can. I talked mostly about Green cards last week so this week, I'm going to look at cards that aren't necessarily mono-Green and therefore not necessarily in Ashaya.
While we're talking about changes since last week, let's look at the number of decks.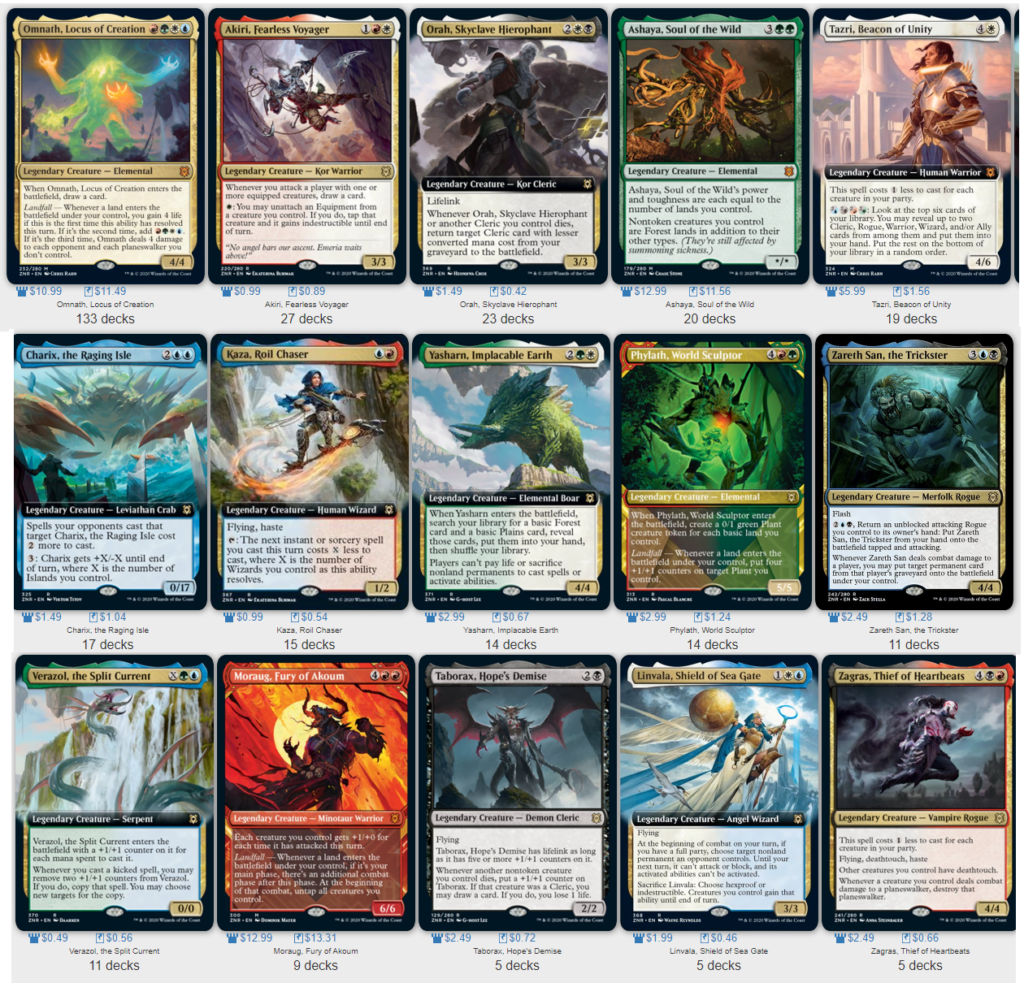 Since last week, Omnath went from 84 to 133, an increase of 58%, Ashaya went from 13 to 20 decks, an increase of 54% and Phylath went from 8 to 14 decks, an increase of 75%. None of these numbers are crazy, but Ashaya slipped from #2 to #5 and Phylath slipped from #6 to #9 with the addition of Akiri, a very popular card. I wouldn't read a TON into Akiri coming out of nowhere since basically the same number of people made an Akiri deck as an Orath deck, they just had one fewer week to do it.
Right now, Omnath still reigns supreme, which may or may not hold. What matters to me is the cards in more decks than just Omnath, though, so let's take a look.
Having redone the three lists, I decided to look just at cards in both Omnath and Phylath. Yes, there are more Ashaya decks than Phylath decks and Green is common to all 3, but I want to avoid overlooking any Red or Gruul cards. Are there any?
Arid Mesa
Blasphemous Act
Bloodstained Mire
Broken Bond
Burgeoning
Chaos Warp
Cinder Glade
Command Tower
Dryad of the Ilysian Grove
Escape to the Wilds
Explore
Farseek
Fury of Akoum
Gruul Turf
Heart of Keld
Khalni Heart Expedition
Locus of Rage
Mina and Denn
Moraug
Nahiri's Lithoforming
Radha
Rhythm of the Wild
Roiling Regrowth
Sakura-Tribe Scout
Scalding Tarn
Scapeshift
Scute Swarm
Seer's Sundial
Swiftfoot Boots
Temur Sabertooth
Terramorphic Expanse
Tunneling Geopede
Valakut Exploration
Wildborn
Blasphemous Act, Chaos Warp, Mourag (on the list as both Mourag and Fury of Akoum because the list tool does not know what to do with proper names separated by a comma), Omnath Locus of Rage, Mina and Denn, Radha, Heart of Keld and Valakut Exploration.
This is slated for reprint (along with Admonition Angel, which is ALSO in Secret Lair, RIP) in the "Land's Wrath" EDH precon for the set, and that may or may not drastically impact the price. If it does, good, buy a bunch because it will go up. If it doesn't, good, but a bunch because it will go up. Look at the hard increase when Lord Windgrace was printed in Commander 2018. This is a powerful card that will never stay cheap again, and with lots more "lands matter" cards possible in the future, this will always be a player. It's already starting to tank in price, so watch for it to rebound (don't try to grab a falling knife, as stockbrokers love to say) and buy in. This has some reprint risk, but what doesn't these days? I'm not ready to say "buy RL cards" and call it a column just yet.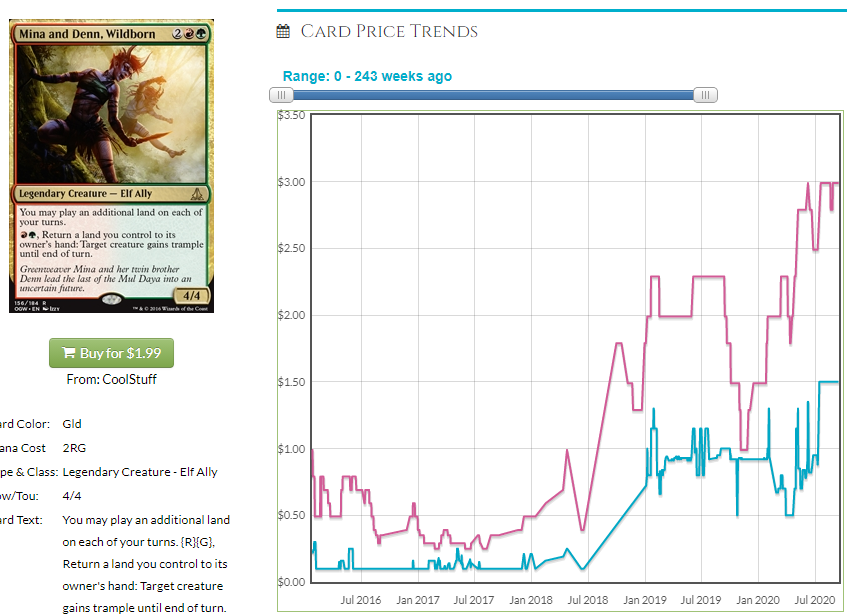 The buy-in is currently a bit high on a non-mythic (this too so long I gave up waiting. Woops! These were gettable at bulk) and the reprint risk is pretty high. Even though they love to make everything a special edition foil later, I think you have a year or two to cash in on foils of this.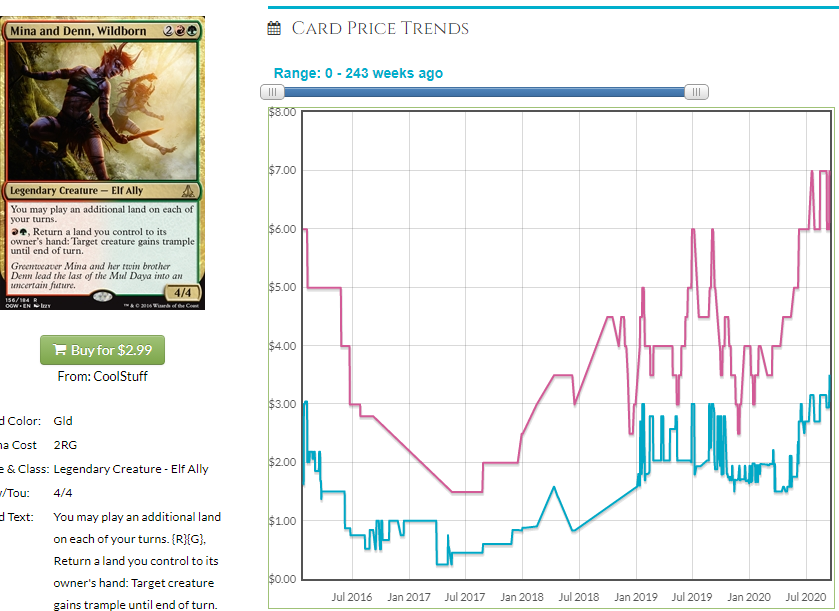 The foils followed a similar trajectory and I think have more upside considering they're selling out under $8 everywhere that still has them. Card Kingdom is the highest price and they're just about sold out if that tells you anything. I don't love foils in EDH as a recommendation because there are so few copies, there's so little demand and you can basically only help 3 or 4 people, which isn't a recommendation, it's an insider tip. Still, if you're an insider, here's a tip.
Just for the sake of argument, let's look at Omnath and Ashaya's cards.
Ancient Tomb
Arbor Elf
Birds of Paradise
Carpet of Flowers
Chrome Mox
Destiny Spinner
Dryad Arbor
Eldritch Evolution
Elvish Mystic
Elvish Reclaimer
Field of the Dead
Force of Vigor
Fyndhorn Elves
Gaea's Cradle
Genesis Wave
Ghost Quarter
Green Sun's Zenith
Llanowar Elves
Locus of Mana
Mana Crypt
Mana Vault
Mox Diamond
Multani
Protector of Argoth
Reliquary Tower
Snow-Covered Forest
Strip Mine
Survival of the Fittest
Sylvan Awakening
Titania
Triumph of the Hordes
Utopia Sprawl
Veil of Summer
Vital Force
Wayward Swordtooth
Wild Growth
Yavimaya's Avatar
Zendikar Resurgent
One card that popped out immediately was Carpet of Flowers. This is a very cEDH card and EDHREC tends to not get cEDH cards much, especially $20 uncommons. I think the increased availability from the Mystery Booster printings is making the card a little more playable. That said, Mox Diamond, Mana Crypt, Ancient Tomb, Survival of the Fittest – these are cEDH cards. They're in both lists because cEDH players are building a lot of Omnath. I'm not sure why a player with a spare Gaea's Cradle would be building Ashaya. One thing to note – when you have a small number of decks, such as 20 or so, 2 people building something is 10% of the total and that gets picked up. To the 3 people putting a $2,000 manabase in a deck with a commander that does absolutely nothing on its own, more power to you, I guess.
There are no surprises here, but I do want to highlight one card I like.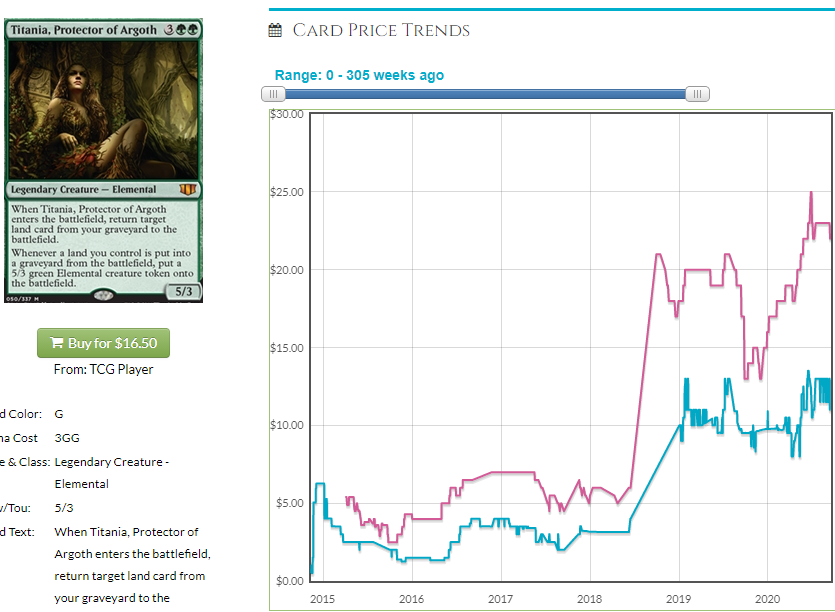 Titania is getting really hard to reprint. It's more expensive than anything they'd put in a Commander precon, it's too niche to go in something like Modern Horizons, so basically if this isn't in Commander Legends, it's likely going to be a minute before it can be reprinted and those sub-$20 copies on TCG Player look mighty inviting.
Since correlating Omnath and Ashaya got the spikey stuff in Ashaya, can doing the same thing with Phylath highlight durdly stuff from both decks?
Acidic Slime
Beanstalk Giant
Beast Whisperer
Beastmaster Ascension
Blighted Woodland
Boundless Realms
Chord of Calling
Cradle of the Sun
Garruk
Garruk's Uprising
Growing Rites of Itlimoc // Itlimoc
Guardian Project
Harmonize
Liege of the Tangle
Lifecrafter's Bestiary
Nissa's Pilgrimage
Primal Hunter
Reclamation Sage
Return to Nature
Rishkar's Expertise
Shamanic Revelation
Yep!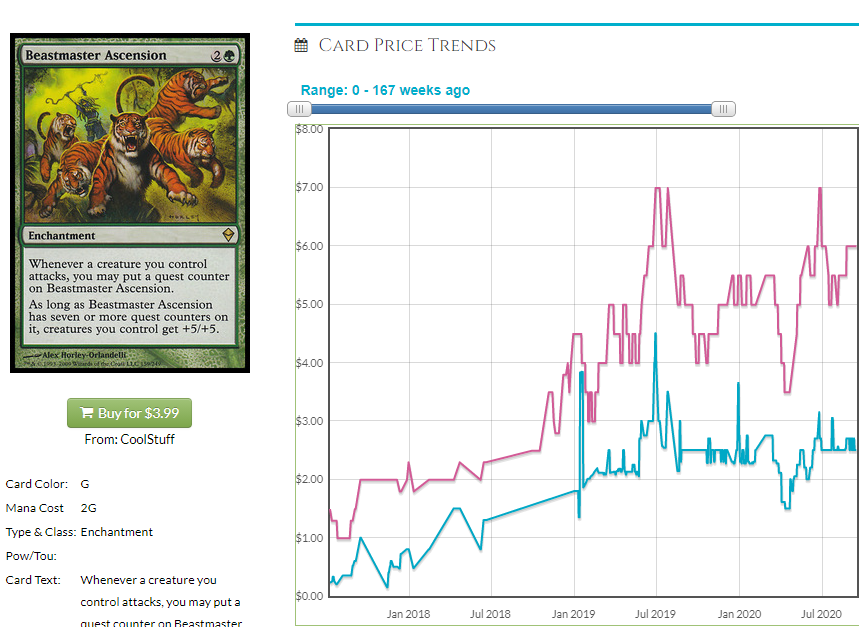 This went 4 years without a reprint and when it did get one, it was in Mystery Boosters, which hasn't curtailed prices like we expected. I think it's worth noting how this shrugs off reprints, although if it's reprinted again, it may not go 4 years after that. I think this is a potential Commander Legends card and if it's in there, I'm a buyer.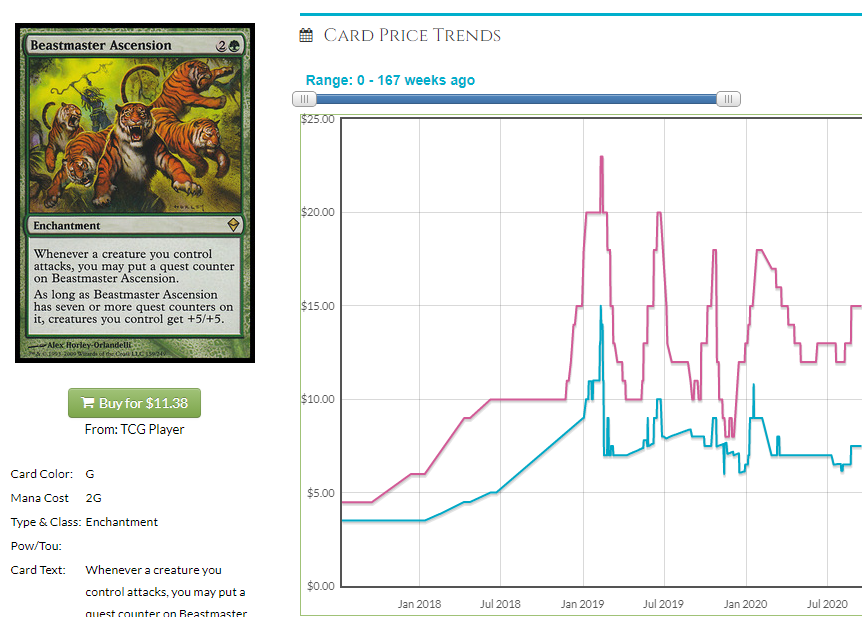 If you want to know why I don't like EDH foils, behold this graph. This is a $12 foil version of a $7 non-foil card with 1 foil printing and 5 non-foil printings. Casual cards just don't matter that much in foil, unless they do. If a card is brand new and you think it's a good EDH card and the foil is $5 and the non-foil is $2, do you want to try and guess if it's going to pop or do you want to just avoid having to guess? Me, I like avoiding having to guess.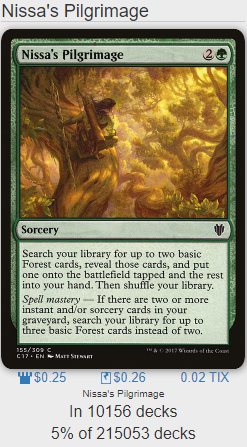 Finally, look at how many decks Nissa's Pilgrimmage is in. 10k is quite a few. This is the #1 most-played Green Sorcery outside of the top 100 cards in EDHREC's database. It has 3 printings, Origins where the foil is under a buck, an EDH precon where there was no foil, and an FNM promo that's under a buck. When someone tells you raw EDHREC inclusions stats and goes all Dragon Ball Z about the number of decks it's in, remember Nissa's Pilgrimmage. It's hard for a card to be in 10,000 decks and be the most-played Green Sorcery in the whole database and that card can't get above $1. Food for thought.

That does it for me this week. I'll be diving deeper into specific decks next time – I particularly like how Zareth San could make some Rogues cards that escaped a reprint in the Anowon precon (is all of this gibberish to you because you don't play EDH? I'm really self-conscious about assuming you're all on the same page) relevant again. Makes me want to buy all of the Quicksilver Fountains. Until next time!