It's long been theorised that Kaldheim will be a snowy plane (and I don't just mean snowy, I mean snowy), given that it's set inspired by Norse mythology and the Nordic landscapes, where it does tend to be a little chilly – especially around this time of the year. A couple of weeks ago we saw leaks from the Commander decks for the set, and it was incorrectly 'spotted' that one of the cards had a Snow mana symbol on it. Now that we've had the official preview for Rana the Ever-Watchful we've seen that it isn't actually a Snow mana symbol – but that doesn't mean that Snow won't be in the set. If we take a look at the most recent updates to The List, it's clear that we'll be getting more Snow cards, with things like Into the North and Scrying Sheets being added.
As well as the Snow theme, it looks like we're getting some more tribal synergies going with Dwarves and Giants abound – so where does that land us?
---
Ice-Fang Coatl (Foil)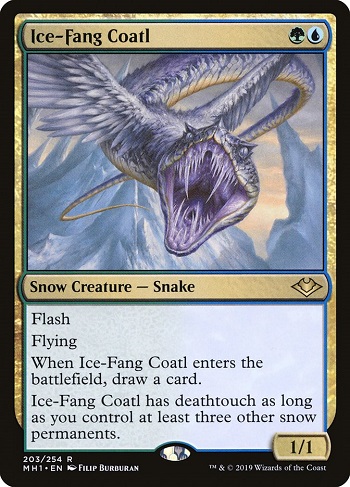 Price today: $30
Possible price: $60
Ice-Fang Coatl has pretty much been a staple in Modern and Legacy since its debut in Modern Horizons back in the summer last year (gosh that seems like forever ago), and along with the gone-but-not-forgotten Arcum's Astrolabe it effectively forced the majority of Modern players to start playing with Snow basic lands. With Kaldheim just around the corner we're almost sure to be getting some more Snow cards to play with, which will drive demand for Snow cards that are already prevalent in eternal formats.
Ice-Fang foils hit a high of around $50 a few months ago, and since then – most likely due to a lack of paper demand for cards – we've seen it drop back down to around $30 again, but supply is still on the low side. There are 27 listings on TCGPlayer with a few copies around $30 but the rest form a nice ramp up towards $60. Ice-Fang has just been added to The List for printing in Set Boosters, but that (1) is a tiny number of cards in reality, and (2) doesn't include foils anyway.
Now there are two sides to this coin – although I'm fairly sure most coins have at least two sides so I guess that's a silly turn of phrase anyway – but I think we could see this go either of two ways. If we get some exciting Snow cards in Kaldheim that look like they could break into Modern, then I'm sure that people will hop aboard the hype train and start to snap up cards like Ice-Fang Coatl that seem like they'll do well in the format. That would give you an earlier out for these. Otherwise, as paper play starts to return around the world (hopefully sooner rather than later), people are going to need Ice-Fangs for their Modern decks regardless, as I think it's going to remain a staple of the format whatever happens – that's a slightly longer horizon but the foils are fairly well drained already and it won't take much to bump the card up in price.
Cavern of Souls (ZNR Expedition Foil)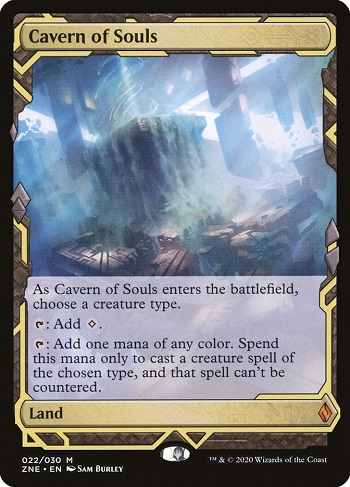 Price today: $80
Possible price: $130
Another card that has just been added to The List is Cavern of Souls, and that along with a new Dwarven Lord and a new Elven Lord coming to us from Kaldheim previews signifies more tribal synergies to come with the new set. Cavern of Souls has seen a wide degree of variation in its competitive play over the years, depending on how good certain tribes are at different points. Merfolk had its day in Modern, Elves is still around here and there and Eldrazi has always been playing the card, with the current use mostly being a one or two-of in Heliod Company and Amulet Titan decks.
Over on the EDH side of things it's a popular card in any and all tribal strategies, clocking in at over 22,000 decks registered on EDHREC. Albeit a higher price barrier than a lot of EDH cards, it's still a favourite amongst players, and with a few different versions to choose from now it's worth taking a look at the latest one. In terms of premium copies, the main contenders are the original Avacyn Restored foil, the Ultimate Masters Box Topper and now the Zendikar Rising Expedition foil. Although I'm not a huge fan of the ZNR Expedition frames in general, I think it actually works really well on a few of the cards, this being one of them.
Things get really interesting when we take a look at price. Avacyn Restored foils are around $120 and UMA Box Toppers start at $180, but the newest ZNR Expeditions are only $80 – and arguably with the best art yet. That's mostly down to personal preference but I think I'm definitely safe in saying that it's a stunner; ethereal rays of light penetrating the gloomy cavern. As supply from ZNR Collector Boosters starts to drain out, $80 won't hold for much longer – that's currently $10 than even the regular UMA foils. Give it 12 months or so and I can see these heading towards $120-130, so if you want personal copies or specs I'd grab them now.
Embercleave (FEA)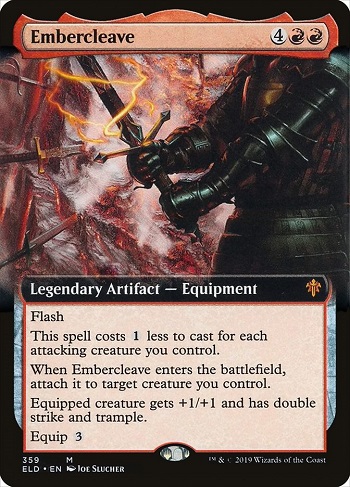 Price in Europe: €45 ($55)
Price in US: $75
Possible price: $100
With the return of Dwarves in Kaldheim we're also seeing a bump in the number of equipment cards and synergies that we're getting in the set. Now, Embercleave has been more of a Standard and Historic card than anything else but it does also show up here and there in Pioneer and Modern, as well as being in a little over 5000 EDH decks listed on EDHREC. That's not a huge amount of demand, but aside from this being an immediate arbitrage win, the key here is that supply is very low. With only 14 FEA listings on TCGPlayer (and only 16 total copies), the ramp from $75 up towards $100 won't be a very difficult one for the card to climb before too long.
You can pick these up in Europe for around €45 ($55), which is a win straight away if you're moving them over to the US for sale. If you prefer to wait a little longer, the only way is up for this card, and so especially with more equipment synergies coming to us from Kaldheim I don't think you can go wrong with it at all.
---
David Sharman (@accidentprune on Twitter) has been playing Magic since 2013, dabbling in almost all formats but with a main focus on Modern, EDH and Pioneer. Based in the UK and a new writer for MTGPrice in 2020, he's an active MTG finance speculator specialising in cross-border arbitrage.