Throne of Eldraine has been one of the most powerful Standard sets to grace us in recent memory, giving us cards like Oko, Thief of Crowns and Once Upon a Time that ultimately got banned from Standard, Pioneer and Modern. The rest of the set wasn't exactly feeble either though, with Embercleave and Brazen Borrower amongst others proving their worth in multiple formats.
We've already seen The Great Henge regular and EA versions reach dizzying heights, and Borderless foil Okos are up there too even though it's banned in most places, but there are still some undervalued cards that are close to drying up and just waiting to pop – so let's take a look at some of them.
Return of the Wildspeaker (FEA)
Price today: $14
Possible price: $30
Throne of Eldraine brought with it the first Collector Boosters, and with them the first Extended Art cards that we've come to know and love. They're the fanciest and most expensive versions of cards that we get printed into Standard sets now, and consequently we've seen the more popular ones drain out and prices go bananas. Just from ELD, The Great Henge FEA is over $150, Embercleave almost $80, Faeburrow Elder around $40, and so on.
So, onto Return of the Wildspeaker – this is the third most popular EDH card from the set, clocking in at almost 20k decks on EDHREC and only losing out to Fabled Passage and Mystic Sanctuary. But it's only $14? Well, not for long by the looks of things. It's down to 25 listings on TCGPlayer with a nice ramp forming up towards $40, and it'll only take a handful of EDH players upgrading their copies to move the price upwards significantly. I think that calling this from $14 to $30 is honestly a little conservative, and this could hit $40+ before too long.
Castle Garenbrig (FEA)
Price on MKM: €20 ($24)
Price on TCGPlayer: $34 (but really $40+)
Possible price: $60
Castle Garenbrig has been one of those cards that hasn't necessarily been broken anywhere, or a super-staple for EDH, but just an all-around consistent performer. We've seen it picked up by various Amulet Titan and Eladamri's Toolbox decks in Modern, as well as being a Standard staple for all the green decks. On top of that, it's been recorded in almost 12k EDH decks on EDHREC, a very respectable number and a good asset to big creature decks.
Supply in North America is already pretty drained on these, with only 12 listings for a total of 15 NM foil copies left on TCGPlayer; a couple of copies at $34 and then rest $40+. Most main vendors are out of stock or close to it, but if you can find any around or below $30 then you're doing great (if you're quick then check out CardKingdom and Miniature Market for a couple of cheaper copies).
Over in Europe, however, you can still pick these up for €20 – but it's not as if there's a glut of supply there either, with around 30 copies left. Prices are overall much lower though, which makes for some great arbitrage – there's instant profit available if you ship these over to the US, or greater returns available if you wait another couple of months.
Mirrormade (FEA)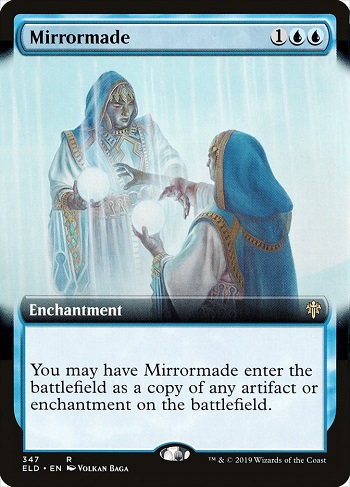 Price today: $18
Possible price: $40
Yes, we're all aboard the FEA train today, because it's going to be leaving the station in a hurry! Mirrormade is another one that's getting very low on the supply side, down to 20 listings (23 copies) on TCGPlayer, and a very popular EDH card. Despite lacking any competitive chops, this is still a very good card for EDH and has the open-ended synergy that we love to see in specs.
There are lots of different clone effects for copying artifacts, but not many that copy enchantments and very few that do both. The closest you can really get is Mirage Mirror, which is a powerful and flexible option but not permanent – and if you're playing one of those effects then you're probably going to want another one if you can get your hands on it.
These look like they'll be $30 before long at all, and will head up towards $40+ given another 6-12 months, so if you want any personal or spec copies then now is the time. You can grab some a little cheaper around $15 in Europe if you have access, but I think that most copies under $20 are a good buy right now.
---
As for the future of FEA cards, the only one we've seen reprinted thus far (as an FEA) is Fabled Passage, and that one did understandably catch quite a lot of people off-guard. It may be that it's just a card that Wizards want to give people a little more access to, because we haven't seen any other FEA reprints other than that, so I think that the future for these cards is probably quite safe for the time being at least. Reprints are something worth keeping in mind, but going on what we've seen so far, I think that almost all FEA specs are safe from reprints in the near future.
---
David Sharman (@accidentprune on Twitter) has been playing Magic since 2013, dabbling in almost all formats but with a main focus on Modern, EDH and Pioneer. Based in the UK, he's an active MTG finance speculator specialising in cross-border arbitrage.