Readers!
If you're looking for a way to get a jump on the competition, might I recommend learning how to use your resources to their full potential? If you're able to have access to information others don't, you can make better informed decisions earlier, meaning you have an advantage of both time and a larger pool of available cards to try and get the best price from. By now, most people at least superficially know how to use EDHREC to look at the numbers and interpret them to the best of their ability. I see a lot more people using EDHREC data to reinforce their pre-conceived notions, which is not a thing I can easily teach them how not to do if they won't read this column or listen to me filibuster for an hour on a podcast. If using EDHREC "wrong" is easier than using it "correctly" then hypothetically we all have an advantage if we figure out how to use it correctly. To that end, there is data on EDHREC right now that I bet more than a few of you are waiting on patiently. It's there, it's easy to access if you know you're supposed to and I'll show you exactly what it says and what I think it means. It's never too late to figure out how to use a thing better, so let's stop my meandering and focus in on the value, shall we?
NOW On EDHREC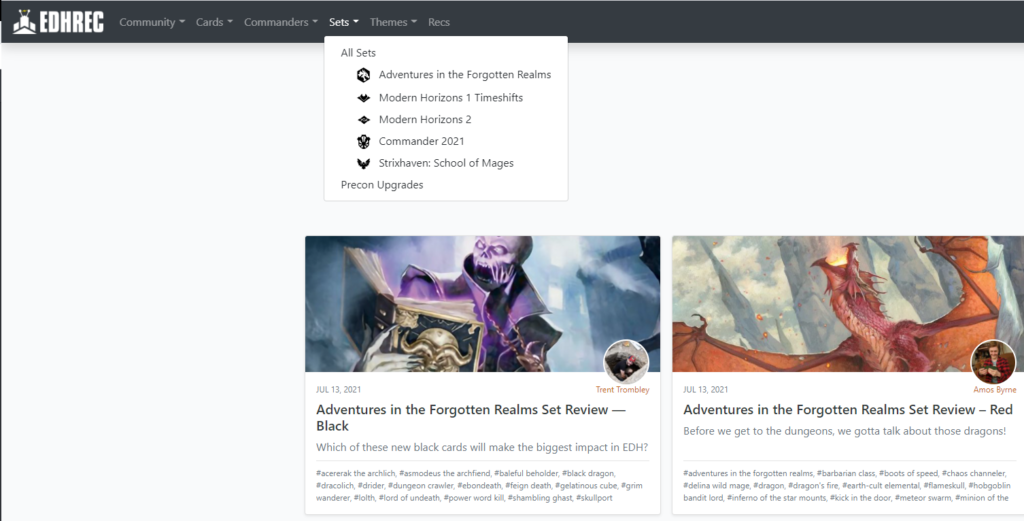 Currently if you click on the "sets" dropdown, the latest set is Adventures in Forgotten Realms, but not the EDH precons. However, if you click on "All Sets" at the top (something that took me a while to figure out), the page it takes you to is maybe a little bit different…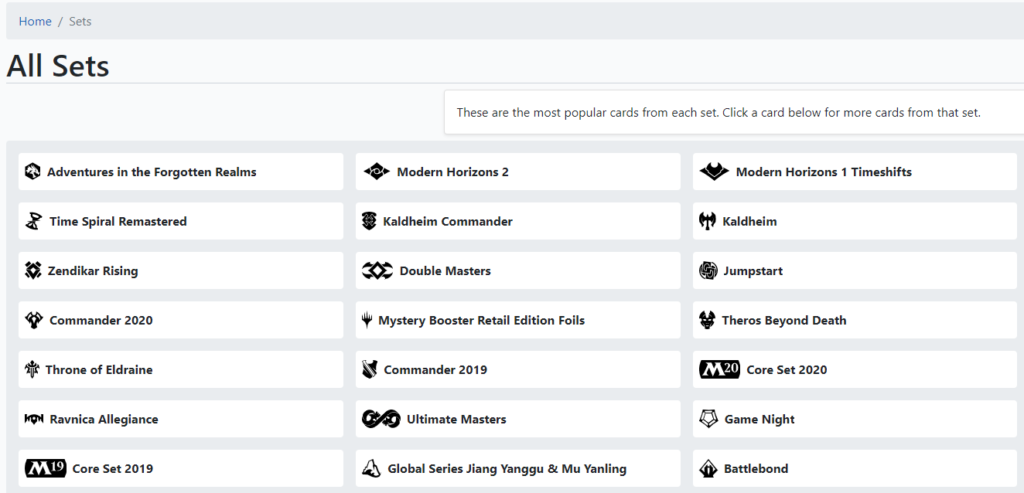 Nope! Same thing here. Too bad, I was going to look and see what people are putting in the EDH precons to see if there were any specs there, but if there's no data, there's no data. OK, that's it for me this week, everyone! Join me next week for another exciting article full of specs and edutainment.
You're Still Here?
OK, I kind of promised I'd show you some harder-to-find data and if you insist, I'll follow through. You see, while the pages for the sets are completed, EDHREC is scraping data for every deck we can find and sometimes that data doesn't have a page built for it. So where does it go? Well, as it turns out, we build the pages for each commander before we build the overall page for the precon set because that's easier to do as soon as the card is spoiled and we don't know how the page will be organized. So the data has been scraped and pages built for each commander. So how do we get there?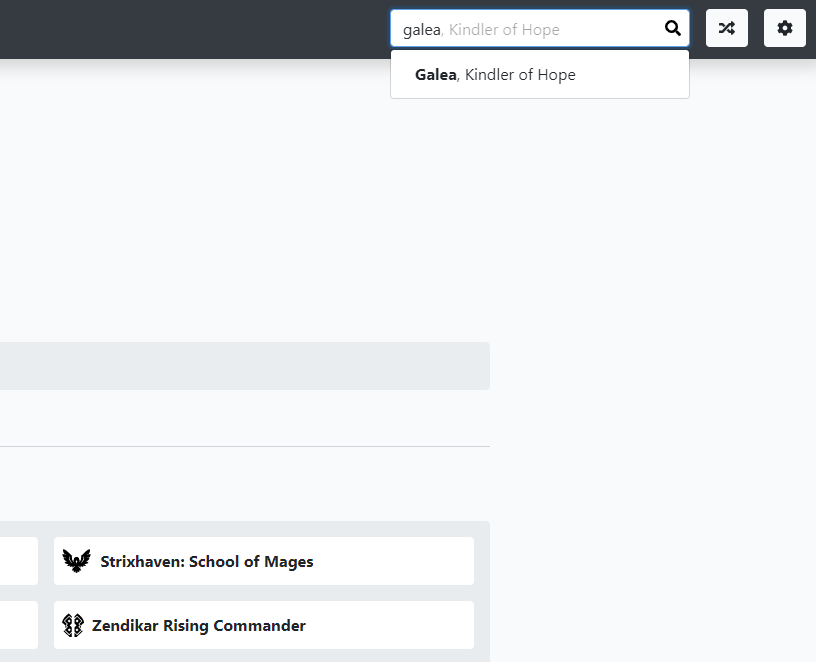 The search bar at the top right part of the page.
Yes, it's obvious, really, but how many people opened up EDHREC looking for the precon decks, didn't find them, and closed the tab? Lots. If you can perservere where they gave up, you can get access to the information they wanted sometimes days or even weeks ahead of them. You will have to know the names of the commanders and check manually, but there are worse inconveniences to endure for access to complete data. Type in Galea or let me just link the page for you.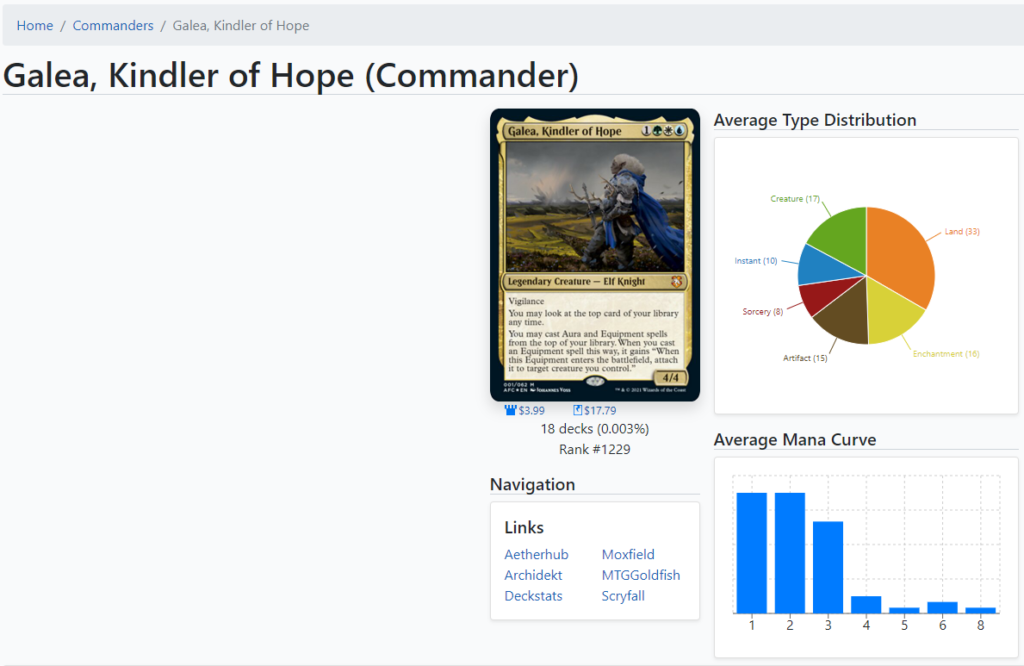 We did it! We are magically transported to the page. So is there anything juicy in this deck? Let's explore together.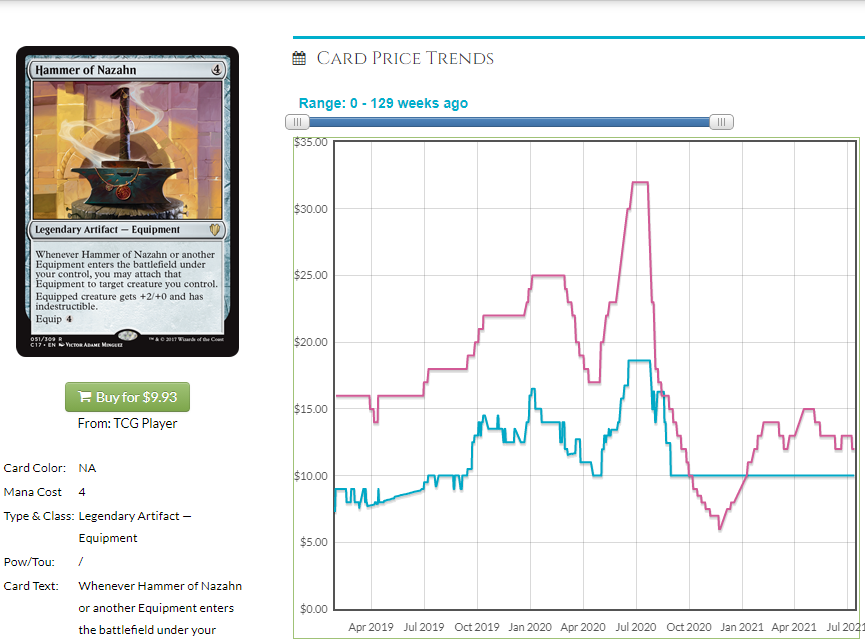 Hard to believe this ever flirted with $5. You see it now and think "Yeah, $10 is about right" and being about right now means it might not be the best time to buy in. It's never hitting $32 again, and you'd need it to hit at least $20 to be glad you bought in now. I think $20 is actually doable if it dodges reprints. Let's not forget to check the same place I'm getting the commanders' names from to see if Hammer is in the deck before we make any proclamations about future reprints, though, shall we?
It's not in there. I don't think this is the least risky bet of all time, but I think hitting $20 is reasonable. Also, there is only one foil printing of hammer, so let's look at that.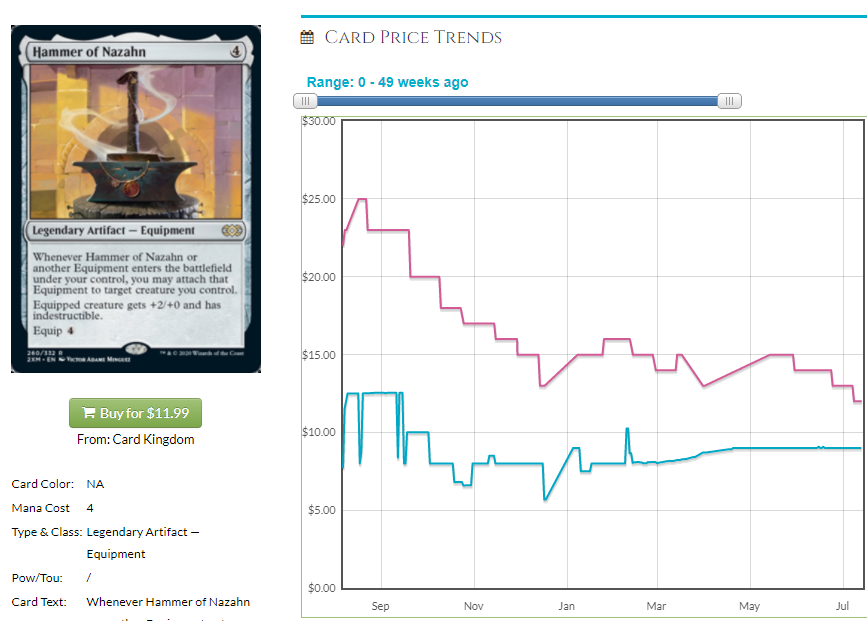 I… would not have predicted this shape. OK. So the buylist is about to converge with retail on the only foil version of a card that is going to be a shoo-in with upgraded copies of the precon about to release. I'm going to call this a pick-up officially. Again, I don't know anything about foils so make up your own mind, but, come on. Look at that graph. This trend can't continue.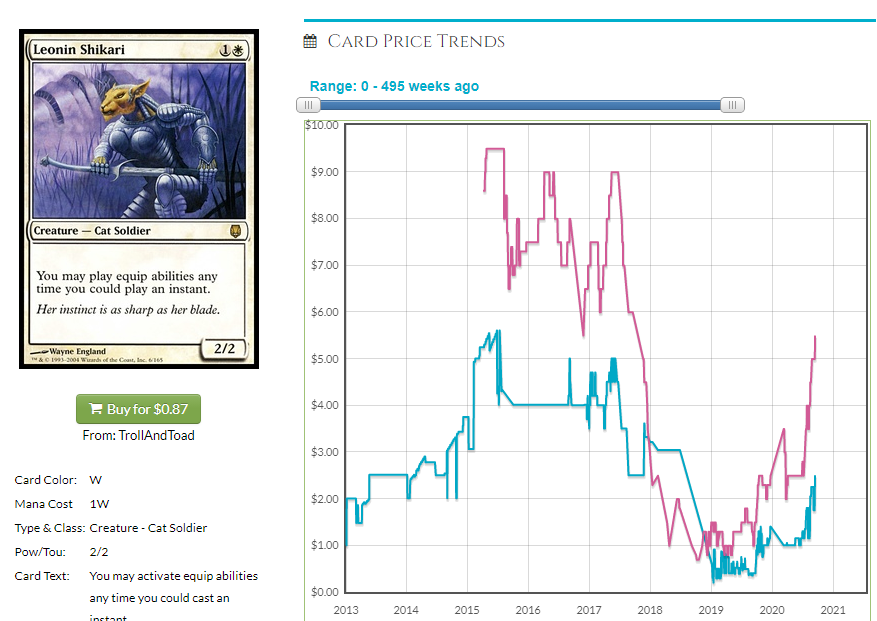 I am going to be honest, I'm surprised Shikari recovered. It was buried in a value-dense cat precon and seemed like another bulk rare that got dealt a deathblow. Now it's half of its pre-reprint price and basically to make money buying now, it would have to flirt with $9 again. We may have missed the boat on this one and we'll have to use this as a data point when we examine precon reprintings and which cards can recover in a future installment.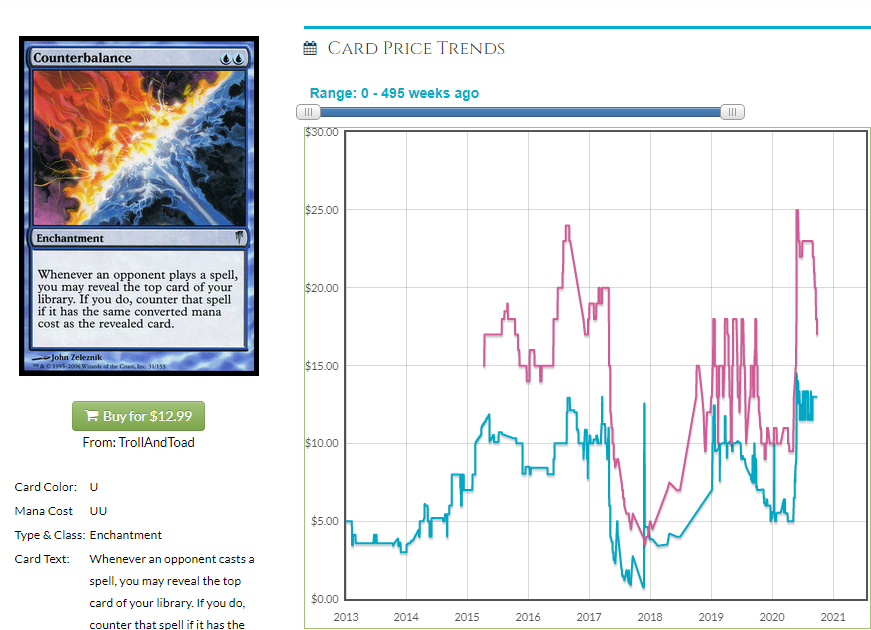 The one juicy opportunity I see here is Counterbalance, a card currently plummenting and currently in one of every five Galea decks in the database. I think the supply is low enough that EDH can pick up the slack.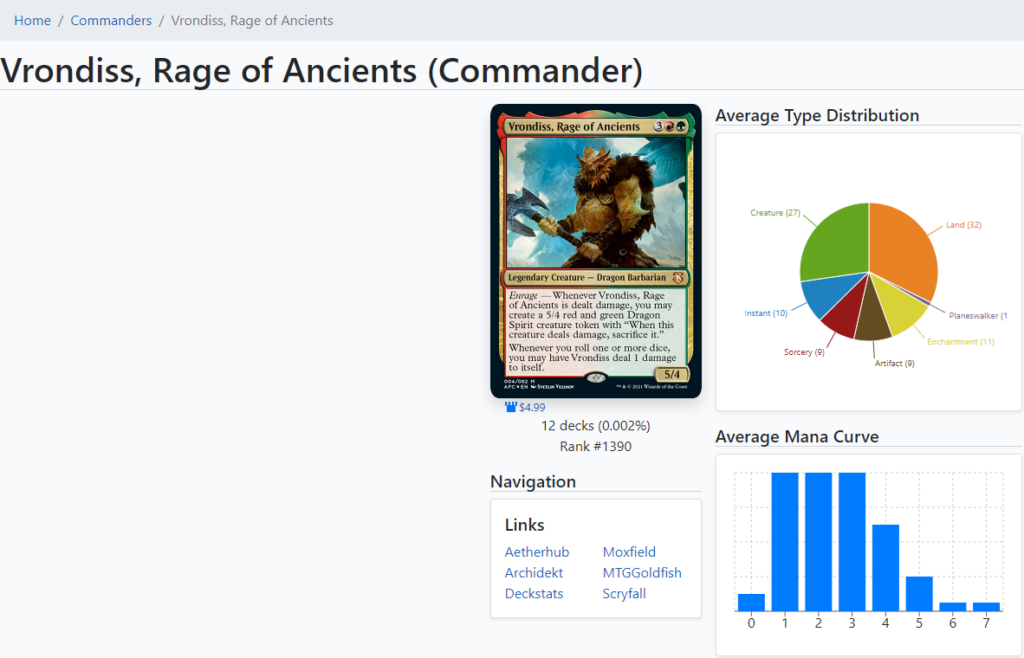 This is sort of an ugly wedge of the page to show off, but I did it for Galea and thought I might as well keep it up. Here's Vrondiss' page.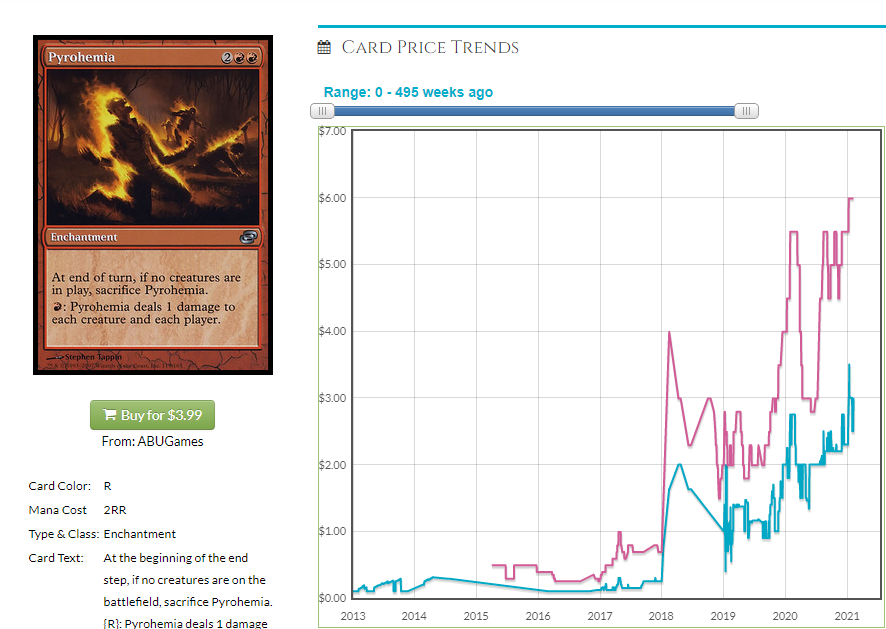 I am going to come 100% clean here – when the original Ixalan dino hype around this card died down and the card plummeted sub-$2, I sort of stopped paying attention. This is baseline at the pre-plummet price and it's on its way up. This is due a second spike and without the cheap copies everyone hoovered up last time it popped, the supply is in the hands of dealers and it's going to flirt with $10. Do we have time to make money?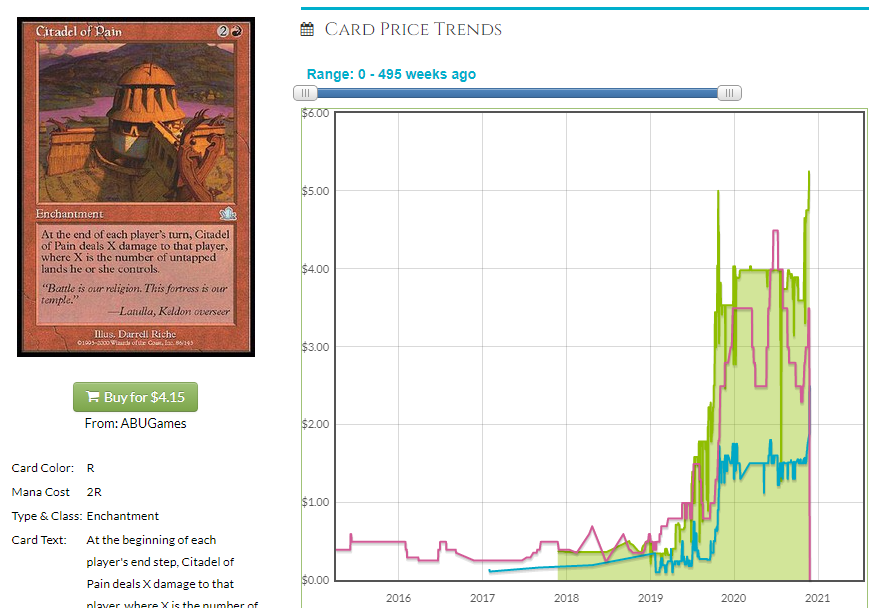 Yes? Sure? If Citadel, a card in one deck that was 6 months and 12 expansion sets ago can maintain value, Pyrohemia, a second spiker, is in great shape.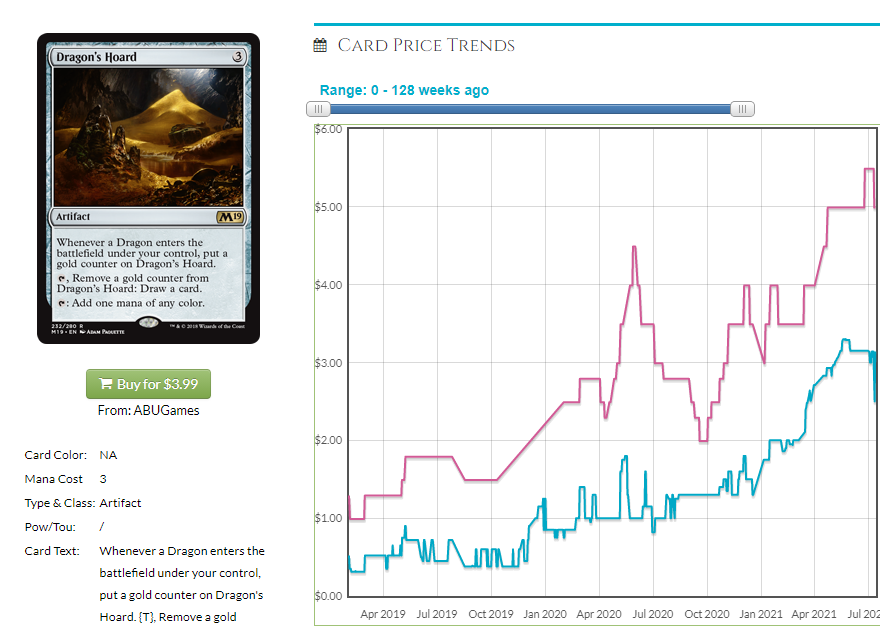 Dragon's Hoard is in the deck and is currently solidly $5 on Card Kingdom. If Hoard goes to bulk, do we see a return buying bulk copies of a card that quintupled in a 2 year period? I don't hate it when it tanks, and M19 will have the only foil copies, something not getting reprinted.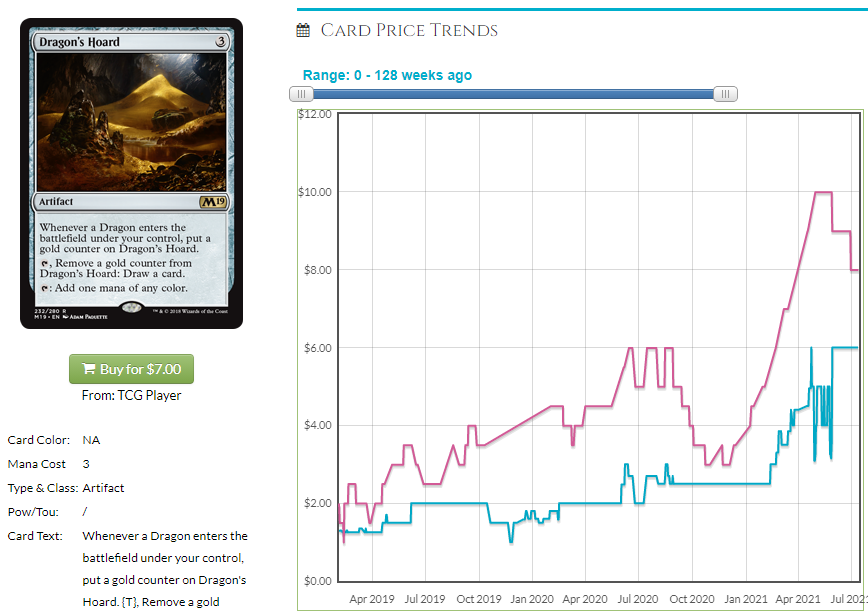 The foil isn't much more than the non-foil, maybe both deserve a look.
Here is Sefris' page on EDHREC, although I'm sure you could find it yourself by now, right?
There is basically nothing I could find here. It's all pretty standard reanimator stuff that's evergreen good and then new cards, a lot of which are in the precon, to help you dungeon crawl. I think the dungeon thing is cool and a subgame that gets you value only you have access to is fine. I'll likely build Sefris and keep the deck together, but I don't see opportunity here.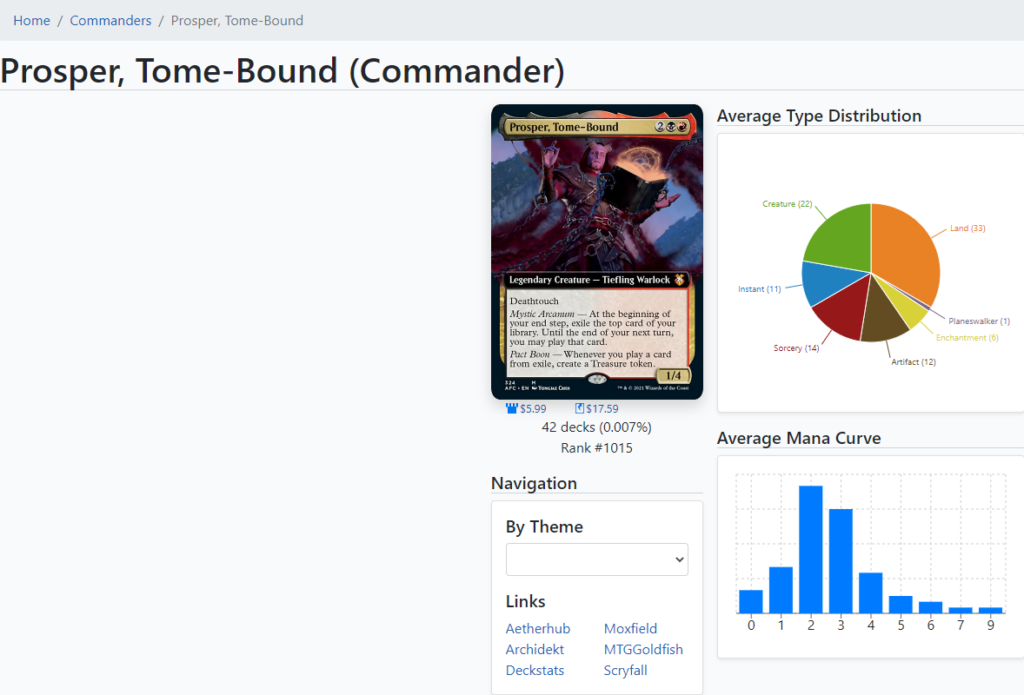 Can you find Proper on your own? I'm sure by now you can – can you tell I'm weaning you off of my help? You might have attributed it to laziness or forgetfulness on my part, but, no, I wrote a whole paragraph which took longer than linking would have. I just want to teach you to fish.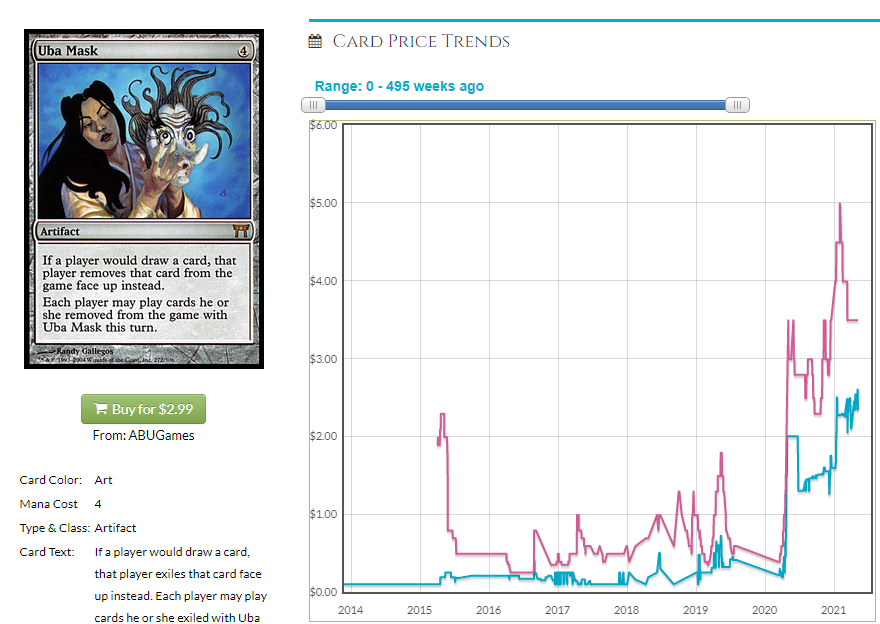 Old? Low supply? Popped already so the dealers have most of the copies? Included in a majority of the registered copies of a new deck that hasn't come out yet? Yeah, this hits all of the beats I like to see. I'm going to call this a buy, especially since it's like $2 lower than the price it already established it was capable of hitting. The supply here is dwindling and I like it very much. I'm much more bearish on the $30 foils, but you knew that.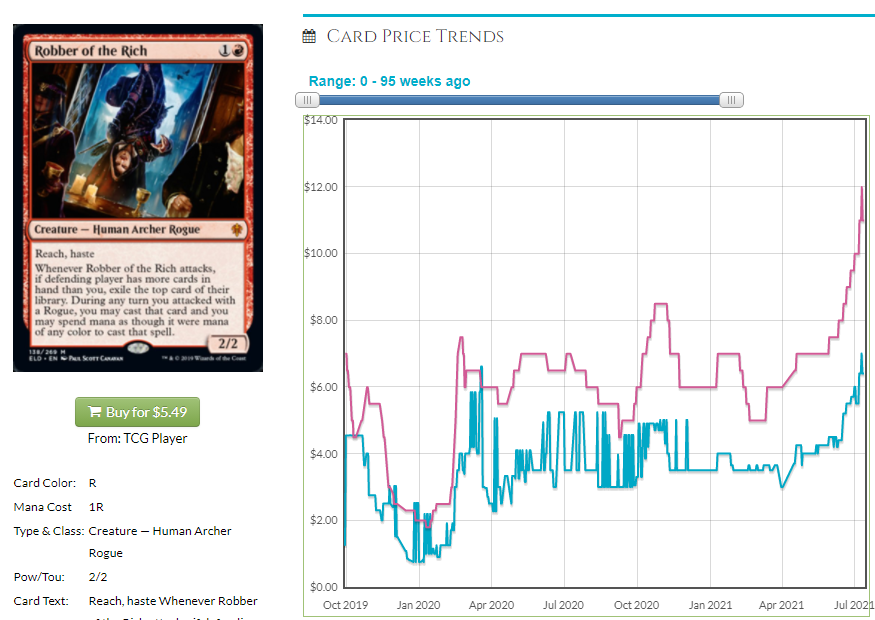 It seems like TCG Player is lagging behind and currently has robbers for half of what CK has them for. Take advantage.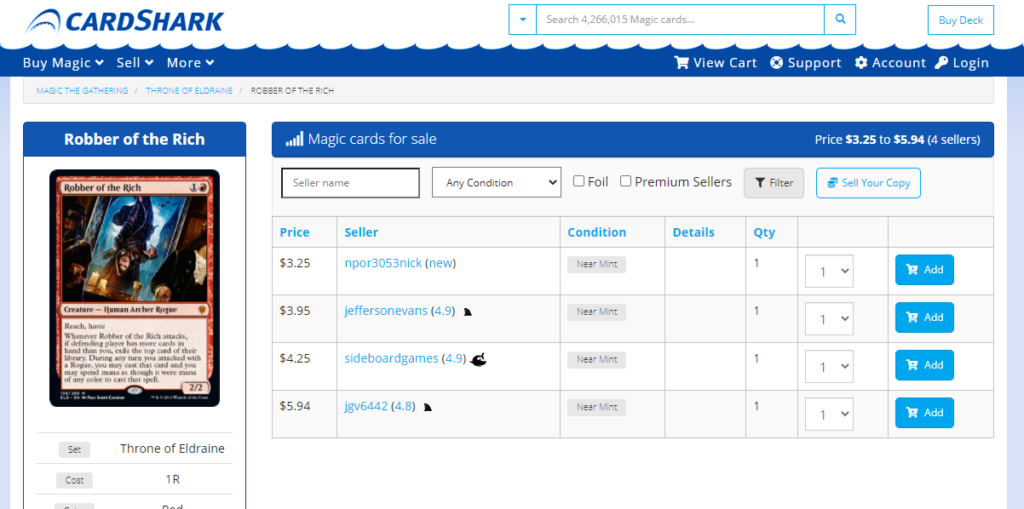 Or kick it old school and save even more, provided you find enough underpriced cards in those sellers' inventories to justify what is likely $10 for shipping.
Of everything we came across today, I like Uba Mask the most, but we're not done delving into these decks. There is still the matter of the other decks possible from the precon, built around the new Legendary creatures in the decks. There isn't a ton of data on those or time for me to write about it this week, but since no one will know how to access the lists except you, it can wait. That does it for me, until next time!