Readers!
Something I haven't done in a long time is look at the data for Top 100 most-included cards on EDHREC. And why would I? The top card is Sol Ring, there are a bunch of Signets, tutors, removal spells, Rampant Growths and a few spicy creatures like Dockside Extortionist. Everyone who has played even a single game of Commander can probably name all 100 cards, right. Right? Well, what if I told you that there are a lot of cards on the list that have been printed for the first time in the last two years, some of them that I have mentioned before and some I haven't? Do I need to sell you on this concept, really? I got your click already, you're hooked, I just need to not blow it by losing your interest. I'd prefer you got something out of this article, so I'm going to look at the EDHREC top 100 cards of the last week and show you which cards from 2021 and 2022 are heating up and whether or not I like them as specs. It's happening, so be prepared to be surprised by a few of these – it wouldn't be a whole entire article without a few curveballs, otherwise I'd just list all 100 cards and call it a day. Instead, I'm digging in the content mines without a circle of protection: black lung anywhere in sight. I do it for you, readers, so let's see what I unearthed, shall we? That was rhetorical; we shall.
#25 – Ignoble Hierarch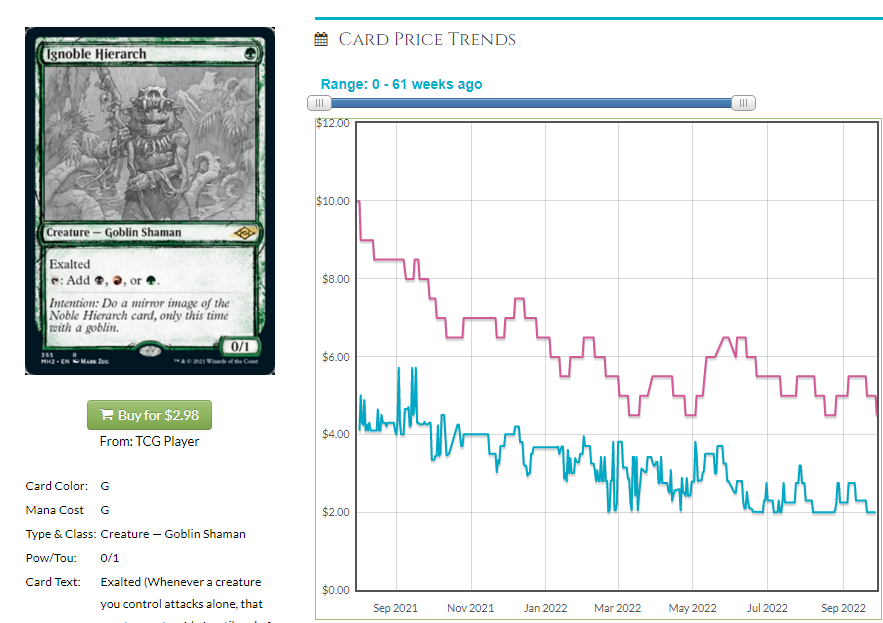 There will come a certain point where a rare that is unlikely to get reprinted soon given its price trajectory over the year that's in tens of thousands of decks will officially become so cheap that it's absurd not to buy them. Silly me, I thought that point was $5. I bought some, not a ton, but some. The showcase versions is trash, but the old border version is very good-looking. If this is like $1 or $2 and it's in a quarter of Jund decks moving forward, which seems ow considering it was in more than a quarter of jund decks this week.
28% isn't a ton more than %25, but $3.39 is a hell of a lot cheaper than $10 so the popularity by way of discovered demand when the card becomes too cheap not to play should help that number increase beyond 28% as people build more Jund. This is in a ton of decks, it's cheap, it's getting help from Modern and it's tough to reprint. At some point the fact that Modern Horizons two was absolutely bonkers and every pack was a winner will be outweighed by the sheer demand, provided people don't abandon EDH in droves. It's a fun format, it's hard to see that happening.
#42 – Esper Sentinel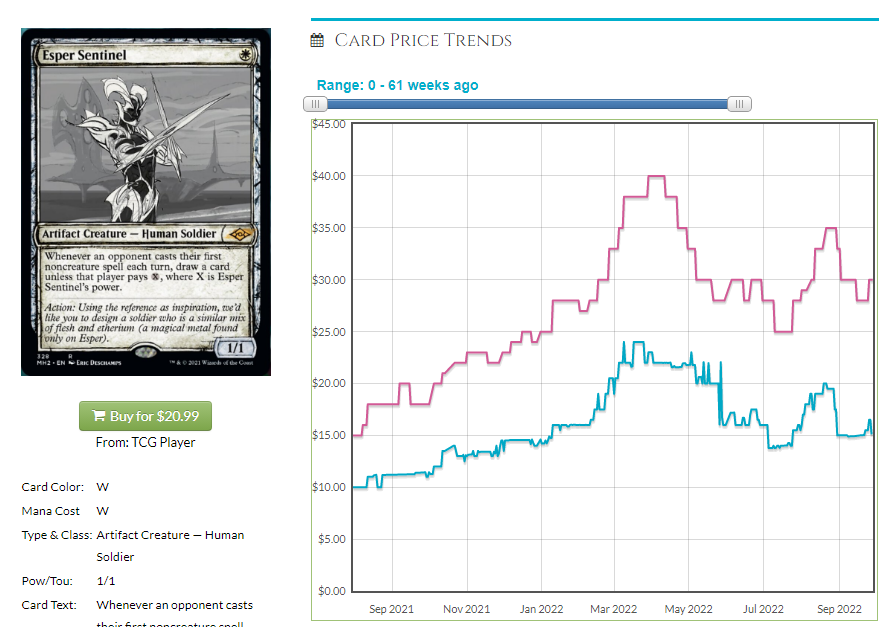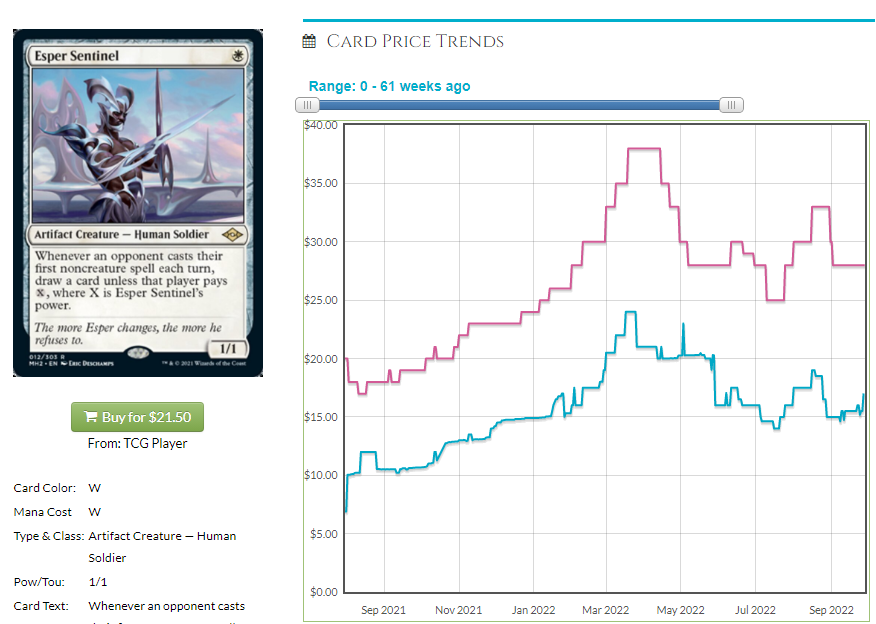 Esper Sentinel has 4 times the demand (OK, 3.72) of Ignoble Hierarch and commands 10 times the price. As the price for Hierarch sinks, the price for Sentinel really went nuts, peaking at twice what it is now. I still think this card is overpriced at $20 but it's a little tough to reprint, also. I think rather than look at this card as a spec, I want to use it as a stick to measure what the ceiling for Ignoble likely is. If Esper Sentinel is $20 in 4x as many decks and can hold $20 (if this approaches $10 it becomes so buyable it immediately goes back above $15 in the frenzy) we can expect to get $5 minimum for Hierarch. The showcases are ugly and they're everywhere but no product is perfect. I think Sentinel is a buy under $20 for any reason other than a reprint and cEDH ubiquity also plays a huge part in Sentinel's inflated price, something Ignoble can't quite claim. Neither can this next card, but being in a weird set is a big boost.
#46 Esika, God of the Tree
Coming in just a few spots behind Esper Sentinel this week is Esika, a mana fixing maven. With the multicolored decks coming out hard and fast and showing no signs of stopping, Esika is in under 10% of the 5 color decks released in the past two years, however…
This week she is in twice that ratio, meaning her use over time is trending up. This is a $15 card masquerading as an $8 card and I'm tired of pretending it's not. Except this will be $15 on Card Kingdom in a few months and we'll all wonder when it happened. Soon, I think.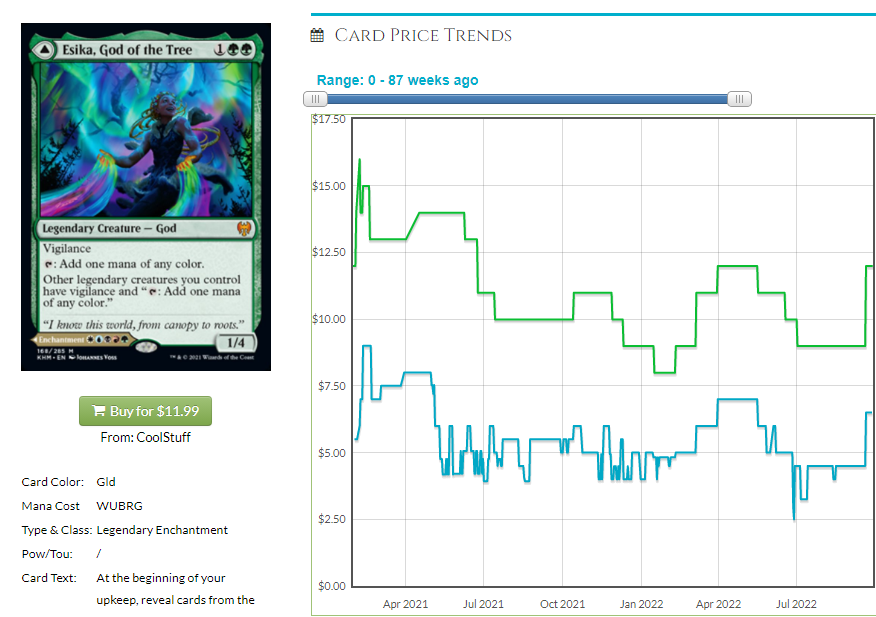 This is also available in a very good-looking showcase version, which is kind of rare, really.
I love the showcase art, and while it's not for everyone, it's trending up sharply in price, which will happen because it's the preferred version and the less-preferred version will lag behind. There is time to get in on both, though there's more time for the plain jane version. I love both, honestly- these shake out to $15 and $20+ respectively fairly trivially in my opinion. I also like a few of the other Legendary creatures from Kaldheim because they bothered to make creatures that could go in the 99. At the time I thought they made too many Legendary creatures in Kaldheim but I'd give anything to go back to before we got literally 70 of them every 2 months.
#50 Damn
This is almost the same price as Ignoble Hierarch and is in twice as many decks. Which card is mispriced? I think perhaps Damn looks good given this comparison, especially given that it goes in more decks.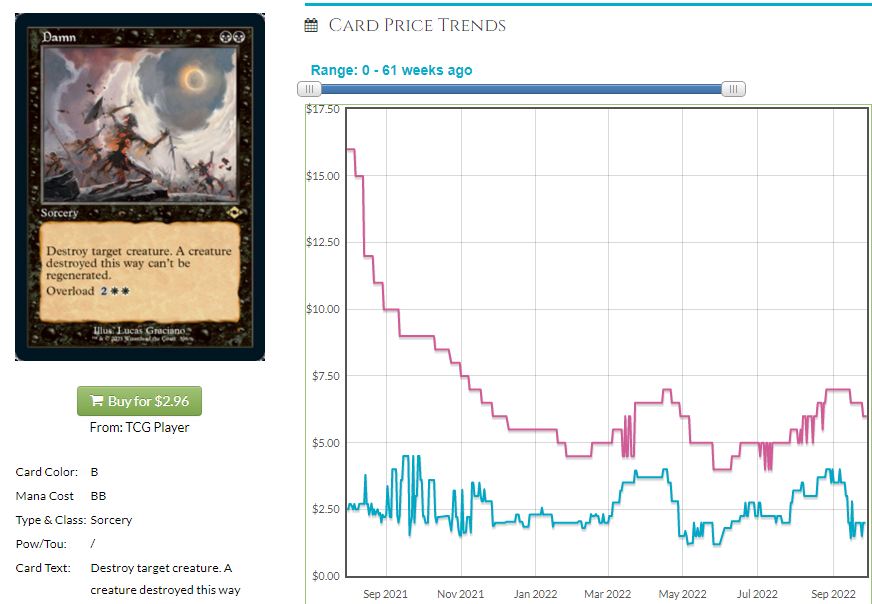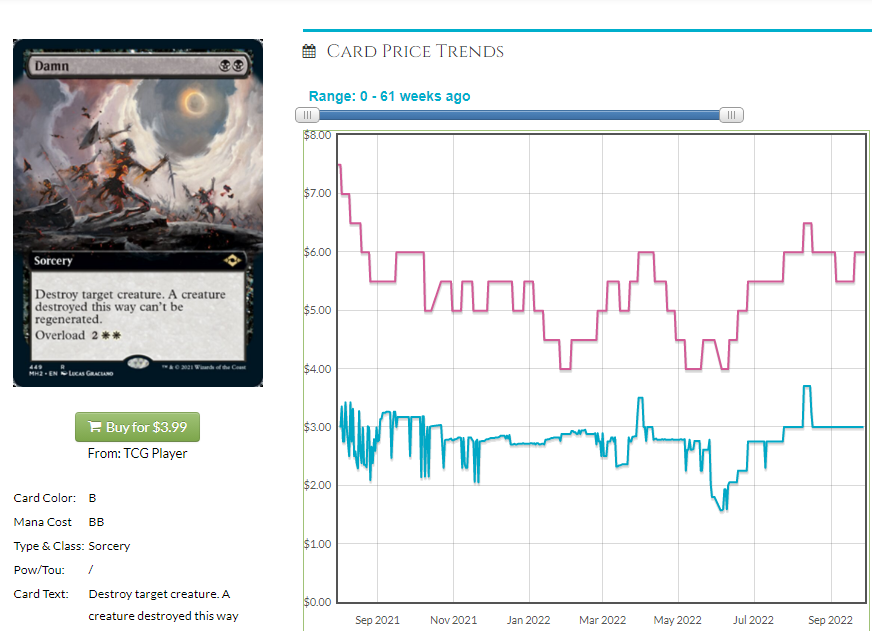 Both versions of this card look so slick it's tough to choose a clear winner here. I don't think you need to – this is played a ton – in 20% of all Orzhov-containing decks over both time periods, and I think it's a little tougher to reprint than you might think. I like this a ton, especially the $4 EA copies on TCG Player given how they're already 150% of that on CK.
#72 – An Offer You Can't Refuse
Not a ton to say here. It's so easy to get treasure tokens and so hard to get a 2/2 flier that everyone seems to just want to jam this over Swan Song because it's a $1 uncommon. I don't rally have an issue with this. Will its price go up? Yep. I don't know how much, but this is becoming a bit of a staple and I'm all for it.
I doubt you regret snagging these under $2, there are way worse uncommons worth way more, recent ones, too. One problem with this is that it's a "quiet" and unsexy staple and people tend to buy those one at a time for decks rather than in swaths for speculation purposes. It's a them card, not an us card. But maybe we make it an us card and just buy the things, I don't know. Could work.
#74 Void Rend
Speaking of quiet an unsexy, this little guy is chugging along at the $2 mark which is about where the Uncommon we just mentioned is. This is played the same proportion in absolute terms although the mono-Blue An Offer You Can't Refuse is nearing the 40k mark already. Rares are a third as abundant as Uncommons and this is played a third as much. Will the prices go up together? It's interesting, but also, good rare removal doesn't stay under $2 for long and while this is held out of a lot of decks by its Esper color identity, it goes in quite a few by virtue of it being hard to think of an Esper deck that doesn't want to point and belete a permanent, and being uncounterable matters quite a bit, too. In a head-to-head match, this beats An Offer You Can't Refuse, and I'll break the tie that way and you can't stop me.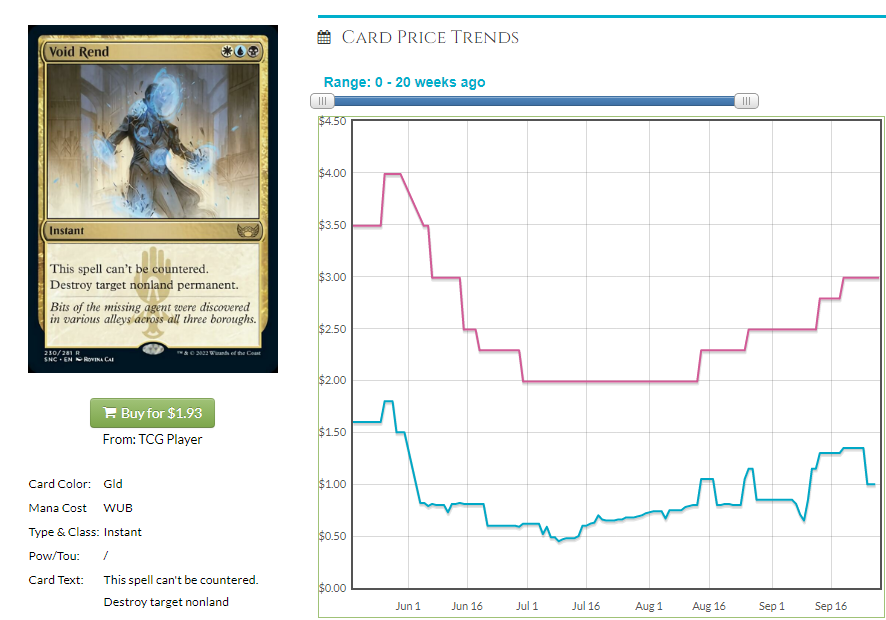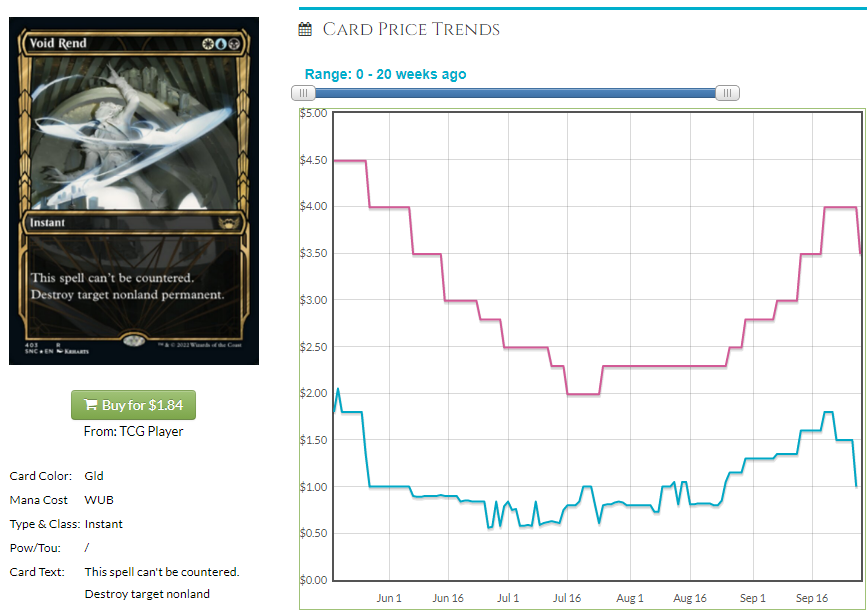 #92 Timeless Lotus
This is lava hot right now and, despite being a new card, is showing up in a lot of the 5 color decks. There was a 5 color precon and we're in the middle of the mania surrounding that and I sort of feel like this is a clunky rock. I've advocated for Crystal Quarry before, however, so who knows who's right? You don't have to take my word for it, just look at how many people are playing the card. Check the percentage of usage for a few weeks – 35% is entirely unsustainable, and this card's color identity keeps it out of a lot of decks, but we like Esika so why not like this, too? Morophon is a card, after all.
That does it for me this week! I'm running really close to the automatic cap where wordpress automatically cuts the article off, but before I go I just want to thank