Yes, I actually play Magic Sometimes
So most of  you reading this article will know of the existence of my Child of Alara Lands Commander deck, mostly because I incessantly talk about it whenever a new card gets spoiled that could be played in the deck. It's my favorite deck that I own by a fair margin, and I've been working to foil out as much of the deck as possible. I'm even trying to foil out the cards that don't exist in foil, with the help of TheProxyGuy (NOTE: Do not ask him to sell proxies. I traded cards for the below custom proxies, and you should contact him at zeerbe@gmail.com if you're interested in trading.)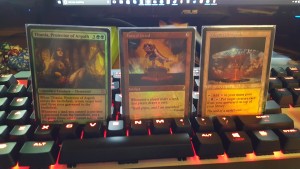 So where am I going with this? Oh, right. So I was hanging around on TCGplayer a week or so ago, looking for a card to ruthlessly buy out  a foil for my Child deck. I forgot that Petrified Field had just spiked, and I was on the hunt for any foil copies that hadn't been bought out yet. At the time of my purchase, there were a couple NM foils at $30+, and one damaged foil at $15. The nonfoil had just spiked to $10, so I decided to take a gamble. Now, most of you have probably taken a peek at TCGplayers' (or another similar store's) grading guide at some point in the past, so we're going to skip past the initial paragraphs and check out the relevant one.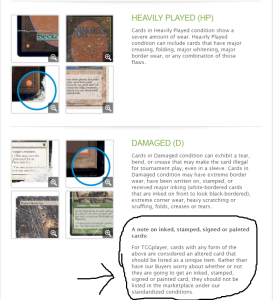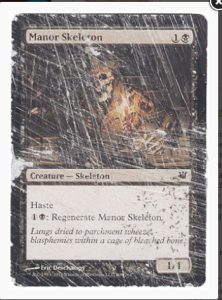 Look at that work of art. Someone at TCGplayer probably had to paint their driveway with that card before taking that picture for a stock photograph. So technically, I'm risking getting that thing in the mail when I open up my foil Petrified Field. Considering this deck is my pride and joy, I'd rather my foils not look like they were used to whet the anime sword held by new Olivia. Considering the foil was half the price of all the other copies on the market, its' safe to say that it was infected with leprosy and no other buyer wanted to touch it. When the package came in the mail today, I honestly expected something in this condition.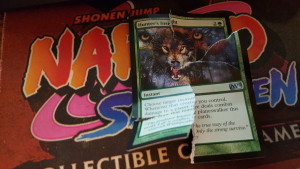 Instead, we ended up with this. I'm going to warn you, MTGprice has no way to tag an article with NSFW. This image is not for the faint of h-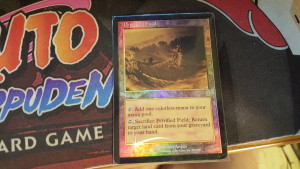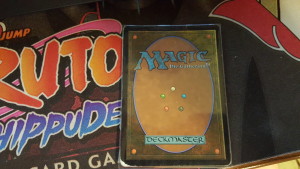 Oh. Uhhhh…. alright then. Neat. Did I get lucky? I probably got lucky. That wear on the bottom right corner of the backside is pretty noticable though, and the card might have been more correctly labeled as Heavily Played. TCGplayer's grading guideline says that damaged cards may not even be sleeve playable, but it's certainly better than the mutilated corpse of a Magic card than I was half expecting to receive. I'll be completely happy to jam this into Child, and no one will be the wiser that it had a little accident in the corner.
This got me thinking though; what if we take most of the risk out of the equation? While there's no way to contact a seller directly through TCGplayer without buying a card from them first, we can use the power of the internet to ask exactly what these "damaged" cards look like before picking them up. If I as a player could get a 40-50% discount on the NM price just because a seller is an extremely harsh grader, then I feel like I'd be a lot more likely to purchase the card. Considering some damaged cards sit on the storefront for extended periods of time before disappearing (I assume due to fear of the cards looking like they were cooked over an open flame for an extended period of time), then we might just be able to get a message back from a seller at an email address with a few pictures.
Unfortunately, I'm sitting at my computer at 11:47pm and just came up with this article idea not two hours ago, so I don't exactly have a paper trail of conversation with a TCGplayer vendor about damaged cards ready and raring to go. However, I can provide you with an example of a card that I've had my eye on for a little while. Remember how I wouldn't shut up about Volrath's Stronghold for like a week or two? Well there's currently a damaged one sitting on TCGplayer for $21 shipped, sold by The End Games.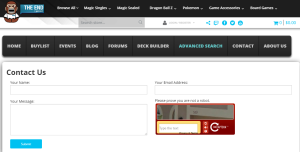 Less than a dozen clicks away, and I'm on their web page ready to ask them about this particular Stronghold that they have listed on TCGplayer. I'm going to take a slight risk and assume that there is only one store called The End Games in the state of Virginia, but bear with me here. As long as we provide an email address and use our please and thank you's, I don't see why we wouldn't be able to get a bit more specifying information on the card that's been on TCGplayer for multiple weeks now. If it just has a couple creases on the corners or has slight water damage, you could easily pick up the copy you want for your Commander deck at a much lower price than the other copies currently available.
One of the downsides to this method is of course that you probably won't be able to contact a store if they're not actually a Certified Hobby Shop. Some of the stores with fewer number of sales that just do this on the level that I do won't be Google-able, and as such would be more difficult to contact if you wanted to inquire about the exact status of their more heavily worn cards. Still, the goal of this article was simply to show that not all "damaged" cards will be ripped in half or dipped in chocolate syrup. I took a gamble and it paid off, but there could have been ways to remove the risk from the equation and safely end up with a nice discount on a pretty looking foil that I wanted to add to my Commander deck anyway. See you next week!
End Step
As a couple of you mentioned in the comments of my previous article, yes I was probably wrong about Mayor again. As much as I want to justify buying them at $3, I just refuse to buy into a card after it already spiked the first time. I would much rather put my money elsewhere, like into collections.
I definitely missed the boat on Always Watching. It turns out that calling Glorious Anthem with upside a bulk rare is a bad idea. On the plus side, I can still be right about 80% of the rest of the set because I call almost everything a bulk rare, and maintain that sweet, sweet, batting average of pure pessimism.
Advertisement: The best Magic players are organized… and the best way to organize your collection is with OzGuild! Building a digital catalogue of your cards is quick and easy, just scan your cards with your smartphone. Scan in your first deck for free!