The set isn't fully spoiled and I imagine there will be stuff spoiled between this article and the end of spoilers that will be relevant. Instead of waiting for that, I'm just going to get started and we'll wrap up later. First, though, let's take a look at how Aether Revolt is doing financially.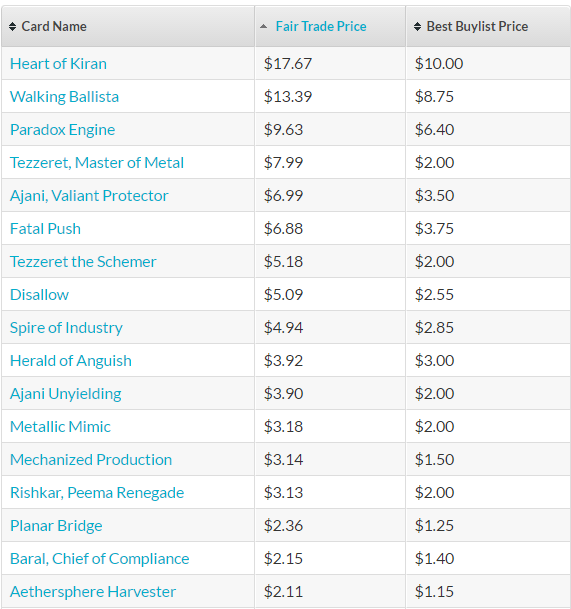 17 cards over $2. This is what we're hoping the Invocation Masterpieces will do to prices in Amonkhet but it's hard to say. Also, I was surprised to find that the 4th most expensive card is not even in regular boosters – it's a durdly Planeswalker from the Planeswalker packs. Its high price is only surprising because I didn't think it was that good – being in the Planeswalker deck means Masterpieces had no effect on its price.
So what I'm seeing is that basically 25% of the people who preordered Walking Ballista and hardly anyone else made money pre-ordering. Prices go down on just about everything 3 months later due to more boxes than ever being opened. Does it make sense to have a $7 uncommon in that context? Maybe, maybe not. What is EDH going to do?
Looking at Aether Revolt prices, we see Paradox Engine, Planar Bridge, Baral and Mechanized Production which seem to be expensive solely because of EDH. In the case of Paradox Engine, we have a card that's one of the most expensive in the set solely because it's bannably good in EDH and is basically warping that format. Could it be banned? Maybe. But until it is, it's going to continue to be one of the most valuable cards in the set. Everything else got smashed down to like a buck and while that is good long-term, you're looking to see what to pre-order (if anything ) and/or how much of a bath you're going to take on the stuff you buy early. Do you need cards to play with right away? Then suck it, up; you're going to lose some money, it happens. Are you willing to wait a minute? I think I can help you, there. Let's look at what we should care about and what it will be worth in a few months.
Annointed Procession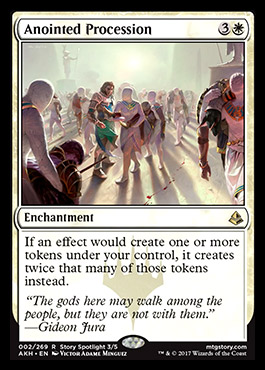 This card is pre-selling for $3 on SCG and I think that may be too little and too much. Long-term, I think this has chops and can really get there because it's a carbon copy of a card that is already expensive. I also think this goes down before it goes up.
Parallel Lives was under $3 for a minute and that was a while after it was printed. Parallel Lives is also in more appropriate colors for this effect. That said, lots of white token-based decks that never had access to green have been waiting for this. I think Parallel Lives' price helped establish the preliminary price for this card but it can't maintain it. At peak supply for this card, it will be very hard-pressed to maintain even $1 unless it's directly impacting Standard, which I doubt. This is this set's Dictate of Erebos, which means we'll have time to get these for cheap and we'll be getting $3-$5 for these in a year or two. This is a great opportunity, just don't buy in too early.
Cast Out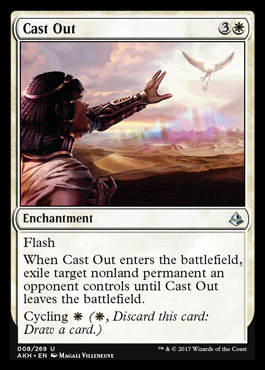 I don't see this being quite as expensive as Fatal Push (or as secretly rare – I have seen boxes of Aether Revolt with 2 copies of multiple rares and only one Fatal Push) so I think a good target for this is "free in draft chaff" if you can get them. EDH plays effects like this and tacking cycling onto it makes this pretty attractive. Get foils while the base price and multiplier are both low.
Regal Caracal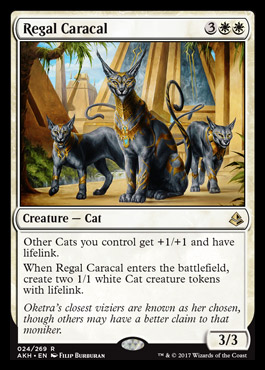 Cat lord. Maybe EDH doesn't want this (a non-zero number of people absolutely will) but 60-card casual overlaps with EDH sometimes and obscures where the demand is coming from. The advantage of appealing to 60-card casual is that they can snap four of these up at a time. I think once this is bulk, you set it aside when you process bulk rares and that's all you need to do. Forget these in a box and find them in two years when you can buylist these for like $1.50 each and use the proceeds to buy your family's freedom from the marauding gangs of paramilitary thugs or Spam or air filters or whatever we'll need money for in two years.
It's going to look like I'm omitting "As Foretold" but since that's not EDH-exclusive, the price won't be affected by anything we do so it's not really worth discussing. $25 is probably too much, but I don't know if it will ever get so cheap that we'll be glad later we paid that price. This card is just going to straight ruin prices on a lot of cards for a minute.
Kefnet the Mindful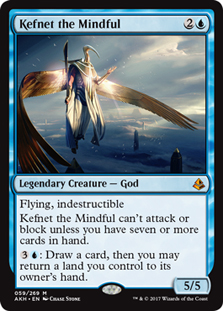 This card is better than anyone thinks, probably. Still, it's going to have a tougher time finding a home than most Sea Drake variants. I don't want to pay $6 for this for sure. In general, these gods are way worse than the Theros ones and those prices are still low on some of them. I don't expect this to ever be worth enough that we're glad we bought in before these rotate out of Standard.
New Perspectives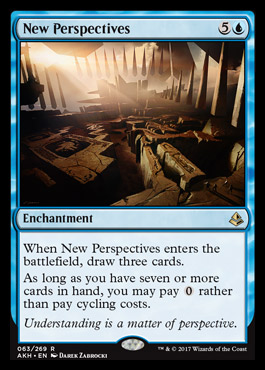 This is just another bulk rare which likely languishes at bulk for a minute, but currently Lifecrafter's Bestiary is a bulk rare and we know that can't stay cheap forever. This card is good, albeit narrow. I feel like EDH will use its first ability as often as its second, especially in decks like Roon and Brago. Pull this out of bulk and box it up and wait.
Pull from Tomorrow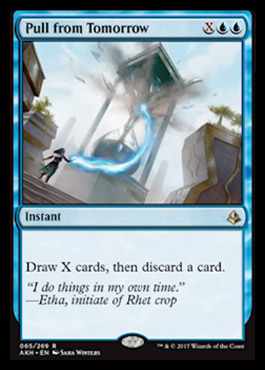 The marginal upside of being "allowed" to discard a card for certain decks isn't enough to pay $3 for this right now. This will be bulk eventually but it will also be worth getting because it's got more utility than some other cards that do this (though you can't make them draw out like you can with Stroke of Genius, etc). In a world with a ton of cards that do this exact thing, this differentiates itself slightly by letting decks like The Mimeoplasm discard and that gives it longterm upside that Standard players won't understand. Get these at bulk.
Liliana's Mastery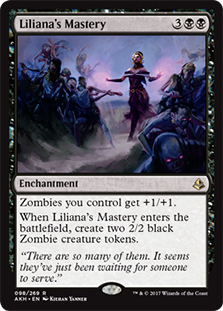 How long do we expect casual gold like this to be a bulk rare? I sound like a broken record, but get these in bulk and hold onto them. It's fine to sound like a broken record during preview season considering there are only one or two cards that won't go down in price, and usually one of those cards only reveals itself after pro players have done significant testing.
Lord of the Accursed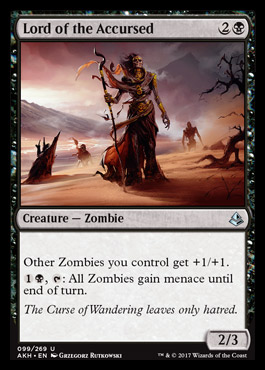 "Why is an uncommon worth $4?" – Someone on reddit in two years
Champion of Rhonas
No, I didn't forget red, I just don't have any red cards to talk about because, like always, there are no good red EDH cards in sets other than Commander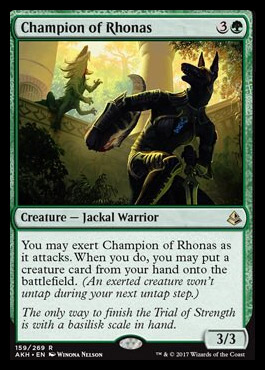 This is better than Elvish Piper in some situations. It's also not worth $6. I think this will probably get very cheap. Will this be one of the 17 cards worth more than $2 in a few months? I tend to doubt it. Here's what I do – I ask myself "Am I more excited about this card than I was Aethersphere Harvester" and when the answer is inevitably "No" I decide that I don't want to pay more than $2 for it.
Channeler Initiate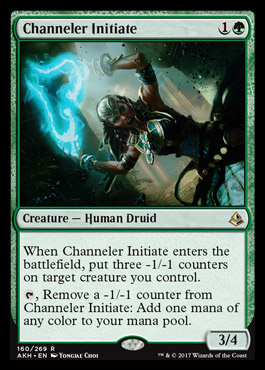 At $3, this may actually be underpriced, I don't know yet. What I do know is that this can put -1/-1 counters on creatures other than itself which is not always a bad thing and this can grow itself while it helps your mana.  This card is really stupid. Then I remember that Somberwald Sage is stupid in EDH and that's like $1.50. Who knows? If this goes up before like 3 years, it's probably because Standard wanted it, which I can see. This is a better Werebear.
Shefet Monitor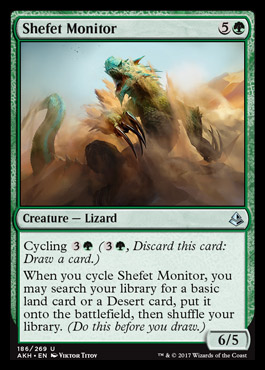 This is not a 6 mana creature. This is a 4 mana spell that says "Search your library for a basic land or, I guess, a Desert, put it into play untapped, shuffle up then draw a card. Put a dead lizard in your graveyard that you may end up putting back in your hand or accidentally reanimating." and that's a pretty decent spell.
Hapatra, Vizier of Poisons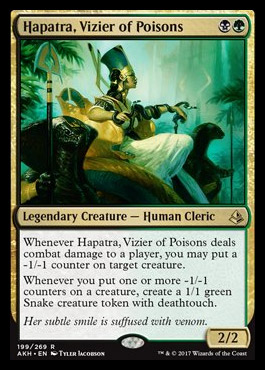 This could be a sweet general, but I expect it to get played less than Baral. What's Baral going for? Scroll up and check, then buy accordingly.
Neheb the Worthy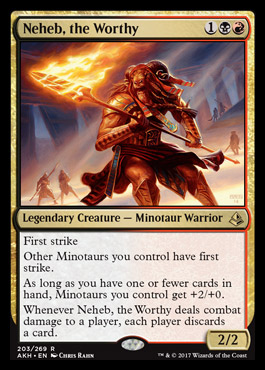 Whether you try to buy this guy or buy other Minotaur cards that might go up, I think you're screwed no matter what you didgeridoo.
I may or may not write the second part to this before next week if they wrap up the spoilers, soon. To review, I think there is probably one slam-dunk opportunity in the set so far and that's Annointed Procession. The good thing about there only being one sicko target is that we can all focus on it and ruin the price for everyone like the dirty finance mafiosos that we are. Got a card you'd like me to discuss that I omitted? Leave it in the comments section. Until next (week?) time!