Every set, I like to identify some cards that are going to be awesome in casual formats (unformatted kitchen table, Cube, Commander, etc.) or nonrotating formats and I want to keep an eye on their prices. Ideally, I'll pick a price and the cards I want will drop below the price I want to pay, so I can get them at that price.
For example: Thespian's Stage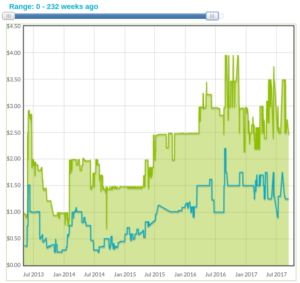 There were two times, early on in this card's lifespan, that you could trade for this at a dollar or so, and buy it for fifty cents or so. And I did, as often as I could. I ended up with a stack of them, which I buylisted for $2 each at a GP and had a great time.
If you want a more recent example of this philosophy, how about the foils of Thought-Knot Seer?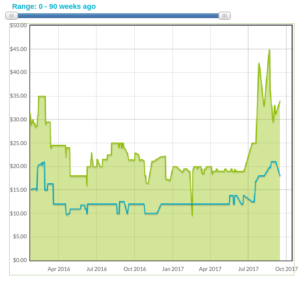 My number for that was $20, and I picked up a few at that price, and now I'm trading it away at $35, though I recognize that $40-$50 is in play, considering how popular Eldrazi are in Modern.
With those growths in mind, what looks good in Ixalan at what price?
Settle the Wreckage ($5.50 currently) – This mega-Path to Exile is going to be casual gold, but only if I can get it at the right price. It's spiked a bit in recent days as an answer for threats like Hazoret the Fervent or The Scarab God, and it can take down Carnage Tyrant too. Where I really love this card is in Commander, because so many people don't play a lot of basics. This is also a backbreaking spell to cast against Bogles, but that deck is too niche for precious sideboard slots in Modern.
Notice that right now, the foil is only a couple bucks more than the nonfoil. Traditionally, this indicates that Standard demand is very high, and the casual demand hasn't caught up yet. I'm in on foils at $3-$4, and the plain versions around a dollar, maybe two. A lot will depend on price memory for this card, if too many people remember it as a $5 card then the price won't have a chance to fall.
Vanquisher's Banner ($2) – The foils here are about $6, and that feels right for now. The nonfoil is a very huge reprint risk, but considering that we just got the tribal Commander sets, I think it's safe for a while. Foils are usually safer, but there's no guarantees. I can tell you that I'd generally prefer to see this than Door of Destinies in my hand, because getting the constant flow of cards is supremely valuable. I'm hoping for this to drop to $1/$3, and I'm optimistic, considering that this was nearly $5 on release.
Primal Amulet ($2) – A couple of special notes about this card: First, it's got a foil multiplier of five, which tells us that the casual demand for this card is very high. It makes sense, though, because we love doubling our awesome spells when playing at our kitchen table. This has much higher long-term potential than a recent favorite of mine, Pyromancer's Goggles, because it's a land and there's no color restrictions.
The second note about this card is that we have ten rare transform cards, and this is flying in the face of something we were told before: that adding flip cards to a set is logistically problematic. I've thought for some time that transforming foils are among the safest investments in Magic finance, because they are hard to reprint in regular sets, but here we are, with a sprinkling of transform. This is something I want to be aware of going forward, as it's one more sign that nothing is safe, except the Reserved List.
The Amulet is already a $10 foil, and I'd like that to come down a dollar or two. The nonfoil is hopefully going lower, but I'm content to pick these up at $2 in trade.
On a related note, Dowsing Dagger is at a similar price point, and trending downward a bit more steeply. I'm really hoping this is a $6 foil in the next month or two.
Boneyard Parley ($1) – I'm always an advocate for bulk mythics, but the foil being $5 caught my eye. I don't think this is a good card, but my goodness, this is a sweet card. For seven mana, late in a Commander game, you're getting the best card in any graveyard, and potentially the best two or three, depending on what you need and who's choosing the piles.
River's Rebuke (50 cents) – Cyclonic Rift is going to get banned eventually in Commander, I suspect. I don't have any evidence or special insight into the Rules Committee, I just despise the card and what it does to gameplay. I'm stocking up on these foils at $2-$3, because the multiplier tells me it's more popular than the usual foil version of the card. This is a powerful effect, but more fair since it's just one person being targeted and this is a sorcery. I am looking forward to having a stack of these when we're done with Ixalan.
Here, have two more that are from recent sets and have the appeal I'm looking for: foils of Eldrazi Displacer at about $10, and foils of Lifecrafter's Bestiary at around $5. You don't need me to tell you that these are good cards, but if you want to get some value that's due to pop, there you go.
Cliff is an avid Cuber and Commander player, and also has a crusade against a few other cards that ruin Commander games. Feel free to drop a message to him and ask for a Cube list, and read his articles every Friday here on MTGPrice.