Sorry for the delay, everyone, but the full reveal of Ixalan needed me to do some revising.
This set has some amazing cards, and powerful synergies, so there's a few things I'm immediately drawn to and are worth some coverage.
Let's get to some themes and some cards!
Theme #1: White's aggression is back!
Adanto Vanguard is a 3/1 for two mana that can become indestructible, really discouraging blocking. There's also a straight 3/1 for two mana, a two mana lifelinker, and a legend in Mavren Fein, Dusk Apostle which will enable white and black decks to get wide quickly.
Red/White as an aggressive combo is pretty pushed, considering that we've got Territorial Hammerskull to go with Ahn-Crop Crasher, so blocking is quite passé now. Sheltering Light is also pretty outstanding as a one-mana trick, saving your creature from any number of bad things and giving you a scry.
The white decks are lacking a good anthem effect, for now. Red-White does get Makeshift Munitions, which is a variation on the always-powerful Goblin Bombardment, but having a mana cost makes the effect profoundly worse for you.
I want, very badly, for Kinjalli's Sunwing to do some work, but the truth is that we had Thalia, Heretic Cathar in Standard for two years and she wasn't good enough. I doubt the Sunwing will make a huge impact either, but I'm hopeful.
Theme #2: Izzet Ascending
Star of Extinction fits right into decks that were running Hour of Devastation, and the other board-wiping effects are Dusk/Dawn, Fumigate and Bontu's Last Reckoning. Less than impressive, and expensive on all counts.
However, there's an Amonkhet card that fits into the early part of red: Sweltering Suns. I think this card is about to be adopted pretty widely as the cheap sweeper of choice, leading into Hour or Star. There's not even a Selfless Spirit to worry about anymore. Red also gets a wide range of pinpoint damage spells, the best of which is Lightning Strike. Suns is right now in the $3 range, and considering how much it's likely to get played, it looks primed for a jump to $5 or maybe even $10 depending on how the first week's results go.
I am really hoping that the Izzet control decks play one or two Sunbird's Invocation, but I doubt it. Important to note that these effects do stack if you play more than one! The presence of Opt might give Lightning Strike a lot more value, but now I'm really living in a magical Christmas land.
I think Jace, Cunning Castaway is neat but underpowered. It's going to take you three turns to get to two 2/2's, and I'm not buying him yet. I love the design and simplicity of Overflowing Insight, but we just got Pull from Tomorrow, which is a stronger card in almost every respect. It'll be a bulk mythic soon.
Perilous Voyage, though, that's a trick and a half, as is River's Rebuke. Spell Swindle is going to show up as a two-of, to just end the game with mana advantage. Red/Blue has an amazing array of tricks and spells, and they also get two phenomenal transform lands. Search for Azcanta seems like an easy inclusion, as does Vance's Blasting Cannons.
If you think Spitfire Bastion is too slow for closing out a game, then you clearly never saw Standard when Nephalia Drownyard was the finisher of choice, and the Bastion is loads faster. I'm very high on the legendary transforming enchantment/lands, except for the black one. Note that not all of them are legendary, you can have more than one Spires of Orazca in play.
Theme #3: Dinosaurs!
We have a lot of enablers for the saurians, and that's going to put a lot of decks into FNM play. Some reduce costs, some give us mana (and then get bigger! What an awesome card Drover of the Mighty is!) and dinosaurs also get the finisher of choice in Carnage Tyrant. It's not hard to imagine this "giant, implacable death lizard" getting played on turn four.
The Tyrant is in a tough spot, as when he's good he's phenomenal, but I'm not sure if six mana allows him to be a four-of. He's preordering in the $10 range, and I think week one he'll bounce higher, then begin to trickle downwards.
I think my colleague Travis Allen was right about Samut, the Tested last week on MTG Fast Finance. If you can get copies under $4, that seems like a big win to me. She got a little bump recently: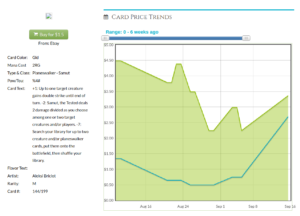 Wow. Buylisting for fifty cents! I've never seen that. I think Tibalt never got that low but I've blocked him from memory. Her buylist has shot up to over $2 now, and that means stores are hoping too. When buylist price and retail price get closer together, something's up. Let's see if she pays off.
Theme #4: Pirates!
While Pirates have a cool lord and some nifty tricks, I'm not sold yet. I don't see many big payoffs, though stealing permanents with the new Admiral Beckett Brass is a good time. I simply don't see that as a huge win, considering that if you're getting in there with three relatively-undersized Pirates, you're likely winning that game anyhow.
I like a lot of the individual cards, but the big payoff just isn't there yet. Maybe in the next set?
Vraska's Contempt is good, but at four mana, it might be too much. Hero's Downfall was super powerful, and the Contempt will see play as an answer to the indestructible/recurring Gods, but oh it stings. I don't think Contempt will be a four-of, and that'll keep the price reasonable.