The PT starts today. Right now, as a matter of fact! I'm posting this at 6 am PST, two hours before the first draft starts, and I'm stoked. I agree with the people who say that the three hours of broadcast would be better spent showing us different drafts for 2/3 of the time and then maybe the finals of a draft pod. I don't like watching the draft games, but I'm not in charge.
I'm also on the watch for decks that are going to be played, and what cards are ripe for a spike. There's a few factors at play, but it'll come down to camera time, frequency of play, number in a deck, and final performance. Making the Top 8 will be good, but winning will be better.
With all this in mind, here's the cards I've been picking up this week. I haven't laid any big bets, but I've picked these up in trades and sniped a couple of auctions.
Ruin Raider – I suspect that black aggro will be in play this weekend, even if it doesn't put up a huge finish or a big slice of the metagame. There's a lot of flavors of aggressive decks, and this is a creature that allows a deck to catch up on cards, especially if Fumigate is all over the place. This is a card that rewards players for attacking, which is all an aggressive deck wants to do anyway. Plus, it's relatively cheap at $1-$2, depending on fees. It's also got two years to get good, so even if it doesn't see play this weekend, it's got good potential.
Bomat Courier – If aggressive decks are as prevalent as I suspect, then this is a card with room to grow. It's got about 11 months before it rotates out of Standard, and that's going to bode well for this card. It went up to $3 when Ramunap Red first premiered, and now it's down in the $1.50 range. This is more of a 'sell into the spike' sort of card, it's not for long-term holding.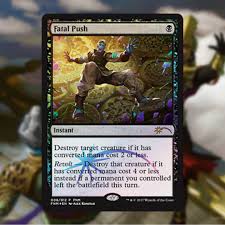 Fatal Push – This has quickly become one of the top removal spells in Modern and Legacy, dealing with a wide range of problems for one mana. It's also very widely played in Standard, and I don't see this as something that's going to drop anytime soon. Nonfoils are about $9, foils are $30, and the FNM promo can be had for $10. I am a big fan of grabbing the foils at $30, as $50 seems in play within a year or two, and it would be unusual for it to be reprinted too soon in a Masters set of some sort. (Note I did not say impossible!) Supply is at maximum, and you should acquire accordingly.
Rogue Refiner & Blossoming Defense – I think this is going to be a big weekend for these two uncommons. They aren't exactly cheap now, but after the PT, you'll be able to buylist these for a little more than you can today. Both are efficient at their mana cost, and Rogue Refiner is a great pick to bump to above a dollar.
Bristling Hydra – I wish energy wasn't as good as it is, but this is one of the cards that has room to grow. It's been slowly growing in price to get to its current $2.50, and one more big tournament showing might be enough to solidify its status, considering that this is one of the cards common to both the Sultai and the Temur builds of energy decks.
Glint-Sleeve Siphoner – I really want this to be good, as it's a way to convert energy into a more tangible advantage in a long game. It's $2.50 now, and just like the Hydra, I think it's due for a weekend where it breaks $4 or $5.



Rampaging Ferocidon – Ixalan is probably not going to have a huge weekend, considering the spikes that have already grown to impressive numbers. This is a $3 card, as a four-of in a lot of Ramunap builds, and it takes away one of the big advantages of Approach of the Second Sun decks: the 7 life gained is often just enough of a cushion to get there. I think this is a good candidate to break $5 if the Red deck runs rampant.
Dread Wanderer – If mass removal is all over the place, I like this as a recursive answer alongside some Vehicles and some Scrapheap Scroungers. Being able to reload effectively after a big Fumigate is a real test for some of these decks, and while you need to dump your hand, Hazoret the Fervent wants you to do that anyway. This is at a very low price, can be had for $1, and is ripe for the picking and ripe for a bump.
Chart a Course – I don't think this is going to be big on the PT, but it's got a foil price that is about 10x the nonfoil. Two mana to draw two is amazing, especially if you dropped a Delver turn two in Modern or Legacy. It's a two-of in Vintage Delver, even! Standard decks looking to abuse the graveyard with God-Pharaoh's Gift love casting this turn two as well. I'm snagging the foils whenever I can get them around $5, and I'm prepared to be patient.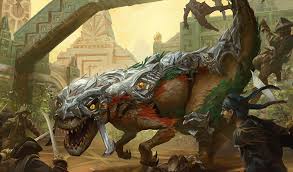 Carnage Tyrant – This is due to drop. There's no deck playing this as a four-of, though the biggest deck, Temur Energy, is playing one main and one in the board. The big dino has been slowly declining from its initial spike to $30, and is already sub-$20. I think it'll get to $15, though I highly doubt it'll go down to $10. Once we are done opening Ixalan packs, I'll have to see if I pick some up for a spike about October 2018.