ADVERTISEMENT:
I have to admit, I'm really enjoying this series, as I delve into older and older sets looks for not the most valuable cards, but the cards that are in highest demand (as of this writing).
We are reaching the point at which power isn't as much of a factor as availability is. Most of these are either printed once on a much smaller scale, or they have been printed several times and this is only one of the several versions available.
My goal remains the same: I want to find the cards that are both worth enough points to warrant picking out of bulk or binders, and also on enough want lists that I can send the card out relatively rapidly. These aren't all the cards worth picking, these are just the ones easiest to get rid of–a prime consideration of mine at all times.
The rest of this content is only visible to ProTrader members.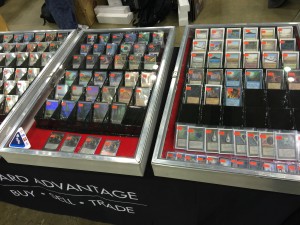 ProTrader: Magic doesn't have to be expensive.

MTGPrice helps keep you at the top of your game with our daily card price index, fast movers lists, weekly articles by the best MTGFinance minds in the business, the MTGFastFinance podcast co-hosted by James Chillcott & Travis Allen, as well as the Pro Trader Discord channels, where all the action goes down. Find out more.
ADVERTISEMENT:
Please follow and like us: