By: Cliff Daigle
A while back, I shared with you some trades from my Deckbox history. Today, I want to revisit some more trades I've made.
My purpose here is to tell you what you can get if you get out at the height of value and pick up things that are currently undervalued. That is how I keep increasing the value of my collection, even while taking value out for EDH decks and other life expenses.
Again, at the time, these trades were about even, based on TCG's mid price.
October 1, 2013
My: 4x Jace, Architect of Thought
Their: 3x Cavern of Souls, 4x Abrupt Decay, Deathrite Shaman
Remember when Jace hit $30? He was getting buylisted for $20 at his peak, but that peak was very, very short. You could have gotten him for about $8 in trade before summer, and not long after Theros came out, Jace spiked HARD.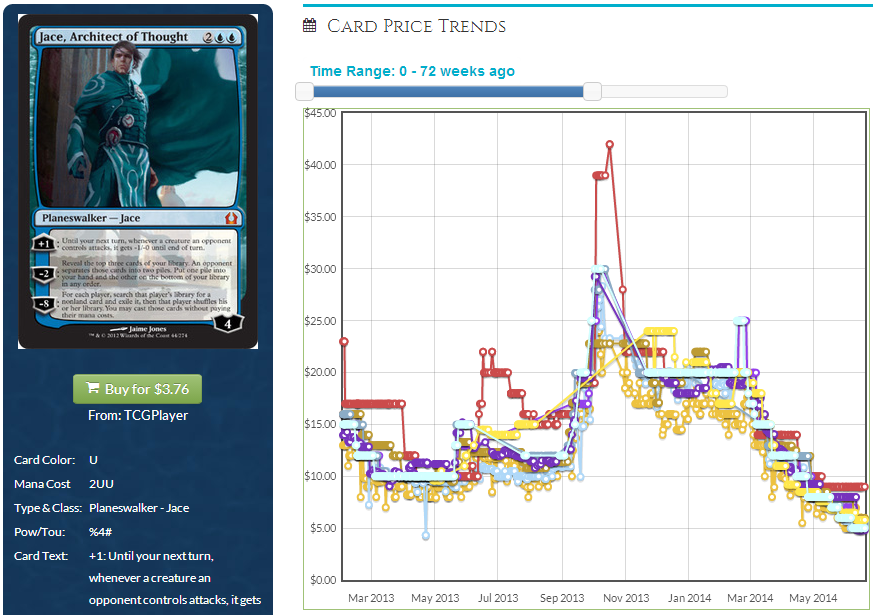 If you were following certain people on Twitter (Travis Allen, et al.) then you could have seen people tweeting about the stacks of Jaces they had picked up for just this occasion. I could have sold my playset for $80, but instead I swung for the fences and went with this trade…and it's hit. Cavern is a good bet to be reprinted, so I'm game to trade it away now that it's nearly $20. Abrupt Decay has gone up a few bucks, Deathrite went down a couple, but those Jaces? Mega-ouch.
Amusingly, the weekend I did this trade, it was accepted on a Friday, and Jace was valued around $21. By that Monday he was $30 and I was annoyed that I hadn't gotten more in trade.
This spike and the subsequent fall of Jace, Architect of Thought is why I'm so eager to trade for underpriced Planeswalkers now.
Current valuations: $22 vs. $114
November 21, 2013
My: Blood Crypt, Overgrown Tomb, 2x Temple Garden, 3x Stomping Ground
Their: 2x HP Plateau
Neither of these Plateaus turned out to be fakes, and considering their condition, that's no surprise. It would have taken a lot of work to get them into such condition. They don't look too bad in sleeves, and one went into an EDH deck, the other got traded at FNM for a fetchland.
With this trade, I want to reiterate something I and others have said: If you get a chance to trade in-print Standard for Reserved List cards, even in bad condition, even giving up 10%-20% in value, take it. It's rare to find someone who's willing to trade old for new, and when it's 'never get printed again' old, grab it.
Current valuations: $62 vs. $80 ($40 for HP Plateau)
December 13,  2013
My: Hallowed Fountain, Stomping Ground
Their: Foil Prophet of Kruphix, Foil Temple of Deceit
During Return to Ravnica block I aggressively traded for shocklands. Their value wasn't going to go down, and they are used everywhere, making them excellent trade fodder. I'm already up a little on this trade, but the foil Prophet is going to start climbing soon, as the shiny version of one of the best casual cards ever.
Current valuation: $17 vs. $21
January 13, 2014
My: Shardless Agent and Xira Arien (SP)
Their: 8x Prophet of Kruphix, 3x Rise of the Dark Realms (1 Japanese), 4x Thespian's Stage (1 Japanese)
I know I've said it in multiple columns and on Twitter: Prophet is casual gold. In the past few months, it's gone from under $2 to about $3, and that's while it's being opened. It's not hard to see this as a $5 or more card by Christmas, especially if the rumors are true and Tarkir block is wedge-based. (Blue-Green-Red would be a wedge, such as Animar, Soul of Elements or Riku of Two Reflections.)
The only thing standing in the way of this being $10 in 18 months is the possibility of getting banned in Commander. I don't see that happening, based on comparisons to Seedborn Muse, Winding Canyons, etc. It is possible, though. I've got 50 copies, and I expect to move around half when they hit $5.
Rise of the Dark Realms is something else you should be getting out of peoples' trade binders. Especially as it makes a sweet combo with the recently-spoiled In Garruk's Wake. Get to nine mana, wipe the board, and then get it all back the next turn.
Current valuations: $19 vs. $39
April 24, 2014
My: Armada Wurm, 3x Drowned Catacomb, Exquisite Blood, Glacial Fortress, Hinterland Harbor, Loxodon Warhammer (10E), 3x Mutilate (M13), Price of Progress (EXO), Thassa, God of the Sea
Their: 5x Aurelia, the Warleader, 2x Nighthowler (Game Day Promo), Prophet of Kruphix, Young Pyromancer (foil)
I've also spoken of my belief that Aurelia is a long-term growth prospect. This is one of the trades I've made to have a spare dozen of the angel. I hated trading away Thassa, because that's only going to go up, but I have still increased my value. I'm pretty sure that Young Pyromancer is going to get reprinted, but it's unlikely that the supplemental set it's in will include foils. I'm going to hold this one until it's at least $20.
Current valuations: $40 vs. $52