Yep. We're going with a food-themed title every week until it's literally impossible for me to correlate Magic: The Gathering finance to food. Deal with it.
Last week, I went in a different direction than in my first two articles. Instead of force feeding you a list of various cards that I believed would be trending in either direction, I went about explaining one of the processes that I use to find cards that I think will start moving, as well as why it's a good idea to do so.
If you've been a long-time follower of my writing, then you might know speculating is not my favorite method of making money from Magic (accidental alliteration is awesome! [Editor's note: this seems like a comment I should have put in]). I prefer a steady grind through buying collections and singles at buylist prices, looting through bulk commons and uncommons, then using a combination of buylisting and selling locally through my display case and word of mouth.
Instead of giving you  lists of  my personal picks from the most recent sets, I want to take a similar approach to last week. Today I'll be teaching you about a couple of the better methods for picking (and there's our title) your own collections of common and uncommon bulk.
As I've mentioned before on Brainstorm Brewery, these aren't going to be the cards that earn you massive profits. These are the dregs of draft tables, the stuff from unpicked 5K boxes in basements, and the cards that you get asked about six months after Khans of Tarkir comes out when Johnny really wants to make a tribal warrior deck after coming back into Magic. If none of the players at Johnny's first FNM had the playset of Chief of the Edge that he desperately needed, so you get to be Johnny's goddamn hero for just one crisp American dollar.
That's how the old saying goes, right?
Anyway, moving on. When people used to ask me this question of, "DJ, how do I learn exactly what to pull out of these common and uncommon lots?" I used to just tell them one word: "Experience." After all, it's not exactly intuitive to think that five copies of the M11 version of  War Priest of Thune would be worth $0.15 each to Troll and Toad on a buylist. The card sees one-of sideboard play in Modern at most, and isn't exactly exciting or casually appealing to Johnny.
Now I've realized I can add an additional two words to "experience" to make it much more fun: "and research." Even if you've only been playing competitive Magic for a year or so, the tools on the internet still exist to provide you with the information that you need to have a pretty comprehensive list of commons and uncommons that you want to be picking.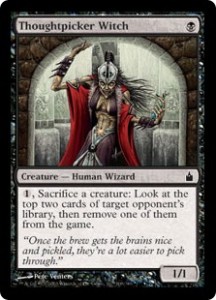 Different Types of Berries
The first thing you want to do is base your picks on a set of rules. You should probably make up your own determination of what you consider to be "significant," so that picking through bulk commons and uncommons is actually worth your time. My personal cutoff is a dime, and I make exceptions for cards that I have experience with being requested often even if they're not on a buylist. While not every card will buylist for a significant number, copies can still be kept on hand for situations like my Chief of the Blade example above.
You can also adjust that personal number based on the amount of bulk that you deal with. If you're just pulling out picks to make your binder look a bit more buff, you probably don't need to waste your time dragging out every single guildgate and Selesnya Charm. You'd be better off focusing on the $.50 to $1.00 cards that are actually worth putting into a trade binder—ones that competitive players will be needing for Standard and Modern decks. On the other hand, those who follow the path of Ryan Bushard and deal with 100,000 cards on a weekly basis should probably try to squeeze every ounce of value that they can, due to the fact that you're shipping en masse to multiple buylists at once all the time.
If you can notice a theme of what cards have been picks in the past, then you can use that information to determine what types of cards you're picking from the latest sets. I've made a lot of money pulling Crumbling Necropolis and its cycle of friends from Shards of Alara bulk, as well all of their respective reprints in the Commander and other supplemental products. Tri-colored decks are popular in both EDH and casual circles when given a common theme, like a mechanic to build around (I've helped players build something as simple as an "unearth" deck before). From this, we can make an educated guess that the Nomad Outpost cycle of KTK will continue to be worth separating from your bulk, even if the increase in print run means that the cards will be somewhat negligible to buylists in the short term.
Multicolored charms are another favorite of mine (even the bad ones like Gruul Charm). They represent versatility, and lean towards a specific clan or guild to provide casual players with a solid word or mechanic to lean on when building their synergistic decks. Even though some of the KTK charms will probably never see competitive play, I still enjoy setting them aside for later casual demand. Sometimes you'll even get lucky and be able to buylist these for significant value. I just happened to be able to ship off a couple dozen Azorius Charms for a dime a piece to a buylist a few weeks ago, even though the card is long gone from competitive play.
Mill and discard have held strong casual ties over the past several years, and most players know that the prices of casual rares reflect that. There's a reason that some mill cards are worth ridiculous amounts, and the powerful commons and uncommons that fit into these strategies have proven to be worth picking, even when faced with reprints. While I don't recommend pulling out 50 copies of Tome Scour, pulling strong uncommon classics like Jace's Phantasm won't let you down.
If you can put yourself into the shoes of a casual player who just wants to put together a 78-card unsleeved mill deck, then go through your next set review with those eyes. If you can spot an uncommon gem that would go in those decks, that's your signal to pick it out and wait for that person to show up on your local MTG Facebook group asking for those cards.
ProTrader Privileges
If you're subscribed as an MTGprice Pro Trader, you can make life a lot easier, especially if you're a budding financier looking to get into processing collections and picking bulk. You can head over to the Full List drop down under the Pro Trader section, and customize a search to pretty much whatever you want by hitting "Create a Filter." For the purposes of this article, we're going to want to exclude all of the rares and mythics, use a price filter that goes from $.10 to $1 billion dollars (for those foil, Phyrexian-language Tops that are just lurking in those bulk lots), and then add sets based on whatever collection you're sorting through. That last part obviously gets much easier if you already know what you're looking at, but asking the previous owner of the collection a few simple questions can help narrow that down for you: "What years did you play? What kind of cards and decks did you have? Do you remember what the names of the sets were when you played?"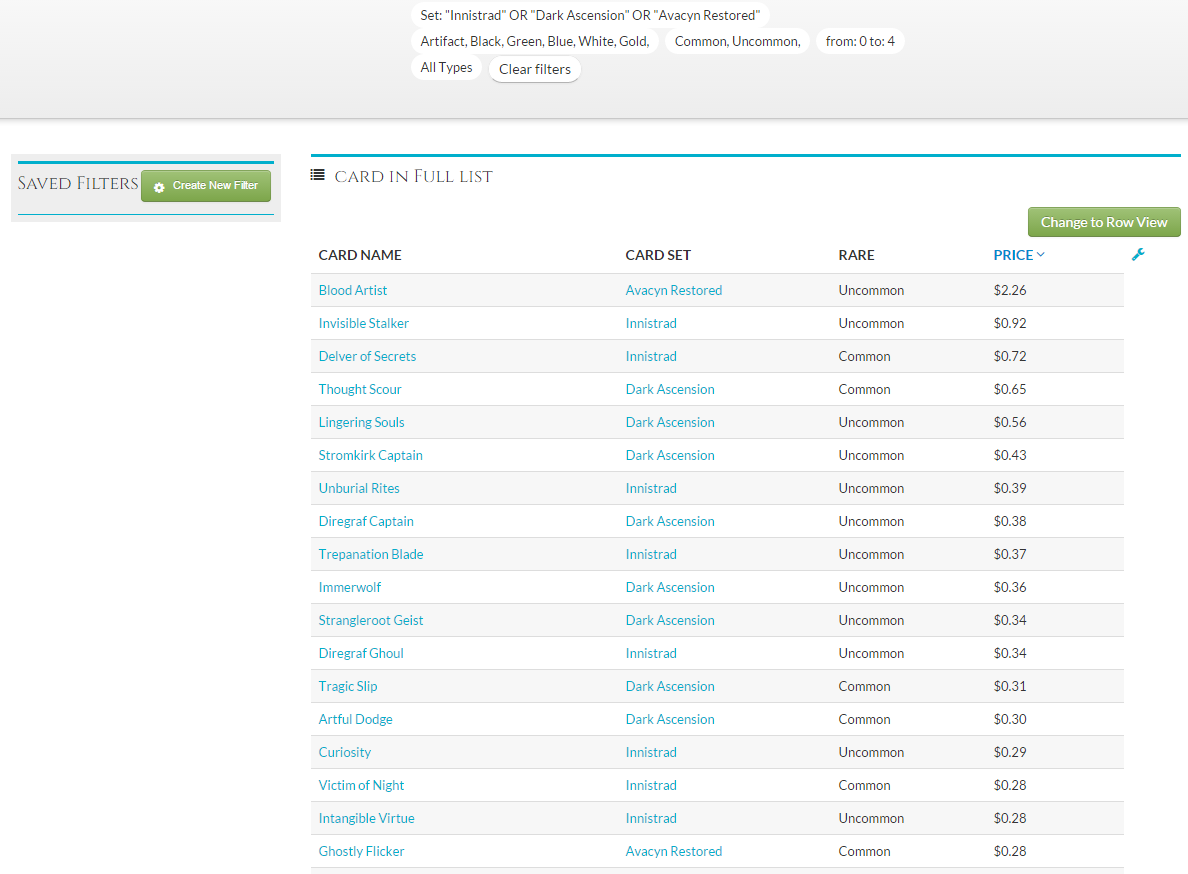 I searched for commons and uncommons from Innistrad block that were valued from $0 to $4, then filtered them by price. As expected, Blood Artist is a pretty obvious casual all-star, and it helps that it's so ridiculously strong in EDH. However, we can also see all of the uncommon lords on this list, and some of the heroes of past Innistrad Standard. These are all cards that I still pick regularly when searching Innistrad block bulk, and it's something you might want to consider if you plan on cranking up your volume. Getting $0.11 per Unburial Rites adds up over time, and it doesn't take a whole lot of common and uncommon picks to make a month of Pro Trader worthwhile.
I actually just recently learned about that Full List feature while I was in the process of doing research for this article, and I have to say I like it a lot more than the Trader Tools version on Quiet Speculation (I have been a paying member of both websites for multiple years now, and have always used Trader Tools for my buylisting processes). Even if I wasn't writing for this website, now that I've found it, I prefer the greater versatility of the MTGprice tool. The only downside is that it doesn't show the highest buylist price for every card on the list, but I've requested for that feature to be added. Here's hoping!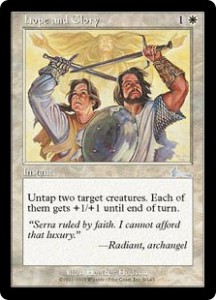 End Step
Before I sign off for the week, I'm going to take a bit more time on this "End Step" than I normally do. If you've been keeping an eye on MTGstocks foil Interests page, you'll see that this…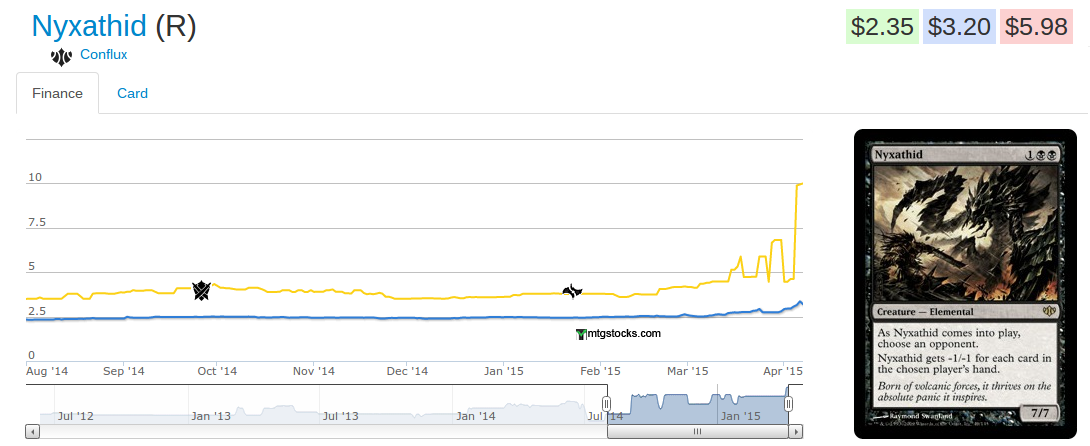 …happened. The few remaining foil copies of Nyxathid on eBay and TCGplayer were bought, and somebody decided to start relisting at $15. While the price almost immediately plummeted from that down to $10, I did manage to sell off a few copies at around that price.
I'd like to personally announce that it was not me who decided to buy out the few copies that were most readily visible on the internet in an attempt to cause an artificial spike in price on foil Nyxathids. Nor did I maliciously intend to encourage any readers of my article to buy all of those dozen or so copies. As shown by our weekly breakdown of what we've been doing in the market, I picked up multiple playsets through the PucaTrade website, but didn't spend any cash "buying out" TCGplayer of the few that remained.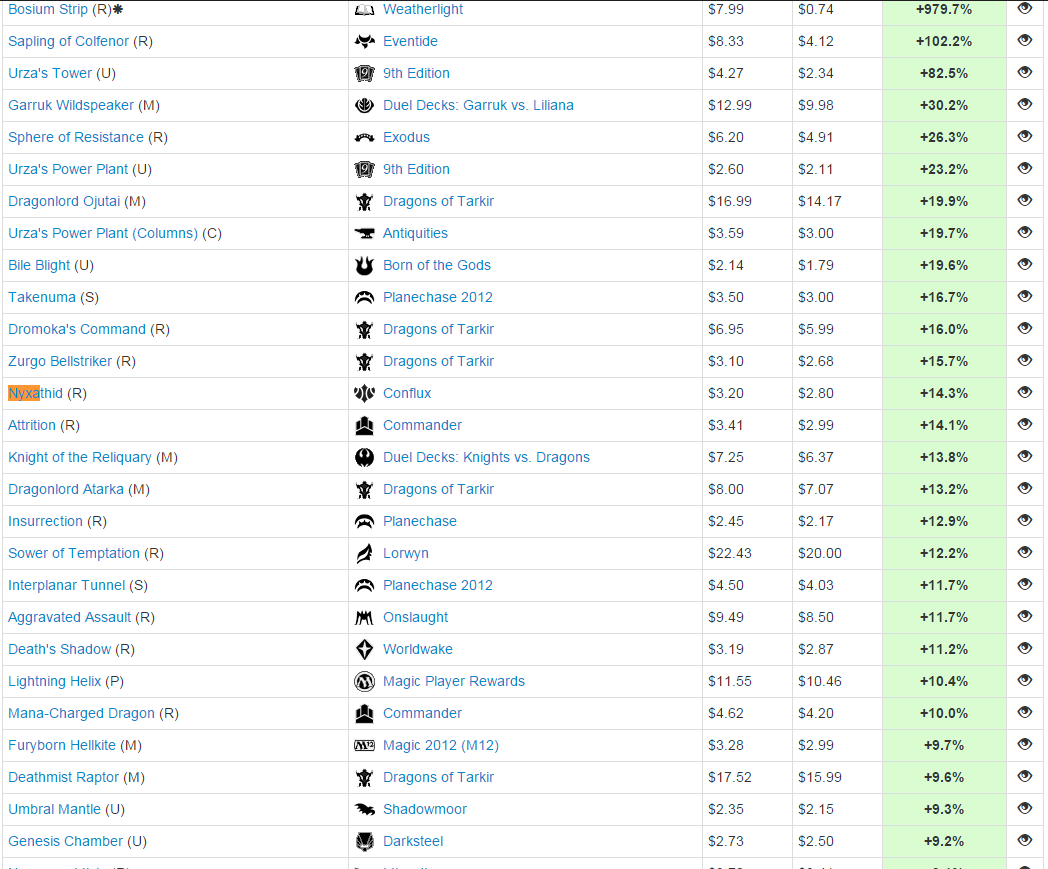 Now that the foil version of the card spiked, I do not advocate buying any additional copies at the "new price" of $8 to $9. I am curious to see what happens to the non-foils, though. The non-foil copies showed up on the MTGstocks weekly Interest page at a 14 percent increase instead of two percent, so I think you should pick up non-foils if you need them for the near future—I don't think the card is going to be getting any cheaper. Whether the non-foil follows suit to its foil counterpart is debatable, but I wouldn't wait if you plan on playing with copies for Modern/EDH/casual/Tiny Leaders.
On another note, the Urzatron lands have been showing up repeatedly on the Interests page almost every week, and are now at least $2 across the board. While I didn't mention these in my Hot Potatoes article, they're a screaming candidate for Modern Masters 2015. If you're not using extra copies, I recommend buylisting them or selling them locally.  Unless you plan on keeping the deck together until the set releases—and getting large amounts of value from playing the deck in the meantime—the time to jump ship was yesterday.
If any of you have thoughts or opinions on this week's article, I'd love to hear them. I'm easily reachable on Facebook, Reddit, Twitter, and in the comments section below. I also usually take requests for article topics if the subject is broad enough and I'm knowledgeable enough on the subject. Thanks for reading!