By: Guo Heng
Modern Masters 2015 is out this weekend and may the odds of cracking mythics be ever in your favor if you are celebrating the set's release with a draft, a sealed pool or a whole booster box. There is something else around the corner, albeit slightly further away, but very relevant to the Modern format.
The next PPTQ season, from 6 June to 16 August, is slated to be Modern. Hurrah Modern fans! Combined with the buzz for the format generated by Modern Masters 2015, it looks like we would be seeing an increase in demand for Modern cards soon. It has been a while since the format was under the competitive spotlight and there has been plenty of changes in the format. Which means a number of cards that could potentially spike when the Modern PPTQ season swings around.
There are a couple of cards that I think have a good chance of spiking come the Modern season as they are part of the new developments in Modern.
Before I go on to discuss picks, I am going to talk about a new archetype that has been making waves in the Modern metagame as two of the picks discussed below are tied to it. After all, this is a deck that is currently occupying 10% of the Magic Online metagame, tied with Abzan for the most dominant deck in the online field and has been starting to make waves in the StarCityGames Modern Premier IQ circuit.
The Rise of Grixis Delver
After Treasure Cruise sunk under the weight of the banhammer in late January, Blue-Red Delver's grip on the Modern metagame relented. The void in the meta left by the disappearance of both Blue-Red Delver and Birthing Pod decks was filled with Abzan Midrange and Burn. Delver decks went under the radar since Pro Tour Fate Reforged (surfacing sporadically in the StarCityGames Modern Premier IQ top 8). Treasure Cruise was Delver's answer to Abzan's incessant card advantage, and without Treasure Cruise, Delver's propensity to run out of gas left it once again a tier 1.5 deck.
In late March the Delver decks evolved. They adopted a new color, black, for Tasigur, the Golden Fang, Murderous Cut and Terminate. Here's a sample Grixis Delver list, the list piloted by Nate Kahovec all the way to the finals of a recent StarCityGames Modern Premier IQ: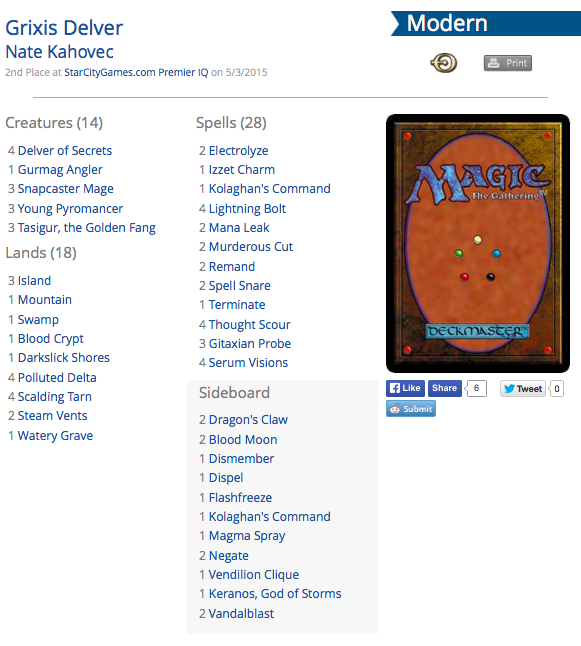 Murderous Cut and Terminate shored up one of the major drawback of Blue-Red Delver:  creatures with a toughness larger than three. In the old days, answering those creatures meant spending two Lightning Bolts, or a Bolt and a Snapcaster, both of which were huge setbacks in card advantage and tempo. Vapor Snag was never an ideal solution: it worked best only if you had threats on board to apply pressure. Topdecking Snags when you were behind felt miserable. Murderous Cut and Terminate were the single-card answers Delver needed and the deck felt so much better with those cards.
Tasigur on the other hand, transformed Delver decks into a whole new beast. Blue-Red Delver splashing green for Tarmogoyf was an old tech that did not really take off. I am not sure why myself as I have not tried that build of Delver due to the fact that I only have one copy of the big green monster. It is tempting to pass off Tasigur as another Goyf, but once I brought Grixis Delver out for a spin, I realized that Tasigur was on a whole new level of awesome.
A turn two Tarmogoyf is not always impressive but a turn two Tasigur is always 4/5. One of the things I really like about Grixis Delver is the deck's ability to churn out a turn two Tasigur consistently. With the number of cantrips, fetch lands and Thought Scours, I've managed to resolve a turn two Tasigur more often than I had imagined. And sometimes even for just one mana, leaving you with another open mana for another cantrip, or a Delver of Secrets. I've had my fair share of free wins off the back of an unanswered turn two Tasigur (turn two Tasigur may not be the right choice against decks with access to Path to Exile).
Of course, resolving a mid-to-late game Tasigur is equally powerful. Buying back a Murderous Cut is backbreaking. Not to mention Tasigur is a threat you could sneak onto the board and keep up counterspell mana easily. Personally I think that the addition of Tasigur ramped up the power level of Delver decks more than the addition of Treasure Cruise. Tasigur imbued Delver decks with an explosiveness not seen before in the archetype, is a resilient threat and allows the deck to grind the mid-to-late game, which conveniently segues into our first pick:
Tasigur, the Golden Boy of Modern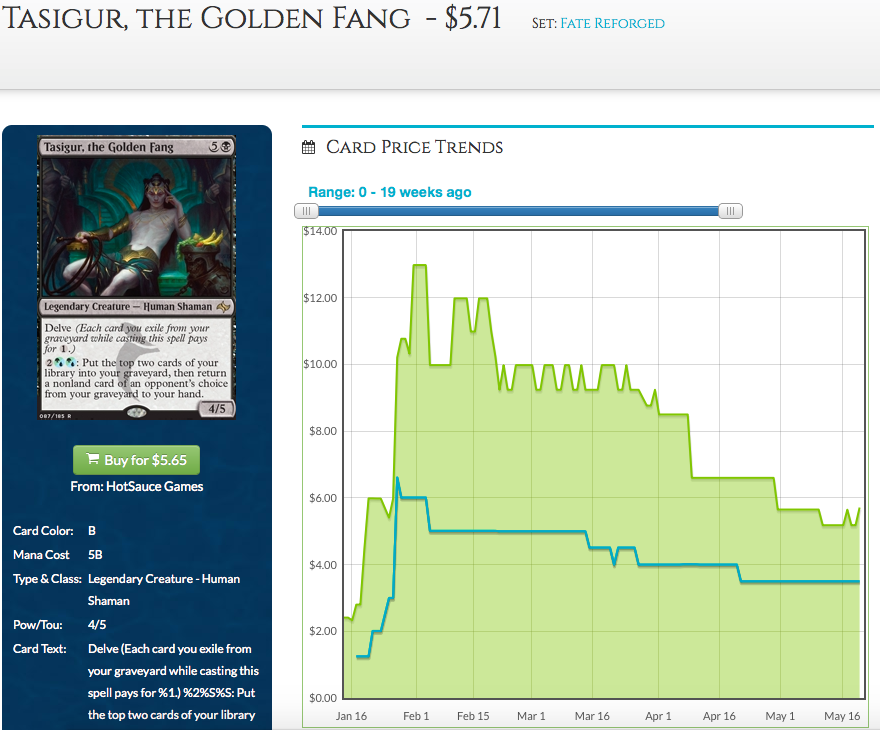 We are approaching peak supply for Fate Reforged as the number of DTK-DTK-FRF drafts will dwindle significantly in the face of Modern Masters 2015 drafts. Tasigur, the Golden Fang, currently at $5.71 with a spread of 39%, is probably the card from the set, and the Khans of Tarkir block to assert the most impact on the Modern metagame.
Tasigur sees more play than Siege Rhino in Modern. Tasigur is found in Abzan, Grixis Delver, Grixis Twin and even non-mainstream decks like Sultai Control and Jund. Tasigur is present in pretty much any non-combo deck that runs at least two of Tasigur's color (in terms of color identity). Mtgtop8.com statistics shows that Tasigur is the 11th most played card in Modern, present in 22.4% of Modern decks in an average of 2.1 copies. Contrast that with Siege Rhino, who is the 53rd most played card, found in only 10.4% of Modern decks, but is of course played in 4 copies in every deck she is found in.  Siege Rhino is $4.92 and is from a large set. Tasigur is just $5.71 and is from a small(ish) set.
Granted, Siege Rhino's price is probably propped up by her demand in Standard, where Tasigur is merely a sideboard card. Nevertheless $5.71 seems a tad bit cheap for a card that is already a multi-archetype staple in Modern. There is a distinct possibility that Tasigur will break $10 on the back of Modern play. Lots of Modern play. And some Legacy play too. I don't think you could go wrong picking up Tasigur at his price right now, which is close to the bottom or already at the bottom.
The Modern Dragons Command
Once Dragons of Tarkir rotated in, Grixis Delver picked up Kolaghan's Command and never looked back.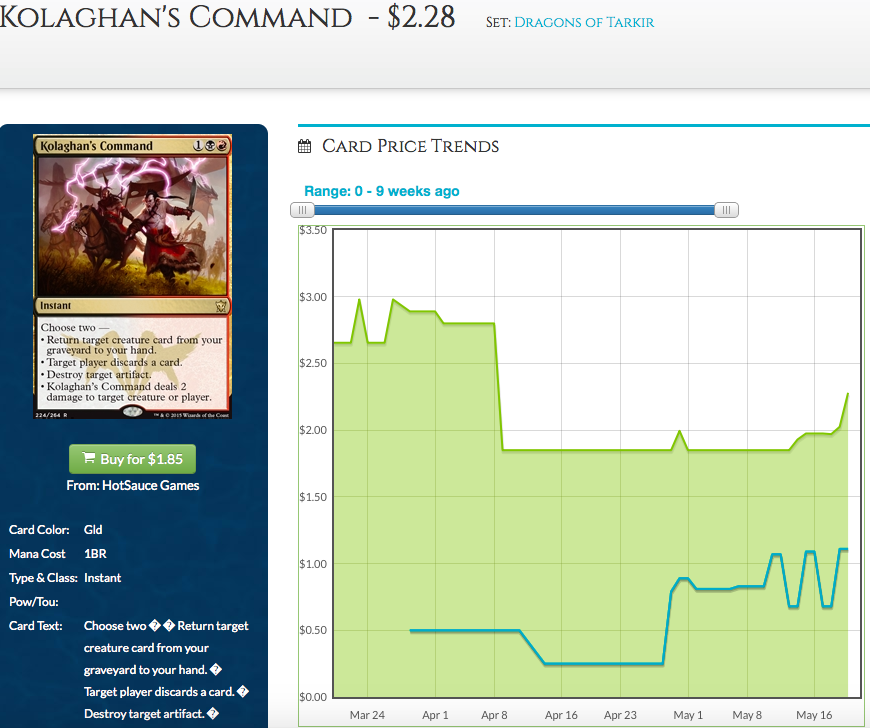 Kolaghan's Command is present in one to two copies in the 75 of Grixis Delver and Grixis Twin (Rolaund Hinajosa's winning list from last weekend's StarCityGames Premier IQ even ran three in its 75). It seems that any deck that have access to red and black in Modern will run Kolaghan's Command. Kolaghan's Command seems a little pricey at three mana for its abilities, but as we've seen in Vintage staple, Legacy-playable Fire/Ice, its flexibility more than makes up for its mana cost. Most of the modes in Kolaghan's Command are relevant in Modern, and the card is downright disgusting against Affinity. It also shines in decks with Snapcaster Mage: Kolaghan's Command to return a Snapcaster to rebuy the very same Command.
Kolaghan's Command moved a little since last week. I am not sure what triggered Kolaghan's Command's recent bump in price. It could either be the increasing popularity of Mardu Dragons in Standard (which I doubt is much of a factor as they only run one copy of Kolaghan's Command) or perhaps the card's Modern demand is already making itself felt. Furthermore, with Dragons of Tarkir approaching peak supply I am not sure how much more Kolaghan's Command could drop. $2.28 is pretty good buy-in for a card that looks to be a mainstay in Modern.
Jace's Return?
No, I am not talking about the possibility of a Jace, the Mind Sculptor unban however much I wish to see it, but rather I am talking about the neutered version of Jace:
I did not give much thought to Jace, Architect of Thought since he rotated out of Standard besides a forlorn yearning for my Fact or Fiction on a stick. Jace surfaced on my mind recently when Gerard Fabiano took down a StarCityGames Modern Open at the end of February with his innovative Sultai Control list (a slightly modified version took down last weekend's Modern Premier IQ in the hands of Matthew Tickal as well). In his top 8 interview, Jace was the first card that Gerard mentioned in response to the question on cards that should see more Modern play. I forgot about Jace after the event as there was no major Modern tournament since then and the Dragons of Tarkir spoilers started streaming in.
Then a couple of weeks back I was building a Gifts Tron and I was devouring all the information I could get on the archetype. I stumbled upon a Gifts Tron video by Sam Pardee. He was experimenting with a singleton Jace, Architect of Thought in the mainboard of his Gifts Tron build. His argument for Jace caught my attention.
Sam explained that he was really really impressed with Jace in his Splinter Twin deck, which prompted him to try out Jace in Gifts Tron. He mentioned that Jace blanks Lingering Souls, shuts down one half of the Splinter Twin combo and is a way to battle Liliana of the Veil's hand disruption. I was excited. I thought the one-of Jace was a fluke in Gerard's list. I trawled through Magic Online deck lists and it turns out that Splinter Twin has been running a singleton Jace in their sideboard since Abzan became the dominant deck in the Modern metagame.
Now why would a card that is found as a one-of in every list that runs him worth taking a look at?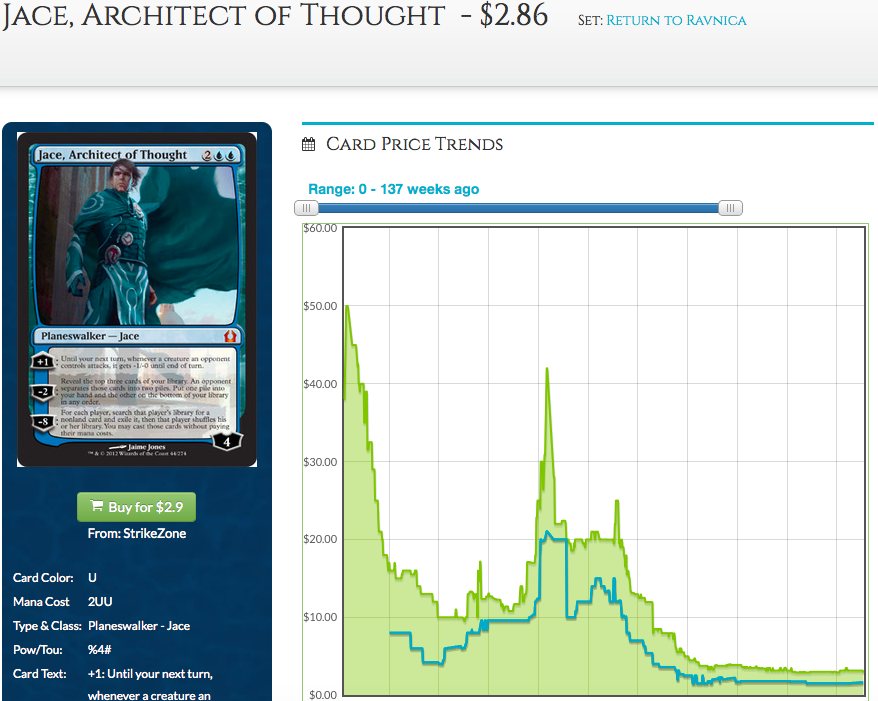 I could not believe my eyes when I first saw Jace's price. The once mighty Architect of Standard is going for a measly $2.86! I understand that cards drop a lot after they rotate out of Standard, but casual demand usual keeps planeswalkers from dropping too low. As long as he or she is does not have a 'Tibalt' in his or her name.
Which is why I was surprised to see  a planeswalker of Jace's caliber stooping below $5. Heck, at $2.86, the Architect of Thought is about the same price as Tibalt! Looks like the Jace vs. Vraska duel deck reprint really killed Jace's price.
I am in no position to argue that Jace should see more play in Modern. But I am confident that a card that sees play in multiple archetypes in Modern, even if he is a singleton, should not be $2.86. I am confident he would not remain at this price when Modern season swings in and Twin, Sultai and Gifts Tron players start to look for their single Jace, Architect of Thought. Pick him up now.
That is all for today's article. Thank you for reading and do share your thoughts and questions in the comments section below, or catch me on Twitter at @theguoheng.
---