Everyone is opening Modern Masters 2015. They love it, they hate it, they open packs with all rares, they open packs with no rares, et cetera, et cetera…
The new set certainly seems to be a bit of a mess. I have four boxes, and I'm not sure if I should bust them and hope for the all-mythics box or keep them sealed and sell down the road for fear of the no-rares packs that I've seen opened. It's certainly a tough dilemma, and one that Magic players across the world are dealing with right now.
The original news was that there would be no second run, but now we are hearing that perhaps that's not the case. Whether or not this reordering is a result of the myriad printing and quality assurance problems with the first run or not, it means more product could be hitting the market.
I wrote last week about my initial thoughts on the future of the set financially, and I'm sure I'll be updating that in the weeks ahead. And while I do want to spend today talking about Modern Masters, the future is not what I'm here today to address.
Greed is Good
For us, that is. Look, I know Sigmund and I may bore you with all our talk of the "real world" stock market and our experiences and heroes within it, but Warren Buffett makes for one hell of a quote.
In this case, it's my favorite, and most-heard, quote from the Oracle of Omaha:
"Be fearful when others are greedy, and greedy when others are fearful."
This one phrase is so simple and yet so effective when it comes to MTG finance. While the masses are worried about Standard, I'm worried about Block. When the general public is afraid of tanking prices, I'm looking to buy in low.
I'm not Warren Buffett (or even close), but I do have a few phrases to live by when it comes to the financials of this game. One of these is, "Leave the last 10 percent to the next guy," a phrase I introduced three or four years ago and has never led me astray. Simply put, there's nothing wrong with failing to maximize profit on a spec, so long as you make profit. The risks of holding too long are very real in this game, and doing so leaves you in a position to lose all the gains you've accrued, especially when you consider that for many of us those outs are buylists, which tend to be a leading indicator both when things are rising as well as when they are falling.
There's another mantra I've always adhered to, even if it's one I haven't coined anything specific for:
Make your move off the ball.
There are, of course, a million ways to explain this metaphor. "Don't chase." "Move in the shadows." "Act on the fringe." "Pay attention to what others are ignoring." "Don't buy after Jim Kramer has talked about it." All serve to illustrate a simple concept: you don't want to be worried about what everyone else is worried about. You want to worry about what they will worry about. Be ahead of the game, and there's money to be made.
This is why I watch Block every year. One of my most successful recent calls came on Jace, Architect of Thought, which tore up Return to Ravnica Block Constructed but didn't move much in price. Until rotation, that is, when it suddenly shot up to $20 and made everyone who got in at $5 a lot of money. It's also why I like to speculate on casual cards, because they're predictable and allow you to stay ahead of the game.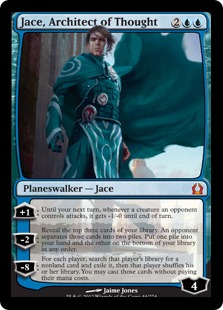 It's a different mindset to consider that the moves you make today are the things that make you money a year or two from now, but it's extremely valuable. While there certainly is some benefit to chasing those quick spikes, it's also a fleeting and dangerous game. Loading up on Abrupt Decays at rotation is only now starting to show real profits for me, but if things continue as they're going, this spec is going to pay off huge in another six or 12 months.
At the same time, I'm still looking toward the future. And, in today's case, that means also looking toward the past.
Specifically, at the original Modern Masters.
Back to the Past
There will almost certainly be opportunities presented to us with Modern Masters 2015. Cards are likely going to move too low and give us a great chance to buy in. And I'm confident you'll find the best coverage of that here on MTGPrice when it happens.
But while we wait for that time to arrive (and we celebrate at Grand Prix Vegas), it's worth checking on the set no one is at all worried about right now but is equally important to the future of Modern: the original Modern Masters.
The Numbers
We've seen a few cards in Modern Masters begin to move up recently. Blood Moon, in particular, has been on a tear. I noted last week how Stonehewer Giant seems to finally be recovering from this reprint, and Academy Ruins has been noticeably up as well this year. This is more of a trend than it is isolated. Even things like Manamorphose are up almost 50 percent from where they were at the beginning of 2015.
Of course, not everything is enjoying such a good run.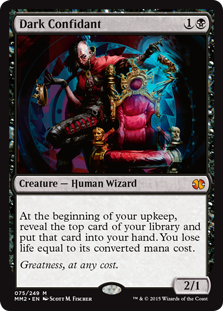 We've talked about it for awhile, but I think the moment has finally come. Dark Confidant's days of being one of the most expensive cards in Modern are over. It's fallen out of favor in Jund over the past year, and it doesn't seem to be coming back. In a world of Lightning Bolt, Bob's days may be over. Delve (bringing more high-casting-cost cards into the format) has had an impact, but that's not all there is to it. Either way, it would appear that Dark Confidant is entering a complete freefall, and I expect it to go pretty far before we see a stabilization.
In a similar fashion, there's plenty of still-playable staples in Modern Masters that have been reprinted since in one way or another, and the upside on these is limited. Cryptic Command, Tarmogoyf, Vendilion Clique, Blinkmoth Nexus, and company will all see a good time for a buy-in, but they're going to come down first.
But almost everything else in Modern Masters is showing at least some momentum. I'm not going to list every single card that's moving up, because you're all capable of looking at this setlist yourself. What I do want to do is highlight a few of the cards in the set I feel have particular upside.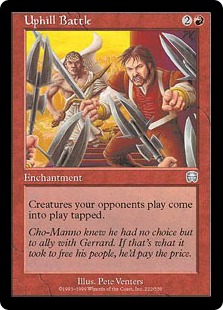 Casual Favorites
It wouldn't be my column if I didn't target a few casual cards. In this case, I'm looking at Sarkhan Vol and Progenitus. Both have seen some growth this year, particularly the former. But neither can compare to Doubling Season, which has climbed from $20 to $30. Is there more growth in store here? Though it will slow for the next months, I do expect it to push toward $40. Likewise, Sword of Fire and Ice and Sword of Light and Shadow will continue their upward climbs.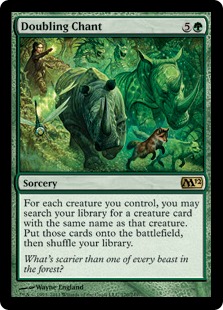 Now, I know talking about cards that have already spiked isn't the most helpful thing in the world, so instead of trying to squeeze a few dollars out of already-expensive cards, I'd be more interested in targeting things like Stonehewer Giant, which can be had around $2 but will surely climb toward $5 a year from now. And Kokusho, the Evening Star can be found under $10, but that won't last much longer. This thing is always a terror in Commander and will continue to see upside with a much lower buy-in. Yosei also has solid upside at $5.
Arcbound Ravager
This little (annoying) beast is at an all-time high today at $20. I initially put this on the watchlist a few weeks back, and it's grown as expected in that time. Affinity is a deck with a lot of pieces reprinted, and more people are sure to pick it up this summer. A climb to $30 seems likely.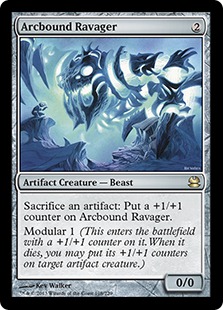 Glimmervoid
This may be an even better target. We're right at the beginning of a spike on this one, and sitting under $10, I'd much rather get in on this in preparation of a short-term run to $15 and a medium-term run to $20. While some other cards in Modern Masters have already spiked, this one is just beginning.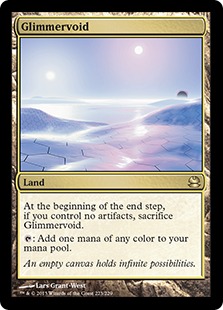 Lightning Helix/Spell Snare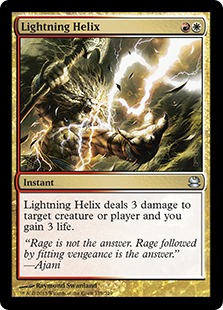 The premier uncommons of the first Modern Masters, growth on these has been slow and steady this year (Kitchen Finks has followed a slightly slower pace), and I expect it to continue or even accelerate now that Modern Masters 2015 is actually being opened. This initial rush of cards hitting the market is going to translate to more people actually playing the format six months from now when we hit Modern PPTQ season, and that's when these are going to hit truly high demand. Getting in on these now will pay divends then.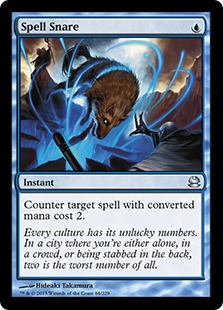 Lava Spike
Again, one that has already seen its spike but is still growing. Even though it's a common, don't be surprised to see this hit the $4 to $5 range soon. If you can still find these, they're great targets.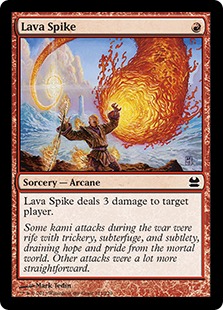 Conclusions
I touched on many of these two years ago, while we were still opening Modern Masters. It made no sense to me that Lava Spike was being considered essentially bulk after years of being a money common. Those moves are paying off now, and you can be sure a similar article for Modern Masters 2015 will be in the works in the coming weeks.
Until then, enjoy Modern Masters 2015. Just don't forget about its predecessor.
Thanks for reading,
Corbin Hosler
@Chosler88 on Twitter
---