This could have been a series where each individual article was a separate, autonomous entity, referable to the whole by way of hyperlinks but also each its own standalone concept piece. "Up your butt with that," I said, "I want to put a bunch of stupid puns in the title so everyone knows the pieces relate to my overall series where I talk about how a rising tide will lift all boats."
I don't live my life by your rules, man. I don't do what's "popular" or "convenient" or what "makes sense." I march to the tune of my own disc jockey, and I'm about to get all Skrillex up in this bitch with part five of a five-part series that the longer it goes on I've gotten less and less enthusiastic about relating to the rest of the articles I write about EDH finance . Have you hung in there the whole time? Did you read the other four parts? I feel like they were instructive and (I think) entertaining and worth reading. Feel free to catch up real fast or you're going to wonder why I keep talking about Wurmcoil Engine.
Here we are, folks. We're at part five of five. The money shot. La fin du chemin. The culmination of my hard work and your even harder work tolerating my flippant writing style, heavy-handed metaphors, verbosity, and insistence I know the future. Don't pretend you didn't love every second of it, nerds. Will I do any better a job predicting what's bound to happen this time around? I think I might. After all, we have four weeks' experience writing this series, and we have a secret weapon. We have a spoiler.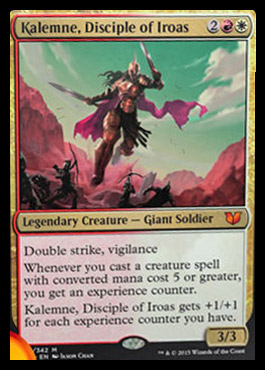 What does this tell us? Well, it tells us a lot. We used the fact that the rest of the decks would likely (and not even definitely!) get experience counter shenanigans to write some of the articles, do you think I won't predicate a great deal of my predictions this time around on the fact that we know a card the deck will be built around? Don't count on it. This is happening. First, let's ignore this card to the extent that we should look at the trusty Magic wiki article we have thus far used to look at the unique color-pie attributes of the various enemy-color combinations.
Combat
What does that even mean?
Combat? Boros specializes in combat? Okay, well, I guess I could see that. We have cards like Insurrection and Master Warcraft. Cards like Ghostway and Legion's Initiative, cards like Assault Strobe and Righteousness. This lame, generic descriptor becomes even less silly when you think about the fact that Boros's new flagship commander is basically a big, dumb combat animal. We want him to attack and block, and he does both. Play big, dumb creatures to help him out and he gets even bigger, combating even more better. Sorry, I'm just so thrown by the no-help description of "combat" that I'm lapsing from typing like I'm Boros into typing like I'm Gruul.  "Gruul do smash good, so am Boros. Boros am Gruul smash friend. Trump 2016."
What can we see being included that's worth actual money and could help with… err… combat? I mentioned Master Warcraft, and while it's my favorite Boros card for EDH that no one sees coming, it's also a quarter right now, so it's not worth caring about. Either it goes up to 50 cents over the next decade or it stays true bulk with a reprint. I feel the same way about Boros Battleshaper, a bulk rare that's a shoo-in in the deck if I'm on the design team, as it triggers your commander and confuses combat. It's the perfect card for this deck. It's also a bulk rare. What can we actually make money from?
Remember EDHREC? This time, I looked at the cards used in a Narset deck for cards that could help us in combat, since Narset is doing that very well right now. Here's what I found.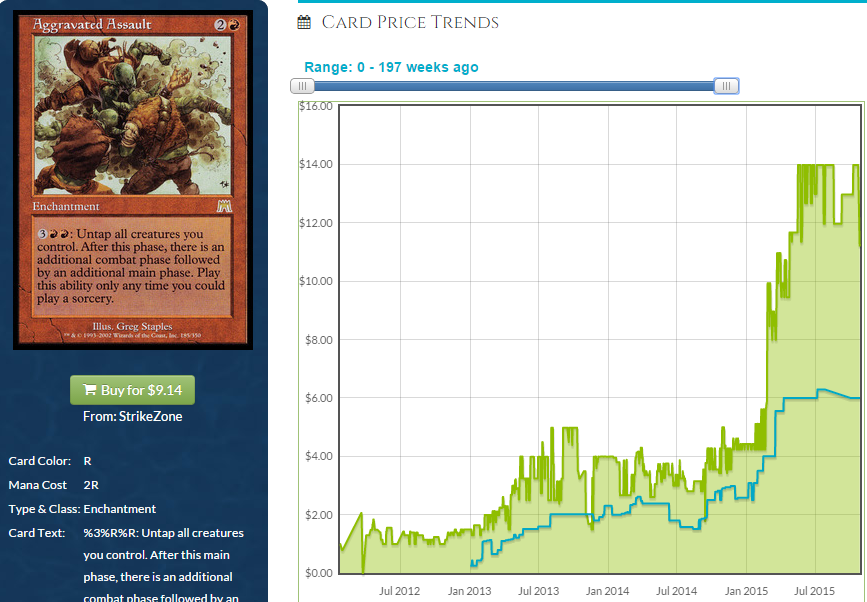 This seems like a pretty good Wurmcoil candidate. Is it too unfair to be able to serve with a 6/6 double-striker ad nauseum or is this what EDH was designed for? This card is expensive because Narset is such a good Commander and a reprint could erase some feelbads. Other variants are possible as well.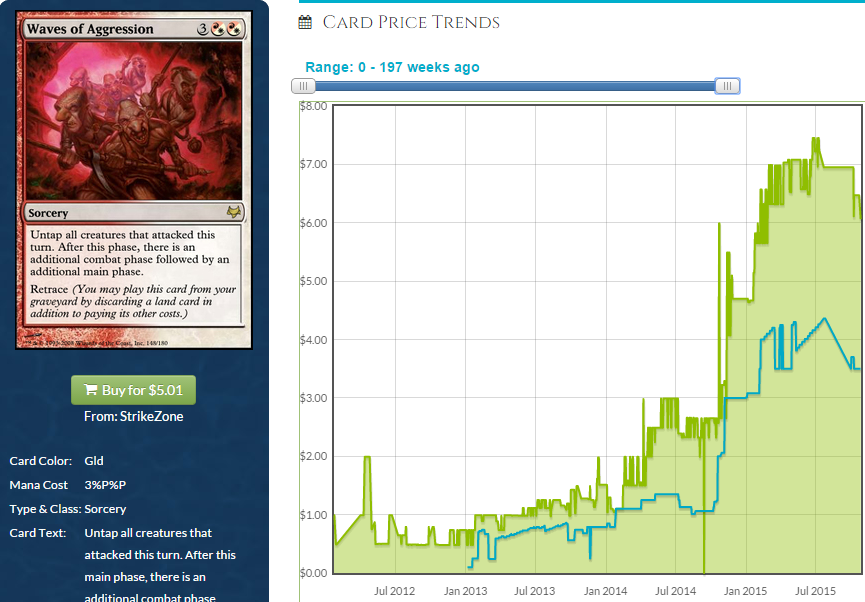 Look how Boros-y this card is. It's even both colors. I wouldn't hate this $6 monster getting its wings clipped a bit.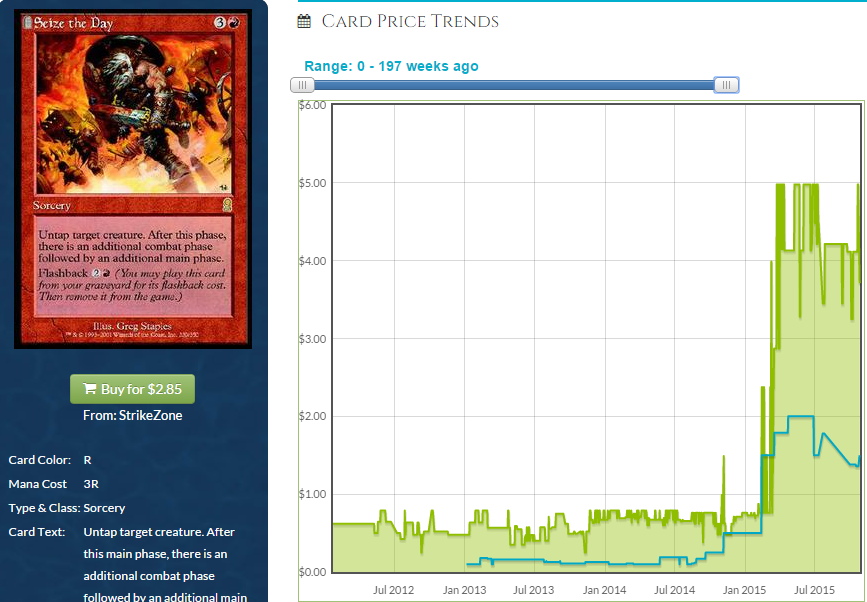 Could this Narset-benefactor see a reprint or will its keyword ability be too confusing for an EDH crowd, keeping it out of the deck? Relentless Assault is easier to grok and has also been printed 133 times, making it not financially-relevant. I feel like Savage Beating is in the same category—does it get a reprint for flavor or does it get a miss because of the keyword ability? I feel like there will be exactly one card in this vein in the deck, and if you're holding one that's more than $3, it may be time to dump and pick up later, or replace with the cheaper version printed in the deck that you subsidized the purchase of by dumping Aggravated Assault at its current peak. Then again, if it isn't reprinted, the Boros commander likely gives the card upside, meaning $11 isn't the immediate ceiling. If you have sellers you trust to ship and quick reflexes, try to arbitrage a few bucks here at low risk, but I'm not doing any of that noise.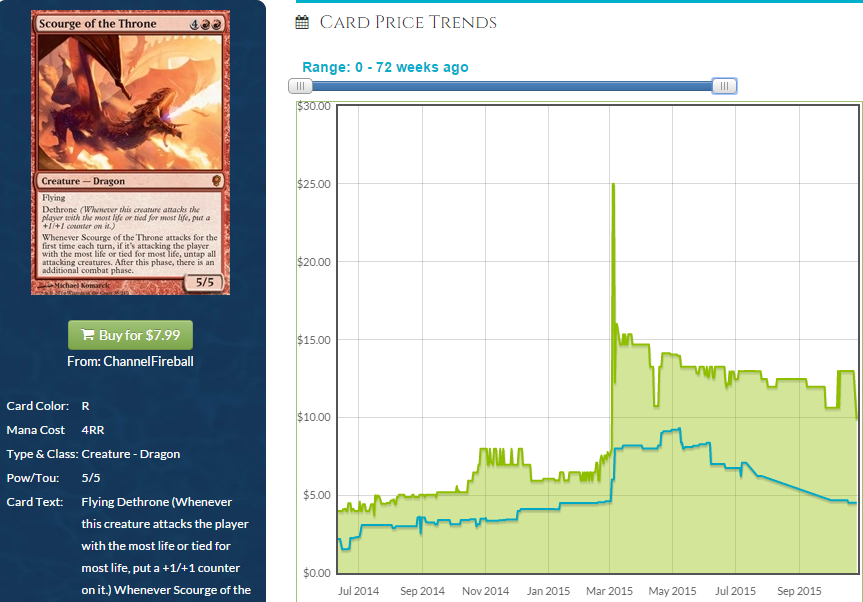 Again, while there isn't much precedent for a reprint like this, we did see Planechase's Baleful Strix in a subsequent Commander deck. This card doesn't only trigger the commander, it also rules combat. I don't know how likely this reprint is, especially with a keyword ability seen in only one other set, but I'm mentioning it because all of the other Boros creatures that deal with combat, like Angelic Arbiter and Blazing Archon, are dirt cheap. Even Silent Arbiter got a pansting in the same set that gave us Scourge of the Throne. So much Boros stuff dealing with combat is dirt cheap. Are we getting Orim's Chant? Doubtful. Are we getting Master Warcraft? I'd bet money on it.
Weenies
Ugh. I realize Boros is very good at this, but the deck's commander is almost set up as the exact opposite of how a weenie strategy wants to work. You don't want to play weenies and Jor Kadeen and go wide, you want to play Gisela and Steel Hellkite to buff your general and go Voltron. I could talk about weenies stuff here, but we know that almost certainly makes no sense. The deck will be big, fat creatures for the most part, some buffs to make combat tricky, and maybe some equipment and auras.
Cards More Likely Than Weenies
I think it's worth talking about cards I expect in the deck rather than stuff like Assemble the Legion and Shrine of Loyal Legions which, while good, don't jive with the commander at all.
First up, let's discuss some possible angels, since Wizards had a lot of chances to reprint angels recently and surprised people with some of the choices made.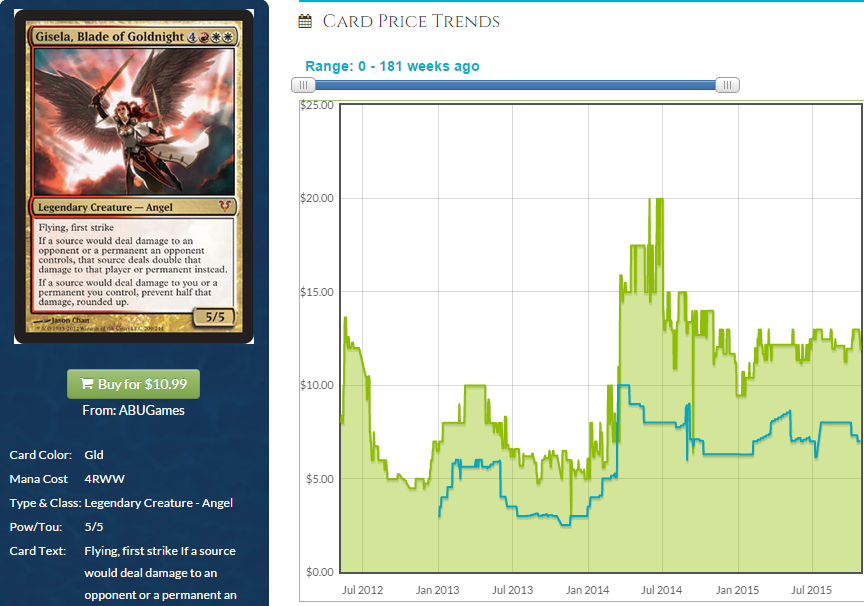 This card wasn't reprinted in FTV Angels, and many think that was an oversight. While Aurelia would have been a fine inclusion in FTV Angels, this could be a chance for a reprint in the Wurmcoil slot to redeem Wizards for ignoring this card and its two angel sisters. Then again, is Wizards likely to print a card from a pseudo-cycle by itself? Exclusion from FTV Angels didn't affect this card's price, and with no pressure on it, you don't stand to gain anything if it's not reprinted, so a reprint is all downside if you're holding. Is this too good with a double striker? Maybe.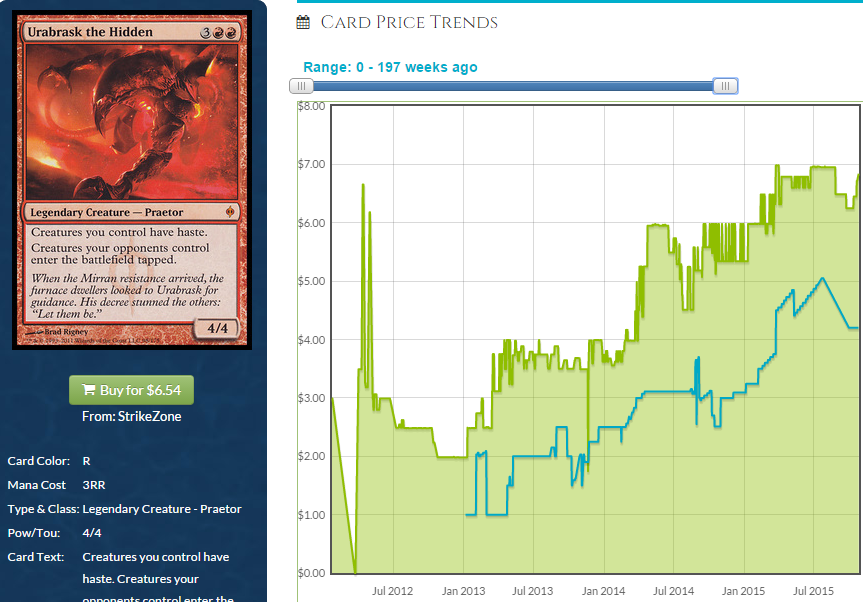 Based on the need to reprint Elesh Norn and the inclusion of a cycle of dragons in Modern Masters 2013, I predicted the praetors cycle would be in Modern Masters 2015. I was one-fifth correct with that prediction, which sucked, but it was based on sound logic and I feel good about the thought process. This card interacts well with the commander and isn't as unfair as a card like Vorinclex, so it might be a good inclusion.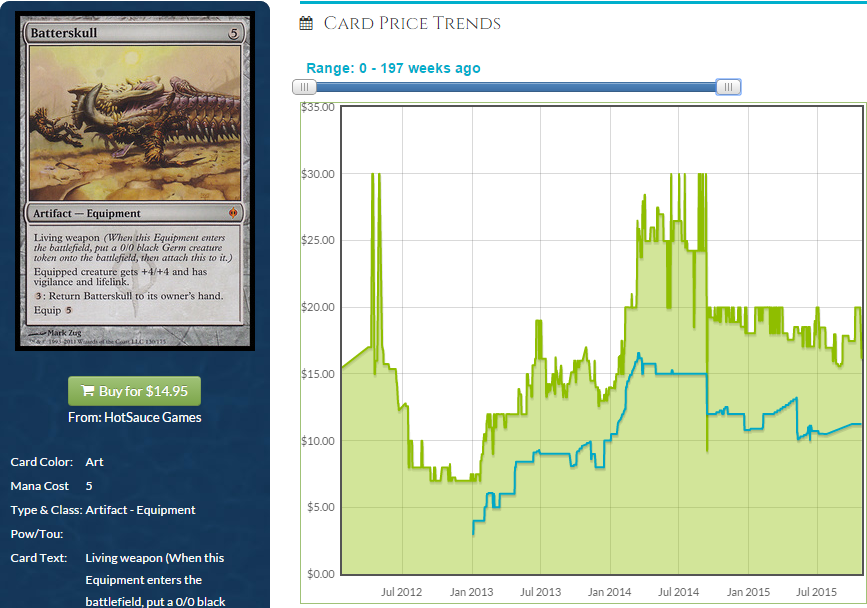 This guy would be a good card in the Wurmcoil slot, along with maybe a card like Steelshaper's Gift. This card isn't as good in EDH as it is in Legacy, although equipping Batterskull to your commander, even with no experience counters, is likely very hard to stop for the other decks. I thought about Sword of War and Peace, but why include one sword and not the corresponding one in each deck? That makes no sense outside of Boros with no way to tutor in other colors. Would this have been too much in last year's mono-white deck that also had Containment Priest, and does it make more sense, now? Sunforger was just reprinted, Jitte isn't getting reprinted, Swords are a cycle and tough to reprint. This might make the deck ridiculous, but I don't think that the Boros deck is getting a Legacy-caliber card.
Follow my logic here: last time, the two Legacy-tier cards were Containment Priest (slam dunk) and Dualcaster Mage (swing and a miss). Since there isn't much good stuff to reprint in the Izzet deck, I expect the Izzet one to get a Legacy-caliber new card. I doubt all five decks will be equally stacked, since there is no precedent for that, so one or two other decks are likely to get a good, new card. I doubt both decks with red in them would get the Legacy card, so Izzet's likelihood, in my mind,  diminishes Boros's chances.
If we're not trying to find a Wurmcoil-tier card,  we may be able to build a decent amount of value to make the deck attractive by getting there piecemeal.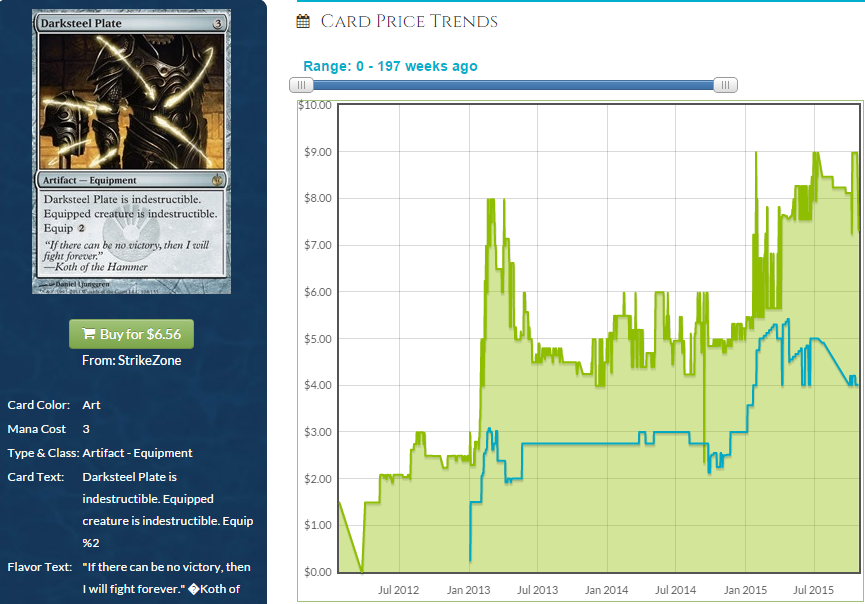 Here's an equipment that's more reasonable than Batterskull (a card I don't think Wizards would jam in the Boros deck, necessarily) and could be cheaper and more plentiful than it is now for the good of the format.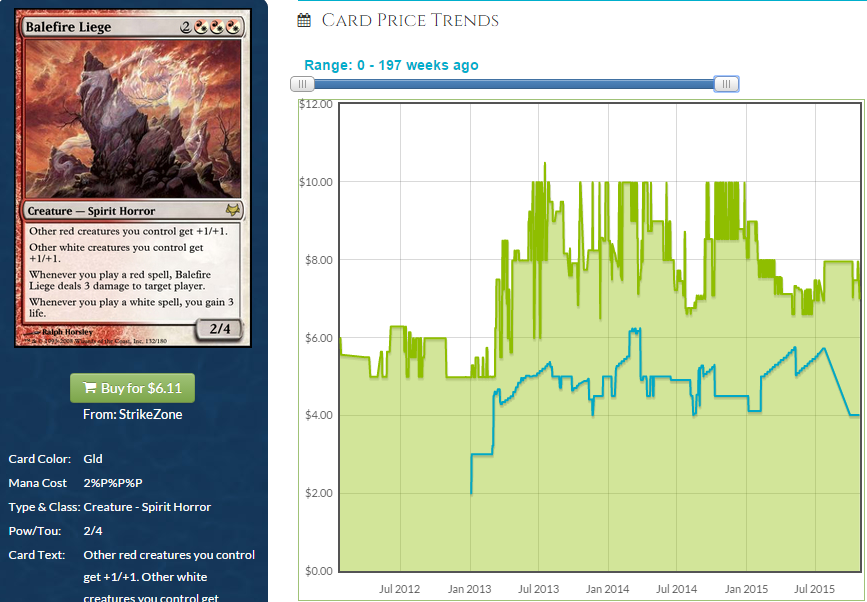 The "against" column includes the awkwardness of either printing half of a cycle or a tenth of it and its previous reprinting in Planechase. The "for" column mostly consists of "triggers commander" and "wouldn't it be great?" I feel this could go either way.
But How About That Wurmcoil Candidate?
There are a lot of cards I didn't even mention because they're too inexpensive to matter, even though they're super likely reprints (Boros Battleshaper, Foundry Champion, Angelic Skirmisher, Master Warcraft, Agrus Kos).
There were a lot of cards I didn't mention because their mana costs made them awkward with the commander (Angel of Jubilation, Serra Ascendant [this card is also one that Wizards doesn't like to acknowledge is only good because of EDH's rules], Firemane Avenger, Grand Abolisher, Hero of Bladehold, Iroas, God of Victory).
Will there be a Wurmcoil-tier card in this mess? It's possible. I can make a few guesses, though I don't have a ton of confidence in any of them.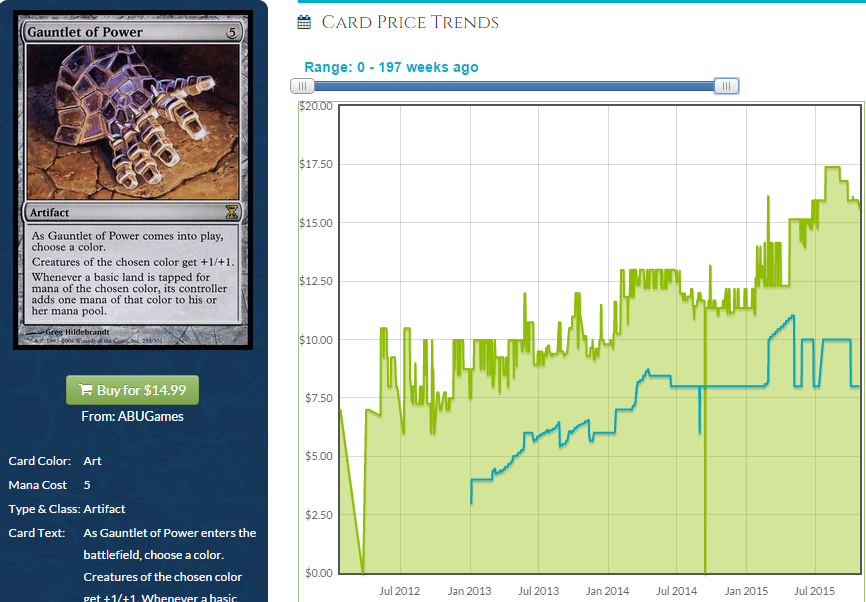 This could go in any deck and should get reprinted eventually, but last set would have been better than this one, so I don't really think it's all that likely.
I'm actually reasonably confident about this one.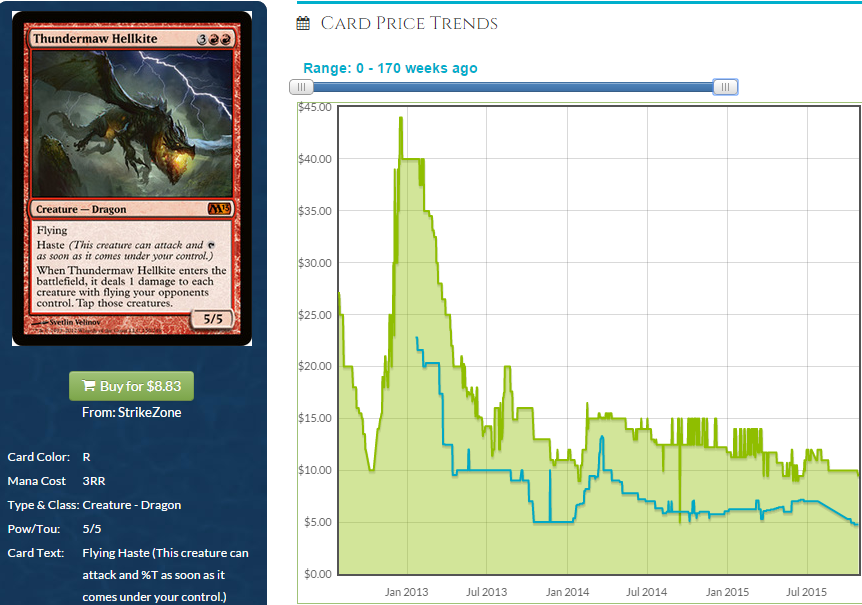 This actually does work in the deck, and since you've already lost 75 percent of your money if you bought at its peak, why not lose some more?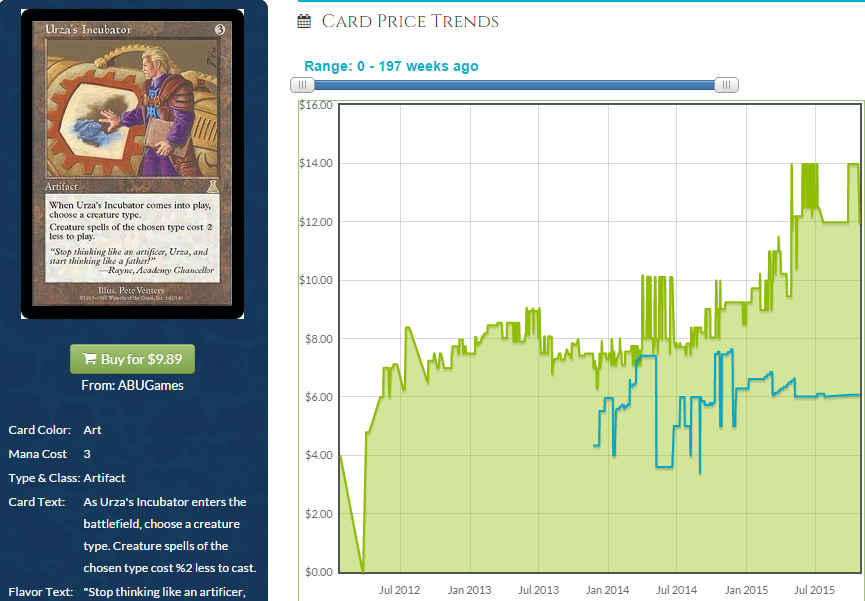 Who doesn't want discount fatties? This is on my EDH reprint wishlist, and it's a bit flat for now, but I feel like it could go up soon. Not being on the Reserved List like its powerhouse counterparts like Covetous Dragon and Carnival Of Souls, this card is a serious tribal workhorse and could stand to be dusted off.
Final Thoughts
That basically concludes this series. While I'm not expecting all or even most of these fantasies to come true, I think it's important to think about how the future will pan out as far as Commander 2015 is concerned. This is a good chance to give us new cards, reprint some old favorites, and get people playing EDH. We have had one or two decks fly off of the shelves every time, leaving the other decks to sell out more slowly. As spoilers come in, we may be able to figure out which one that may be this year, but I feel like each deck will have merit this time, and I plan to buy a personal copy of all five like always to tear into them and start building.
Feel free to point out anything I missed or argue for something I did include in the comments section. While I'm sad to be concluding this miniseries, I am looking forward to using next week to start brewing with spoiled cards and figuring out what could be on the rise in the future. Until then!