I always imagine there is one person who has never read one of my articles before. I imagine them reading the title and thinking, "What in the actual crap is this dude talking about?" and it makes me laugh. There is a non-zero chance even people who read my article from last week are confused. Either way, maybe brush up on that piece because I introduced a few metaphorical concepts that we're going to continue here.
Last week we talked about identifying cards that either can make other cards go up by how they impact the format (rocks, so called for the way they aren't interesting themselves but can generate ripples when thrown into a pond) or are going to impact the format directly by virtue of their own power and be used across a variety of different decks (staples).
I only mentioned the card once, but I really structured how I thought about all of those  concepts around the card Eldrazi Displacer. Do you like the card Eldrazi Displacer? Do you want to talk about the card Eldrazi Displacer? Would you like to see me spend 1,800 more words on it? Because that's what's up. In case you need your memory refreshed, and also because I love posting the picture of the card so I can admire it in all of its glory, here it is again. Your new overlord.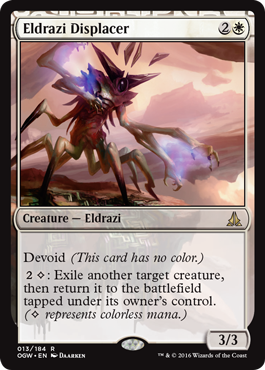 If you know anything about EDH, you know this card is going to be ridiculous and will make people re-evaluate mana bases to see if they have the non-generic colorless to support this card. I feel the same way about Endbringer, so I think the first topic we should tackle is the effect that non-generic colorless mana will have on manabases and other cards. There is real upside here.
I consider Eldrazi Displacer to be a future staple. I don't know if its adoption in EDH is initially going to be enough to make non-foil copies of the card worth any money, and for a card that's just a staple, that's usually the end of the conversation. Its sheer power level influences its ubiquity and its ubiquity influences its price. However, there are times in this wacky durdle format that I love (and I also assume you love, because when I ask people who want to make money on Magic cards but don't personally play EDH themselves, they look at me like I asked them to donate a kidney), where a card that looks a lot like a staple of the format can act a lot like a rock. It pushes up prices of the cards in the deck with it without meaning to.
This is odd behavior for a staple. Chromatic Lantern didn't do that. So why should this? Well, I'm obviously going to tell you why. That's sort of my whole deal.
Effect on Mana
At first glance, this looks more mana-hungry than Deadeye Navigator because it costs three to activate to Navigator's two and requires you to have true colorless, which could be harder to generate than we think. However, the need for colorless mana and ways to turn generic mana into colorless can really get some use.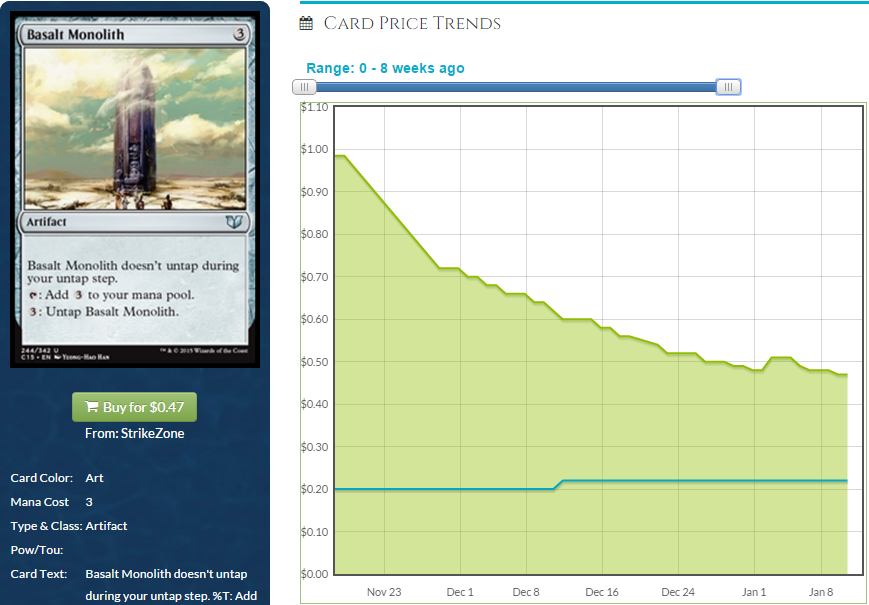 This card has been reprinted into just about powder, and it could see another reprinting in Commander 2016 (although it didn't in Commander 2014) so that limits its upside a bit, but this is the sort of card you want to be looking at. You can turn generic mana into colorless mana at the rate of three for three. That doesn't look like much, but this sort of card is useful in a manabase that needs true colorless in ways it wasn't necessary before.  Basalt Monolith prima facie is pretty inefficient, but as a mana filter, it's pretty saucy. There has to be some way to make some money from this card seeing more play.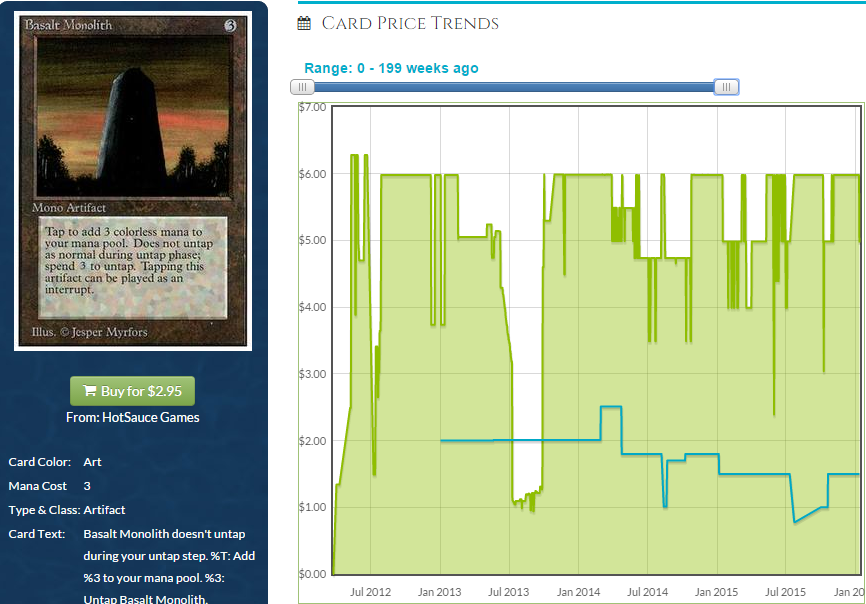 The Unlimited printing seems to be shrugging off the ugly reprints nicely. I like how this looks compared to Commander and Revised, but its odd centering may bother some. Still, they aren't making more of this particular card, and I like how it's retaining value despite not seeing more play. If it sees more play, we can pretty safely predict there will be some upside.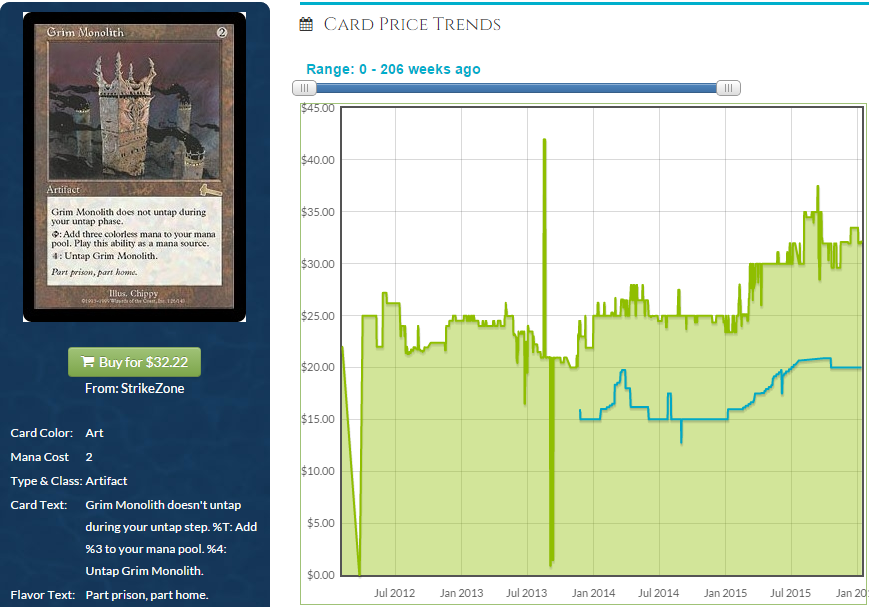 Compared to a less efficient, more expensive card, Basalt Monolith starts to look like what it is and less like a bad Grim Monolith, which is in turn just a bad Sol Ring. Let's ignore the price of Grim Monolith since it's predicated on other formats, but let's remember Grim Monolith is expensive because it's a good card—and if Basalt Monolith can be better in our decks, the price has upside.
I think true colorless mana is going to put some pressure on some manabases to change. I talked about generic and colorless mana and its implications in depth in a previous article which still has a lot of info worth brushing up on. Cards that generate true colorless are going to be in more demand with silly Eldrazi that require this specific mana and those cards will see some upside based on the new demand. I won't rehash the examples from that piece here—take some time to reread it if you want a better sense of what could be affected.
It seems like Eldrazi Displacer is powerful enough that people are willing to change up their manabases, especially if they jam a few more Eldrazi like Endbringer to make the most of that new manabase. I like pain lands a lot in the future, especially the ones which generate white mana.
Archetypes It Bolsters
Decks that are already decks are going to love this card. Basically, if you go to EDHREC and look for decks that are playing Mistmeadow Witch and/or Deadeye Navigator you will see quite a lot of action. Roon. Brago. Reaper King (awww yiss!). Augustin. Phelddagrif. These decks are already doing stupid stuff with Mistmeadow Witch. The list gets even bigger when you add Deadeye Navigator. Sakashima. Tasigur. Sedris. Silumgar. So many decks that are using this silly ability. While only decks that play white benefit from Eldrazi Displacer, it's fun to see how many decks cards like this effect. But it's worth looking a little deeper, because there are some decks where Eldrazi Displacer is more than just a second copy of Navigator or Witch.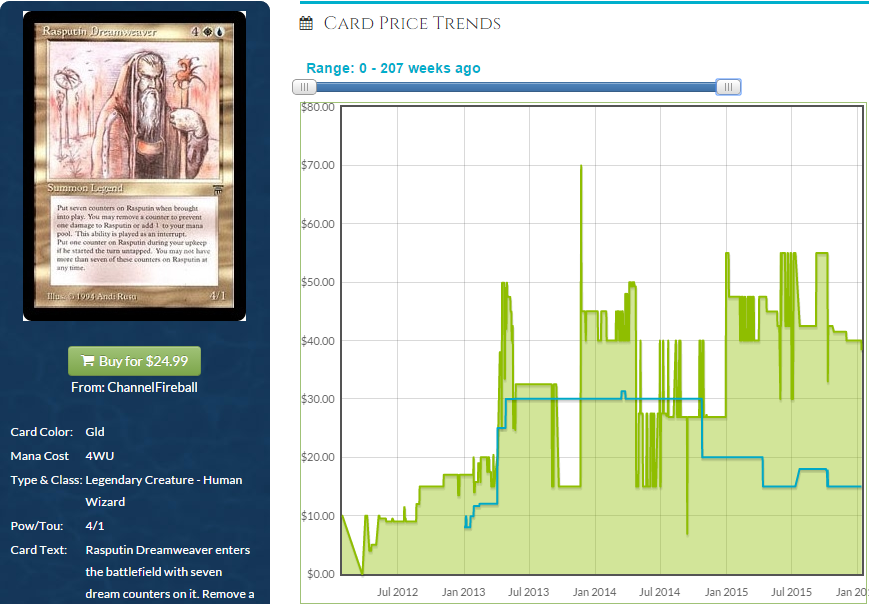 This creature comes into play with seven counters on him that can be removed for colorless mana. You remove all seven, putting seven colorless mana in your pool. Use three of those mana to activate Eldrazi Displacer, removing Rasputin from the game before returning him with all of his seven counters restored. Do this a lot of times to net four colorless mana each time you do it. Proceed to drill everyone in the face with whichever way to use infinite colorless mana you'd like to use to end all of their lives. This doesn't make this deck more than a turn faster, but it does give it one more avenue to go infinite, and it's a two-card combo plus your mana outlet rather than you having to come up with blue mana for Deadeye. This makes Rasputin a much better deck than it already was, and it was already pretty good. Rasputin has demonstrated the ability to hit $50 or more and with copies available below $40, this seems like a good example of a card whose archetype is bolstered disproportionately. Eldrazi Displacer works with Rasputin better than it works with almost any other Commander which can play it in its deck, and that has to matter. Rasputin is old and it's not like it's getting a reprint.
This could lead to some people building a new Brago or Derevi or Lavinia deck which means staples in those decks have upside. I'd absolutely watch cards like Great Whale, Peregrine Drake, and the big one: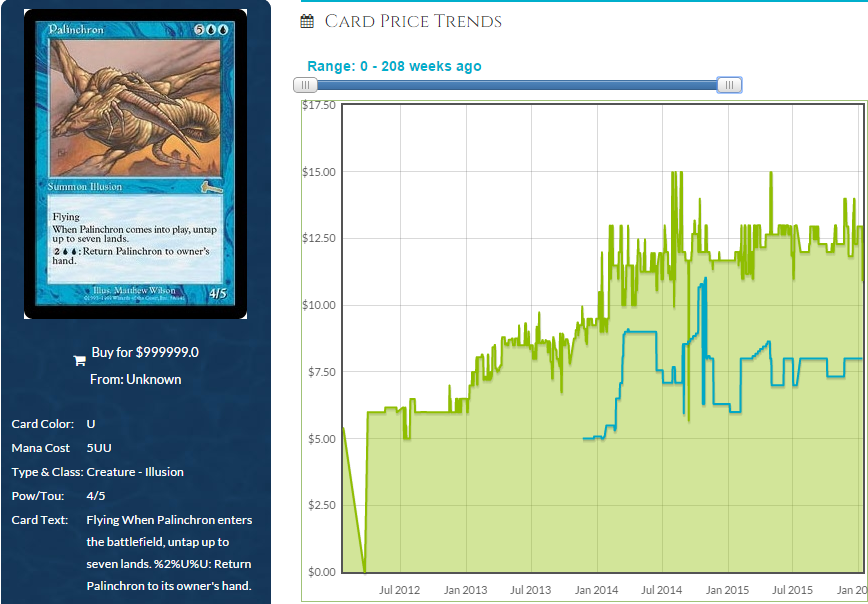 Palinchron was on the way up anyway, and any little boost could just steepen the curve.
This is all fascinating for a card that isn't a legendary creature. It's a staple that's behaving like a rock quite a bit with all the ripples it's creating.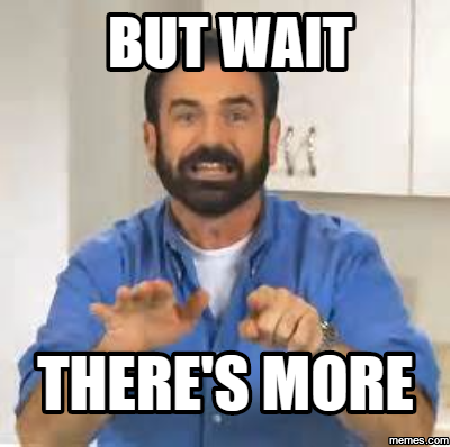 True "rocks" don't just bolster old archetypes.
New Archetypes It Creates 
Eldrazi Displacer is white, that much is obvious. But did you know it also wasn't blue? That's sort of important, because Mistmeadow Witch and Deadeye Navigator and Venser, the Sojourner and Grover from Sesame Street are all blue, and that limits the number of decks they can go in. While Deadeye Navigator is played in decks like Tasigur that Witch can't go in, it can't go in some of the non-blue decks with white the Displacer can go in. If there's no blue at all, Witch and Navigator aren't an option, but all of a sudden Displacer is.
Are there commanders that have white but not blue that could use this? Of course there are! It may take some time for people to figure out exactly which white-but-not-also-blue decks they want to jam Displacer in and which archetypes can be created. In the mean time, we do know which cards pair with it, and that's important.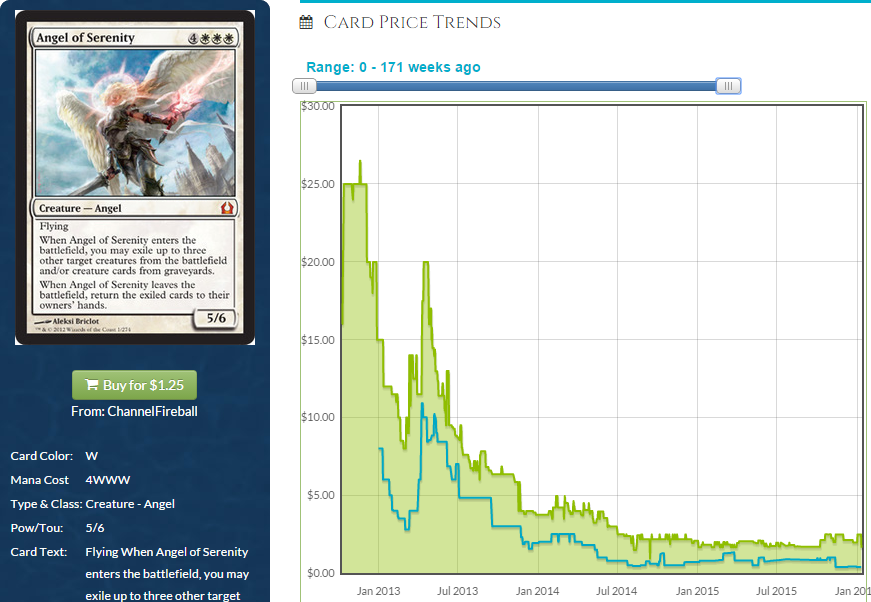 This took quite a blow from being forgotten by Standard players and getting a reprint, but it has growth potential, especially since this can be abused in decks without blue. There are enough angels with good enter-the-battlefield effects that Eldrazi Displacer could bolster one deck right off the bat.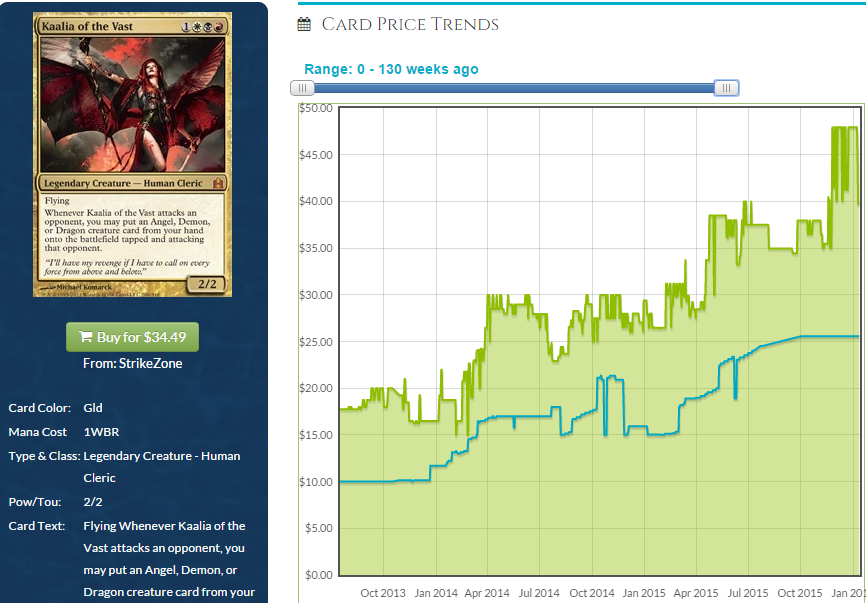 This badass and all the cards that go in the deck suddenly look a little sexier. FTV Angels (don't google that exact thing. It's porn. You get porn.) got people jazzed about angels and Displacer does dumb things with basically every angel and demon in the deck. Once, you couldn't go nuts with an Angel of Despair that you could tutor for, but now you can. And that's just dandy.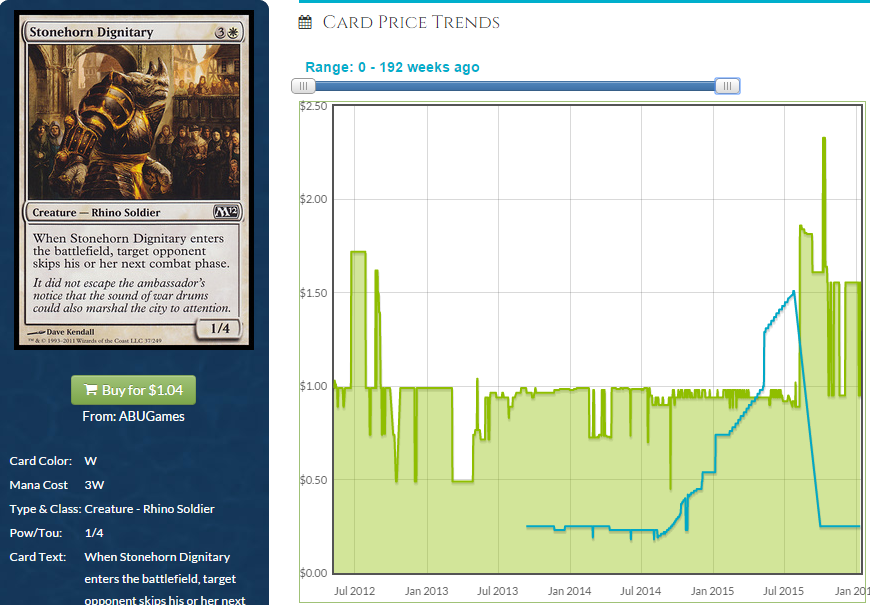 Hey, look at a combo  that was only available in decks with blue before. Isn't that dandy? Everything is dandy. And that's the point.
Lots of decks are going to want to use Eldrazi Displacer as a mono-white Deadeye Navigator, but it has defensive properties as well. If you use it on an opponent's creature, it leaves combat and comes back in, tapped. This can keep you from dying to certain Voltron decks until they give their commander protection from white or creatures, it can lock down big beaters and creatures that have to hit you to take effect, and can generally just keep a lot of damage out of your face. Tokens? Dead meat. Forever.
What's one last way a card that seems like it's bound to be an EDH staple is going to act a bit like a rock, and therefore a card whose own price may actually matter (and go up from where it is now)?
Effect on Other Formats
EDH is EDH. EDH rocks tend to not be worth a ton of money sometimes (Nekusar) compared to staples (Mana Reflection). But EDH is only one format, and it's just one place where the cards can impact play and therefore be financially relevant. Edric was a great commander, but his price really soared when people played him briefly in Legacy. The speculation community as a whole, as well as armchair speculators reading tweets from pro players, all bought in heavily to Edric and other first-generation EDH commanders. Even a modicum of playability in Legacy set off a chain reaction.
Could we see Eldrazi Displacer make some movies in Standard? There are potential combos with Standard cards, and some of them let me kill people with Zulaport Cutthroat, which is all I ever wanted to do as a Magic player. Any interest in Standard, even interest that doesn't end up substantiated by sustainable play, can give this card itself a chance to move up in price. If it does work out, it can bring other cards with it to the top. Those speculations are outside the scope of this article series and better left to Standard specialists, but an EDH staple can find its price affected by things no one anticipated.
I was taking my time and trading for See the Unwritten at a leisurely pace when Standard speculation about upcoming Eldrazi kicked the price in the ass, and it still hasn't recovered. It's good to be on top of things, because you never know what Standard could do to upend your plan of, "Wait to get this for cheap at rotation," and the price may never get to below where it was when you decided to wait.
Eldrazi Displacer is a very special card. It's going to cause all kinds of tumult, and it's going to make all kinds of shenanigans possible. I personally welcome it and can't wait to jam it in every deck. Cheap foils? Sure hope so. Expensive non-foils? Maybe, and I hope I'm invested if it happens. All I know is that there's more than meets the eye with this card, and it's going to cause more ripples than any other card in the set. Seeing what this card can do will help us immensely if we see a card like it on future spoilers. Until next week!