Check out our Pro Tour Amonkhet financial preview over here, and join us for round to round coverage in live blog style below all day. Look for color coded text if you don't have time for the whole thing.
Before the start of the Standard Rounds, LSV highlights the cards he expects to see a lot of this weekend:
Round 4 (1st Round of Standard) starts at 2pm EST/Noon PST, Friday, May 12th, 2017 after three rounds of draft. Here's how things are playing out.
Round 4: Martin Juza (2-1, Mono Black Zombies) vs. Masashi Oiso (2-1, New Perspectives Combo)
Coverage decides to start off with coverage of two of the newer decks, likely hoping to head off the potential Mardu narrative. Oiso, clearly well practiced with the new combo deck, quickly dispatches Juza, who amusingly posts an F6 note in the middle of the table as the Japanese player works through his combo for the win. In Game 2 Juza tables a strong offense backed up by a timely Transgress the Mind, and Oiso can't find his combo pieces fast enough to hold him off. In Game 3 Juza is able to work around control elements from Oiso and advance to 3-1. N
Nevertheless, camera time has triggered the obvious buyout and New Perspectives is now bought out below $5. 
Round 4: Jacob Wilson (3-0, Temur Control) vs. ??? (2-1, Zombies)
Wilson takes this match down 2-1.
Deck Tech #1: Patrick Dickmann (Jund Gods)
Watch live video from Magic on www.twitch.tv
Patrick explains that he decided to run Amonkhet gods instead of planeswalkers due to the power of indestructible.
Deck includes:
Round 5: Joel Larsson (4-0,  BG Rites) vs. Kentaro Yamamoto (4-0, Temur Aetherworks Marvel)
Larsson is on a Cryptolith Rite deck sporting Bontu, the Glorified, a card that has been on my radar, but which hasn't made much of a splash until now. Other cards include Vizier of the Menagerie, Walking Ballista, Catacomb Sifter, Manglehorn, Loam Dryad, Duskwatch Recruiter. Yamamoto manages to get an Ulamog, the Ceaseless Hunger onto the table in Game 1 and puts Larsson on the back foot. Game 2 doesn't go much better for Larsson, who stumbles on lands a bit early and never manages to accelerate out past the reach of Marvel activation from Yamamoto.
Round 5: Sam Pardee (3-1,  BG Rites) vs. Travis Woo (4-0, Zombies)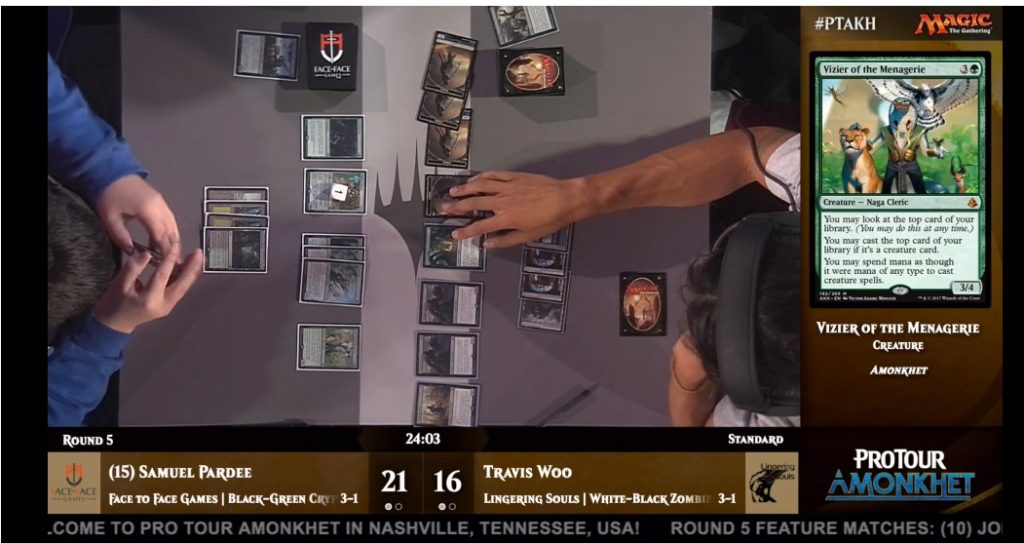 As we enter this match, the players are tied at a game  a piece. Vizier of the Menagerie">Vizier of the Menagerie + Cryptolith Rite is tabled by Pardee, while Woo has a hoard of zombies. Ultimately it is an active Ormendahl, Profane Prince that puts the match away for Pardee and moves him to 4-1.
I'm hearing that 25% of the field is still on Mardu Vehicles. Lower than it could have been, but still pretty high.
Deck Tech #2: BW Zombies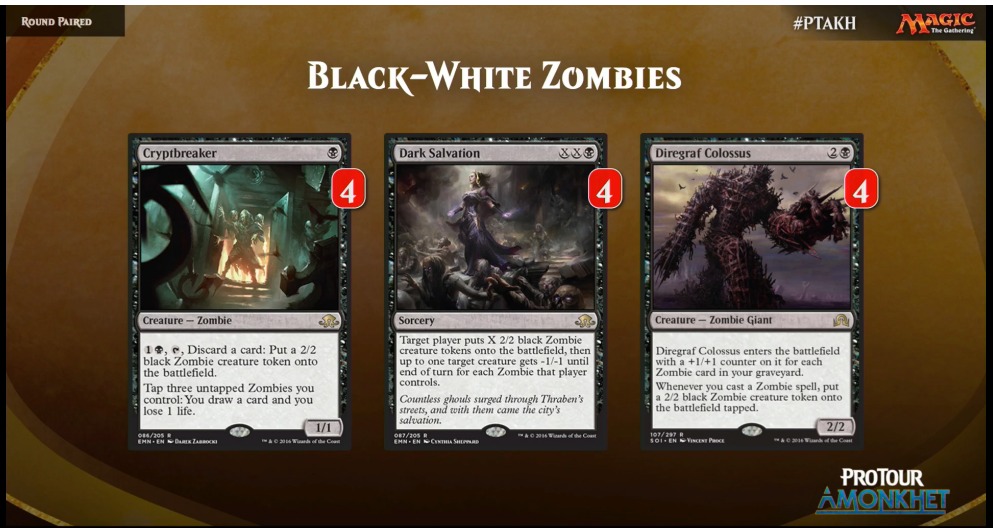 This build gives up a bit of mana consistency to have a much stronger sideboard.
Here's where we are in the standings after five rounds. A lot of big names on this list: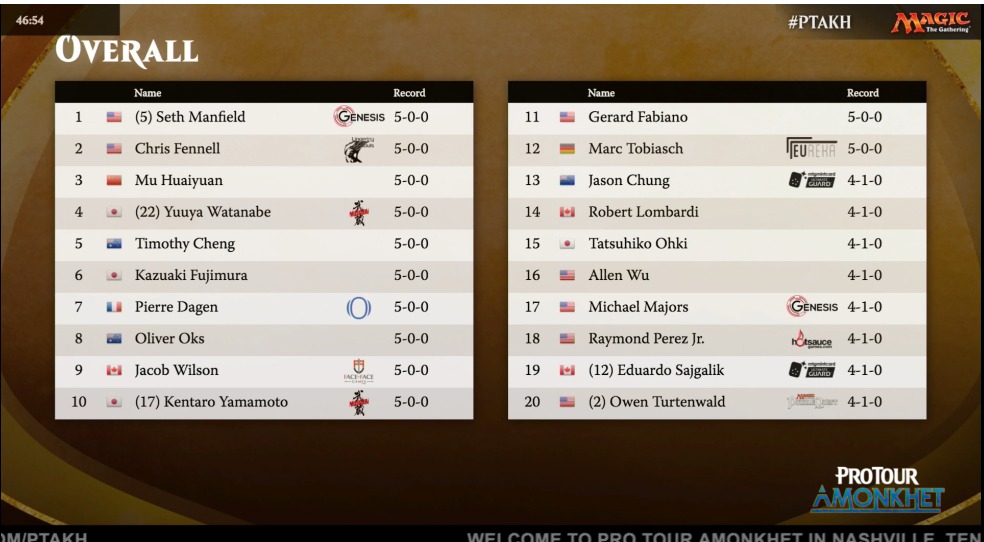 Round 6: Patrick Dickmann (3-2,  Jund Gods) vs. Craig Wescoe (3-2, RW Humans)
Here we see coverage again making the choice to show interesting decks instead of the players with the best records overall. Be aware that this may make certain decks seem more important in the meta than they really are.
Game 1 hinges on a couple of missed land drops from Dickmann, leading to a quick concession in the face of overwhelming offense from the famed white mage. Game 2 is a tighter, more drawn out affair, but ultimately it is Patrick that takes it to even things up. In Game 3 Dickmann manages to keep the pressure on Wescoe, who draws a few too many lands to stay in the race. Wescoe drops to 3-3, while Patrick moves to 4-2.
Owen Turtenwald is now at 5-1 on Mardu Vehicles.
Deck Tech #3: Paul Cheon (UR Control)
Paul walks us through the UR Control list that has been posting solid results on MTGO lately. The highlights here include 4x Disallow, 4x Torrential Gearhulk and 1-2x Commit//Memory.
Round 7: Chris Fennell (6-0,  WB Zombies) vs. Marc Tobiasch (6-0, Temur Marvel)
IN Game 1, Chris Fennell manages to get a ridiculous mass of zombies onto the table, leveraging Liliana's Mastery and a posse of Wayward Servant to make the pile of assets on Marc's side moot. Zombies takes Game 1. The reach of the white splash via drain effects really paid off in this game. Wayward Servant is commonly available at $0.25, but could easily end up as a $3-4 uncommon this season if zombies proves out this weekend and through the next few major events. Diregraf Colossus inventory has been draining out at $3, and the card could end up at $6+ by the end of the weekend. The next game isn't much better for the Marvel player, and WB Zombies in the hands of Fennell goes to 7-0.
Round 7: Ari Lax (4-2,  Temur Marvel) vs. Alex Sittner (4-2, U/W Spirits)
On the back table, Ari Lax casts an insane six Ulamog, the Ceaseless Hunger in a game he eventually wins the first game against Alex Sittner on W/U Spirits after casting the Memory half of Commit/Memory. Sittner strikes back to even it up off camera, and in the third game Lax manages to find an Ulamog off Aetherworks Marvel to take out two potential attackers & lock up a victory to move to 4-3.
Deck Tech #4: R/W Humans (Craig Wescoe)
Craig is one of the only players on this list at the tournament so it's unlikely to have much impact. This list is pretty similar to what we've see here.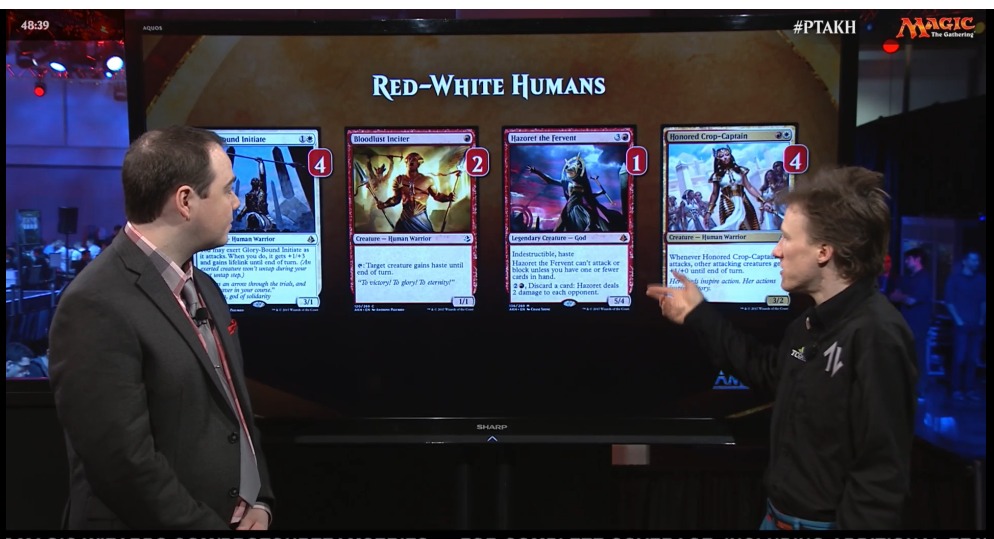 Day 1 Metagame Breakdown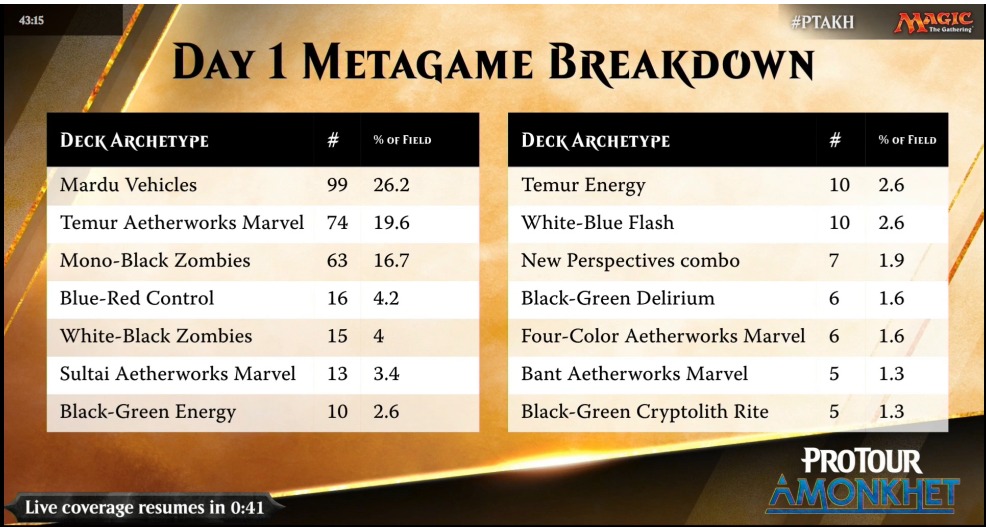 Here we see a solid falling off for BG Delirium decks, but Mardu Vehicles still making up a full quarter of the field. Marvel at nearly 20% could lead to further gains on their banner card (currently tough to find under $10) if it gets a strong contingent into Day 2 and on to Top 8. Zombies is the only other archetype over 15% and then we have 10+ other deck types with minor showings. This all suggests that the pros had trouble establishing consensus across teams on which decks were best in this newly minted format.
Round 8: Pierre Dagen (7-0,  BG Energy) vs. Oliver Oks (7-0, Temur Marvel)
Here we have a Marvel deck already well positioned for Day 2 success against one of the few aggro energy deck pilots. Marvel spins don't quite pay off as hoped in Day 1 and Dagen is able to take the first game. In Game 2 Oliver again hits a low impact spin off his Aetherworks Marvel, netting a Servant of the Conduit against a board of aggressive threats (Greenbelt Rampager, Glint Sleeve Siphoner, Winding Constrictor) from Dagen. In the final game Oks ends up with a trio of Ulamog caught in his hand, and after many turns Dagen is able to put things away.
James Chillcott is the CEO of ShelfLife.net, The Future of Collecting, Senior Partner at Advoca, a designer, adventurer, toy fanatic and an avid Magic player and collector since 1994.