Hey, readers,
The Hour of Devastation is almost upon us and that means we get to wait around forever for EDH prices to move. The stuff that was going to move immediately already has – Solemnity was a massive earthquake that ripped through a swath of old Magic cards and made them suddenly valuable. Everything else could take a minute to move, which is probably a good thing because it gives us time to scoop cards up. Unlike previous sets, we're not going to have to wait for card prices to plummet on our long-term holds because unlike with previous sets, this set isn't worth jack and/or shit. Is redemption going to enforce a higher box price, forcing singles to take the hit? Are Masterpieces going to keep box prices low? Is this set just another Dragon's Maze without the benefit of a Voice of Resurgence to keep the boxes at all worth buying? I don't know how things will shake up, but what I do know is that it's never been easier to buy our EDH cards right out of the gate. Let's take a look at some thoughts I have had about this set and where it fits into EDH.
1)Solemnity isn't done
Solemnity came along and made a bunch of prices go nuts. Lucky for you, I managed to predict a lot of them and if you read the article the same day it came out, you had a decent shot at getting some of the cards before they sold out and people started to cancel orders. Lucky for us, Solemnity interacts with a TON of cards and not all of them were mentioned or even all that obvious up front and there is still a chance to get in on a few of them.
Delaying Shield is like $0.70 currently and you straight don't take damage with Shield and Solemnity out. This isn't all that good without Solemity but it's not all that bad, either. If you don't draw your Solemnity, this is a card that lets you take damage as normal but also opt out of some of it if you choose to untap your mana and prevent some of it. Not only that, this prevents you from dying when everyone else dies so a lethal earthquake that would kill the table suddenly makes you the winner. Zedruu decks were running this already to take a ton of damage then donate the shield to let opponents deal with the consequences. This is fun in EDH, it's cheap, it's old so therefore scarce and it's unfair with the most exciting card in the new set.
Solemnity decks are starting to shape up on EDHREC so take a look at the cards other people are running with it. While there's not a ton populated yet, there's stuff to learn. Zur is most likely the deck that benefits from this card. What other cards do Zur decks run? I don't know, click on Zur and find out. EDHREC is still the best resource I have found for predicting price increases predicated on a card making another card better. And, before anyone accuses me of shilling super hard for EDHREC because I am employed by EDHREC, let me just say that it's the other way around – I'm employed by EDHREC because of how hard I shilled for them before they even started paying me. If there were a better resource for what we do in this column, I'd use it. There isn't. Go get the free money.
2)The Planeswalker decks are loaded
The set appears to be dumpster lasagna from a financial standpoint. The Masterpieces are hot and the set looks like it's really balanced in terms of Limited (I have a feeling I'm going to take Deserts really hard in draft and ride that synergy wave) but that doesn't really do much for the prices. Pre-sale data on TCGPlayer is super depressing.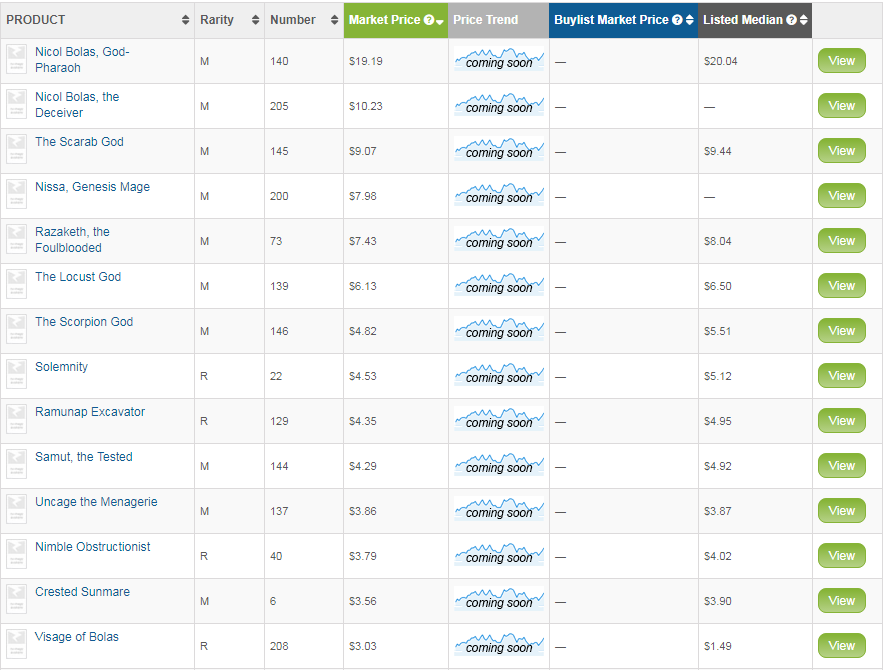 Of the 14 cards pre-selling above $3, 3 of them (Nicol Bolas the Deceiver, Nissa, Genesis Mage and Visage of Bolas) are in the Planeswalker packs. Combined, the 3 cards total $21 in pre-sale value. The Planeswalker decks are available for $23 combined from Miniature Market.  I'm not advocating buying at that price, but what I am saying is that there are 3 cards that people really like (or liked a few days to weeks ago when the Market Price was established – I bet those cards are cheaper now) and they don't care that they're not in boosters, they just want them to jam with. You think anyone is jamming an 8 mana Planeswalker in Standard? No chance. How about a bad mana rock that tutors for an 8 mana walker? No, this is casuals and EDH players establishing those pre-sale prices on those cards and making the rest of those planeswalker packs (each of which includes an Hour of Devastation booster pack) essentially free. People like Planeswalkers and this set has a lot of Planeswalkers and they aren't all in boosters.
3)Obvious cards are too cheap
Mill is always a buy. Good mill even more-so. EDH players benefit from mill the least out of everyone (or so you'd think, but look at Phenax decks) but mill cards are always good financial decisions. This set has, basically, Mill Reflection and it's like 30 cents.
This card is really good for taking out one player. Even if you play this in EDH, this makes it really easy to kill one person quickly so you can use your Traumatize on everyone else. Alternatively, curse yourself and fill your graveyard with cards to use to kill them. This is already a bulk rare and this will not be a bulk rare long-term. This is a sicko mill card and it's very, very obvious as a pickup but people don't seem to want to worry about that until much later. If you end up with someone who trades at TCG Player value, out a terrible card like Nimble Obstructionist for 10 copies of this and you'll be very happy in a year or two. Is it still the dreaded "value trading!(cue Wilhelm scream)" if you're doing it based on the values from two years from now? There are plenty of other obvious cards that are bulk already and which you should be targeting.
This one comes to mind, for example. Bulk is too cheap for this forever.
4)Gods could be too cheap
I have seen a lot of people excited about The Locust God and wheel effects. You may remember wheel effects from going up in price when Nekusar was spoiled and again when Leovold was spoiled. How many times am I going to be able to make money from Teferi's Puzzle Box? Skullclamp, Windfall, Arjun, etc.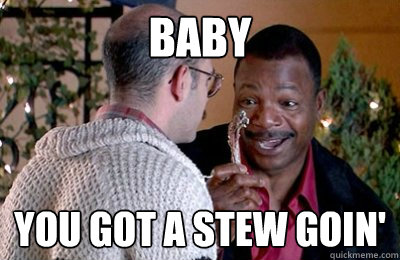 The Locust God is $6. Now I realize that in order to go up, this card will need to impact Standard, right? As much as it's cool to Skullclamp your Locusts, or win with Purphoros, Skullclamp and Ashnod's Altar (a pretty easy combo to assemble once you get Skullclamp going) we don't have access to that in Standard. But do the guys truly need to be that good in Standard to maintain their current price? I only ask because this set seems like hot garbage, there are no cards over $20 and booster boxes are like $100 retail. If people stay away from the set because it's hot garbage, scarcity will keep prices artificially medium. If they get high enough, it makes sense to buy boxes again and people will. But if people aren't compelled by anything in the set, the value has to be somewhere and why not the Gods? $6 is already pretty reasonable and they could at the very least maintain some of their value if nothing else from the set jumps. I'm not saying invest, but I'm going to pay $6 for a copy of The Locust God now, build that hilarious deck and laugh at people and I doubt I'm going to look at the price of the God in 3 months and think I took a bath.
5)Read what EDH players are building
I was focused a lot on Solemnity shenanigans and brewing decks with lots of Gods in them for my Gathering Magic article so I didn't really take a look at what people are doing with the rest of the set. Think about which cards will go into existing decks. Is there a card that's going to go in Atraxa? There is?! Well that's worth knowing.
I also recommend using EDHREC for a sort of reverse-engineering. Instead of typing in a God and seeing how to build it based on suggestions from the other decks in the database, start with a single card and see which generals want it. The cards in those decks are more and more attractive the better that commander is.
Swarm Intelligence is a new card and I think it has potential, but I don't know where. What do other people think?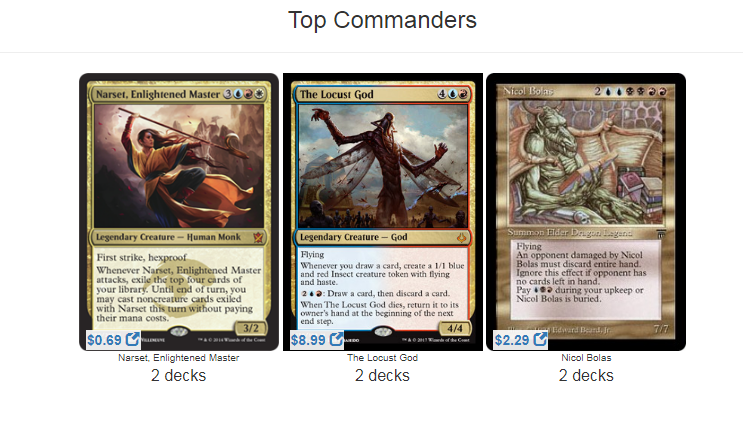 There isn't much consensus, yet, but I didn't think about Narset when I first read Swarm Intelligence, but it makes a lot of sense. And since The Locust God seems to be coming up a lot, it doesn't hurt to see which cards are going in that deck because while some people may scrap their Nekusar deck for cards to put in the deck, some won't and that means they'll need to buy cards they already have. A lot of cards in the Locust God deck are creeping up lately and it pays to check that. Without looking, how much is Chasm Skulker worth, knowing it was first in M15 and was just reprinted in Commander 2016? Bet you were off. Bet you're glad you looked because if you're like me, you have a bunch of them shits in a box somewhere.
6)Bad Standard sets can be good for EDH
Not always, though. Let's look at every card in Dragon's Maze worth above $1.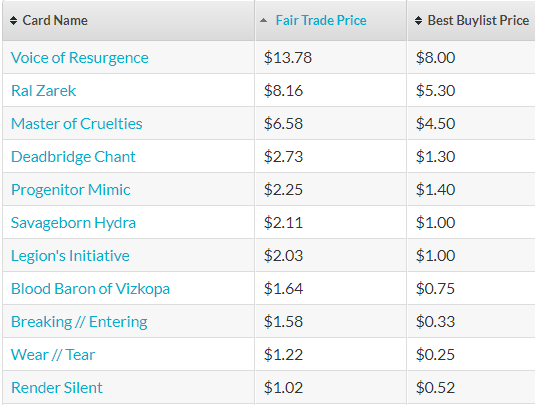 Gross. Mirko Vosk is under $1. Where is this pressure on prices coming from? It's not like boxes are flooding the market. Still, even this is less bleak than it looks at first. Voice and Progenitor Mimic are low due to reprinting. Deadbridge Chant is a solid EDH card, as is Savageborn Hydra. With strong, powerful Standard cards like Varolz and Aetherling worth diddly, it seems like EDH is the only thing making these cards worth anything. This is the worst case scenario for Hour of Devastation – no good cards and therefore no value no matter what set redemption has to say about it. Let's look at a set that's closer to Hour of Devastation in terms of being disappointing for Standard but giving us lots of EDH cards.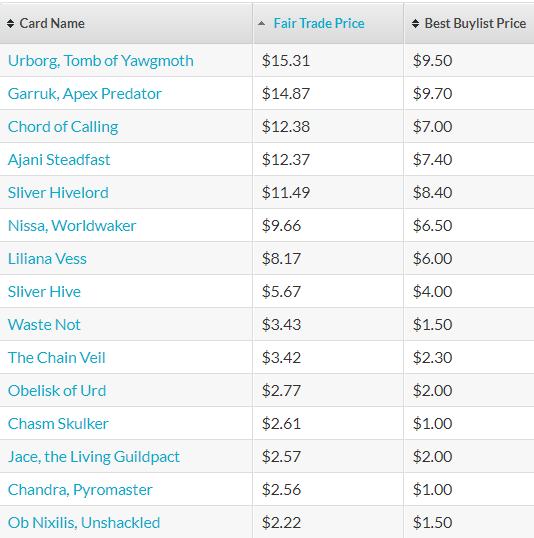 M15 is much closer, if you ask me. We had a lot of cards that were good in Standard like Hornet Queen and painlands fall off a bit and EDH cards came in and picked up the slack. Chasm Skulker is between $2.50 and $3.50 after a reprint and was a bulk rare when the set was Standard legal. I think Hour of Devastation will force the EDH cards to take up value in the coming years, which is perfect because I think there are cards like Neheb that are up to the challenge. They'll be overlooked for a minute, but not forever.
7)Look for more Solemnities
Anything that is a good card could be worth some money and if it gets better as people discover how to use it properly, it could be worth even more money. That's base tier. The we have cards that are good in one deck the way Abandoned Sarcophagus will be good in a cycling deck, and that deck's increased popularity could drive up some of the prices of the other cards in the deck. That's mid tier stuff. The truly worthwhile cards are ones that bring up multiple different decks, interact in a stupid way with a lot of other cards and in general are going to go ham with lots of prices. That's Solemnity. Could we have missed another Solemnity in the set? It's possible. If there are cards in the set that I think could be potential top tier finance cards, they're these.
This not only could be the commander of his own deck, I think he goes in Athreos and Shirei-based Shadowborn Apostle decks and probably Kaalia decks. Are a bunch of people building Kaalia lately? I don't know for sure, but I do know that Kaalia just became more affordable when it was jammed in the Commander Anthology set. Razaketh seems like it could make a bunch of other cards in other decks go up and I think it's the closest thing we have to another Solemnity.
That's all I have for you. 10 seconds before wrapping this up, I saw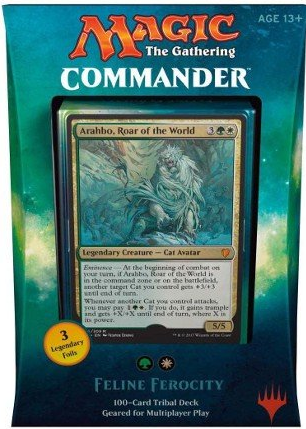 so I bet you know what we're going to talk about next week. Until then!