Hello again,
We talk sometimes about second spikes on cards. I'm going to pretend that both you didn't know that sometimes we talk about that and also that you don't know what that means. When a card's price is at a certain level and it jumps up rapidly, due to a large amount of the supply being bought out and retailers restocking the card at a much higher price, it's said to "spike" and I can't believe I feel like I have to explain this, like who even doesn't know what that means? Let's get through this. We mention "second spikes" when we talk about a card that has spiked once due to some circumstance and then, later after the price recovers a little, spikes again to different or sometimes even the same circumstances.
The first spike causes the price to go up which means dealers need to restock which usually means buy prices go up and finance people start feeding the dealers copies. Stores that have mispriced copies either change the price or they get bought at the old price, meaning the cheap, mispriced copies disappear forever and the new price is the new price, mostly. That means when a card spikes a second time, most of the copies are concentrated in the hands of dealers so without cheap copies to mitigate the new demand and dealers free to establish the new price, prices spike much higher and faster the second time. You probably knew all of that but since I want to talk about first and second spikes, it didn't kill us to go back over it.
We're seeing a lot of second spikes lately on cards that were spiked by Nekusar and Leovold because of The Locust God. I avoided writing about The Locust God initially because it felt like all we were going to see were second spikes on wheel cards. While that's true to an extent, the Locust God is distinct from Nekusar in Leovold in a way that's obvious in hindsight but wasn't a factor I considered initially when I was evaluating it as a commander. That difference could cause some "first spikes" nestled among the second spikes and let you buy in at the ground floor on some important cards in a deck people seem excited about.  What are we in danger of missing by focusing on the sexier, second spike cards that are more obvious?
How Are The Locust God and Nekusar Similar?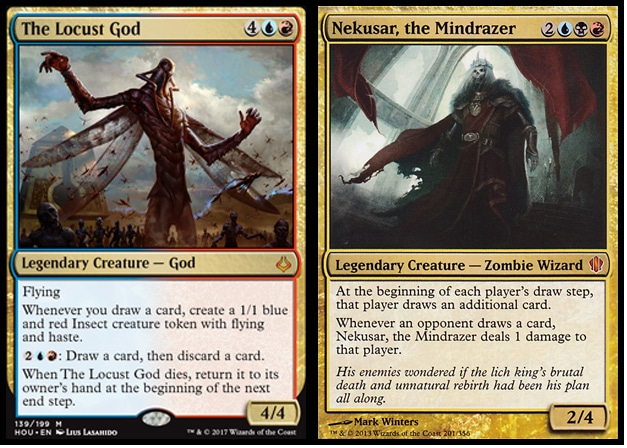 They's is both the Magic cards.
Welp, I think we're done, now. See ya!
You need more analysis than that? Fine. OK, since they both scale off of the number of cards a person draws, wheel effects seemed appealing right off the bat. By "off the bat" I mean, "it took like months for that stuff to go because all anyone cared about doing with Mind Seize was busting it for the Strix and Nemesis, not building Nekusar" but eventually, pieces of human excrement (this is an opinion piece) started building the deck and cackling like a Lich King whenever someone played a spell and got domed by Forced Fruition.  Playing a Windfall to make everyone pitch a bunch of cards then get domed when your full hand made them draw a dozen cards added to their feeling of helplessness. It's not much fun to play against and they get enough cards that they can build their web of hate.
Similarly, The Locust God loves wheel effects. You dump a hand and draw all new cards and suddenly the table is dumping the cards they tutored for and getting mystery cards and you have an army of Locusts. Wheels help you keep an army of critters ready to alpha strike and keep your irrelevant cards out of your hand while letting you cycle for new stuff.
How Are They Dissimilar?
Well, while Nekusar players casting wheel effects domes your opponents for a lot of damage when they draw cards, it doesn't help you per se. Sure, if you sock away a lot of land in your hand and wheel it away, that's good but if you cast a wheel with an empty hand it would have the same effect on your end game because you're trying to hit them for damage. You can play spells like Forced Fruition because you're trying to put them between a rock and a hard place and grind them out with Howling Mine effects and wheels.
The Locust God players don't want the opponent to wheel. Sometimes it screws them, but sometimes it helps them. Nekusar doesn't care how many cards they draw that are good because ultimately they won't live long enough to use it and they will likely just get wheeled again. Half the time, Locust God players would prefer only they got to wheel. That's an interesting proposition when you realize that while generic wheels have been good from Nekusar to Leovold to The Locust God, wanting "personal" wheels all of a sudden turns on cards that weren't used before. You could chase the Portal Winds of Change to $50 or you could get on the bandwagon of first spikes at the ground level. What are some cards that The Locust God will uniquely make go up that weren't good in Nekusar decks?
Mindmoil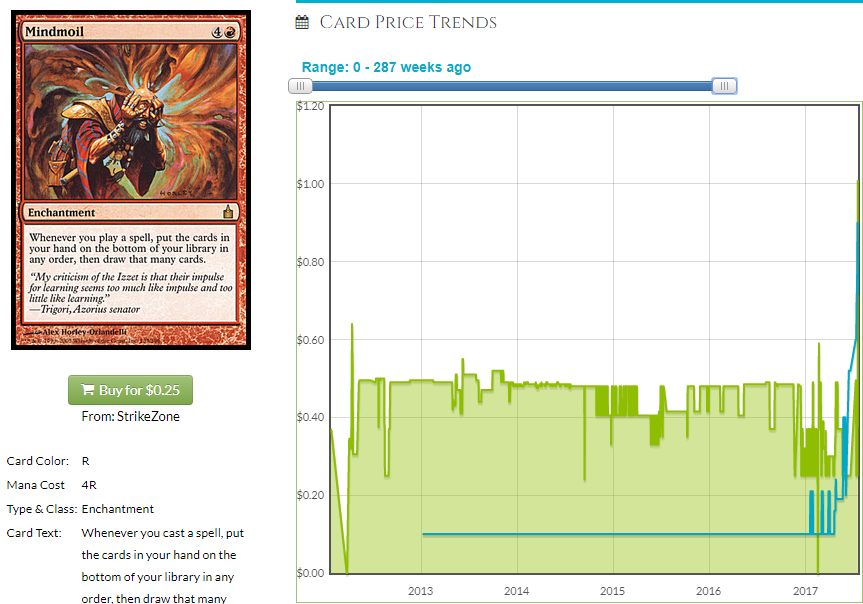 This is a card designed for you in a Locust God deck. You don't lose cards, you just bottom them meaning you could conceivably loop back around. You can also have easier (theoretical) access to them if you shuffle. Really, though, this is just about turnover. Keep on cycling hands and watch those Locusts fill the board. Find your skullclamp and your Mana Echoes, kill them with Impact Tremors. Boom.
Foil Moil doesn't look too bad, either, below $5. Ravnica is pretty old and there are probably fewer copies of Mindmoil than there are of Mythics from Innistrad so once supply dries up, it's likely to gallop out of control. I normally think saying "just buy the foils" is really lazy intellectually and it requires you to find people who want to foil out their Locust God deck rather than just spend that $20 on cards for another deck, but Foil Moil could his $20, at least temporarily. This is one to grab now while it's still relatively cheap.
Arjun, the Shifting Flame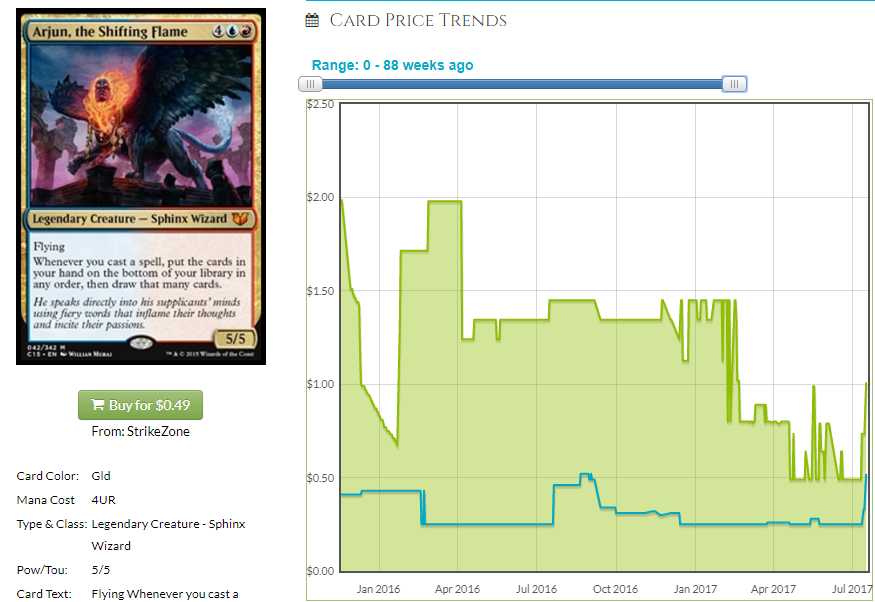 Mindmoilmancer is a pretty saucy commander in his own right. If you build around him, throw in a Locust God. If you build Locust God, throw in an Arjun. Commander 2015 stuff is never going to get cheaper unless it's reprinted and while the Mizzix deck wasn't super exciting, the value needs to come from somewhere. These are bought up, as evidenced by seeing Daxos decks still on shelves to this day, and it's likely Arjun was underrated until now. This is a mythic-level card from an out-of-print set and it's like a buck. You'd have to suck bad to not make money on this card. This is in 3/4 of the decks registered on EDHREC so it's clear EDH players are aware of this card. With Locust God continuing to be opened and with people just now taking their completed Locust God decks to the shop to trounce people, there is upside here.
Tolarian Winds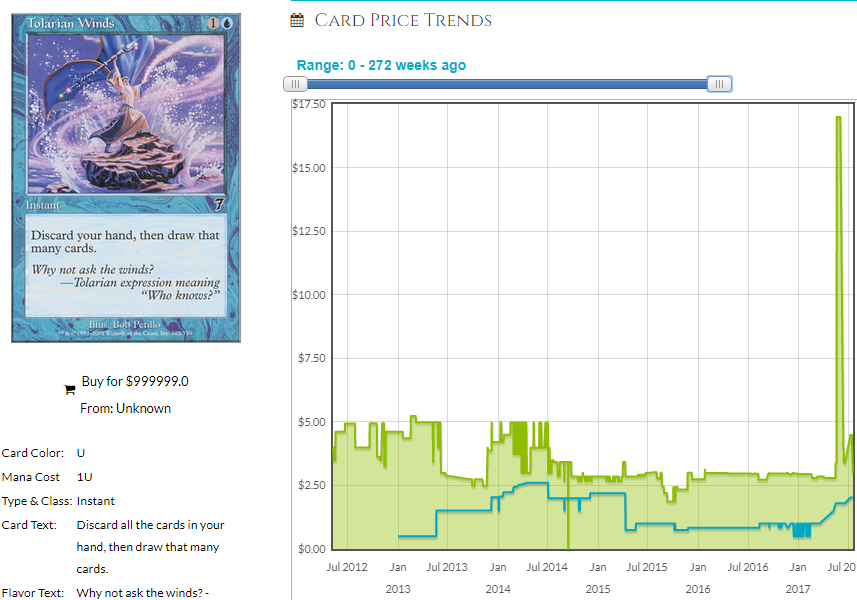 Could be too late on the foils as they are selling out (I mentioned this on BSB last week and multiple listeners have sent me pics of the 7th foil Winds they bought) but there is hope, I think, for Beatdown Box copies. It may sound odd at first, but if you look at Portent, the Ice Age copies moved less than the Ice Age precon deck copies. If you remember, when Coldsnap came out, they made Ice Age block precons with Ice and Age Alliances cards in them and Portent got a reprint.
The Beatdown Box version could have similar upside. Tolarian Winds has a few too many printings to really move from one deck (that's why we like Mindmoil but not Jace's Archivist, for example) but foils are already irrevocably spiked and other premium versions could be next.
Magus of the Wheel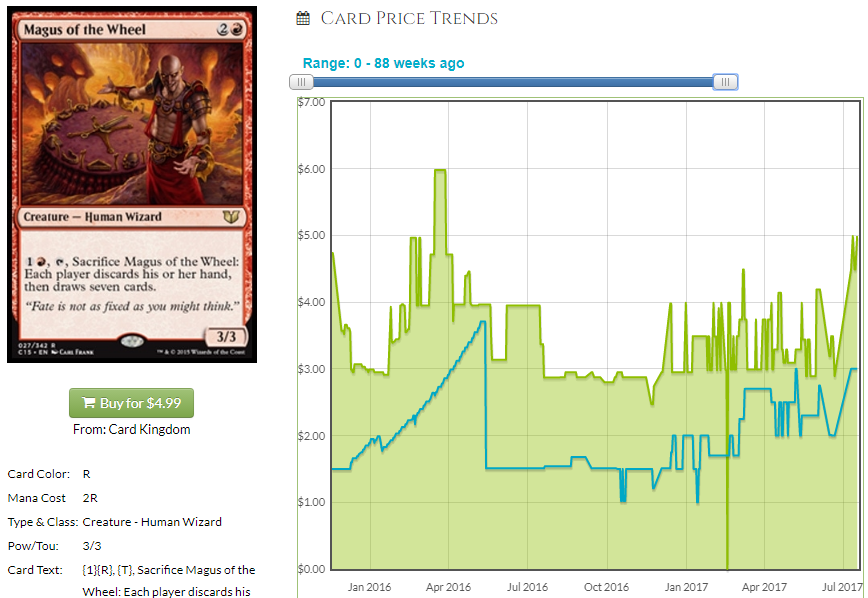 This is close to popping off as well. It's got the exact same supply as Arjun but appeals to Nekusar players, also, as well as Feldon, Yidris and Vial Smasher players.  This was a card we liked as a Nekusar card but just needed a push, and a push it got with The Locust God decks.
Impact Tremors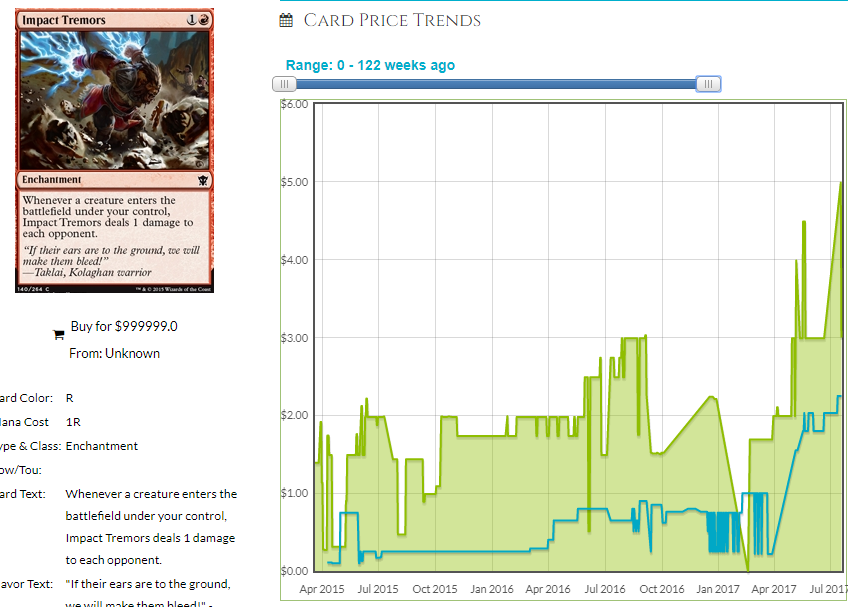 When you see something like this discrepancy, it means a card is moving.

The Market Price is good for showing you what things used to sell for, which is great when prices are pretty stagnant. People sold foil Impact Tremors for $3.50 +/- last week? List yours for $3.50 +/-. That is, unless you check the currently listed Median and it's double the Market Price. When do you see that? Why it's when something sold steadily at a price then got restocked higher. It means the price moved. Look at what things used to sell for but also look at the listed Median. It may be the same but it may not. In this case, it looks like Foil Impact Tremors is about to double in price, so get those copies under $6 while you still can. It's a win condition, it's a foil from a bad set and it doesn't need a third thing.
Check out the EDHREC page for The Locust God for yourself if you think there are cards I didn't mention (there are) that might get there (they might). Foil Forgotten Creation? Enter the Infinite (finally, right?)? You decide. I gave you a few tasty fish here to sample, but if you think you've learned to fish on your own, give it a try. As always, the comments section is reserved for the Guatemalan company that tries to sell us cheap NFL jerseys no matter how many thousands of Spam posts our filter catches and also for people telling me I'm wrong and/or telling me I wrote a great article. Sometimes it's both. As long as it's not neither, we're in good shape.  Let's see if we have some C17 to talk about next time. Until then!