Welcome to the first part of my one part series entitled "Combos you should know about"; a series where I will write about combos about which you should know about and if I ever want to do it again in the future, I'll have to call the article something else because I already said it was a one part series and now that's canon. I'm writing about this topic because I tried like hell to find financial opportunities for a Gishath deck and couldn't. Let's look at why Gishath is terrible for my typical "Rising tide lifts all boats" approach to EDH deckbuilding.
The Story of Gishath
This is about the story of the card and its price, not the story of actual Gishath the Dinosaur because I feel silly even typing the phrase "Gishath the Dinosaur" and Vorthos is for nerds. The story of the card is one we should know as financiers. First, Gishath was a deck that had to play cards like Looming Altisaur and Fungusaur (yes, THAT Fungusaur – the one with the silly precursor to Enrage) to have enough creatures. Now that we have another set full of Dinosaurs, including some pretty good ones, there are more than enough creatures to field an EDH deck which basically runs about 20 creatures max on a good day.
There are two real types of cards in the Gishath deck.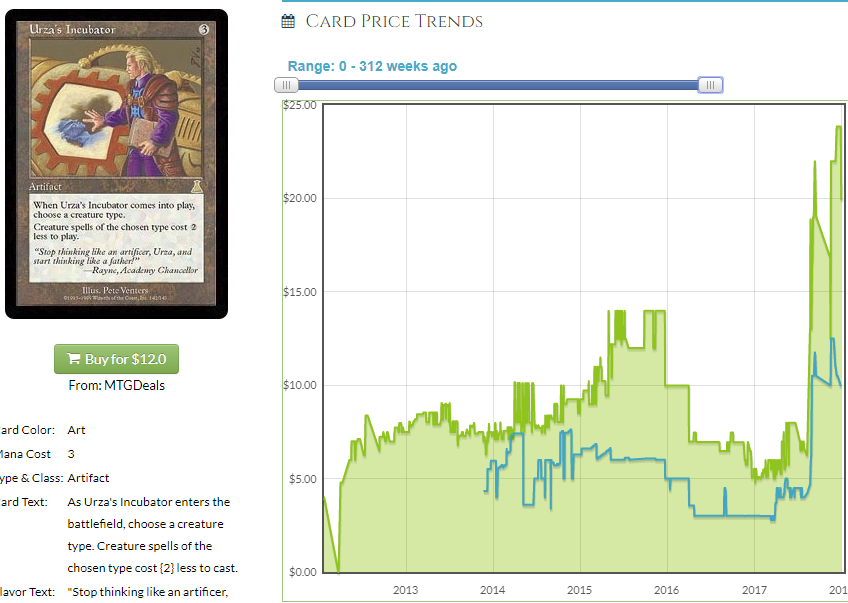 Cards that are already really expensive.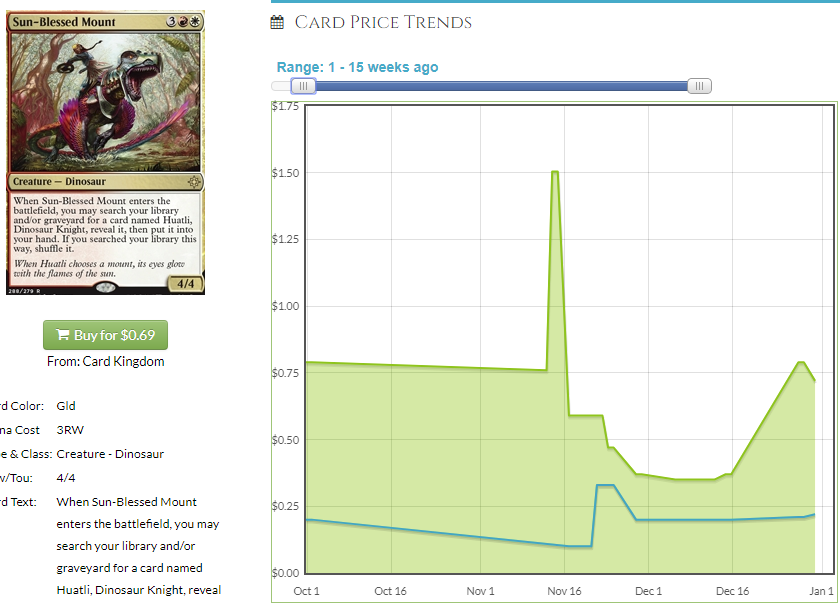 And cards that never will be.
That being the case, I don't think there is much opportunity here. I think Standard will be far more important when determining the fate of Dinosaurs than will EDH and I also think a tribe like this suffers from the cards either being too new or too generic. All of the stuff that's not from Ixalan block that's in a Dinosaur deck is generic tribal stuff that's good in all tribal decks. There's no Swarmyard or Sliver Hive that suddenly got activated by new printings, it's just "Hey, I might want to run Descendants' Path in this" and no $&#*, of course you want to do that. I don't think this is going to make enough of a splash to push Path of Ancestry up in price and it's certainly not going to cause a run on Magmasaur. What do we talk about? I talked about Kumena. Azor seems like an inclusion rather than a commander. Elenda doesn't really want to be built around when Karlov and Oloro exist. The other Dinosaurs are mono-colored. It's possible there is nothing else to really talk about in terms of new decks based on that set, and if that's the case, GOOD. let people catch up. They released 49 sets this year and they all had good Legendary creatures.
What We'll Do Instead
Instead of worrying about a new card that's going to make archetypes happen, let's talk about some interactions that you may want to sell into the hype surrounding and some interactions that are underrated.
Polyraptor/Pyrohemia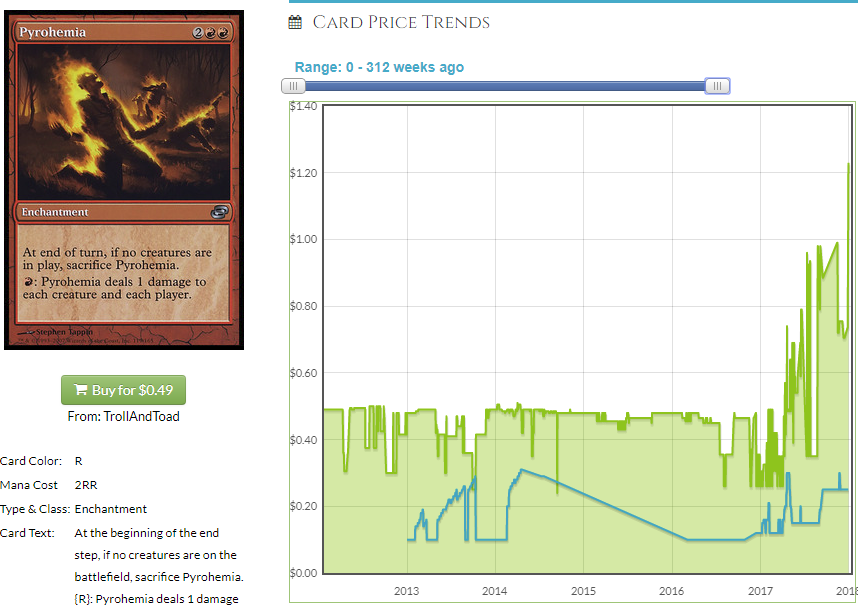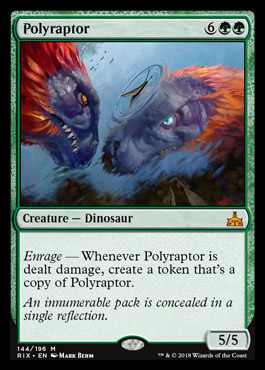 This is a doofy combo. Do you want to do this? Maybe. Probably not. Be advise that Pyrohemia was a card before this and despite being reprinted in a Commander deck, it's still going up in price. While Pestilence does the same thing with approximately a million printings, Pyrohemia is in Gishath colors and that matters a ton. This is a bad combo but being a bad combo has never stopped anyone before. Pyrohemia eventually kills the dinosaurs off so you're going to max out on the number of copies you can make per turn, or you can just run Aether Flash and Impact Tremors to kill them. I think if this combo takes off, there are other cards to buy but I think this won't take off. I'll still list the cards. Whatever. People buy stuff in bad combos all the time, just not the cards that they need to buy to actually build the deck. Most of the time they're panic buying from someone like me and I'm happy to sell to them. Speaking of which.
Keep or Sell? – Sell! Sell those Pyrohemias, and don't forget it was printed two times so pick all of your bulk and the bulk at your LGS while you're at it. This combo is bad and no one will build the deck.
What if they build the deck? – I think there are a few cards that go in the deck if it gets built.
Aether Flash
Impact Tremors
Pandemonium
Warmonger
Subterranean Spirit
But let's be honest, the deck probably isn't happening and it wouldn't be an EDH deck if it did happen.
Famished Paladin/Resplendent Mentor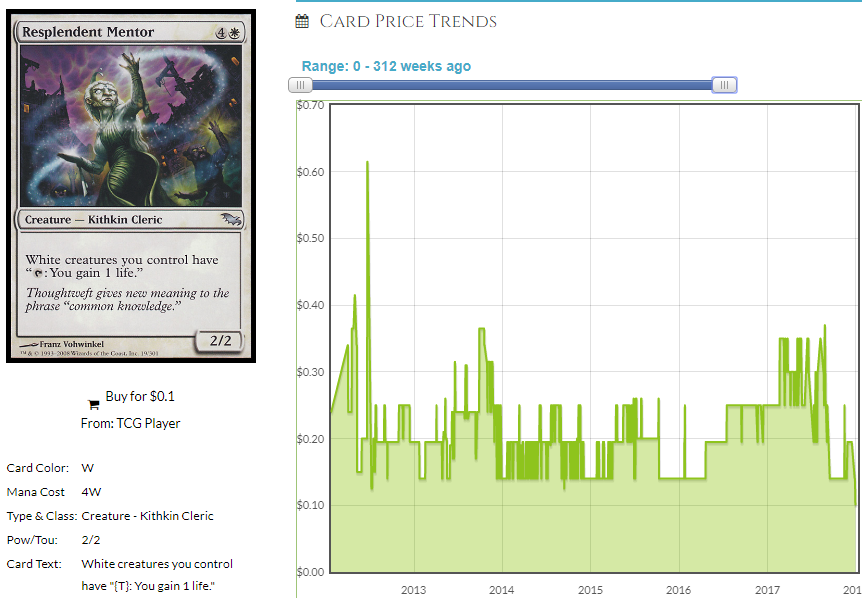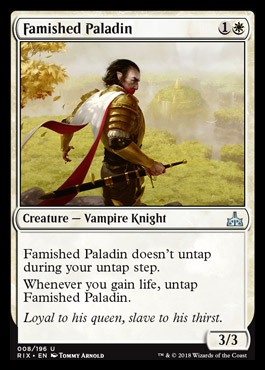 This combo is less good but also less ridiculous than the above one and therefore somehow seems more plausible. Mentor at least is non-useless outside of the combo (though I guess Pyrohemia isn't really useless and is a decent Enrage enabler for the rest of the Dinosaurs you're likely not playing because the Enrage ones suck compared to the ones like Alpha Regisaur and Etali that you'll actually put in the deck) despite being in a modest 136 decks on EDHREC mostly, you  guessed it, Karlov and Oloro. Being able to gain infinite life isn't great in a "die to 21 commander damage" format and I can't get people as excited about Test of Endurance as I am. Still, mentor is an uncommon in Shadowmoor and those are all picks, all of them, so you likely can't find this in bulk and if you have them, you're lucky you didn't sell them a long time ago.
Buy or Sell? – I think you sell into hype. This combo isn't great in EDH. I think maybe it gets there in 60 card casual, but we can't predict what lunatics are going to do and will people who don't read articles and discover which cards are in a set by opening boosters at Walmart and reading cards they've never seen before ever get on the same page enough to drive prices? I think sell while the selling's good.
What if they build this deck?
I think there are other cards that are impacted, some of which I always talk about.
Test of Endurance
Karlov, Ghost Council
Sanguine Bond/Exquisite Blood
Why am I mentally brewing a deck I don't think will exist?
Blood Sun/Bad Cards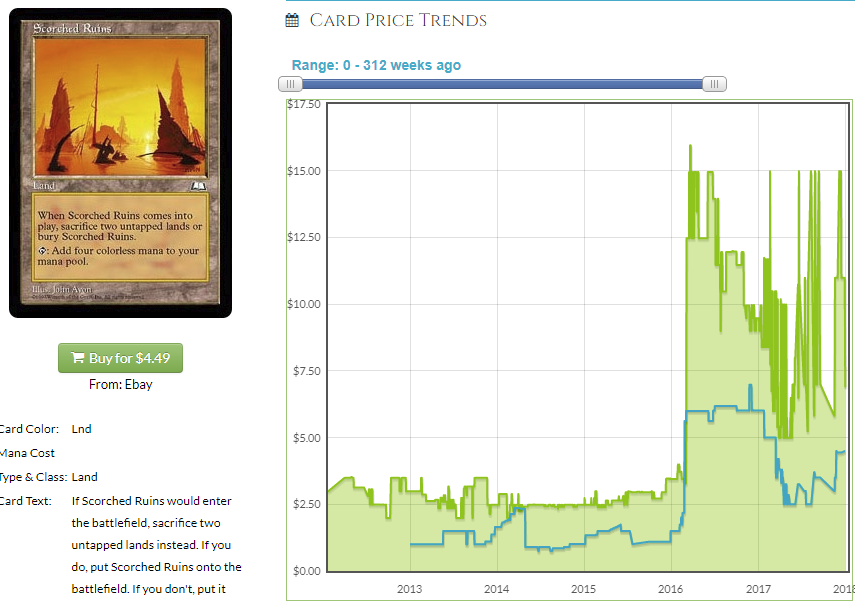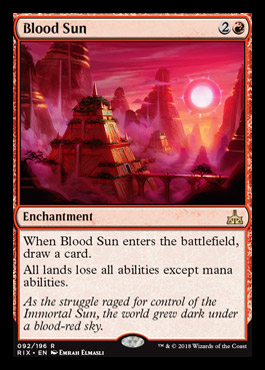 Blood Sun is Solemnity 2.0. Remember all of those sick combos that were going to be enabled by Solemnity?
They sort of didn't pan out. Like, at all.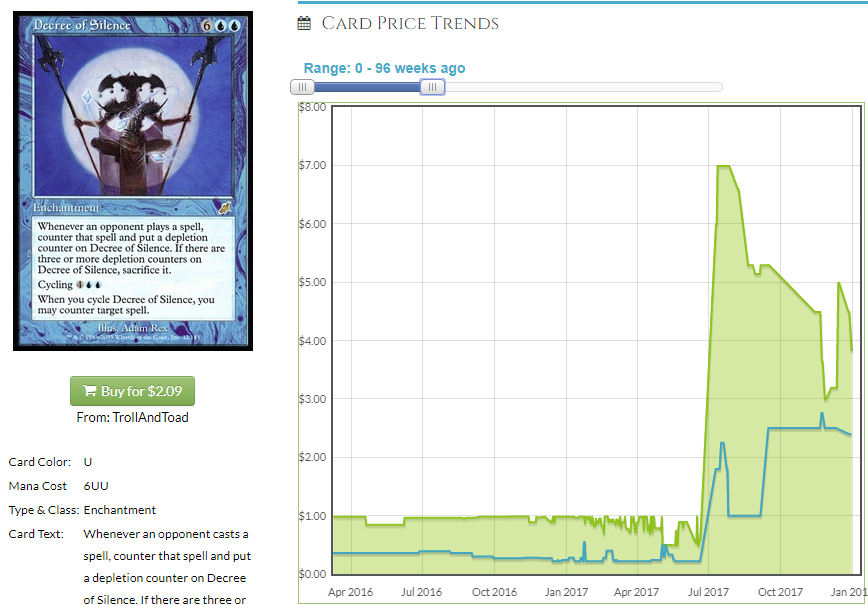 You think competitive players really want a Blood Moon that shuts off like 1/3 of the lands Blood Moon shuts off? I don't know. Meanwhile, people are buying Lotus Vale and other stuff.
I'm realizing this article sounds increasingly hostile to these combos but, come on, EDH players are out to build decks, not play cutesy two-card combos that don't win the game. If you're tutoring for a combo, it better be worth it. You go get Kiki-Jiki and Zealous Conscripts. No one is going to Tooth and Nail for Resplendent Mentor.
Buy or Sell? – Sell your Lotus Vales, Scorched Ruins, etc. This is not a particularly good combination, Blood Sun seems unlikely to enable cute combos so much as just be a sort of Blood Moon variant that Tron players can use to shut off Ghost Quarter and keep their lands switched on (I guess?). But hey, buy Forbidden Orchard because MTG Salvation is predictably worked into a lather about bad interactions, I guess.
Are there any good combos?
Yes,
Etali, Primal Storm/Cheating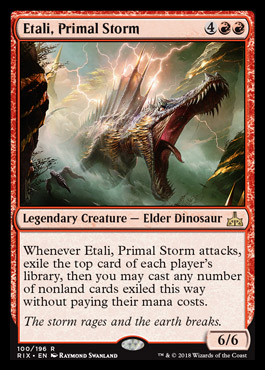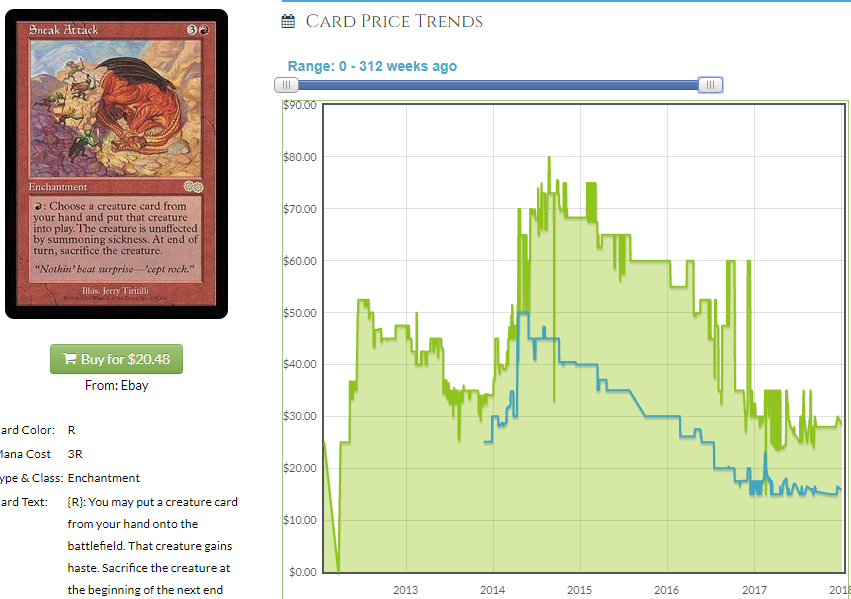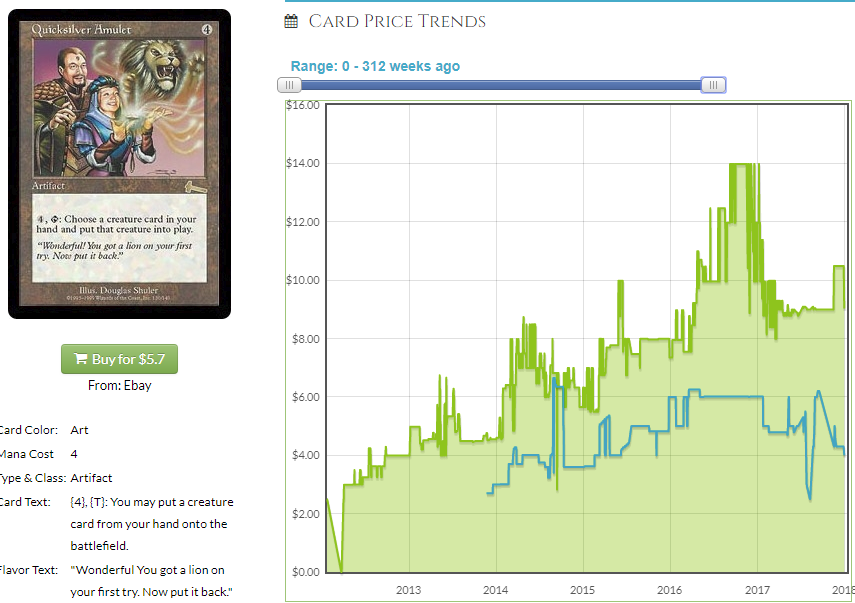 Attacking with Etali early and often is brutal. Sneak and Show Legacy players are already toying with the idea of using him with Sneak Attack because you can Brainstorm Emrakul on top and just be done with the game then and there.  Cheating this out with anything from Reanimate to Elvish Piper is going to really get there. Hell, ramp to it. EDH is a ramp format. I expect Etali to very much impact the format of EDH and with this set looking like there is nothing that stands out, SOMETHING has to be worth money and it might as well be Etali. I don't hate preordering it and taking a risk. I haven't felt this strongly about a card since Ishkanah and look what happened there.
Timestream Navigator/Copying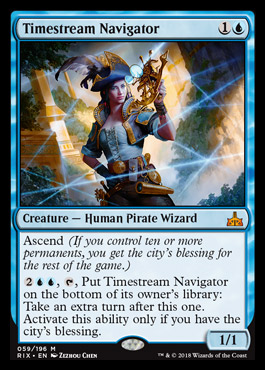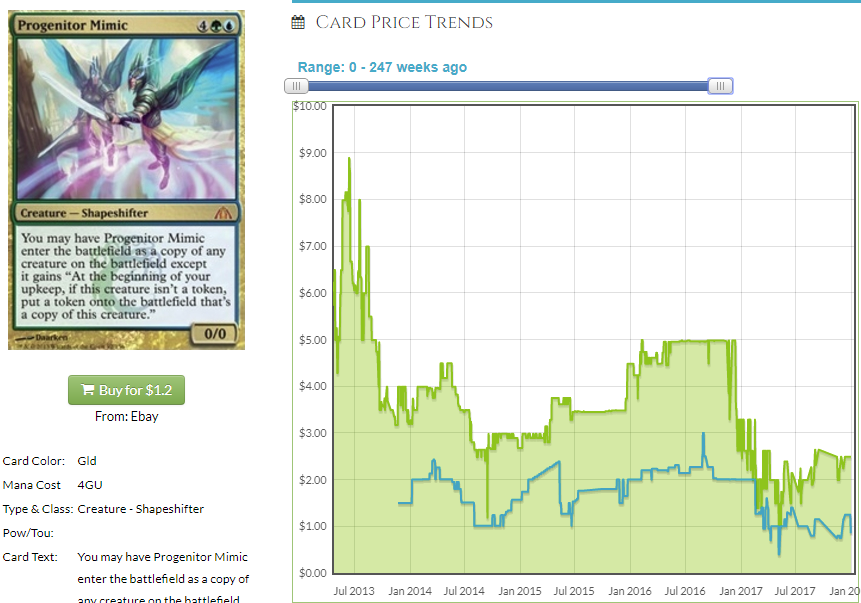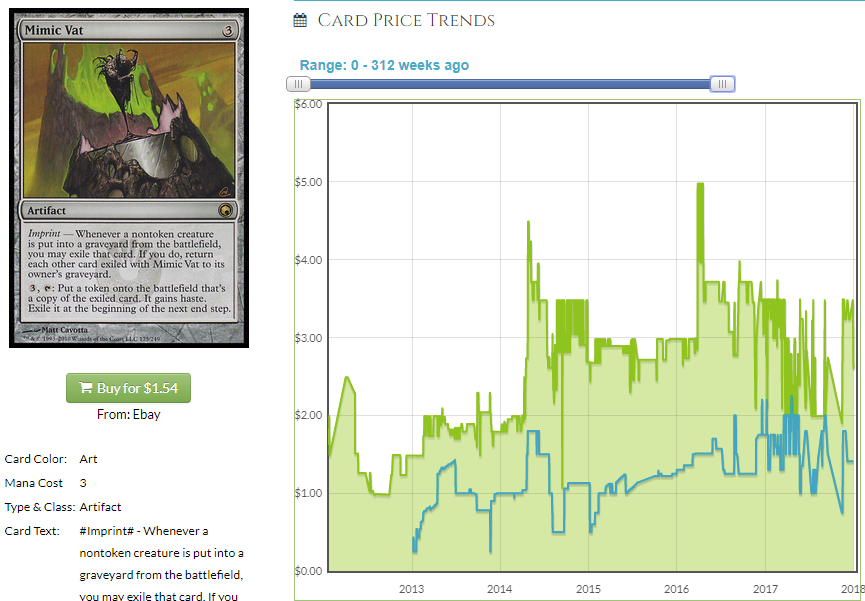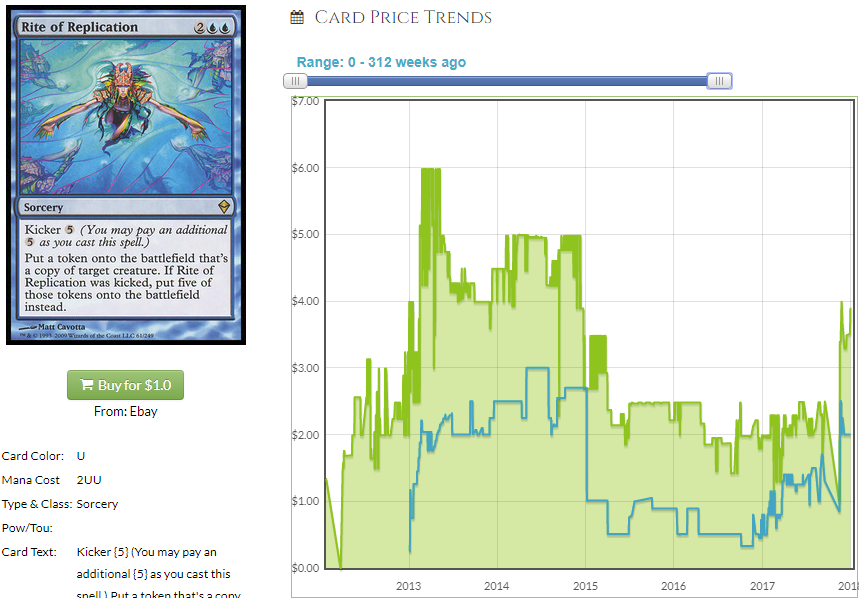 It should be easy to get City's Blessing if you're making a lot of copies and once you can make a copy every turn, go ahead and take every turn. People were nuts about Wanderwine Prophets but haven't even brought up Timestream Navigator. Will it be super hard to get City's Blessing? Play Spell Swindle if you don't think so. Play some ramp in your deck that has Progenitor Mimic and is therefore at least Simic. This is the best combo I have seen and no one cares. I guess that's what happens when you let Reddit decide which cards should go up in price. Kick a Rite of Replication on this and you basically can't lose the game.
That does it for me this week. I think you sell into hype, buy ahead of real, actual decks that will be built and don't be afraid to risk $100 preordering a $4 dragon. If that hits $20 you'll be able to build your next deck for free. Until next time!