The Mythic Championship is this weekend, and after that, it'll be a Players' Tour, and from there, make your own joke. I'm old enough to sound crotchety when I complain about the names of things, or how the simple things aren't so simple, or old rules…you get the idea.
What isn't old, though, is that Modern Horizons is ready to pop. Buckle up.
First of all, an illustration of the overall pattern for Modern Horizons: Giver of Runes.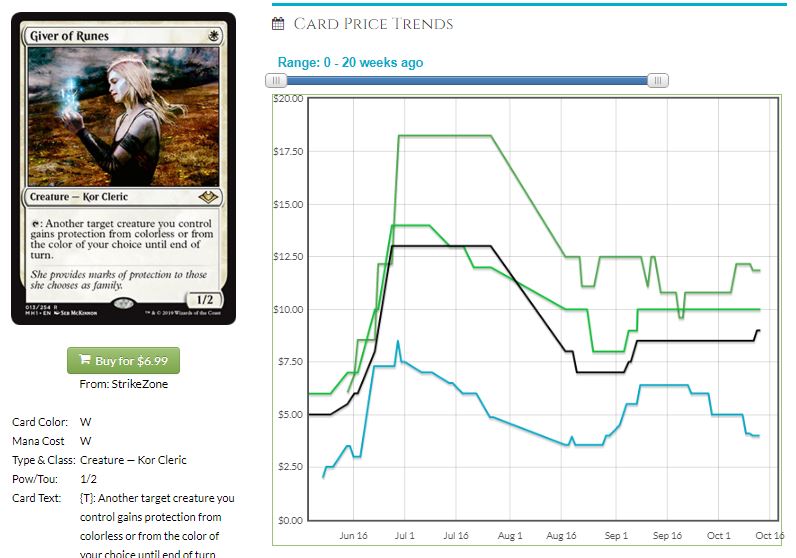 You can see that the price had some wild early movement and has now settled in nicely, being stable for about the last month.
The headliner for the set has a similar graph. Benjamin Franklin, meet Wrenn and Six.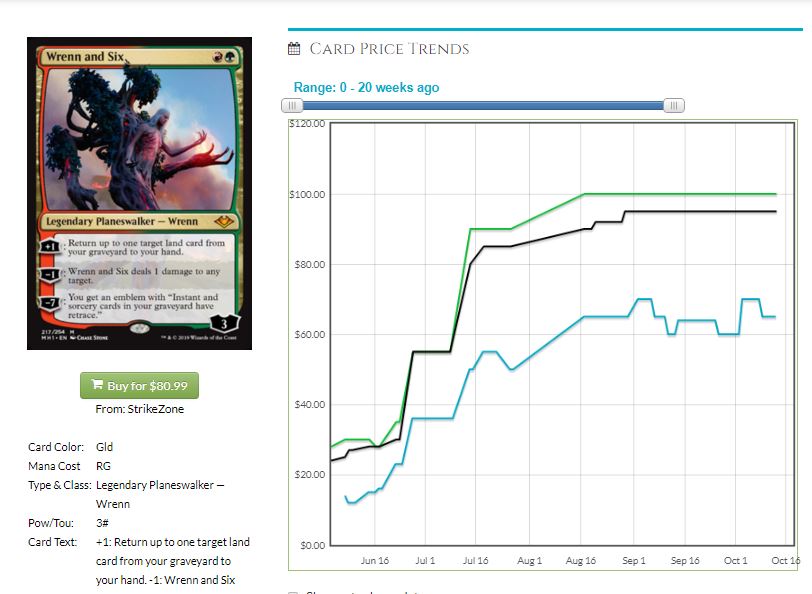 There's one motable card ticking upward the last couple of weeks, and the recent success of Whirza decks, sometimes with or without Paradoxical Outcome, shouldn't make the uptick in the Lord High Artificer a surprise: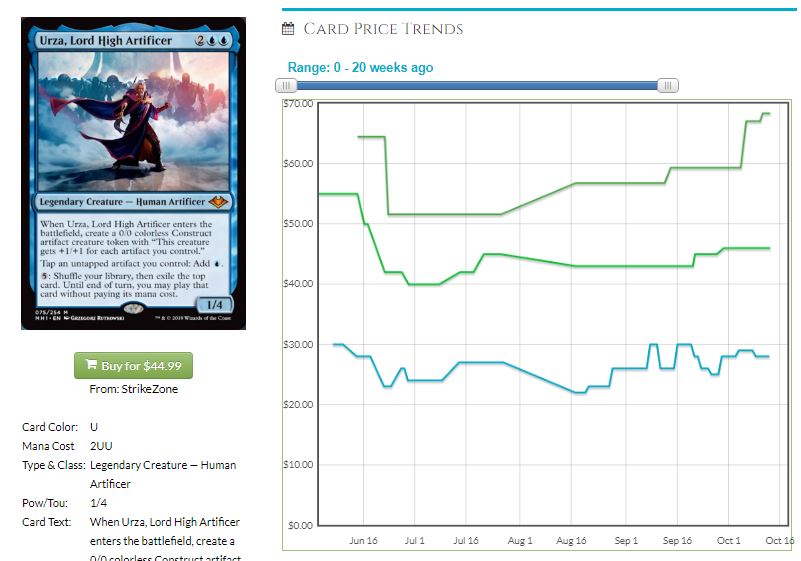 What you may or may not be thinking about is the rest of the set. Oh, sure, you needed some new Canopy-style lands for a deck, and you've got to get a couple of Prismatic Vista for different Commander decks, plus there's only two Force of Negation in the main but you want two in the sideboard…
Modern Horizons has stopped being drafted, and Modern events aren't center stage at the moment. This is the time to strike. I can respect if you don't want to go deep on Arcum's Astrolabe as eventually a $5 card, because you fear Pauper bans. Have you noticed the prevalence of snow lands? A couple of coverage teams have noted on streams that the decks people play no longer have a preference for which art they liked best, they are playing snow lands because they are strictly better. Every percentage point counts.
As wise, aware people, we can see that the combination of a semi-limited run plus falling out of favor plus higher initial price plus very high playability in multiple formats means a set rife with investment potential.
Let's get one thing straight: If you play a lot of Modern, it's likely time to get in and buy your playsets now before they cost you a lot more.
Urza, Lord High Artificer ($42 nonfoil/$142 foil)
The only fly in the ointment is that Urza is a fantastic candidate for reprinting as a Judge foil or other special prize. The card is straight-up busted, fantastic as a commander or in the 99, and is the key to unlocking some amazing turns in the new generation of decks. Thopter-Sword is good, but now Urza gives you infinite spins at the top of your deck, too? Some decks are going the Jeskai Ascendancy route, sometimes with Emry, Lurker of the Loch, but every flavor is delicious in its own way.
Urza is going to be $75 by the beginning of summer, and quite likely sooner if some version of this deck takes down another GP or SCG Open. Foils are a lock to grow and grow, even if a Judge wave hits I'd feel good in the long term. Yes, it's a lot to buy into a card at $40, but you're going to resell at a tidy profit within a year.
Mox Tantalite ($4/$24)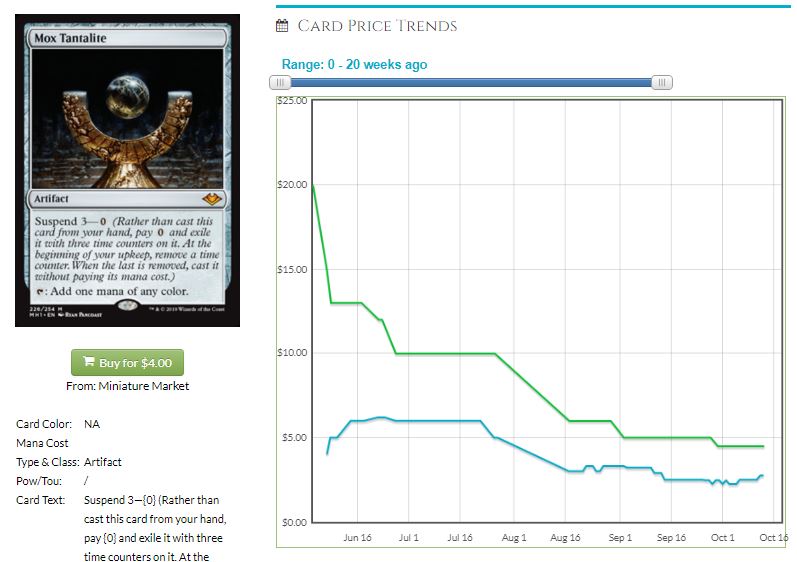 That's a huge multiplier for a card that is only in 500 decks on EDHREC and has 65 foil copies available on TCG. Someone is buying these. Lots of someones. I'm not sure who, but there's enough of these folks to give a rarely-played card a 6x foil multiplier. This happens with every mythic in the set, and a lot of the rares: foils are more expensive than I would have thought. Either the amount of foils is lower in Modern Horizons (we would have noticed by now) or the demand for the foils is higher across the board. I don't know the cause but I'm trying to find out.
I do love to buy mythics at very low prices, and I'd understand if you wanted to get in now, but I'd advocate waiting a little bit longer. There's no rush on a long-term spec like this. Many suspend cards have eventually had their time to shine, and I'm sure this Mox will too.
Echo of Eons ($5/$35)
At only 2000 listed decks, it's not blowing up Commander yet but I think it'll get there in Modern first. I like this a lot more than I do the Mox, and I bought a couple playsets when this was in the $8 range. I'm picking up four more at this price, and I'm going to be patient until the day someone breaks this card in half. It's likely going to be when there's a second 'your opponents can't draw extra cards' effect like Narset, Parter of Veils, but it's a question of when the card spikes, not if.
Dead of Winter ($1/$12)
This foil price is impressive as hell, considering that it's not seeing much play yet in Whirza sideboards. If you've played Gates Ablaze in Standard or even limited, you know how good this effect can be, and it's so cheap! A little attention will pop this over $5 briefly, and watching it decimate creature strategies will help that price stay.
Whenever you can get in at such a low point, patience is key. It's not going to take off to $20 out of nowhere, but one day you'll wake up and be able to see huge returns on very little invested.
Cliff (@WordOfCommander) has been writing for MTGPrice since 2013, and is an eager Commander player, Draft enthusiast, and Cube fanatic. A high school science teacher by day, he's also the official substitute teacher of the MTG Fast Finance podcast. If you're ever at a GP and you see a giant flashing 'CUBE DRAFT' sign, go over, say hi, and be ready to draft.