Praise be, Wizards released something on a Thursday night for once and made my gig 1000% better. I was worried that I'd only have a few glimpses from the Twitch stream, but apparently they have heeded my calls to adjust their timing.
We now have the whole list of 121 cards that are available in foil, and there are some doozies. What's this mean for the current foils and the ones now being released? Let's get into that…
Let's start with a review of how many foils are out there. There's 121 cards in the list, meaning that you're going to get one copy every five boxes. (Remember, Mystery is in boxes of 24, not 36.) While that doesn't sound like a lot, we are about to have a TON of these boxes opened, because the average value on the Mystery reprints is pretty high for now. There are some basic ideas I want you to keep in mind here:
Idea #1: All Mystery foils will be cheaper than the pack foils.
How much cheaper is something I can't estimate for all the cards, but as you'll see, the amount of play a card gets is the main predictor of its future price. Sen Triplets? Not a lot of play, but foil mythics from a small set ELEVEN years ago are going to have very few copies left. Alchemist's Refuge? Tons of play.
Idea #2: Pack foils will be fine.
I and many other writers have expounded on the topic of reprints representing a buying opportunity. Especially for staples, when a price dips, you want to buy in. Here's an example of Pact of Negation: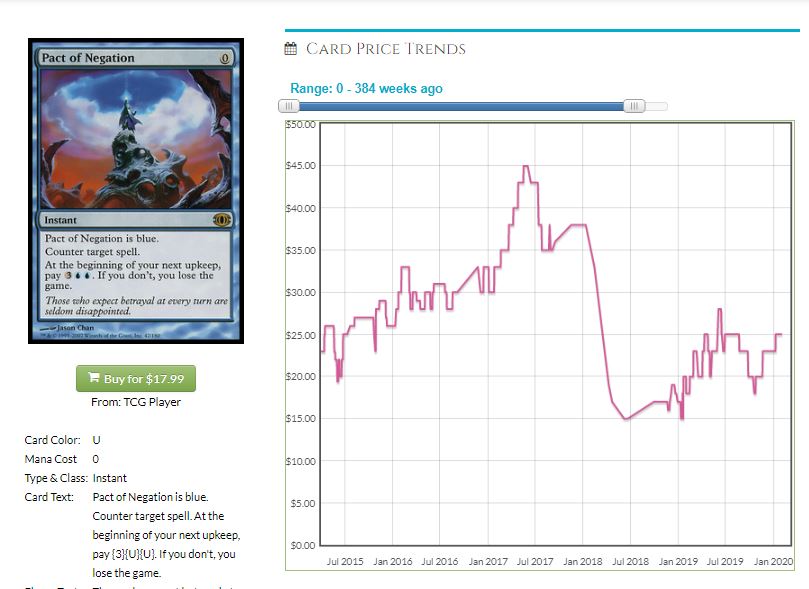 It was in Future Sight, and Masters 25, and Modern Masters 2013, and even had an Invocation during Amonkhet. Every time the price went down, you've got a shot at buying in for the new price. More on this in a moment.
Idea #3: Everyone's a mythic here.
One in five boxes will have a foil Sen Triplets. One in five boxes will have a foil Sosuke, Son of Seshiro. The sought-after foils will have a higher price, not least because players will put that card into their decks. At MagicFest Reno last weekend, a lot of the Mana Crypts being opened weren't being sold, but were instead going into Commander decks, because for some dumb reason, it's legal there.
Idea #4: When predicting price, pay attention to playability and don't be distracted by age/supply.
Sen Triplets, currently the most expensive foil on the list, is an awesome card but only goes in Esper+ Commander decks. Minamo, School at Water's Edge is in five times as many Commander decks and even sees some niche play in Modern/Legacy, as a source of blue with upside. When it comes to the Mystery foils, I don't think Triplets will have a high price, but Minamo will be above it.
Idea #5: If the average value of a box of Mystery (Retail) is above $75 or so, stores will open them and sell the singles.
This is the main point of having a calculated box EV. Stores can't buy Mystery (Convention) for themselves and that's how you can sell them copies of Rhystic Study all day long. Stores can and will buy lots of this set in order to crack packs.
To phrase it another way: If I add up the value of these foils and then divide by 121 to get an average of the value of the foil slot, I currently get about $15 (depending on mid vs. market and condition) and that means the average box has $360 worth of rares. (Here's a link to a Tappedout page with the total TCG coming out to $2100)
That cannot hold, and will not.
As much fun as it is to draft this set, Wizards is going to print a bunch of this, and then have at least one more wave like they did with War of the Spark. Drafters aren't going to be the big movers, the big stores will be. I'd expect that the small stores might not bother because the variance is quite wide, and there's going to be a lot of bulk within a couple of weeks.
Stores will open boxes and sell singles until the prices fall low enough to make that economically infeasible. Given what's in the set, and the variance of what might get opened, I think a lot of prices are going to fall. The staples will recover (and be good buys, wouldn't you like to stock up on Rhystic Study for $10? $7?) but the rest will crater and stay there for a long while.
With all that in mind, one thing stands out to me: There's not a lot of excitement in the foil slot. A lot of solid value if you go by current retail prices, but those are not a strong predictor of price going forward. So many of these are niche, printings from forever ago or from an era when foiling wasn't popular. The price is high on foil Celestial Dawn because it was on the Timeshifted sheet and a pretty rare thing to find even then. The price isn't high because everyone wants to play the card.
You should start with the belief that the vast majority of the foils aren't going to be worth much. Maybe not bulk prices, but not above $3-$5. A couple of these stand out, though: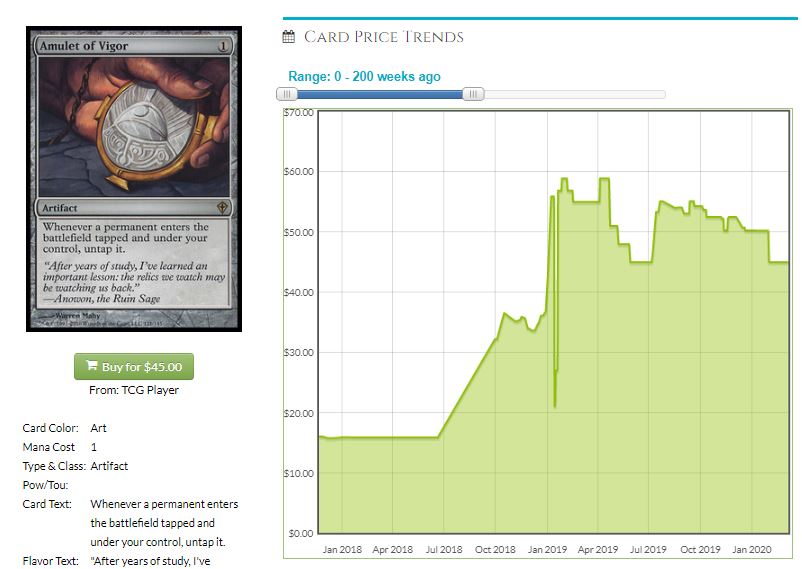 Amulet of Vigor:The retail for a foil one of these is close to $50, because it's a key card in Amulet Titan decks in Modern. Getting two mana immediately from a bounceland is amazing, especially when combined with extra land drops. This is one of the top-tier decks in Modern, and Amulet is a four-of. I'd expect this price to be in the $30 range.
Alchemist's Refuge:It's pretty sweet in Commander, and a staple land if you're in these colors. This is one of the few cases where I'd expect the new foils and the pack foils to be close in price.
Scourge of the Throne: If you get to attack with this it's usually good enough to end the Commander game but the pack foil from original Conspiracy has a tiny amount in circulation. This will be a $20 foil, but not close to the original's $80.
Braid of Fire: Niche, but awesome. Coldsnap happened at a weird time, in a weird amount, and foils from that set are tough to come by. Not a lot of decks can use this well, so I expect this to be under $10.
Intruder Alarm: Not as common in Commander as you might think, but still a combo enabler for a wide range of strategies that will often win your pod. There's only one foil from 8th Edition, and that's always been super scarce. Should land in the $25 range.
Sen Triplets: This grabbed headlines for being a $150 foil you can open, but these aren't going to sell for anything like that price. If you open the first one you'll get $75 for it, but very quickly the demand is going to dry up. Price memory is going to kick in and keep it from getting too cheap, but I'm going to go out on a limb and say that by June, you can buy this foil for under $30.
Cliff (@WordOfCommander) has been writing for MTGPrice since 2013, and is an eager Commander player, Draft enthusiast, and Cube fanatic. A high school science teacher by day, he's also the official substitute teacher of the MTG Fast Finance podcast. If you're ever at a GP and you see a giant flashing 'CUBE DRAFT' sign, go over, say hi, and be ready to draft.