Readers!
We have some Core Set cards to discuss and while not all of them are commanders, some of them matter, so let's get to discussin' them, shall we? I realize this is my preamble paragraph and it's jarring to hit the ground running,
The Main Section of the Article
but life comes at you fast and since it's been 19 hours since Ikoria spoiler season ended and we have another set to discuss already, we need to learn to adapt. Let's talk about some cards and why only some of them are good ideas.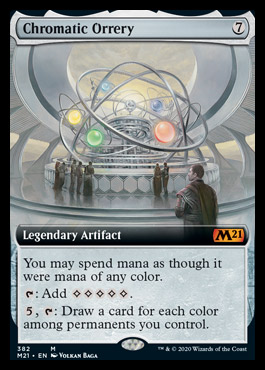 This is a pretty bad card a lot of the time. I think multicolored decks can use it to draw 5, which could be pretty good and it's a Chromatic Lantern, but I think seeing this card and thinking "wow, combo piece" is silly. "But infi mana, Jason." Wow, good point, didn't think of that. Perhaps that's why

$35 for a foil bulk uncommon, $4 for the non-foil on Troll and Toad's new selling platform. Because you know, infinite mana. I'm assuming this is for Modern or some junk because we're not going to care about this in EDH. There are easier ways to get infinite mana where the combo pieces are your commander. Remember this?
Kinnan made infinite colorless with Basalt Monolith and it didn't send people scrambling to buy copies of bad cards. If you have Filigree Sages, sell into the hype if you can find them in your bulk, I guess, but I wouldn't get your hopes up about this combo materializing. If you have a Kinnan deck already made, I guess throw both cards in it but the deck needs a $75 Thrasios, so good luck with that.
The reason I mention this at all is that I have noticed cards that don't really pan out get a lot more hype than the ones that do. Infinite mana of every color is sexier than infinite colorless mana, but having a card that combos with your commander is a million times better in commander than assembling a 2 card combo with 2 bad cards. Let's bear that in mind when we look at the rest of the cards in Core Set 2021.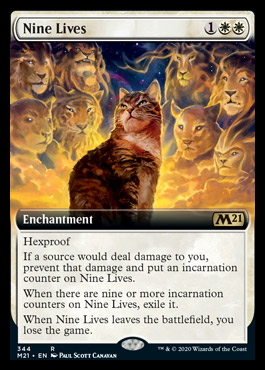 Of course this got people talking about Solemnity again, but the thing about Solemnnity is that it's more fun to talk about than play with.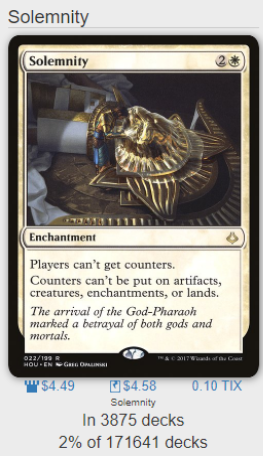 EDHREC doesn't currently take cards out of the database when people cut them from their decks because how could we? 3,875 isn't an insignificant number, but the thing about this card is that people like to brew with it more than they like to play with it because Enchantress decks have a finite amount of space and this doesn't synergize with anything else in the deck. Non-enchantress decks with the exception of Zur can't find Solemnity. Look at the decks who purpot to be playing this card.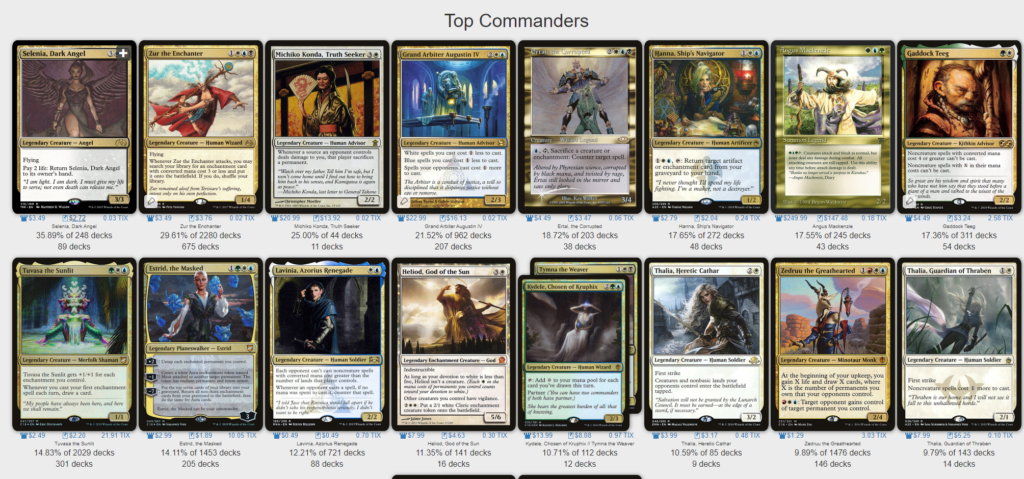 These are all generic, try-hard prison decks. These decks can already run stuff like Energy Field and Rest in Peace. I think a number of them might jam Nine Lives since Solmenity is already good in those decks with Decree of Silence, the real winner since it's good in Gavi decks, but I think even if Solemnity goes up, which will be tough since it just went up, it will go back down like it always does. It's funny that the first money I ever made from Solemnity was from it making Decree of Silence spike the first time and now it's a winner rather than an impetus. Making a shield around yourself isn't the most fun thing to do with Nine Lives, though.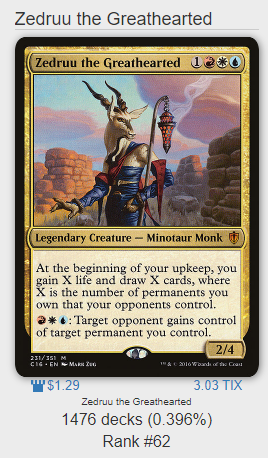 Give it to them. I don't think Zedruu with its multiple printings is in play, but I think other cards like it could see a bump.
If it's not Nine Lives, SOMETHING will come along to make people realize it's fun to donate cards that kill their user to other people. Transcendence is a good example, Demonic Pact is another. Bazaar Trader can't give someone an Enchantment which is annoying. No one is going to build a Zedruu deck for 9 lives but I think if you buy some foil copies of Harmless Offering for a buck, there's a solid chance you'll be happy later. This is either $2 in 5 years or it's $12 in 9 months, there probably aren't any in-between scenarios. I like it more than trifling with Solemnity is all.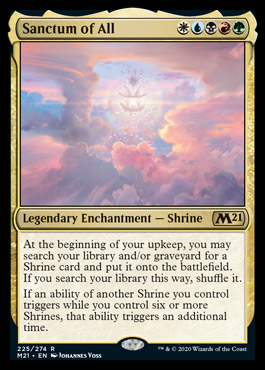 It's a day late, but if you didn't already snag foil Hondens, snag foil Hondens. They're out there, still, but a lot of people got wise immediately. I considered publishing this yesterday just so people would have a chance at them before they dectuple in price. In general, I'm not a fan of buying into hype so I figured I'd work my typical method and uncover non-hype stuff but in case you come across copies at the old price, go for it. I wouldn't mess with the non-foils because they were reprinted in a Masters Set.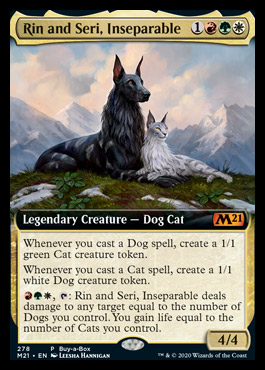 Kitty Cats are legit specs now and I'll need another derisive term for bad specs for non-players, I guess. This is going to be a bad deck played by casuals but that doesn't mean it will make for bad specs. In fact, good players try things and when they don't work, they stop doing the things and sell the cards. Casual players never abandon a bad deck because being bad and never winning is not a reason not to play a casual deck.
Not that there is not currently a 1/1 Green Cat token or 1/1 White Dog token, so the only ones available will be in packs of Core Set 2021 (or Jumpstart, maybe) so grab those out of draft chaff and put them in a box until they're like $1 each. Anyone who plays this deck will want like 10 of each.
Secret Lair Regal Caracal is gone, but the set foils are still pretty reasonable. I'd look at those.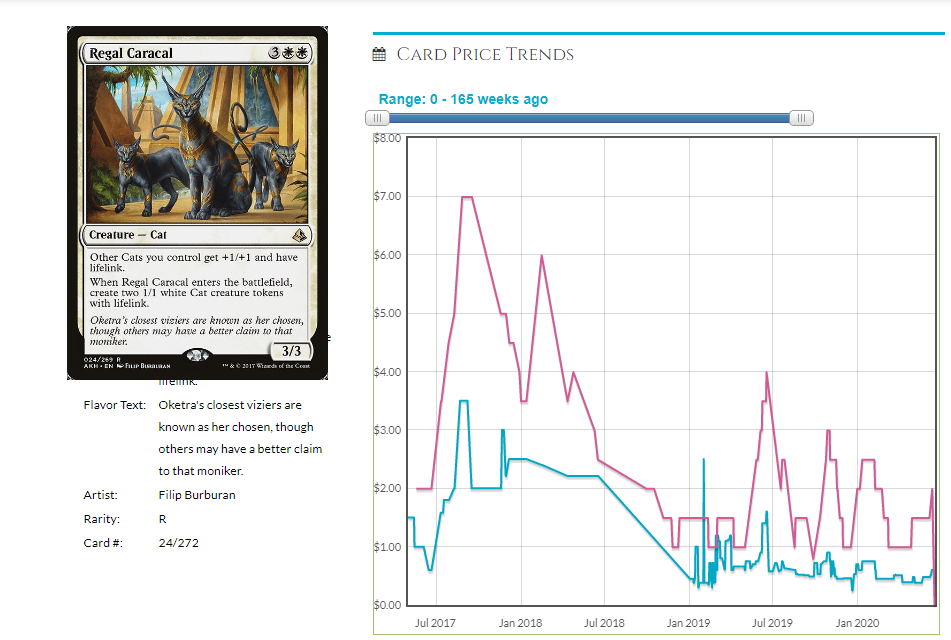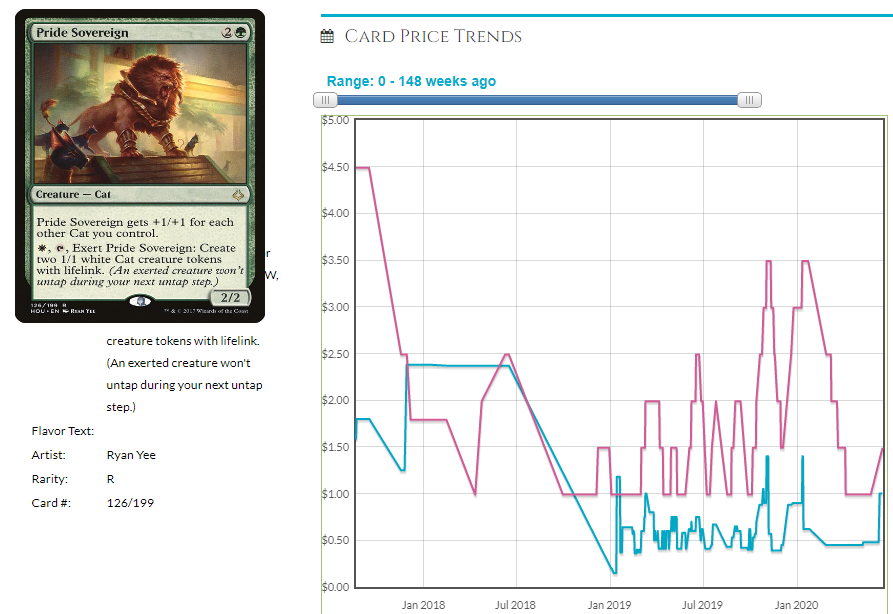 There is no deck data for Rin and Stimpy but you can at least look at the high synergy cards for Pride Sovereign and look at some cat decks.
That does it for me. When we have some more data, it could be worth drilling down on Kitty Cats but until then, stay safe, stay healthy and sell into the hype.