Readers!
Let's do a quick and dirty one this week, just blow through the new commanders and their high synergy cards. We need to be more nimble than we used to have to be, especially with Werewolf cards starting to dry up weeks ago. If there are any Stolen Strategies in this set (the card, not the metaphysical concept of stealing someone's strategy, something I encourage you to do to me) we should find them before the masses. This won't be as accurate as my picks usually are, but I think risk and certainty are inversely proportional and it's fun to write for both extremes.
When applicable, I'll try to give some of my input as an EDH player rather than financier regarding whether I think something is real or not. Also, we have very few decks in the database as some of these cards were spoiled today or yesterday. Still, incomplete data is better than no data, so let's dive in.

These are very new and we're trying to work out some bugs so the number of decks isn't displaying, but if you click on each commander, it's listed under the cards.
Welllllp. Looks like we have data on 3 decks. That's not shocking – these cards are hot off the presses. 3 commanders is enough to do some snooping around to see if we can figure anything out and next week we will have even more data. Remember, this week was quick and dirty and next week we'll drill down a bit. Let's get into it.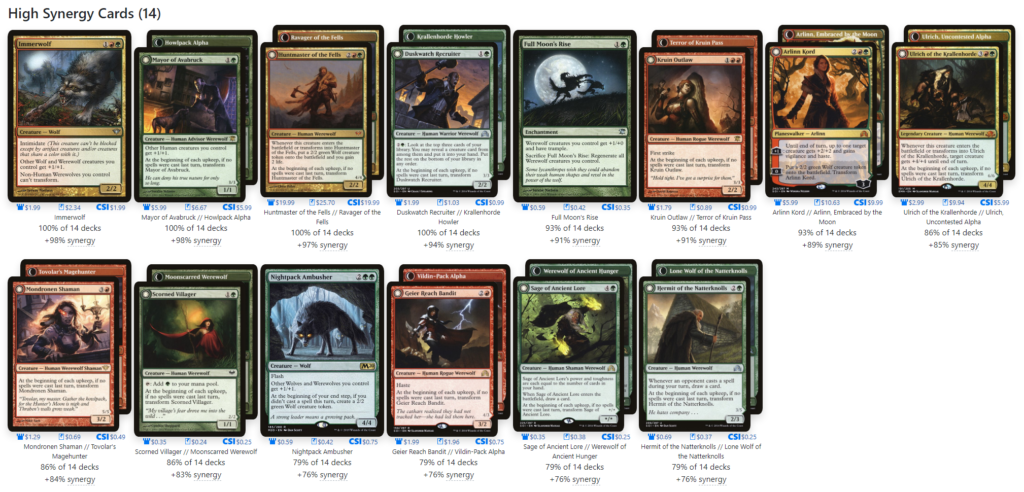 It's all Werewolves, which isn't a surprise. What WAS a surprise is that they reworked the Werewolf flip mechanic so old cards like Moonmist don't flip the new Werewolves, making the decks irreconcilable with the old decks to any but the most stalwart of Werewolves fans. Fans of the deck are used to getting the shaft, though, considering they were playing an Ulrich deck before which didn't really synergize with Werewolf cards at all and before that they were playing with commanders like Ruric Thar because they didn't even have a bad commander like Ulrich. Gross. And yet it's the most popular deck so far on sites like Archidekt. You could have guessed all of this before we got this data – it's all cards from Ulrich, which was a deck that didn't make any money before. I'm glad I don't want to build Werewolves because WotC does NOT care about those people. And yet… here they are trying. So let's try – digging below high synergy cards, is there anything play elsewhere on the page?
It would take considerable effort to make this ascend to more than a buck, but it's not a bad card, at least. I don't know, Werewolves are bad and they didn't make anyone any money and I'm mad about it.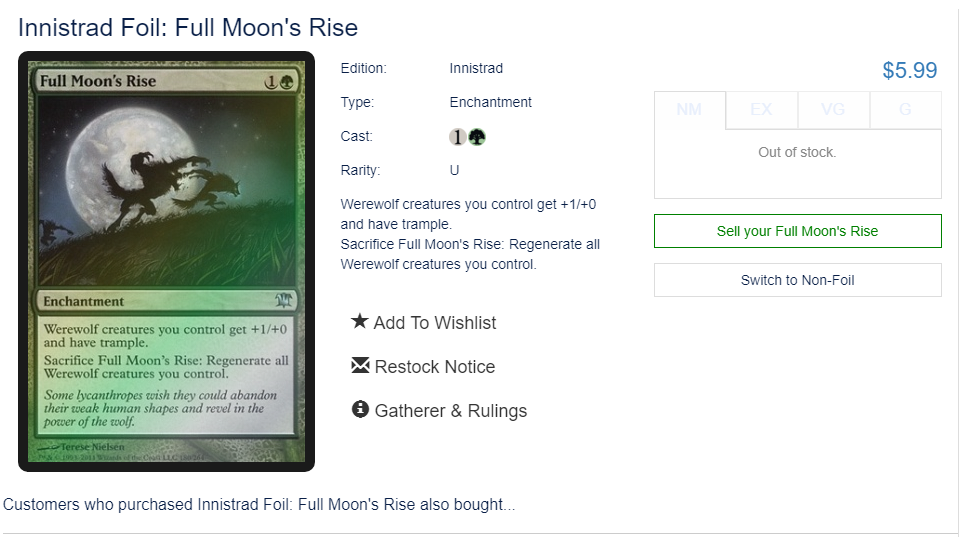 You needed to get in way quicker to get anything this obvious for cheap enough to make any money on it, imo.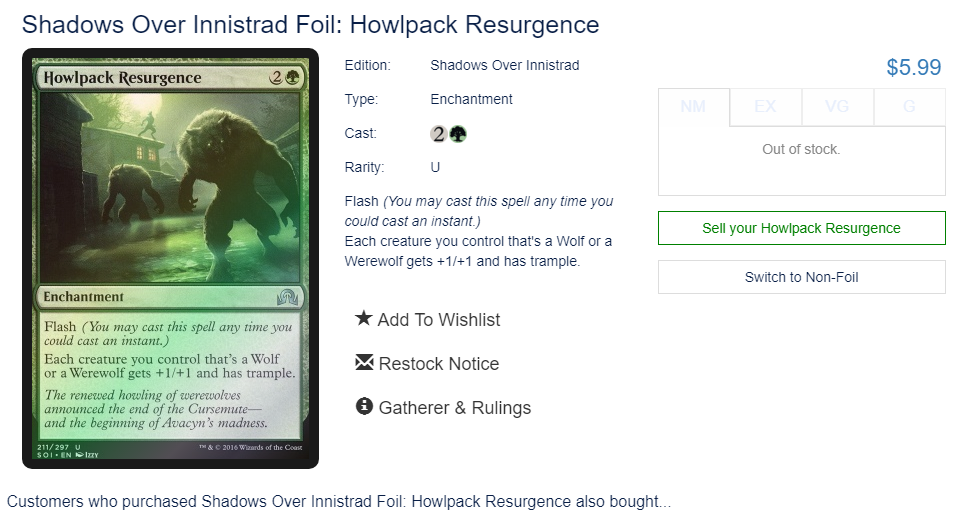 I look at this and I think about how exactly nowhere the price of all of the obvious foil cards from Lonis went. I bet more people built Lonis than will build… I literally already forgot the name of the stupid werewolf and I have to scroll up. Tovolar. I bet Tovolar gets built less than Lonis, and look at this.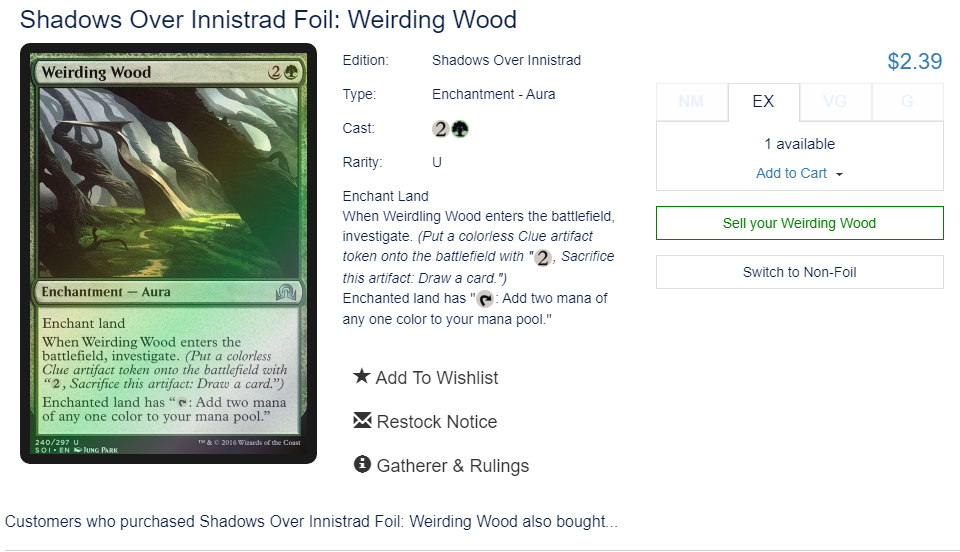 I get that Werewolf foils were in play before and Toblerone is people's third try to get the deck going, but I also think Lonis is good (I love the deck), it was just as obvious and these also bad cards don't sell as well.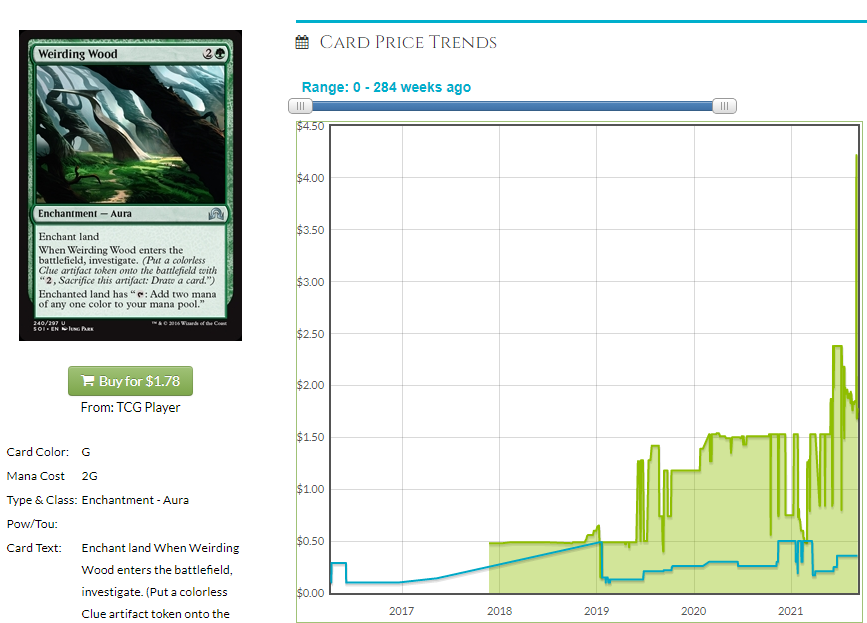 They went up more between 2019 and 2020 than they did after Lonis was printed. I think if you can get foil Howlpack Resurgence for a good price and try to flip to a buylist this month, do it, but good luck doing that considering we already had that Ulrich false alarm to scare up all of the cheap copies you'd have to find at the LGS to make money this time around. Tove Lo here is a bust imo.

Humans kind of suck in EDH, but they're good in other formats which means the good ones are already either expensive or they're reprinted into powder. I like old Sigarda at its current price, but the cheap copies are already drying up. CK is sold out of foils, a card it was asking a mere $3.50 for when it disappeared from stock. They had to prerelease foil for $7.50 which makes me think it sold out much later, maybe today. Non-foils are probably a great buy.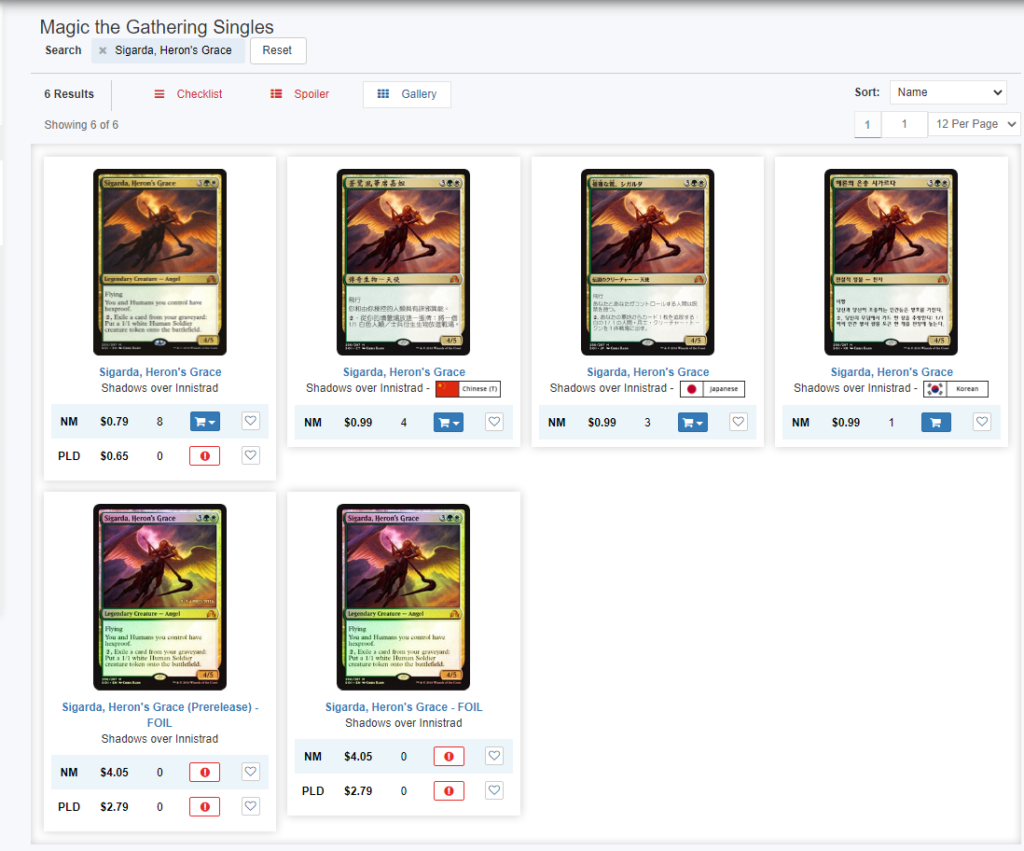 ABU still has some, but the foils are gone everywhere by now. I think the demand for foil cards for casual decks is overstated, but I'm sure someone made money buying at $4 when they were $7.50 on CK.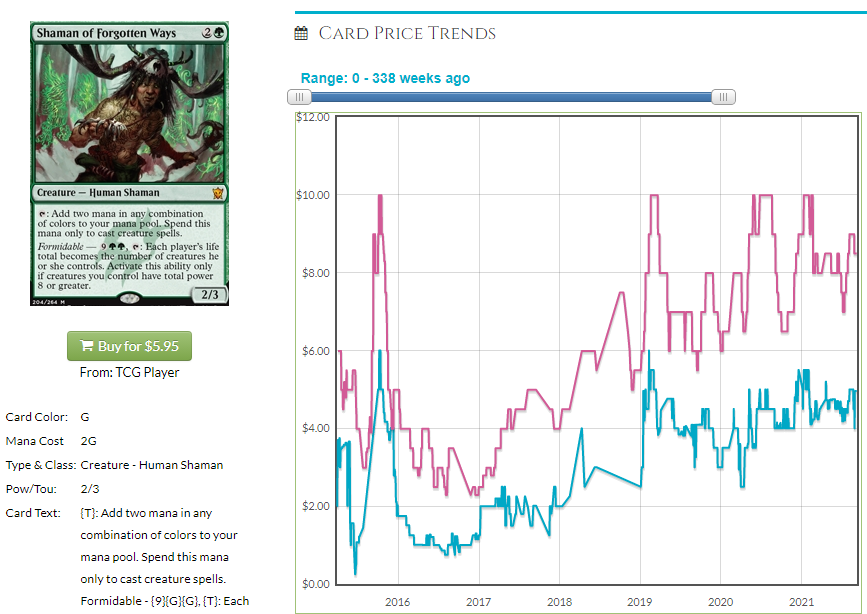 Most of the deck is under a quarter, but this bad boy is in the mix. Rather than look at the foil price for every $0.15 human with 3 printings, I opted to look for an actual good card that has demand outside this deck and is underpriced. This is underpriced since it still hasn't gotten over its all-time high and it keeps being relevant. This card is good, play it.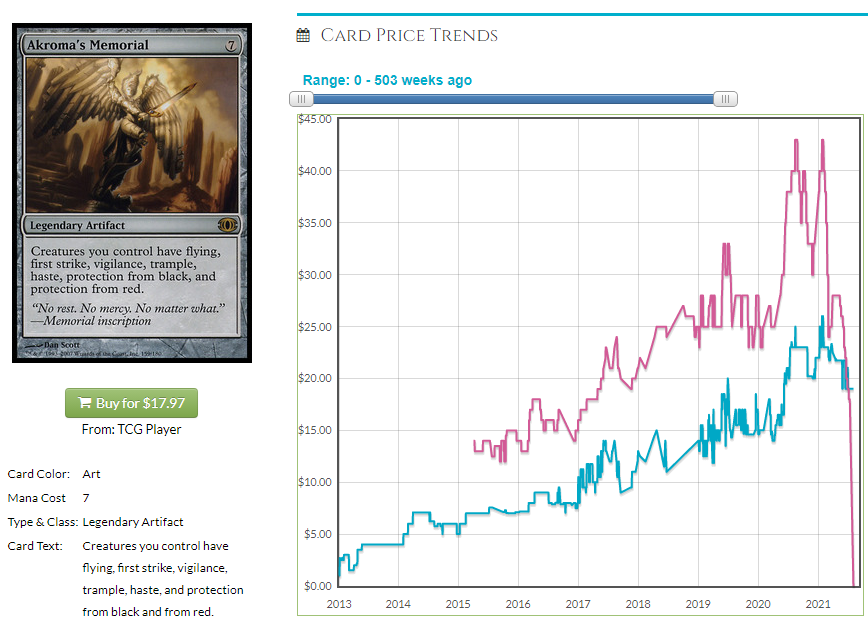 TSR versions of this are under $10 and that's a great buy. It will go up because it got reprinted and is useful, something that happens with all reprint sets. If it wasn't Sigarda, and it might not be, it will have been something else that did it, so buy with confidence.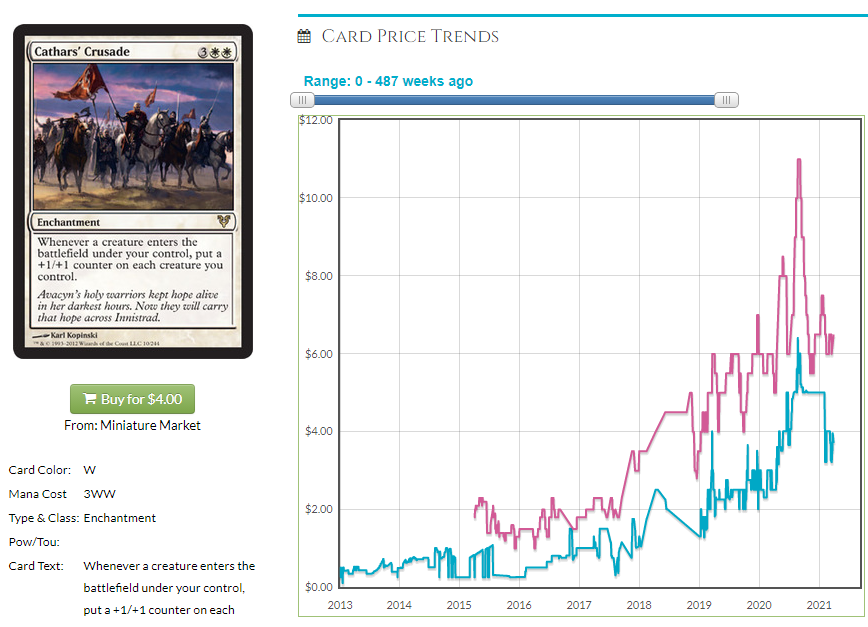 This is a $10 card and a Jumpstart printing which no one could access won't slow it down much. This is on a rocketship back to… you know, its historic high, but probably beyond that, barring another printing. I like it.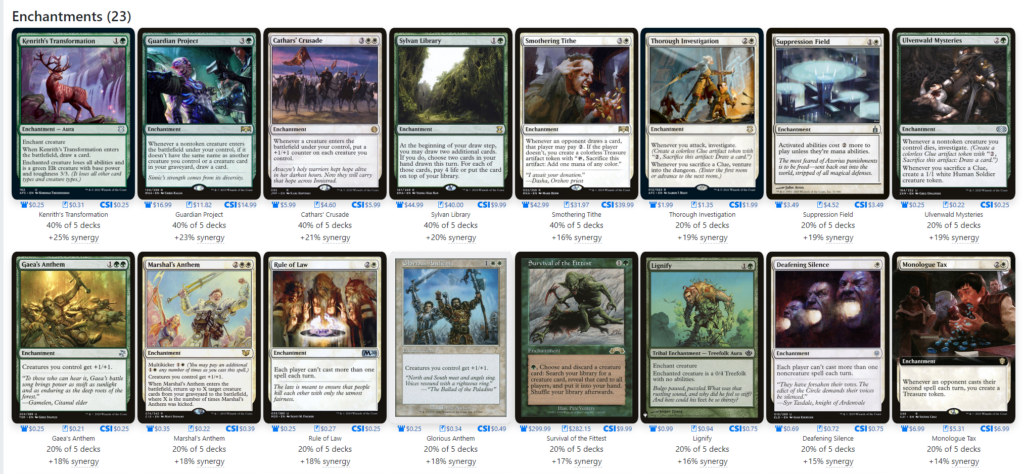 Any one of these enchantments costs more than the entire creature base, and I'm barely exagerrating. I don't have any advice for this section, just recreating it so we can laugh. Maybe Ulvenwald Mysteries, which didn't spike after Lonis, will have some success here.
Draugr Necromancer for the command zone? Don't mind if I do! This card rules, but with 4 decks, will we see anything we can use?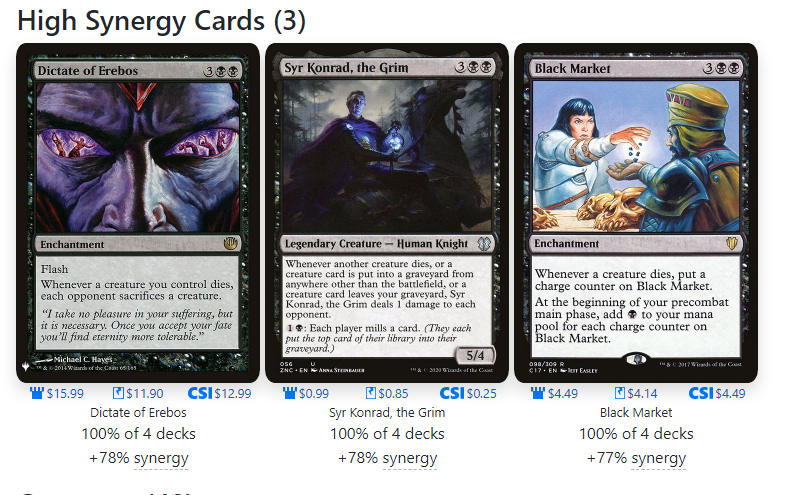 Wow, this is some uninspired deckbuilding. It looks like Gisa is a goodstuff deck, which bodes poorly for us financially since goodstuff decks use cards everyone already knows about.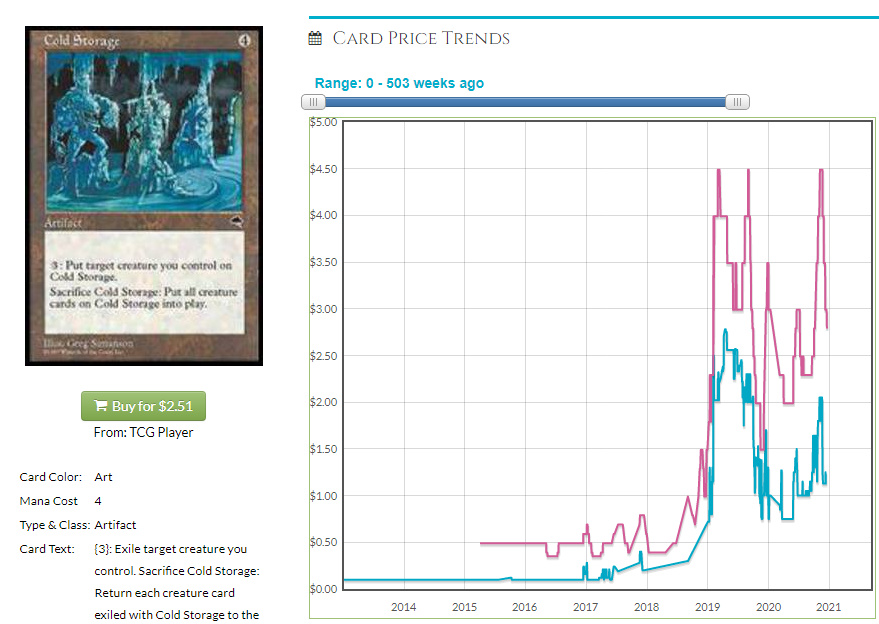 One person is using Cold Storage, which is hilarious. It's not on the Reserved List, only 16 cards from Tempest are, but it's old enough to rent a car and it's under $5. I don't think this will be a Gisa staple, but it's a funny way to remind me this card exists and it's above bulk.
Really, the only surprise for me was this –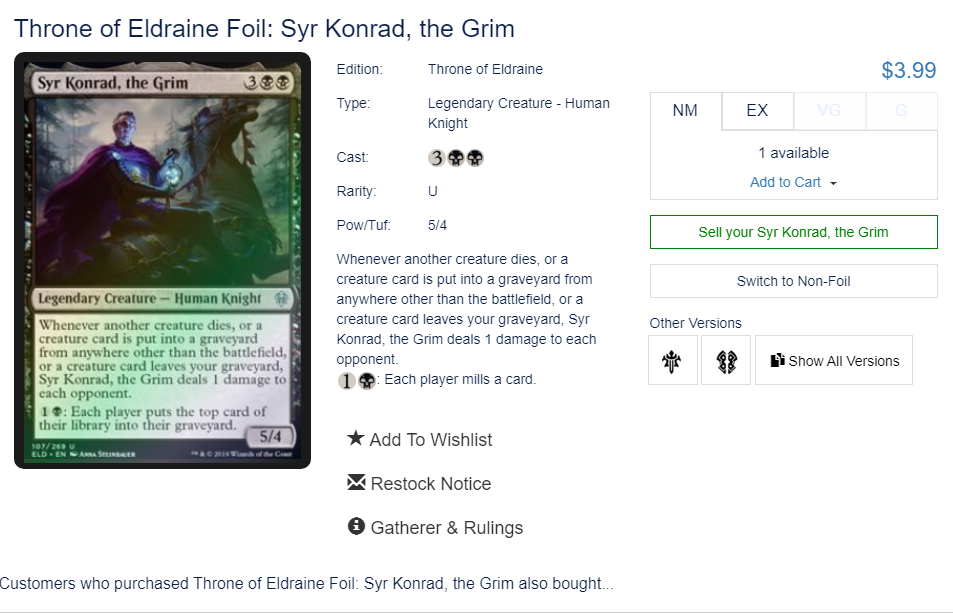 This is a $10 foil, easy. Like, if Wolf of the Howlpack foils are sold out at $7, how long do you think this stays under $7? This is a $10 foil and any product that reprints it doesn't give us a foil of the same art. Maybe it's new, better art, but then purists prefer the original.
We didn't find much today, but we found less than nothing. It's possible this set gives us nothing real for EDH, which is fine, but we also have more decks to get through next week.
That does it for me, nerds. Until next time!