All the attention being on Innistrad: Midnight Hunt and the Werewolf spikes, let's take a moment and look at some of the Vampires who are getting new toys in the next set. Some of those Werewolves went to the moon (pun 100% intended) and we want to suck all the value out of the coming Vampire rush. (again, totally intended)
What we're looking for are Vampires and Vampire accessories. Some of these will be obvious, sure, but if obvious stuff doesn't pay off, why didn't we all buy up Mayor of Avabruck when it was under $5?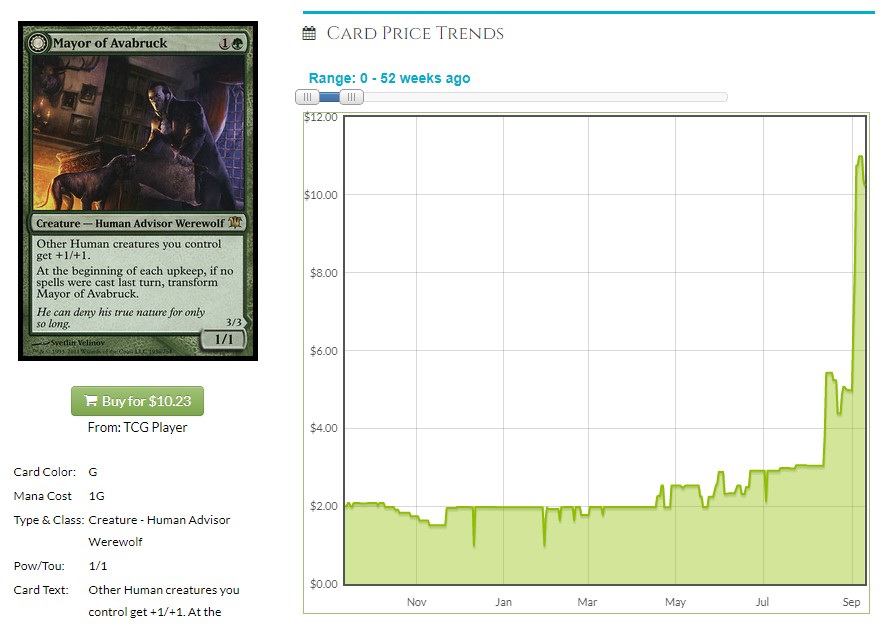 The obvious things can pay off nicely, and let's start with a couple of obvious doozies:
Vito, Thorn of the Dusk Rose (cheapest nonfoil is $5, most expensive Foil Extended Art is $18) – I've written before that Vito is a great spec, because the abilities work so well to just kaboom someone out of the game in Commander. I appreciate when a legendary creature tells you what to do with the deck you're building.
We should expect that Vampires are going to make opponents lose life and you'll gain that life. Vito doubles up the damage dealt and will go well into any deck doing those sorts of things. Get your copies now, as prices have crept up a couple of dollars lately but there's still plenty of profit to be made here.
Bloodline Keeper ($14 to $30) – There's hardly any NM foils from Innistrad left, so that opportunity may be lost, but there's a lot of FTV: Transform copies left out there for under $20 and that's a prime opportunity. This isn't the only lord that's going to show up on this list, but it carries a caveat: This has the vertical, slick foiling that turns a lot of people off, and that's likely why this price is so close to the original price. FTV is the last to go, but go it will. I dearly love cards that represent more than one card's worth of power, and Bloodline Keeper definitely fits there. Easy double-up.
Malakir Bloodwitch ($1.50 to $4) – I used to have an all-foil Garza Zol deck, tribal Vampires. One of the insta-kills in the deck was Bloodwitch plus Rite of Replication kicked. Boom, game over, shuffle up for the next. This card has a nonfoil reprint in Commander 2017 that hasn't really budged, though foils have moved on TCG lately: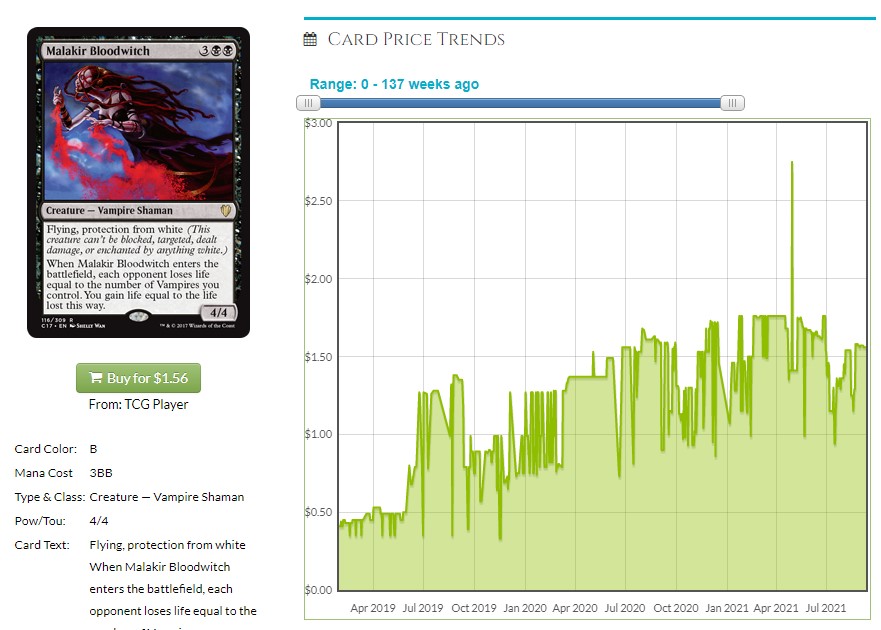 Tribal decks can struggle to do things outside of combat, but with this around, Vampires don't have that problem. This is cheap enough that I'd recommend getting the foil, as the Commander deck from this set is highly likely to have this card.
Sanctum Seeker ($2 to $8) – This has started to move int he last week or so, but there's a lot left out there. This is an upgrade over Hellrider, and triggers all of your lifegain synergies too. Please note you get a drain for each Vampire. Yes, it's a little undersized at a 3/4 for four mana but it'll perform like a much bigger creature.
Legion Lieutenant ($1.50 to $6) – There's very few foil copies left on TCG, but the big concern here is the two-color nature of the tribe. I think they will give us black-red and black-white vampires, making the blue ones in Ravnica and other random ones obsolete. I would much prefer to own a stack of foils, as the reprint risk in the Commander deck is very high here too.
Blood Tribute ($0.75 to $10) – Only foil copies are from Zendikar, and that's where I'd prefer to be. There's already a c17 reprint sitting around at the floor, and if this dodges reprint, that's going to be a profitable buylist play. There's no denying the power of the card, for six mana you're swinging a huge amount of life. Problem is that pesky Commander deck that'll be coming out at the same time, as this is a fantastic card to print there.
Blade of the Bloodchief ($4 to $20) – I can tell you, as someone who played this card, it's got the potential to be amazing but it's only great with point removal or one-sided Wrath effects. If you can get a sacrifice engine going, or a repeatable form of creature kill, you're in business, but it's a huge target. It's already pricey for the nonfoils, and it's got huge reprint risk, but the day the Commander lists come out I'm ready to buy this up like mad.
Captivating Vampire ($11 to $15) – The nonfoil price and the foil price are really close in price, which is a surprise to me. I don't think that'll last too long, though. This card is bonkers, just yoinking away the creature you want most and making it into fodder for your next conquest. It's only three mana, so you can play it and leave mana up, and while there's a Commander nonfoil and a nonfoil from The List, the price has gone up as anticipation rises: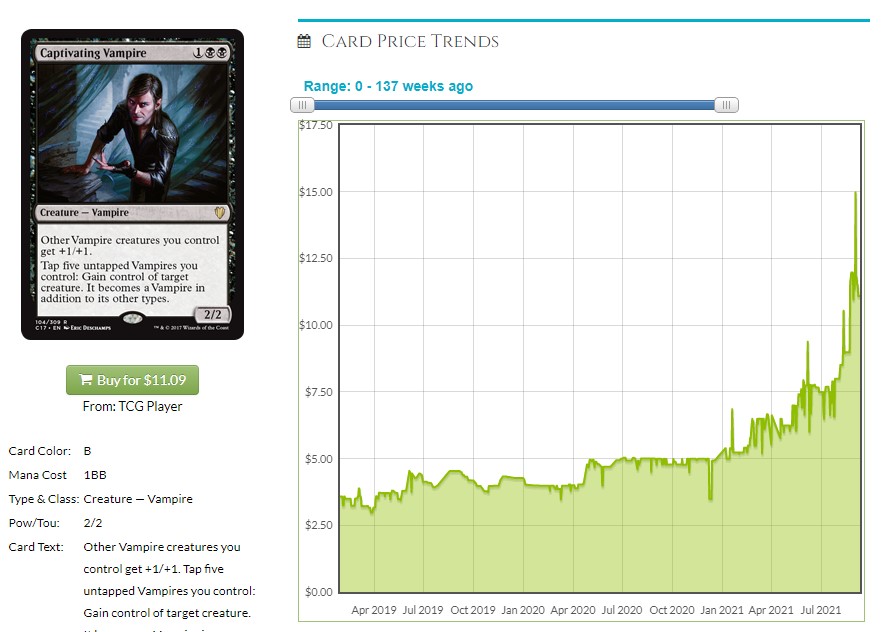 That graph doesn't scare me, though. Sure, it's more expensive now, but this was only widely available in Magic 2011 (eleven years ago), The List is a joke for reprints and the Commander copies weren't really put out onto the market. If you bought the C17 deck, you were playing all those Vampires and especially this one. If it's reprinted, much will depend on the other cards, to determine if this is worth cracking the package open and selling the cards.
This wasn't a list of every Vampire that I thought could get played, but these are some of the best bets that are around for the bloodsuckers. I'd strongly encourage you to check these out in Europe, if you have that connection. Casual cards tend to be cheaper there, and every bit helps when you're forecasting for profit.
Cliff (@WordOfCommander) has been writing for MTGPrice since 2013, and is an eager Commander player, Draft enthusiast, and Cube fanatic. A high school science teacher by day, he's also the official substitute teacher of the MTG Fast Finance podcast. If you're ever at a GP and you see a giant flashing 'CUBE DRAFT' sign, go over, say hi, and be ready to draft.