Readers! A lot can change in 7 days. From last week's article, here is a graphic of the 5 most recent sets in the EDHREC dropdown menu.
And here is, and I'm definitely padding the word count to create somewhat of a buffer between the two images in case you're on, like, mobile, I guess? And you have big old Kind Charles fingers and can't select one without the other? I feel like I did it, and not a second too soon because you have to get a lot of this BS. This is that same menu 7 days later.
Superlative. No notes. Is there a reason for this glut of products apart from 40k being delayed?
Super duper. OK, then. Since we're all whales, now and Ol' Cap'n Ahabsbro seems to want to see us all dead. If Magic goes away, I need to get a real big boy job and I have 0 skills. I'm like an indoor cat who ended up outside with a dog whose internal monologue is voiced by… I want to say Scoot McNairy. Actually that sounds pretty chill. I'm like a 38 year old with no relevant experience in the last decade who can't pass a drug test. That's what I'm like. And I'm scared.
The cure for the "I wasted my life on a children's card game that doesn't love me back" blues is more hot specs. With new sets every week comes new specs every week. Lather, rinse, repeat.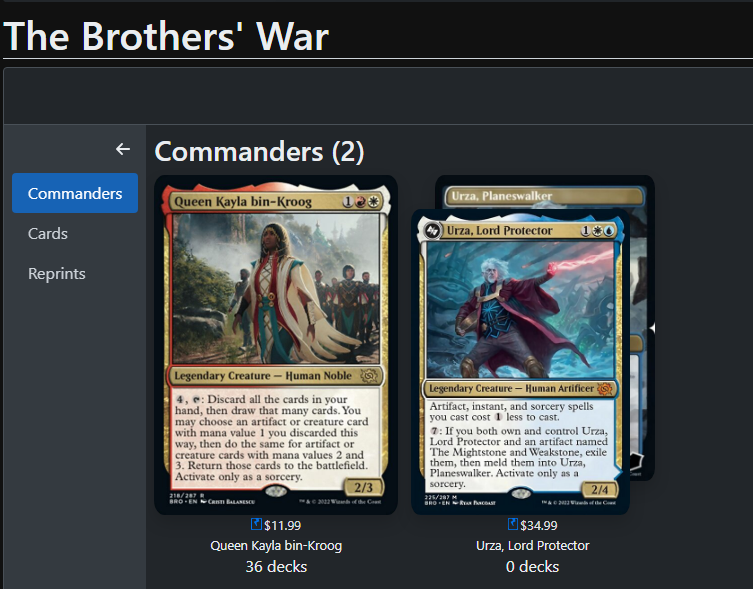 Looks like the community is spoiling to build around this creature all the Vorthos people recognize from the Ice Age comic book that came with a free pack of Fallen Empires but I've never heard of. The only way to get a deck built is to build it before the set's out because by the time you have the physical cardboard, they've spoiled 2 more sets and 8 more secret lairs. Let's look at these specs, shall we?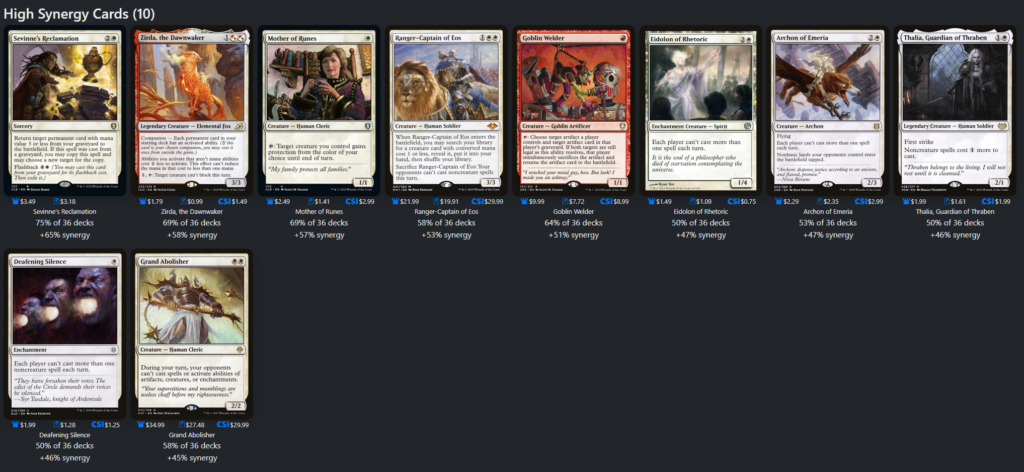 No real shock here. Kayla likely gets built as a mean, stax style deck that you can sac your own pieces to get them back. Everything that makes her better at doing what she does is 2 or 3 mana and an Artifact or Creature. This is basically a Tiny Leaders deck, but like a mean, antisocial one. If people figure out how to build this deck like not a complete sociopath, I'll report on those specs, too, I guess, but for now, feast your eyes upon my pics.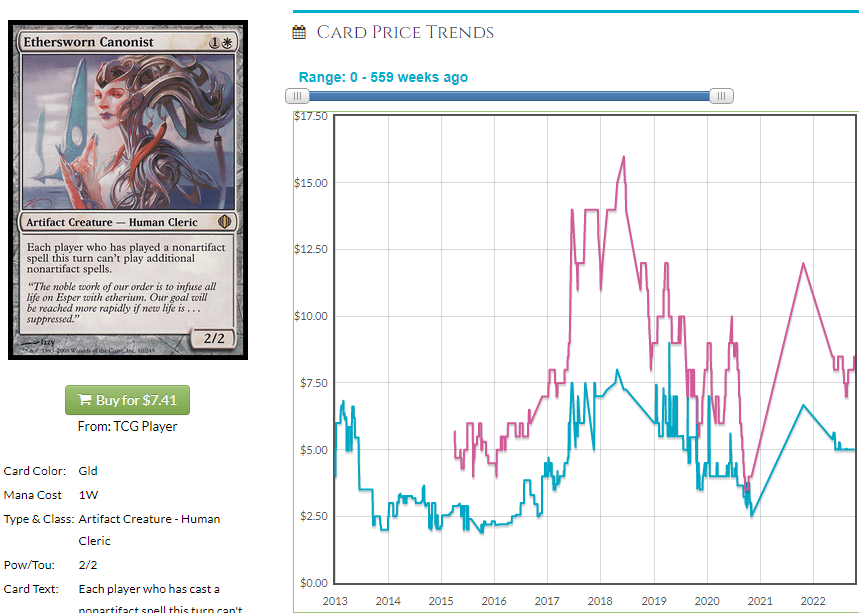 This card is under $10 and should not be. Every time it goes under $10, it goes back over $10. Is this going to get reprinted again? Perhaps. But what you should really be asking yourself is how many times does it need to get reprinted not to trend towards $15? At least one more, so make this one count.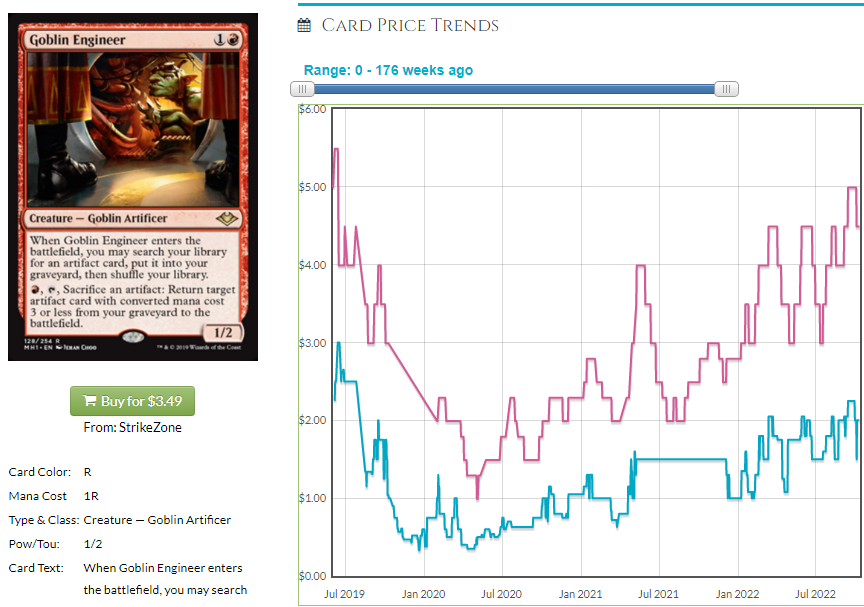 I could type more because of that thing I said earlier about a buffer between images, but this graph is 1,000 words and I don't want this piece to turn into a snooze to read if we're at 1,500 words already.
This is $1 above its recent floor an $20 below its historical high. I don't know where it will equilibrate, but it's not going to be $8.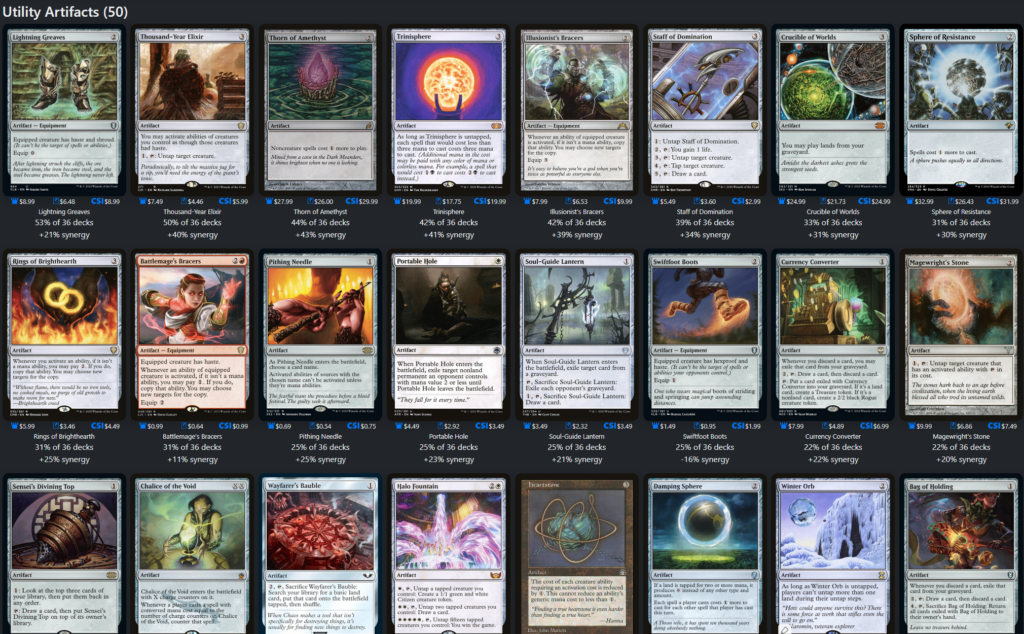 There are basically very few wrong answers here, honestly. Half of these are cards I liked a long time ago. Some of them are way underpriced. WAY underpriced.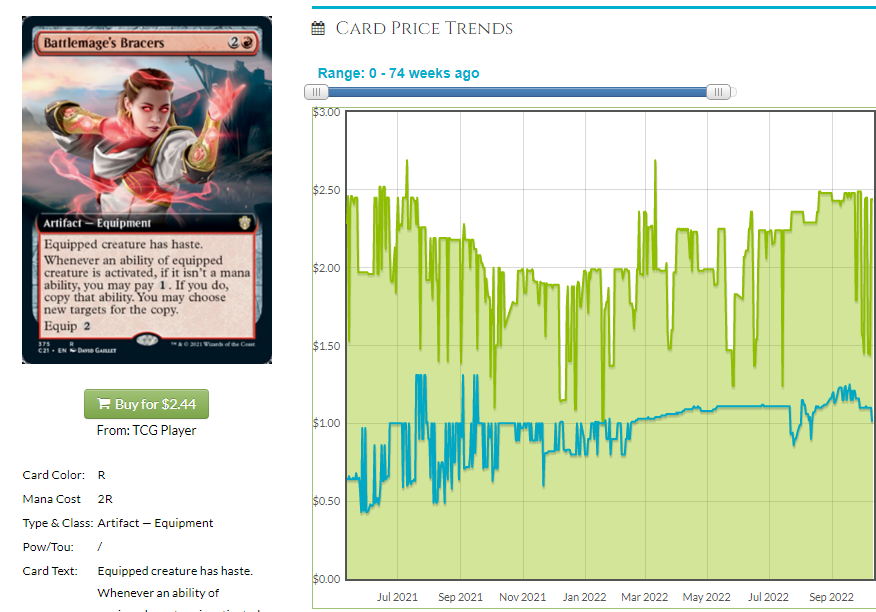 I thought this was a $5 last year and nothing has happened since then to make me feel otherwise. Unfortunately, nothing has happened since then.
I don't know, this just doesn't seem like a bulk rare to me. It's in a lot of decks, it's about to be in more, and it's good. Illusionists' Bracers were cheap forever, I stand by this pick and I'll either be vindicated or out of a job because the game collapsed under the weight of the products they release because no one wants to buy Monopoly or Nerf guns right before a recession.
Speaking of bracers,
This is in a lot of decks. This should be $10 everywhere, maybe more, so sniping cheap copies seems like a good play. They somehow have never reprinted this, which makes me a bit nervous considering they have a chance to reprint it every set, now.
I think this commander actually has a ton of potential. I really like the idea of a Boros type of Birthing Pod, and with it as your commander, you'll get a ton of value. For reference, here is the rest of Kayla's page. Thanks for reading, nerds. Until next time!