Readers!
I hope I did a good job conveying that this week's article has something to do with last week's article, which you have of course read. If not, do read it because the tips in there will apply a ton still and some of the lessons in there are ones I'd prefer not to have to repeat. If you read last week's article, perhaps you know that last week I discussed Urza and Mishra decks as potential sources for specs. I want to make sure you read last week's article, because this week I am going to discuss Urza and Mishra decks are potential sources for specs and I want to make it clear that last week I was discussing Urza and Mishra cards that are different from the Urza and Mishra cards I'm discussing today and I'm just so, so tired. Over at EDHREC, somehow in our set review we remembered the main set, the EDH decks, but forgot the EDH-only cards in Set and Collector Boosters. Like, I get that it was my job to check that, and I shouldn't be copping to it publicly but yeah, I didn't remember to tell every single one of my writers they needed to check 5 different spoilers to make sure they reviewed every "White" card in the set, I guess I must be the one who's doing it wrong. So yeah, I have amped up my griping about how many new products there are, but you can't tell me this is healthy or sustainable.
EDHREC decided to make a change to the dropdown on the site.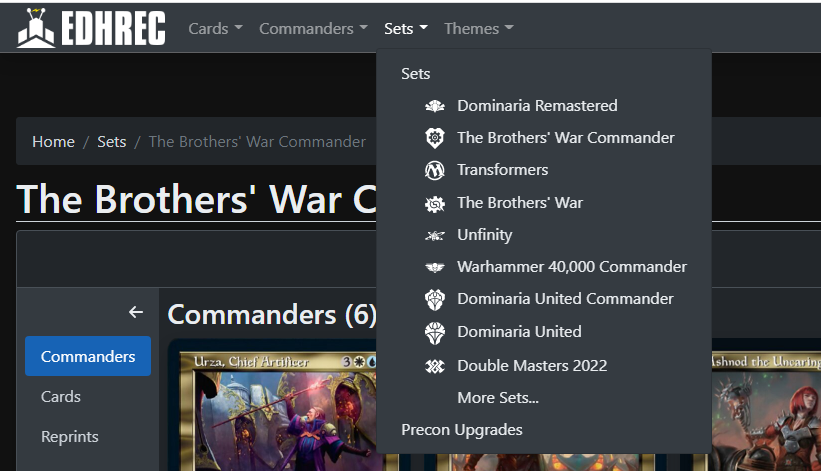 Going to only 5 sets didn't, and I am not making this up, give people a chance to see the set on the list of newest sets after the product was released. The schedule is a lot. I'm not talking about this because it makes me feel a tremendous amount of stress and anxiety about the future of the game that has been my entire career focus for a decade. That's all true, but that's not why I mention it. I mention it because I have to type something before I show you data so I can cut it off at the paywall until Thursday and I thought what better than to show off the new site dropdown and remind people that, yes, I did talk about Urza and Mishra last week, but it's cool that I'm going to talk about Urza and Mishra this week because they're completely different Urza and Mishra and I guess I wanted to let everyone know I thought that sentence could serve as a punchline if you're properly primed. Are you good and ready to get some finance advice? I'm about to shut the curtain to first class if anyone wants to become a Pro Trader real quick so they don't have to wait 48 hours for all of this hot finance info in a world where in 48 hours from now Warhamer 40K might get bumped off our "new sets" dropdown. Commander 2023 will be spoiled 48 hours from now, get with it.
OK, now that I've said both that all of my finance info from last week is still good and actionable and also that you can't wait 48 hours for the tips in this article, it's time to give you some data so you don't send me dog shit in the mail because I made you read the last 2 paragraphs and your time is more valuable than mine is. I already knew that, I was just talking about how I don't think I will have a job in a year.
You know who WILL have a job in a year? Whoever designed this Urza.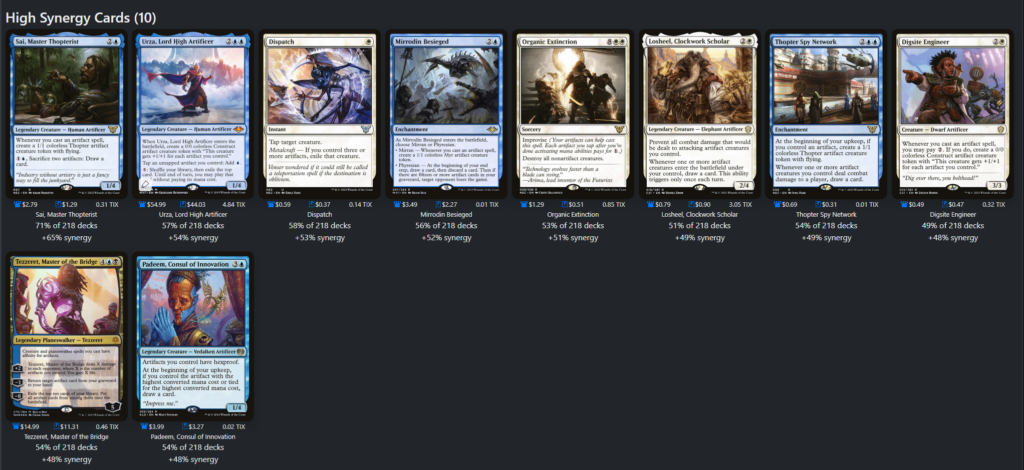 My thought process when I saw Sai, Master Thopterist and its price was "Man, would Sai be $5 if it hadn't gotten reprinted? I should check that other guy…. what's his name? You know, from Kaladesh? Padma something? You know what, I wouldn't even know what to google, I'll just look at the rest of the annnnnd there he is."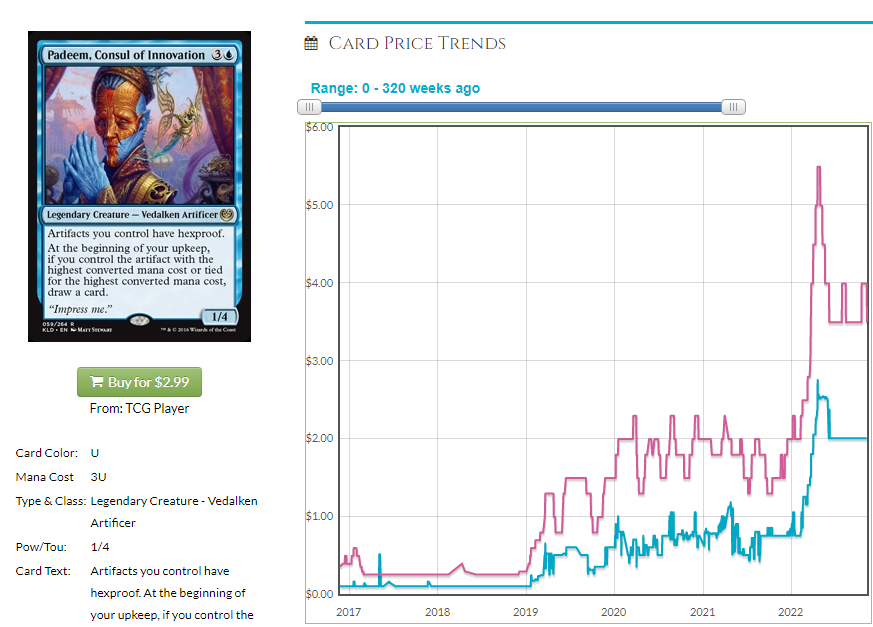 I said "he" in the last paragraph but I actually have no idea what Padeem's deal is, but it's a good Magic card to have, I think. And yes, the answer to my Sai question is "maybe it would have hit $5 and maybe stayed there" based on Padeem's graph.
These cards are nearly identical in how much they are played. If you look at Sai, you can either say "Well, I guess Padeem is an identical spec so instead of being sad Sai got a reprint, I have a spec to buy still" or say "So I could lose half my money overnight if this gets reprinted?" I think Padeem isn't getting reprinted soon and I think it's going to be a $5 card minimum when we get like 40 Artifact sets next year. Padeem only has to dodge reprints in the first half of the year for you to cash out until your spec was free and you doubled your investment and you can play Powerball with the rest of those Kadeems that won't even be worthless but will apparently be $1.50.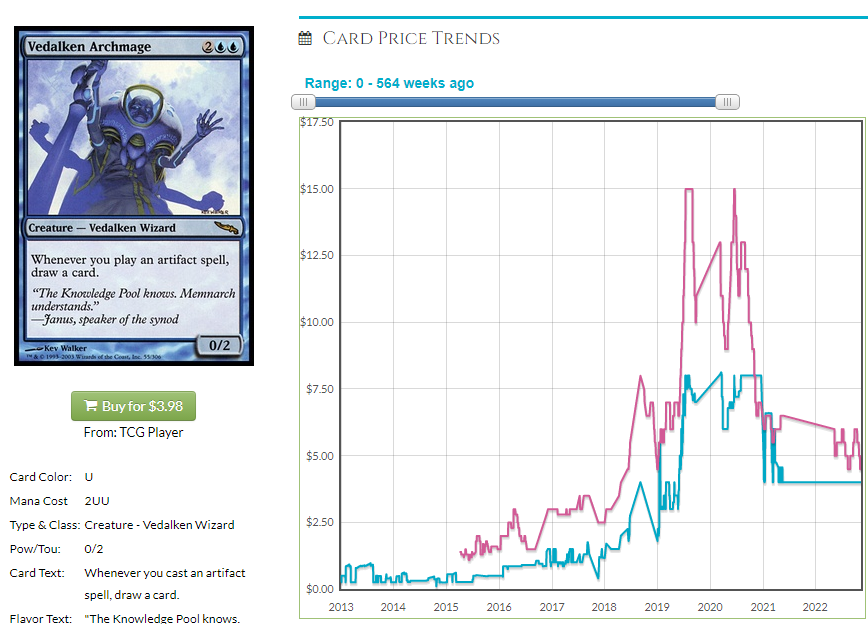 The reprinting of Archmage in Jumpstart made the graph do this. It seems to me like the price reacted like it was predicated on scarcity-based demand, not demand-based scarcity like we like. But, like, if this hit $15 based on demand from basically just Breya for a while, a Jumpstart-worth of new copies can keep it from hitting $20 ever but I don't know if you can't triple up at a $2.50 buy-in on TCG Player right now. This could eat a reprint, though, because they love to forget about a card for like a decade, realize it's expensive and then print it like 5 times. I hope that doesn't happen here, this card sees some play.
I think these inclusion numbers are a little skewed and when Breya fever was at its pitch, these were played more than they are now, the tail-end of Emry and Urza, Grand Artificer decks being in the EDHREC database. I am pitching "all of EDHREC data ever" as a perk for people who subscribe to the EDHREC patreon and if that can happen, the value of the site for finance goes up even more. But I suspect that if you read my articles, you're just listening to a butcher tell you about his special signature sausage spice blend and you literally couldn't care less about how much star anise I use (just a leeeeeetle smidgen) and you want to just buy a sausage and get out of here. If you dabble in sausagenanigans (my Mom is a chef and that's literally what it's called I think), though, seeing cards trend in usage over time would be very valuable.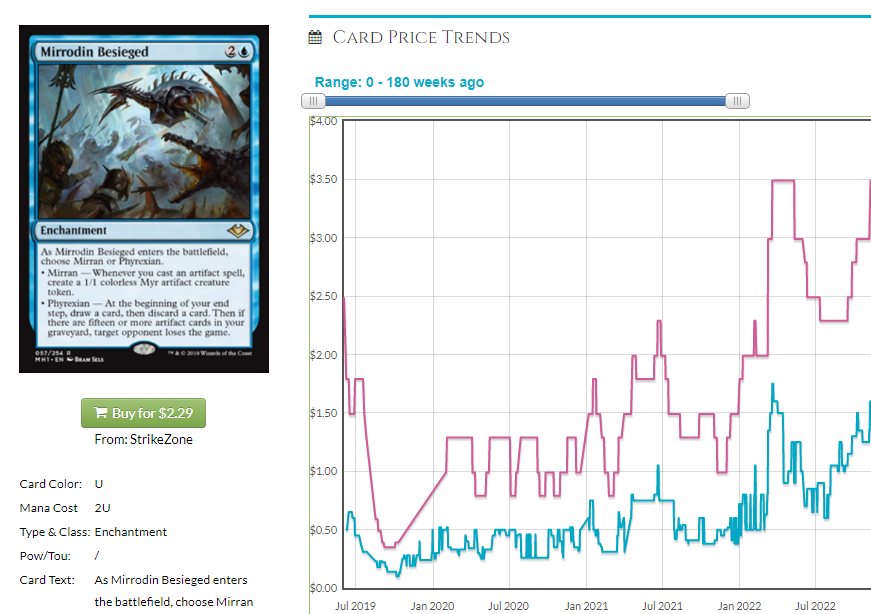 If I had a sweet tweet or excerpt from an article where I said to get this when it was a buck, I'd post it right here but I don't have one. This is a $7 card masquerading as a nearly bulk rare because the set it was in was unhinged. This is much better than the other Sieges but people who don't play a ton of EDH and some people who do play a ton of EDH don't know this at a glance from the others. This is a buy imo.
I meant it, different Urza and Mishra. I feel like I'm trapped under an avalanche of cardboard.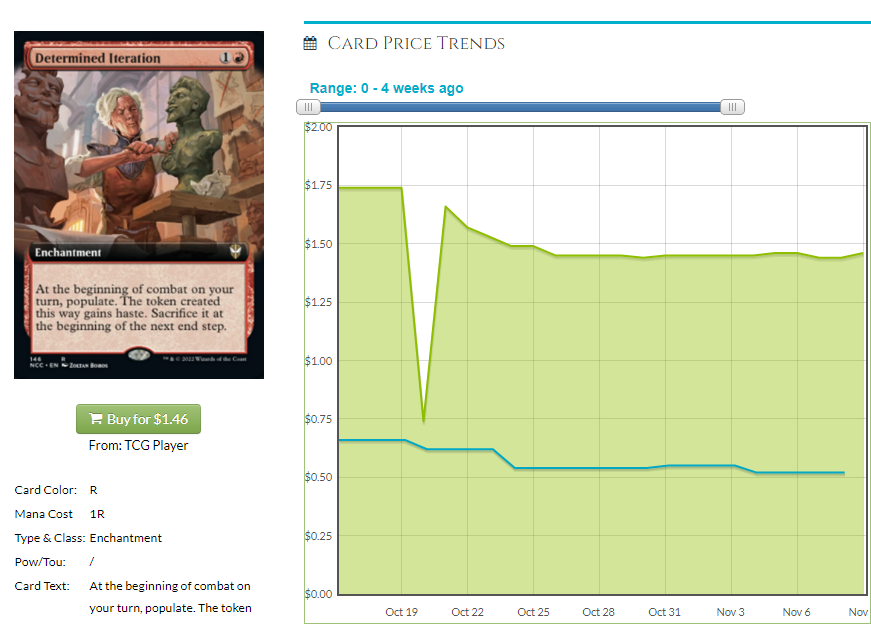 I am so charmed by this card that I hadn't read before just now because I literally just can't keep up, that maybe I'm overvaluing how good it will be based on just this one deck, but I think that most Red-based Artifact decks make tokens and getting free value every turn seems really solid for a buck for a good-looking Extended Art card. I like this and I don't want to say "I wish I had said to buy this at a buck and didn't" because I'm saying it now, which means…I am probably wrong about this card… I don't think I am, if you do, buy accordingly.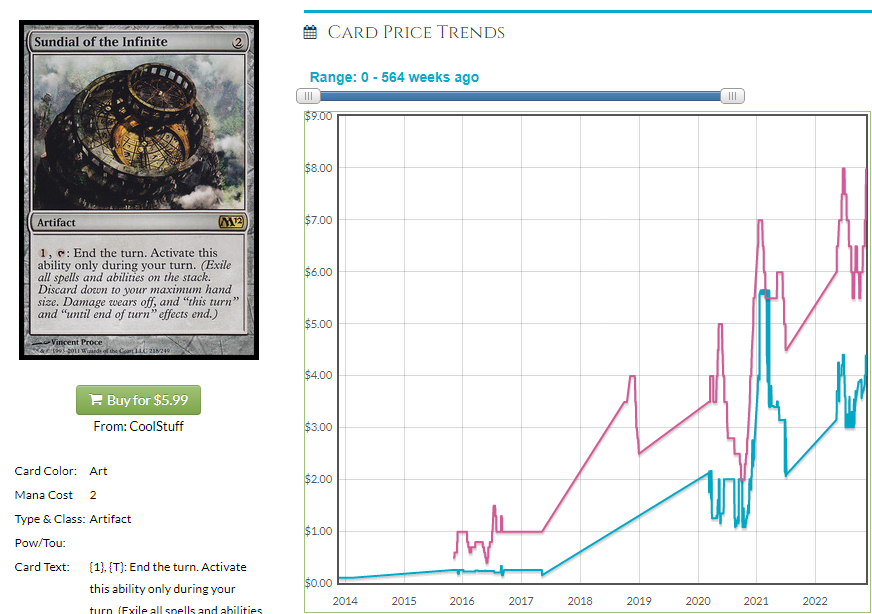 I forgot to tell you to buy the dip, but it seems like there was no dip to buy. This is a $10 card if it's not reprinted.
I usually do 5 picks but then it will be uneven between Urza and Mishra and also this article was a lot of non-finance so I'll give you a bonus pic but I'm not going to talk about it, I'm going to end the article here and just like post a pic of the graph of a card I like. Or do I dislike it? No lol, it would be messed up to do that. Here's a spec based on Mishra I like. Probably.