Readers!
I haven't covered the same product two weeks ago in this series and I feel like that sentence can replace the normal paragraph I write above the fold in this series where I express incredulity that my favorite thing in the world could make me feel this consistently terrible. If you're not like me and you're capable of only caring about the stuff you care about, you're probably thrilled that there have never been more chances to buy products and build new decks. The thing is, the best specs are the ones that don't rely on Commander only, they rely on other formats. Typically a format like Modern will feature a card and a combination of some Modern or Pioneer to a lesser extent (for now, I guess) play with Commander play bodes well for a card. You know what is better than Modern? A format played by the majority of Magic players. The answer is not Commander, believe it or not. No, the format enjoyed by the vast, vast majority of people who play Magic the Gathering is the format "63 unsleeved card I own" and it has been sweeping the nation since 1993. These players are the lifeblood of the game, and while they mostly buy boosters at Walmart, these players are very aware of the internet and how to use it and they buy cards. Caring what cards they buy can help us spec better, and today I want to talk about the casualest casual kind of casual concepts for decks – Lifegain.
Actually, I should have buried the lede under the fold to entice people to sign up for Pro Trader. Let me take that again.
Today I want to talk about… wait, that won't work. OK, so the cat is out of the bag, I guess. Today I want to talk about lifegain cards, specifically for a deck that is coming out soon or is out already, I am not sure which.
Monks and Lifegain? Is there a more Timmier thing possible? I don't know if there is, but I'm very excited to see where this goes. In addition to kind of wanting to build the deck, I want to see if there are any Timmy cards in the deck.
Oh yeah. We can work with this.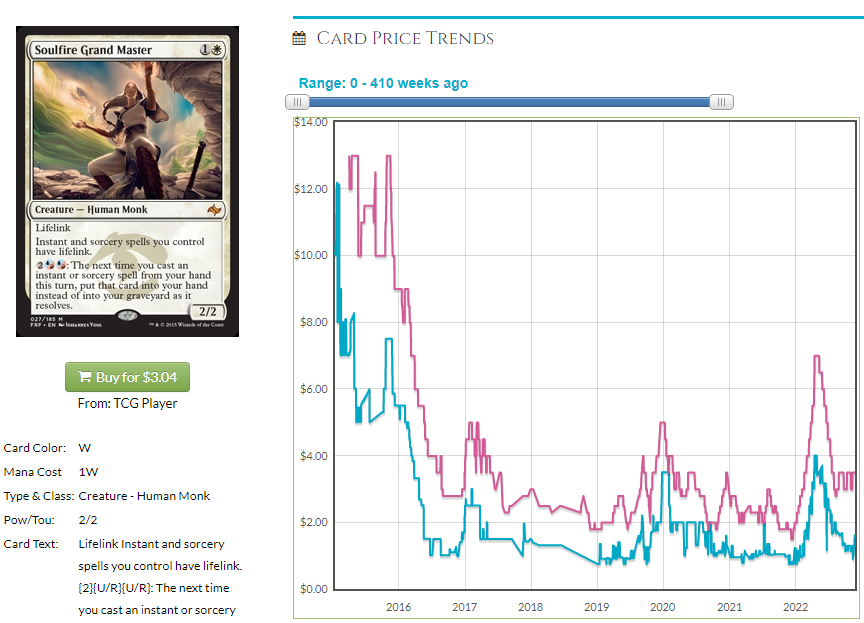 I think this is a $10 card in waiting, and being able to snag these for $3 from TCG Player seems like a real winner. This is a very Timmy card, granting you lifegain and rebuying spells for you. I honestly with this creature could be Legendary, but I would probably just loop Time Warp with it. Even if this only goes to $7, which it basically can't if it spikes for a reason, this is still a buy at $3.
Also this.
We mostly missed the boat on this most brutal of White finishers but since it's $10 on TCG and hit $15 on CK, I'd argue it's a buy at retail. Reprint risk is impossible to know at this point, so caveat emptor.
This may be the first time I have cited the EDHREC salt score survey that we do like onceish a yearish as a jokeish, but here I go. When these cards first came out, people were furious about outside IP where they try to gather their Magic. Now they seemed to have calmed down a bit, and supply seems real low on this card. I think it's a good card and being an Advisor doesn't suck. I don't know if the Archimandrite will be a real player going forward, I think with the pace of releases those days might be over, but I think Glenn is a $10 card.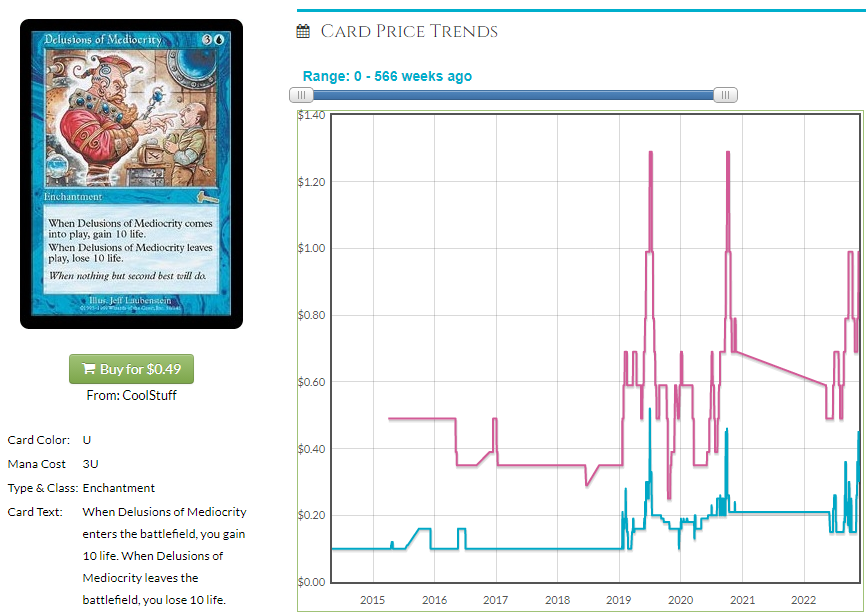 How many copies of this card between Legacy and 7th could there really be out there?

Not 0 and not a million. The problem with a card like this is that if it goes up, copies will come out of the woodwork to attenuate the price spike unless you're insanely quick. I don't see it. Weird that such an old card is so cheap, though, and it's great in this deck. Wonder what foils are going for.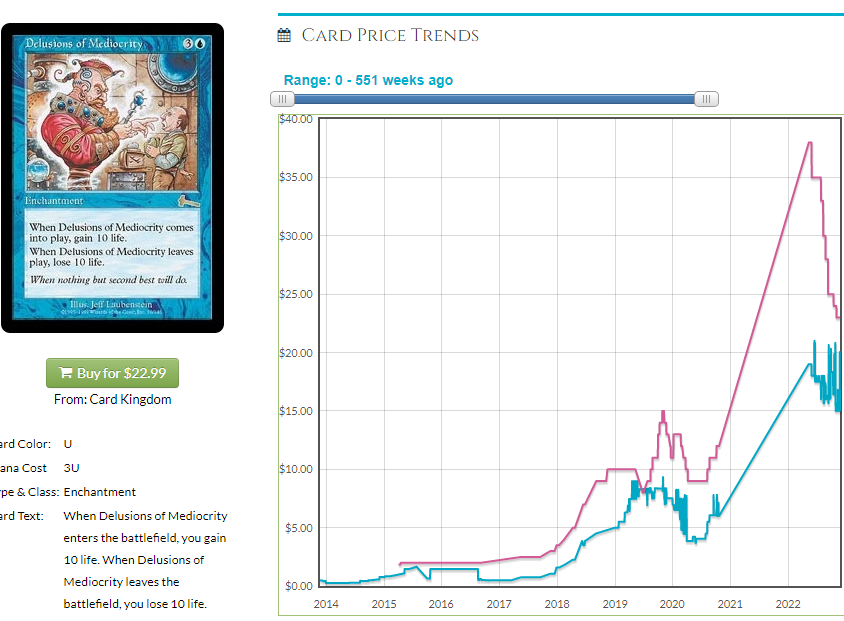 Way, way less than I thought. Even 7th seems downright affordable.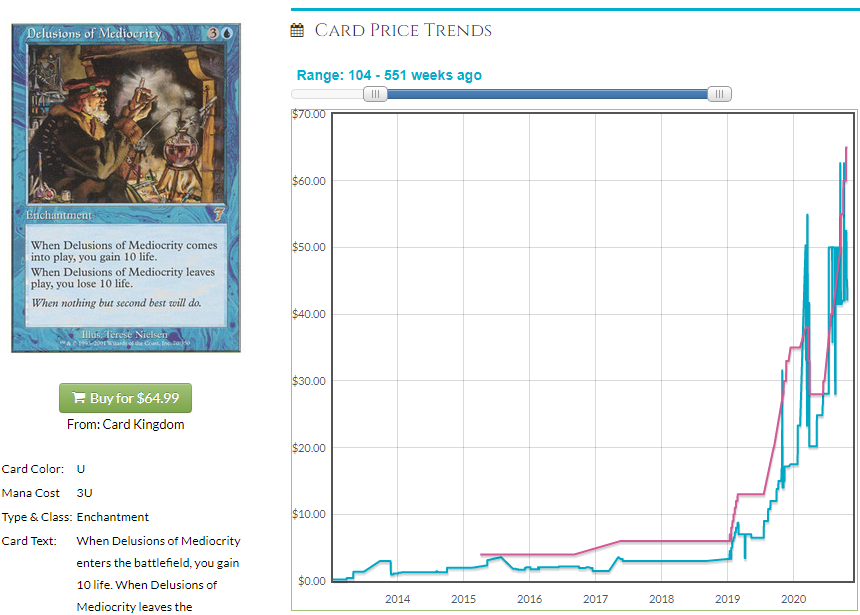 How was this $8 in 2019?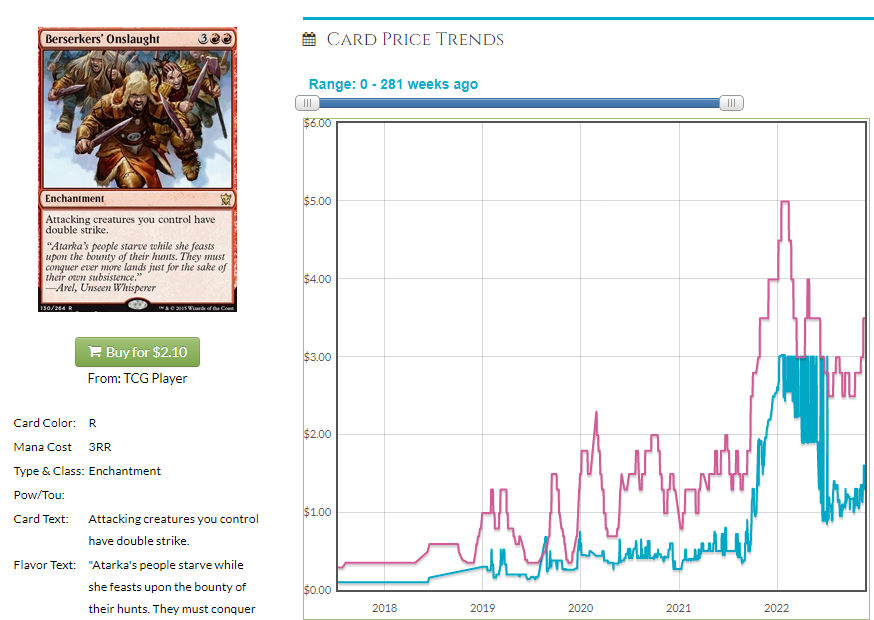 When TCG retail is CK buylist, I'm a buyer.
That does it for me this week, nerds. The deck contains a lot more lfiegainy goodies and there are honestly probably 10 more promising cards just on this page. I don't know if this card will be what does it, but when you look at the Timminess of these cards, you have to admit they don't really need that much help. Let's break off some of these sub-200 copy cards and count our money. Until next time!