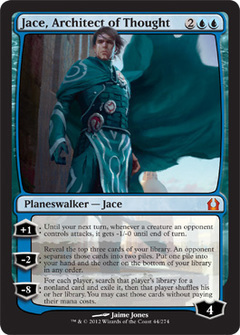 Here are the top 5 cards by price as of today (Nov 10):
Jace, Architect of Thought     $38.74
What do you need to know? It's Jace. Boom.
Overgrown Tomb     $24.71
Now we get to see what it looks like inside! As one of the shocklands, Overgrown Tomb is useful as well as valuable.
Angel of Serenity     $15.61
This angel is an unbelievably versatile finishing card.
Hallowed Fountain     $15.16
Another shockland!
Temple Garden     $14.81
Along with Overgrown Tomb and Hallowed Fountain, Temple Garden is a returning shockland from Ravnica, of only five such shocklands. All five, incidentally, feature impressive art by prolific MTG artist Rob Alexander.