It's a bold statement, but it's one I believe to be true. We are living in the Golden Age of Modern.
I made a video saying as much, and before I go deeper I figure I may as well post it, as well as a rough transcript for those who can't watch right now (remember to subscribe if you want more of this content, and I'd love any feedback!)
Eight different decks made the top eight of Grand Prix Oklahoma City last weekend.
I want that to sink in. Magic is an incredible game full of tons of interesting options and interactions, and still we almost never have that many different decks make it to the top eight of a tournament. Not only that, but a deck that has never even made a top eight before won it! Lantern Control is one of Modern's most unique decks, and the odds of Zac Elsik winning the Grand Prix with it are truly unbelievable.
There's no doubt about it: we're in the Golden Age of Modern. Patrick Chapin summed it up best when he told me on Saturday at the Grand Prix that there was a tiny difference between the best deck in Modern and the 20th-best. And he's right. More than 40 different decks made it to day two of Grand Prix OKC, and there were some pretty awesome new ones among those. Not only did new builds of Scapeshift and Elves pop up, we had some old standbys like Storm and White-Black Tokens advance to the second day.
Of course, all of this merely scratches the surface. The list of new decks that appeared last weekend is even more impressive. Freaking Naya Allies, people. Naya Allies is good enough to make day two of a Grand Prix. Soul Sisters. Suicide Zoo. Faeries. Jund Scapeshift. Ad Nauseam. The list goes on and on, and I haven't even touched on Merfolk, my favorite deck and the one that Paul Rietzl called the best in the tournament on this way to the top eight with the fish.
Simply put, there is no better format in Magic right now than Modern. With more 50 decks capable of finding success in the format, this is the format Wizards of the Coast envisioned when it was created. All the decisions – bannings and additions – since have served to create the deckbuilder's paradise we have now. This is the Golden Age, and I'm enjoying the ride.
The rest of this content is only visible to ProTrader members.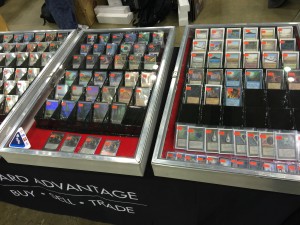 ProTrader: Magic doesn't have to be expensive.