ADVERTISEMENT:
It's working. I can't believe it's actually working.
Since writing my "Credit is King" article a few weeks ago, I have managed to turn about $170 into over $500 in store credit. This growth is a result of nothing more than taking trade-in credit from one vendor to purchase cards that a different vendor has a better buy price on (including credit). At first the task seemed daunting and improbabe, but after a half a dozen cycles across three different retailers, I can confirm that this strategy is 100% effective.
At least for now…more on that later.
But before I dive into the cautions of this approach, I first want to share some high level observations on the three vendors I use most frequently for this credit experiment: Star City Games, Card Kingdom, and ABU Games. By understanding a few valuable rules of thumb and observations, we can begin to piece together how this credit experiment has been so successful to date.

The rest of this content is only visible to ProTrader members.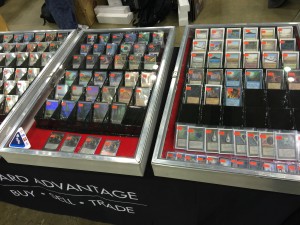 ProTrader: Magic doesn't have to be expensive.
MTGPrice helps keep you at the top of your game with our daily card price index, fast movers lists, weekly articles by the best MTGFinance minds in the business, the MTGFastFinance podcast co-hosted by James Chillcott & Travis Allen, as well as the Pro Trader Discord channels, where all the action goes down. Find out more.
ADVERTISEMENT:
Please follow and like us: