Written By:
Douglas Johnson @Rose0fthorns
__________________________________________________
We've been focusing on bulk, both common and rare, for the past few weeks. If you were comatose and missed one or all of those articles, you can find them each here to catch up;
I've got one more article up my sleeve in that little "trilogy" if you want to call it that, but it can wait until next week because this article is unlike most of my others in that its' time sensitive. We haven't really talked a lot about Eternal Masters in this column because buying those cards at retail and crossing my fingers isn't normally how I operate. I'm in a fortunate enough situation that I'm one of the only "buylists" within about an hour drive, so a lot of collections and singles at buylist just come my way due to word of mouth. A lot of my writing has been geared towards helping you be that guy, or how to get around being region locked if you're forced to compete with a huge store.
This article goes against the grain in that it's a strategy that I wouldn't personally use because of how I'm "region locked" out of it, and the margins are too low for me when I have individuals selling me cards at buylist. However if you live in an area where trading as a whole is still alive and well, then you might be able to use these tips to pick up some cards with a low buylist-to-retail spread in trade, or build a deck for cheaper than you might otherwise have to pay for it.
It's no secret that the difference between the low and mid spread on Eternal Masters rares is pretty thin already, with some rares being available on TCGplayer for 60% of their "median" value. Look at the "featured seller" in the top right of each of the below pictures to see what I mean. This drops even further if you're a smart consumer and use Facebook/Twitter to purchase your cards at 10-15% less than the available low. Even if we haven't hit the absolute possible low that the card will ever reach, we're damn close enough that I feel comfortable in this strategy. That is, if you have a highly active local group of traders who aren't sharks.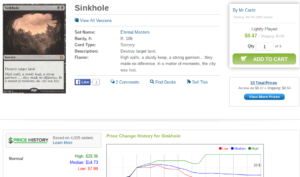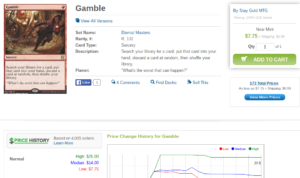 Maybe you can already see where I'm going with this. If you're located in an area where trading at TCG median is still relatively common, then it's possible to buy cards at 60% of the TCG median, then trade them out for cards that have a significantly lower spread between the buylist and retail. Do I know of any such cards? Well, here's a couple of hitns to get you started.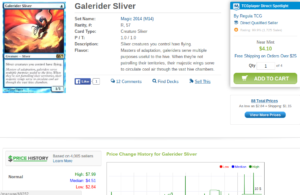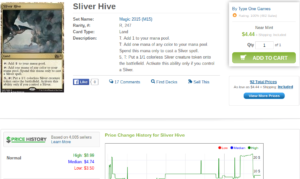 There's a ridiculous spread on certain competitive Slivers right now for whatever reason, at least according to SCG. They're paying almost retail to fill up on cards that are played in the Modern slivers deck, and you can find these in binders for $4-5 each. Based on our previous discussion, here's an example arbitrage purchase and follow up trade you can make.
The cheapest available NM Sinkhole on TCGplayer right now is $9. If you go on Facebook/Twitter right now, scour through the various groups/backpack grinders, you can probably find one or several for $8. When those come in the mail, you walk into your LGS and say "I'm looking for Galerider Sliver and Sliver Hive. I have Sinkholes (or whatever EMA card you bought).
If you find someone with Galeriders that you can trade for at $4.50 (their TCG median price as of 6/21/16), then you can get three copies plus a dollar throw-in for your $8 Sinkhole.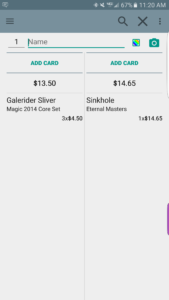 Is this highly specific scenario going to occur every time? No, of course not. In fact, there's more than a negligible risk involved because we're waiting on our TCG/Facebook/Twitter seller to ship the card and arrive 3-4 days later, then we're hoping that SCG's buy price on these Slivers holds strong over the course of that week. I'm not to worried about that latter fact in this example because Slivers are such a strong casual pickup in the long run, but I think you get what I mean.
The "worst case snenario" here is that you paid $8 for a Sinkhole, which I think is still a pretty fine buy for the long haul if you're into long term speculation on Eternal Masters singles. It's certainly not a foolproof arbitrage strategy and it's not even something I've tested personally, but it's an idea for those of you who still have a lively trading scene at your LGS or PPTQ. Personally I have to pay state sales tax on anything I purchase from TCGplayer, so any small spec target I buy from there is automatically slightly less attractive.
End Step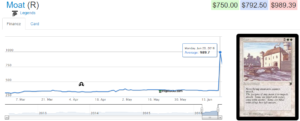 This happened with Moat over the weekend. A single party purchased all available copies on SCG and TCGplayer, then posted a video to Facebook that said something along the lines of "I just bought all the Moats on SCG and TCG. I'm going to wait 30 minutes before buying all of the ones on eBay as well. If you want to get Moats anywhere else, now is your chance."
While most individuals in this community use the term "buyout" incorrectly, this would be one of the few examples where the word rings true. It's highly unlikely that the card will fall to its' previous low of $350, but there will be at least a few people who decide that $700 is a little high for a card in their Commander deck, so be looking for those to hit the market on TCGplayer or eBay. There's also the option of grabbing Italian copies for significantly cheaper, considering the Master Buyoutmancer didn't touch the foreign copies.
For what its' worth, there are two NM copies on TCGplayer for $400 each as I'm finishing up this article. I'm tempted to grab them, but that NY sales tax really bites at that high of a number. I think I'm gonna leave them alone for now, as I don't want to risk that amount of capital on a card that I'm not confident people are ready to buy into post-spike.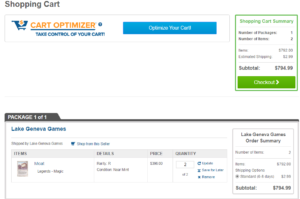 I'll see all of you next week, when we return to a new discussion on bulk rares. Thanks for reading!
_____________________________________________________________________
ADVERTISEMENT: OzGuild makes organising your Magic card collection simple… Scan your cards into a digital catalogue using your smartphone, it's fun, fast and easy. Scan in your first deck for free!