MTG Fast Finance is our weekly podcast covering the flurry of weekly financial activity in the world of Magic: The Gathering. MFF provides a fast, fun and useful sixty minute format. Follow along with our seasoned hosts as they walk you through this week's big price movements, their picks of the week, metagame analysis and a rotating weekly topic.
Show Notes: Apr 15, 2017
Segment 1: Top Card Spikes of the Week
Fiery Gambit (Mirrodin, Foil Rare)
Start: $6.00
Finish: $16.00
Gain: +$10.00 (+167%)
Magister Sphinx (CFX, Rare)
Start: $3.25
Finish: $8.50
Gain: +$5.25 (+161%)
Wheel of Fate (C16, Rare)
Start: $1.50
Finish: $3.75
Gain: +2.25 (+150%)
Always Watching (SOI, Rare)
Start: $1.50
Finish: $3.50
Gain: +$2.00 (+133%)
Crumbling Ashes (SHM, Uncommon)
Start: $1.50
Finish: $3.00
Gain: +$1.50 (+100%)
Relentless Dead (SOI, Mythic)
Start: $5.00
Finish: $8.00
Gain: +$3.00 (+60%)
Long Term Amonkhet Specs: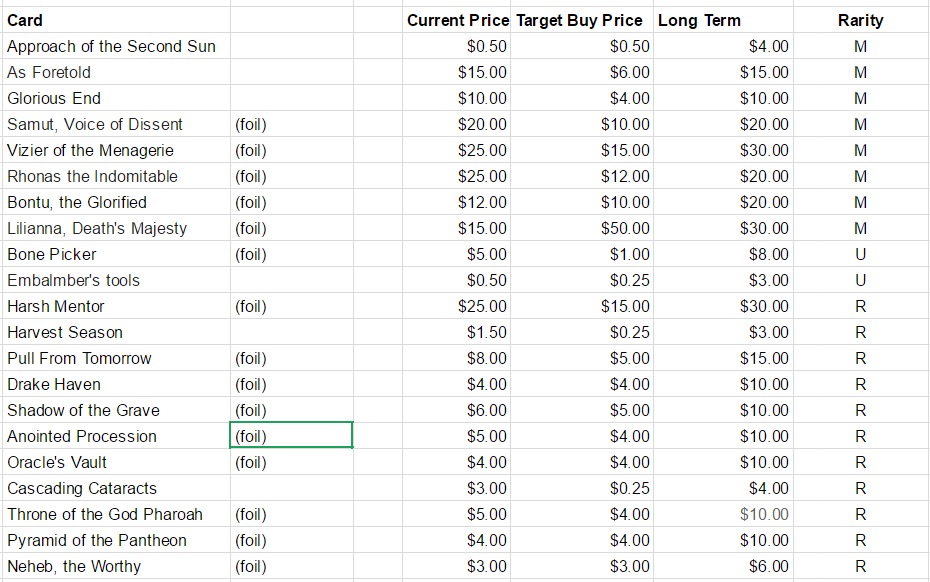 Disclosure: Travis and James may own speculative copies of the above cards.
CEO of ShelfLife.net, The Future of Collecting, Senior Partner at Advoca, a designer, adventurer, toy fanatic and an avid Magic player and collector since 1994.