In answer of your first question, yes, you can in fact count on next week's article to be titled "5 Cards You Should Buy 3: Buy Hard With a Vengeance" and I'm embarrassed for both of us that you even felt the need to question it.
Last week I adopted a kind of shorter format because I was eager to get right into the speccin' and if you're all into it, and I assume you are because no one complained, what if we just snapped off 5 very sexy specs (I had the phrase "sexy specs" in my head but I think it's supposed to refer to eyeglasses) and called it a day? You aren't paying me to feel that I write enough above the fold to not slam the paywall down on someone's hands as they're just coming to grips with my writing style, you're paying me to give you some MTG Finance advice using EDHREC data which, and I can't stress this enough, is publicly available.
Here is a quick look at the top decks from the New Capenna Commander set.

For reference, here is what it looked like last week.

Pretty crazy stuff. This current list looks a lot more accurate and it shows that we should not be sleeping on Sphinxy boy. Let's go there foist.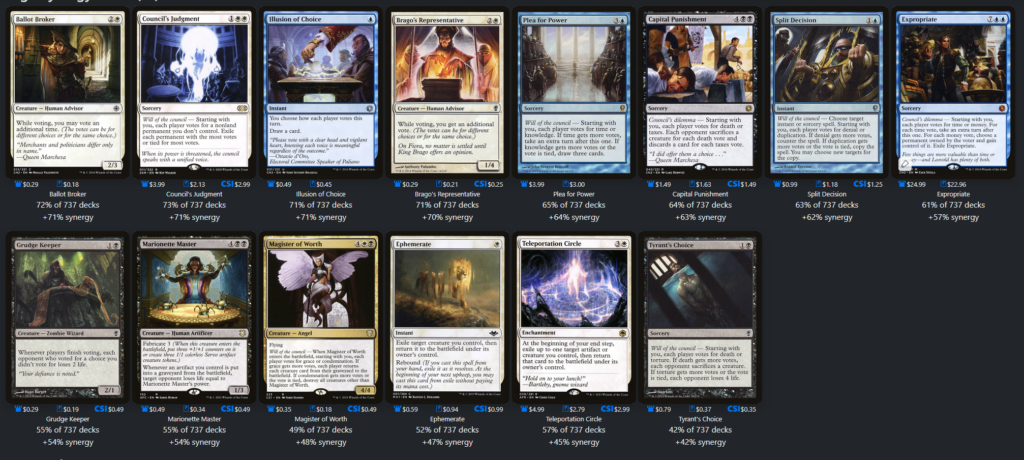 I don't normally include this many high synergy cards, but it looks like just about every Will of the Council card is in play, even the bad ones.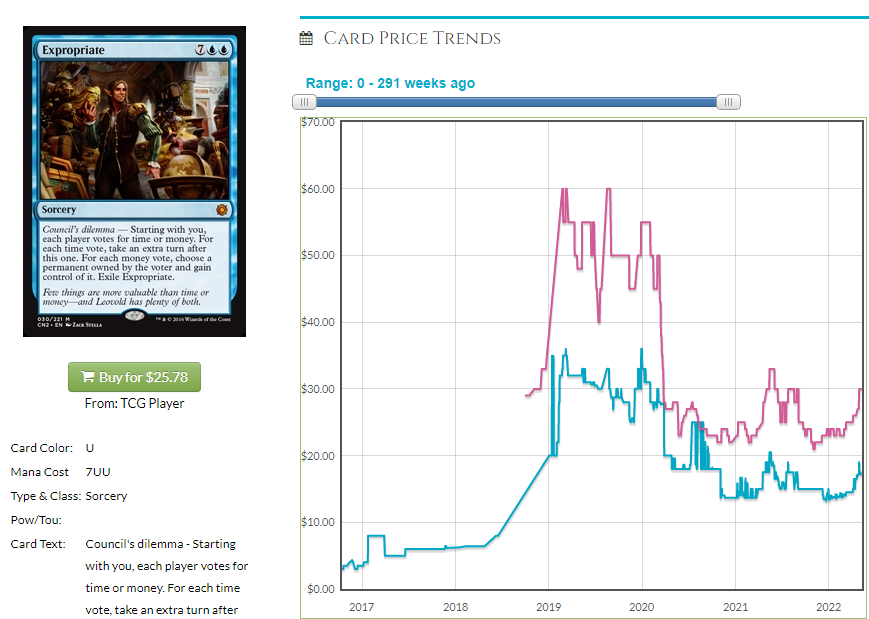 Sphinx strike me down if I tell a lie, I would have sworn $20 was not the floor here but since it's already hit that twice and rebounded, I'd say that if Expropriate gets cheaper than $20, there is no reason not to buy every copy and it's staying where it is. If it gets another reprint, it's hard to say whether that will hold true, but getting in for $25 on a card that I think easily goes to $40 and potentially beyond barring a reprint is almost as good as getting in at $20. I wanted to see where it would stop going down and it did that, now it's time to take a hard look.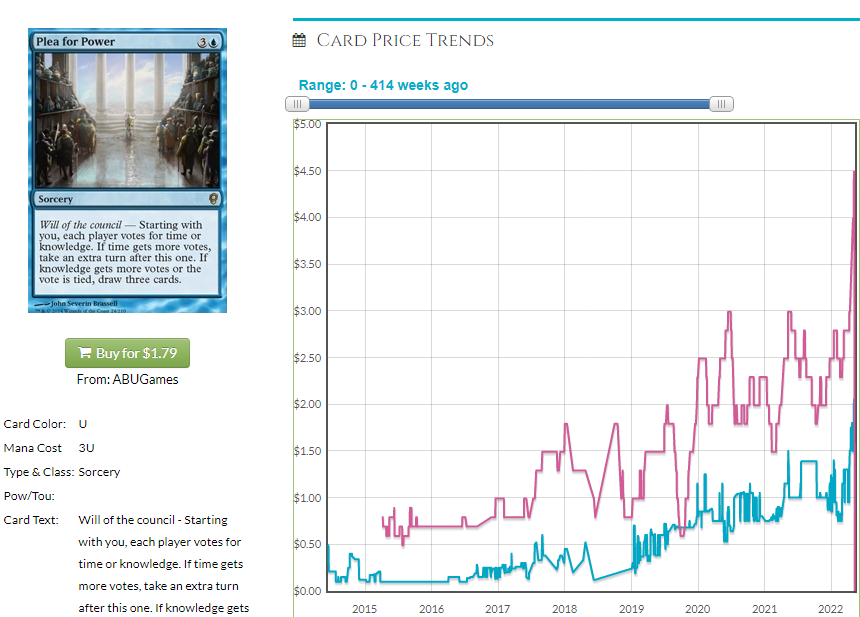 On the back of Tivit, Plea for Power is taking off, but it was on a nice trajectory before. If you can still get these for the old price, like in a bulk rare box where most of the copies of this card are, it's going to $8 but who knows if it sticks there. This is the kind of spec I don't love, so I won't count it in your 5.
Second spikes are good. That's all the analysis you get, this is a bonus pick, chill.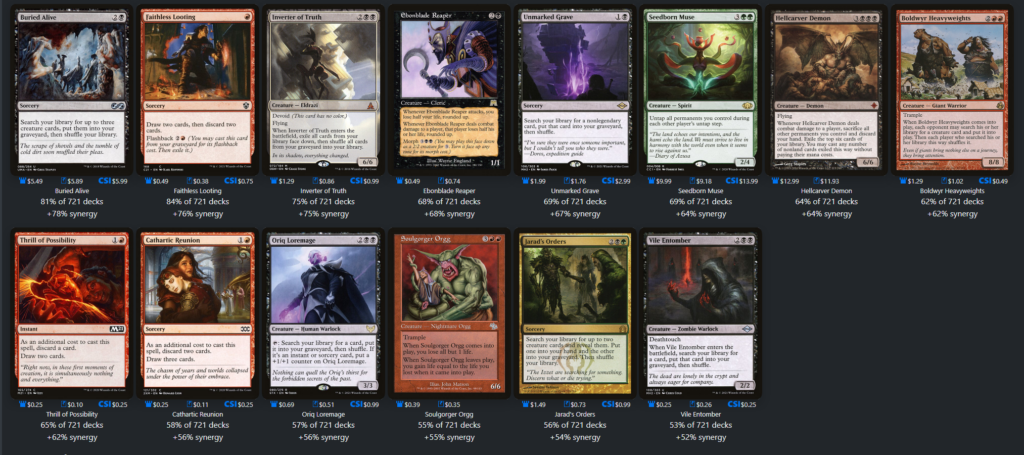 With the exception of the weird Orgg, these are all cards we had identified previously. This deck loves handing out hot potatoes and cards like Leveler and Eater of Days have always been weird cards that are $0.50 for a decade then $10 for a week. I think the less obvious but just as effective cards are good "late" specs because people already hoovered up the high synergy stuff but left some money on the table imo.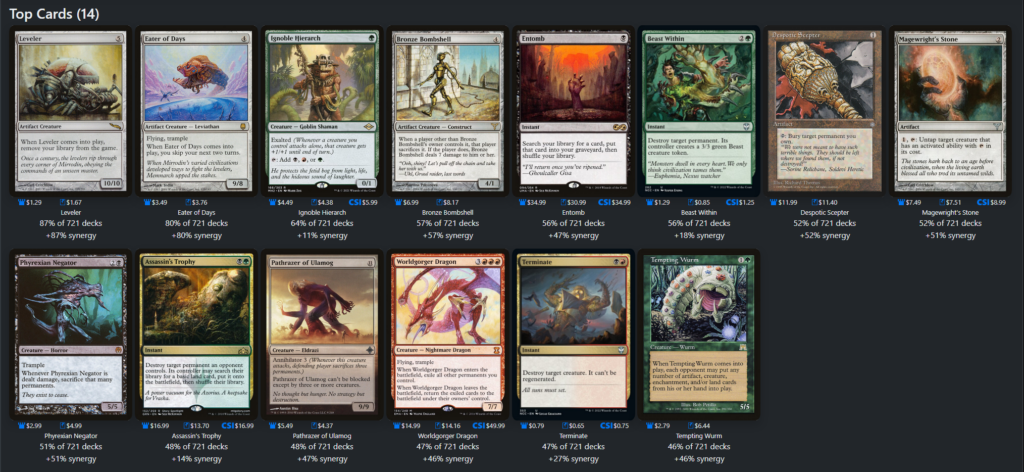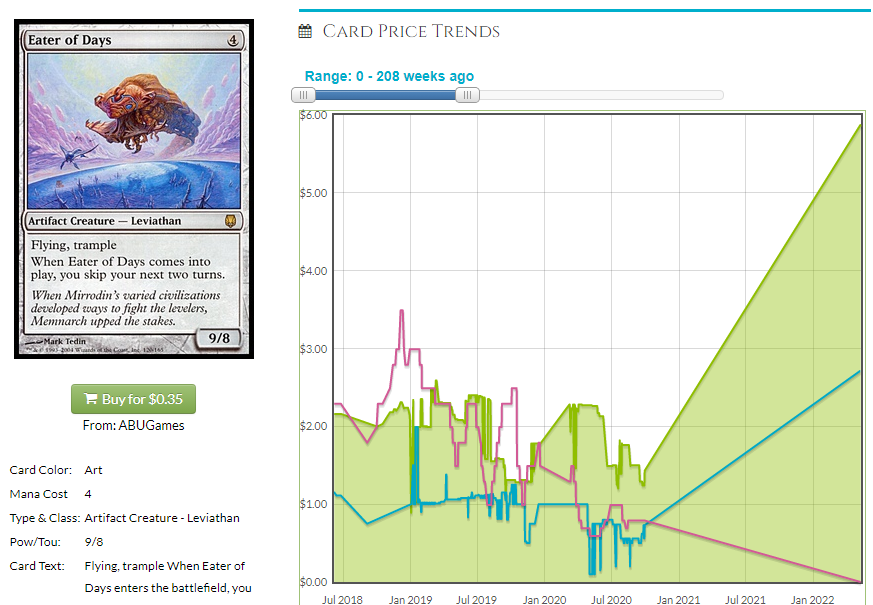 Eater is way more gettable at the old price than is something like Hellcarver Demon, but I also think that buying into hype is a bit loose. I think we'll have better luck elsewhere.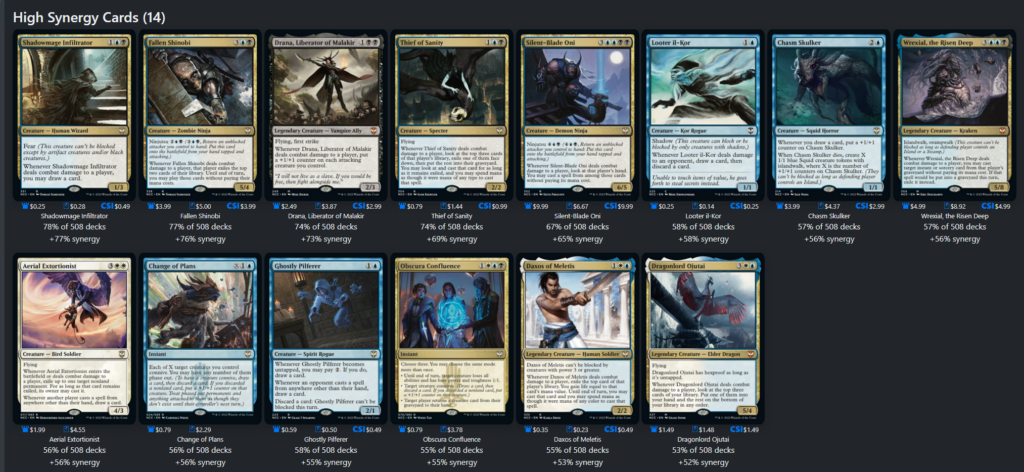 Kamiz loves getting creatures through and doing stuff and the high synergy cards reflect that. Also, if you check the expansion symbols, all of these cards are in the precon. Awkward.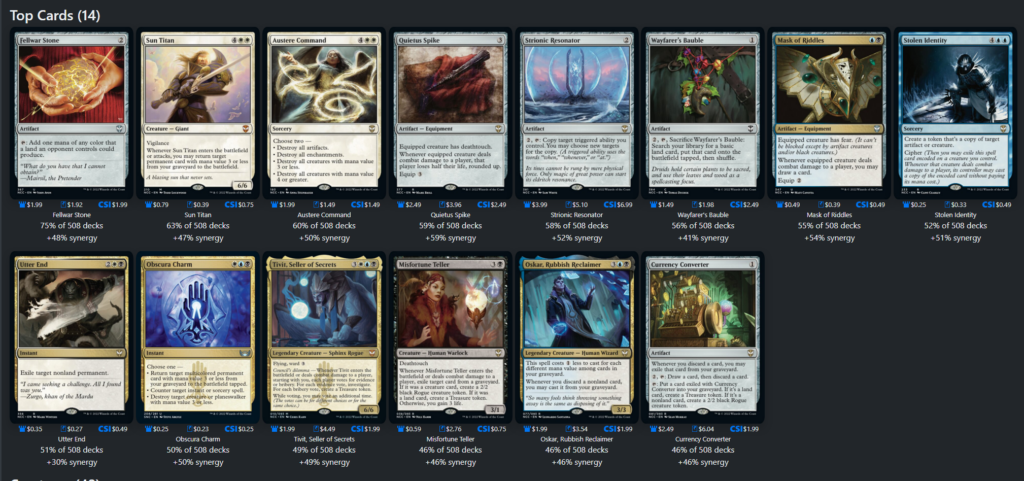 All of the top cards are in the precon. Super imaginative building, fam. I think sometimes cards from the precon get played more than they should, so I tried to steer people in a better direction by creating an EDHREC article section, a podcast, and a precon upgrade section. It is nothing if not gratifying to see the work I have done over the last 8 years make such a small dent in player behavior. I get that it's tempting to leave the stuff from the precon in the deck because that's 1 fewer other card you have to buy, but, come on.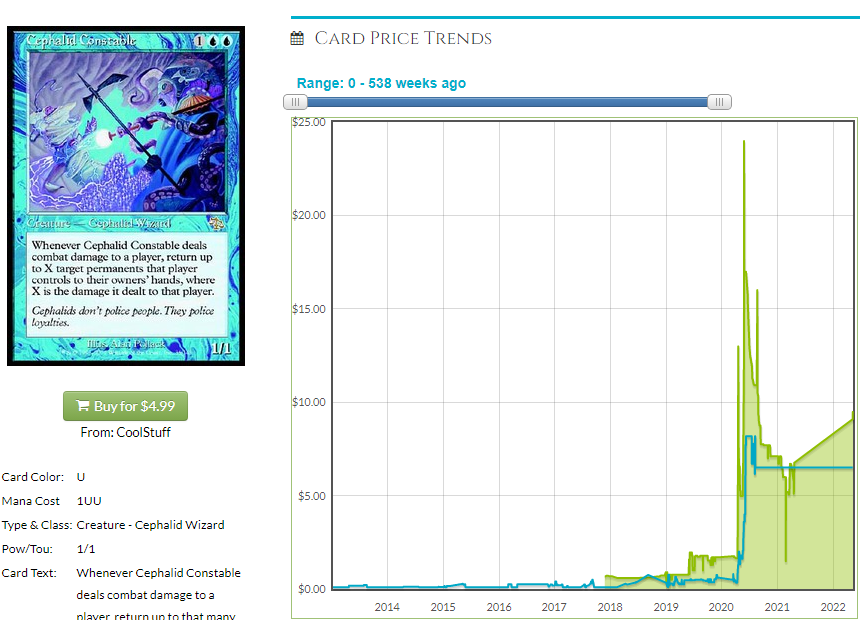 I did find ONE juicy card. You notice the big spike on the graph in 2020? That was the card showing up in an episode of Game Knights. Kids, don't spend 8 years trying to teach the world to build EDH decks, watch Game Knights and maybe you'll get to those copies of Fervent Charge before anyone else. Or something. I like Game Knights, you should watch it if you're not, like it or not, they inform a lot of how players build.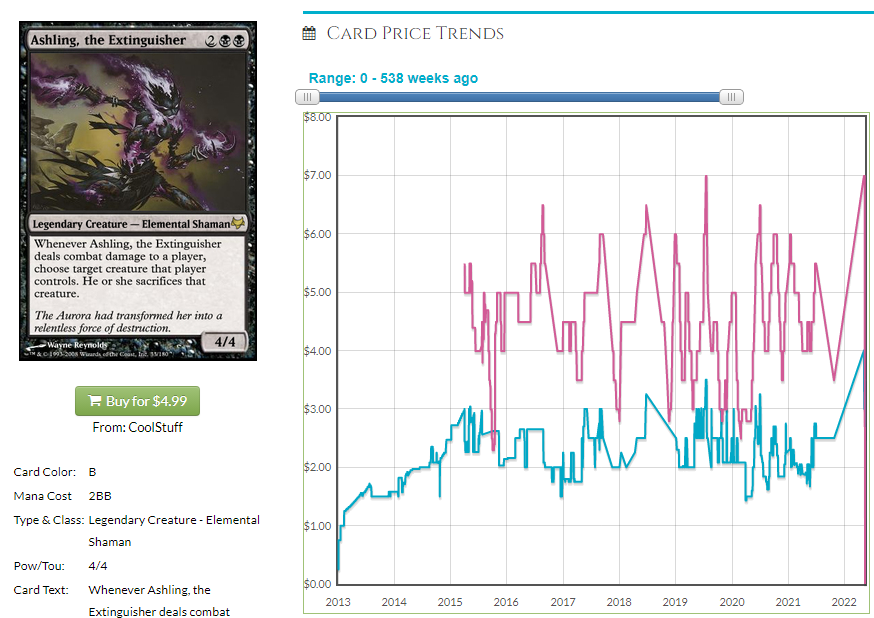 This card has fluctuated enough between $4 and $6 that I like it at its current price of "Still $6 a lot of places but not for long." Cards that require you to deal combat damage or get in unblocked have never been my favorite and that's why I never really noticed what a solid casual card this is. This has been expensive enough for long enough that it didn't hang out in bulk rare boxes so the supply is the supply and it's dwindling.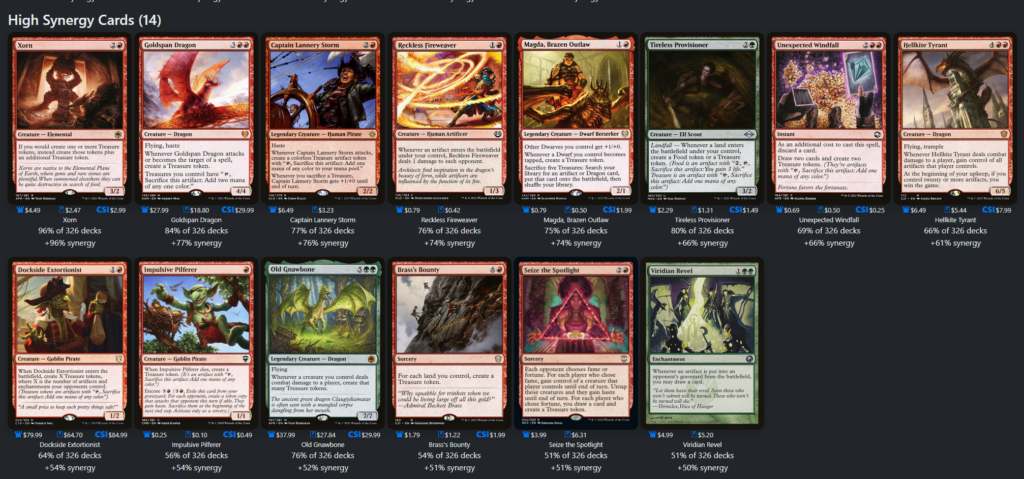 Treasure? In a treasure deck? It's more likely than you might think.
This has demonstrated an ability to reach $7.50, a willingness to reach toward 10, and a third thing. I'm sorry, Usually I can lay down all of the structure for a decent sentence but this week is just letting me have it, so you get a weird bit instead of the other 1/3 of the information I wanted to impart. I'll dumb it down – "LOOK GRAPH." That was too dumb. "The shape of the graph indicates a second spike could be incoming and $5 is half of where I think it will end up, go nuts." Better. But for real, look graph.
I don't know if I have exactly 5 specs here and I apologize if that upsets you after I basically promised in the title I'd have 5, but maybe you didn't like one of the specs and don't consider it a real card in which case, I did what I said I would and you should go to therapy. I mean, everyone should, but I'm not the one pretending Magic cards don't exist. Except Farewell, that card can – anyway, thanks for reading. Until next time!