Readers!
Here I was making a stupid pun title about the 40k decks, little did I know what I was actually doing was striking a rich vein of SEO GOLD BABY! Check out my score from the WordPress "headline analyzer" feature that I swear is a real thing and that I swear I have tried to game multiple times.
Now THAT'S a headline! I'm learning the headline analyzer just wants to see how good a job you can do sounding like a tech bro. My articles aren't for general consumption and you get them from our feed or from me on twitter, but I can't help but try and game this thing. Gamers gonna game, right? At least that's WotC's theory – they think people who game 40K on a tabletop will want to buy the new 40K preconstructed decks, and that EDH players will want to pay $100 for a precon that's all curly-ass foils of absolutely pushed Magic cards. Just dumb, broken stuff that will plague Commander for a decade. Remember the Brawl decks? Let me refresh your memory.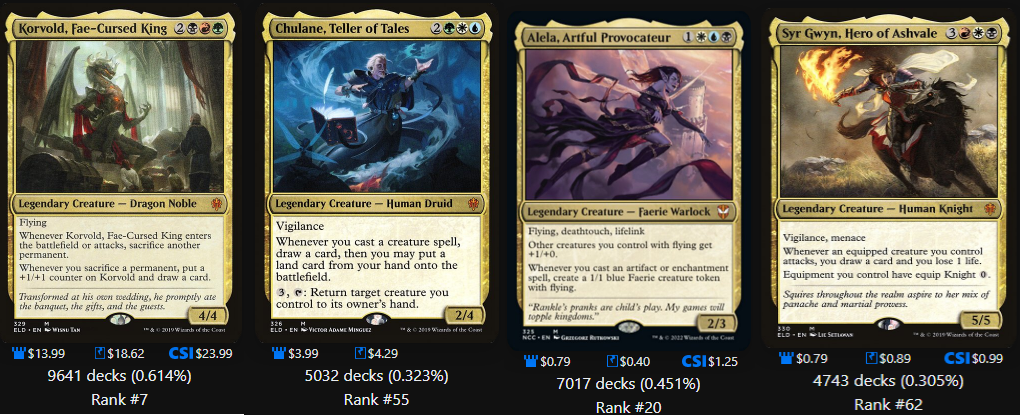 Cool format you've got there, it would be a shame if something were to happen to it! Like we print a bunch of obvious. pushed commanders that end up in the top 100 of the last 2 years. Is the top 100 a hard goal to reach? Well, for reference, we got 70 new Legendary creatures in Dominaria United alone. It's safe to say putting 4 commanders in the top 62 is an indication something is wrong. They didn't get people to play Brawl at all but they permanently changed the face of Commander, so that's nice. Are these 40k Commanders on the same power level? No, of course not. They're worse. Much, much worse.
This doesn't seem so bad. Does it synergize with anything in the deck that seems troubling?
I'd say so. Great googily moogily this card is bonkers. Gruul Hydra decks are going to be all over this but now the decks have access to Blue for cards like, I don't know, Inexorable Tide.
It's not your job to care about how to use EDHREC so I'll tell you briefly that I went to Themes on the top bar, then clicked the word "tribes" and scrolled down to hydras. We have a Temur Hydras deck to look at, we don't even have to extrapolate from Gruul. The deck is Animar and it has a lot of info about how people likely tackle The Swarmlord.
This is pretty interesting.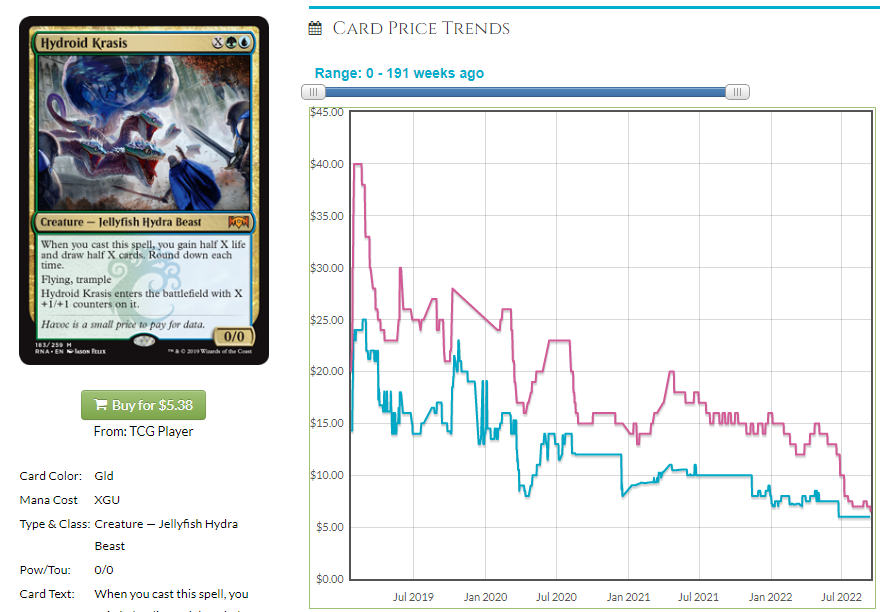 It's wild that someone took a look at this price graph and said "this needs a Double Double Masters reprint STAT" but what do I know? WotC won't even return my emails. I'm not sure which is more insane, the decline from $40 to $4 or the fact that the Double Double Masters reprint at rare had basically no impact on the price. I think if this card hits $2, you brick them. It's not a $40 Standard scourge, nor is it a bulk mythic (though it got a rarity downshift which is a terrifying signal about the future of Simic creatures).
These are very solid underlying metrics for a $4 card and insane metrics for a $2 one if you consider how few copies of an Eldraine mythic and a rare from a set with $100 booster packs are out there.
But I don't know how much else plays nicely with The Swarmlord specifically. One card I've been talking about fiveever is still a decent spec imo.
Barring a reprint this is a $7-$10 card, especially with some help from The Swarmlord. I don't know how this card is still so cheap but it's approaching $3 on the buylist, which is more than retail was when I first started beating this drum. Slow and steady until a reprint knocks out legs out from under us, that's how we like it.
This will be a very popular commander and basically everything that will be in the deck is on this page for Torbran that you can peruse at your convenience. I want to get to more than one precon today but I think I might not be able to. This deck will be three much fun.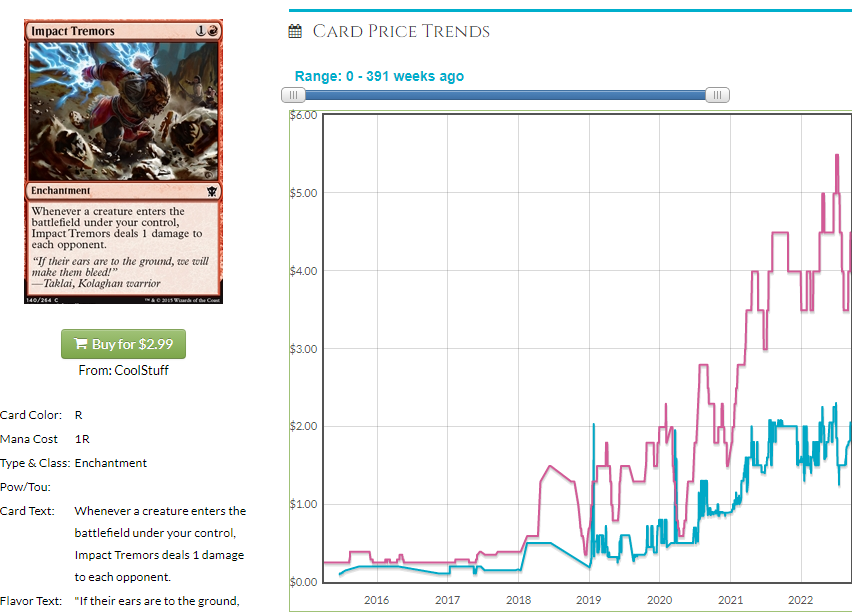 With less turnaround time than before, WoTC is unlikely to let this stay at $8 but I don't think they can stop it from reaching that number. Mystery Booster printing did very little, if CSI wants $3 for this, I say oblige them.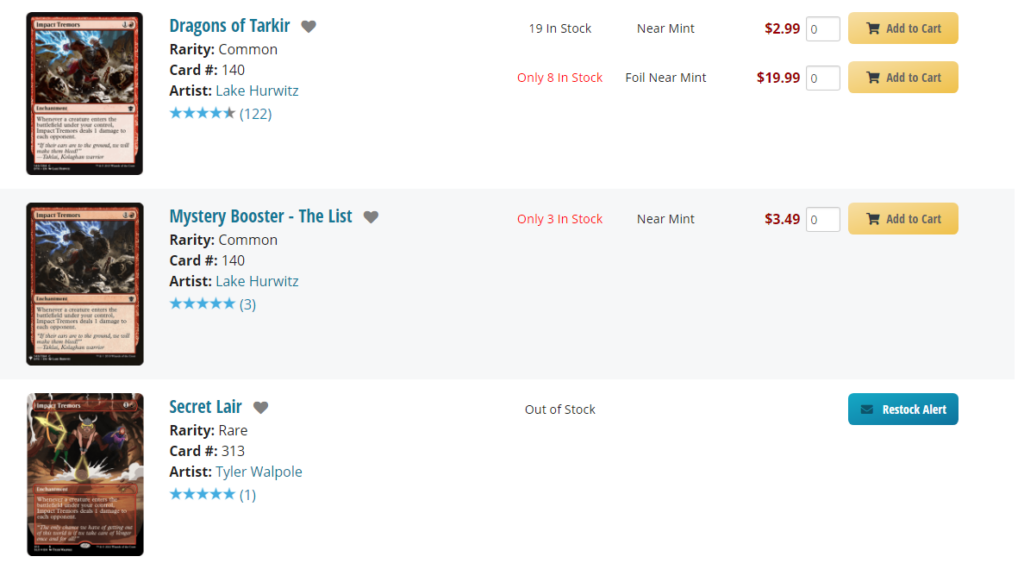 Yes, they are that cheap and are still available for now.
I honestly don't hate these under $10. Secret Lair drop cards always seem to go up and I loved that terrible Dungeons and Dragons TV show even before I had played Dungeons and Dragons for the first time. It was reruns, calm down, I'm not even 40 yet.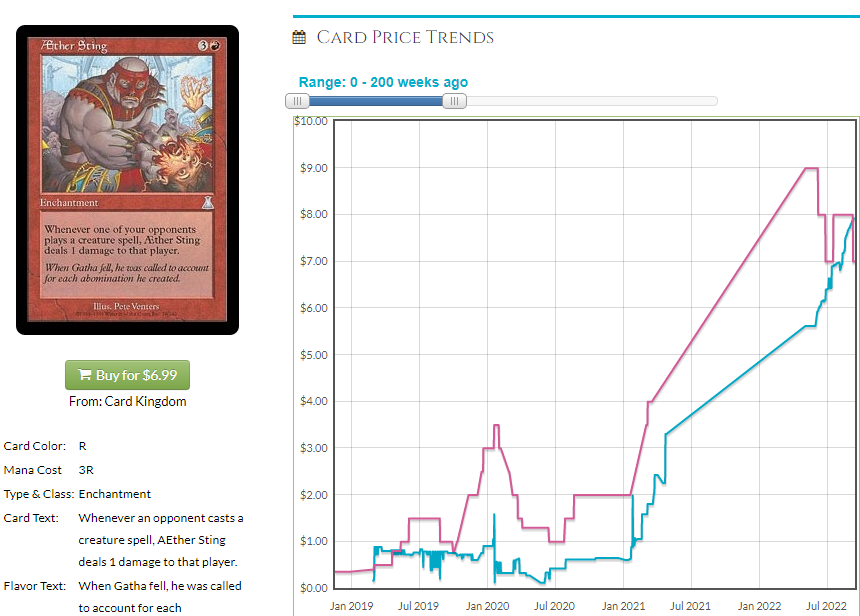 Torbran made this foil POP. Does Card Kingdom only want $7?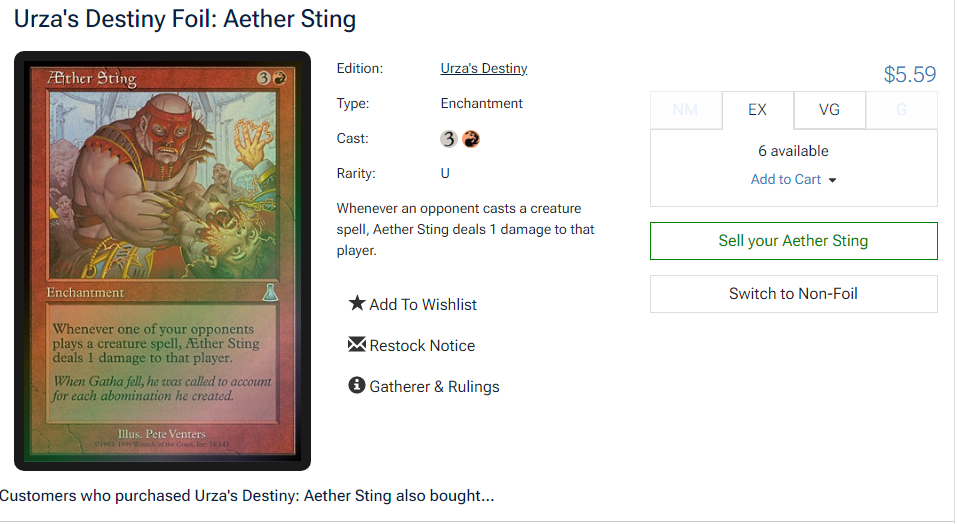 Well, yes and no.
At this point, any foil from an old set that does 1 damage in Izzet colors is a potential Aether Sting, which is exciting.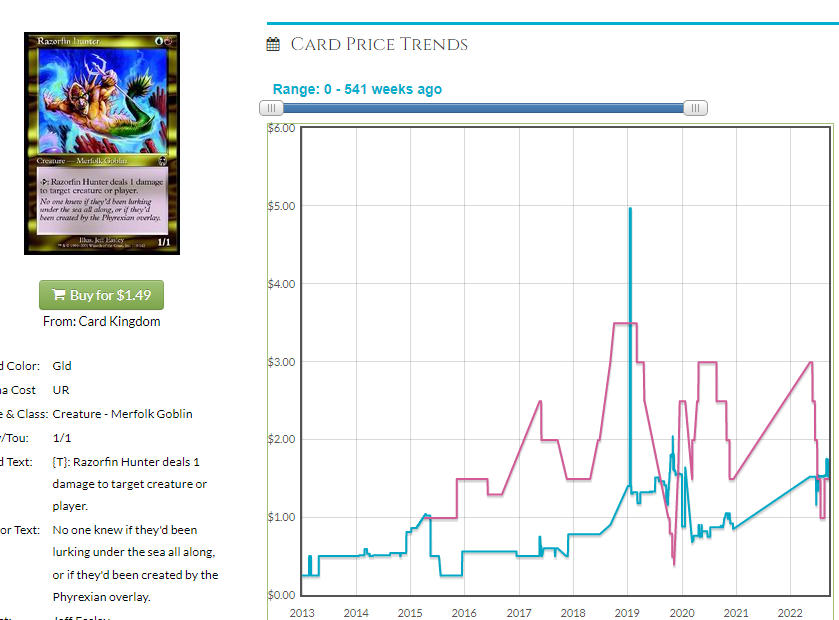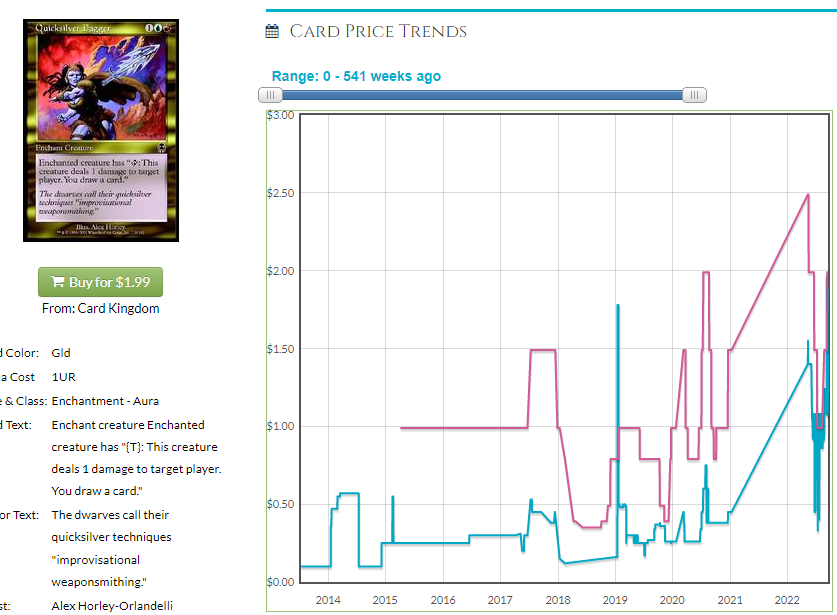 I have these in my bulk foils for sure, I haven't picked that stuff in like 5 years.
Some sort of haste tribal deck seems very cool, and it's not just Ball Lightnings that would be impacted. Let's look at the page for Ball Lightning and see if we can glean anything from what cards tend to get played alongside it.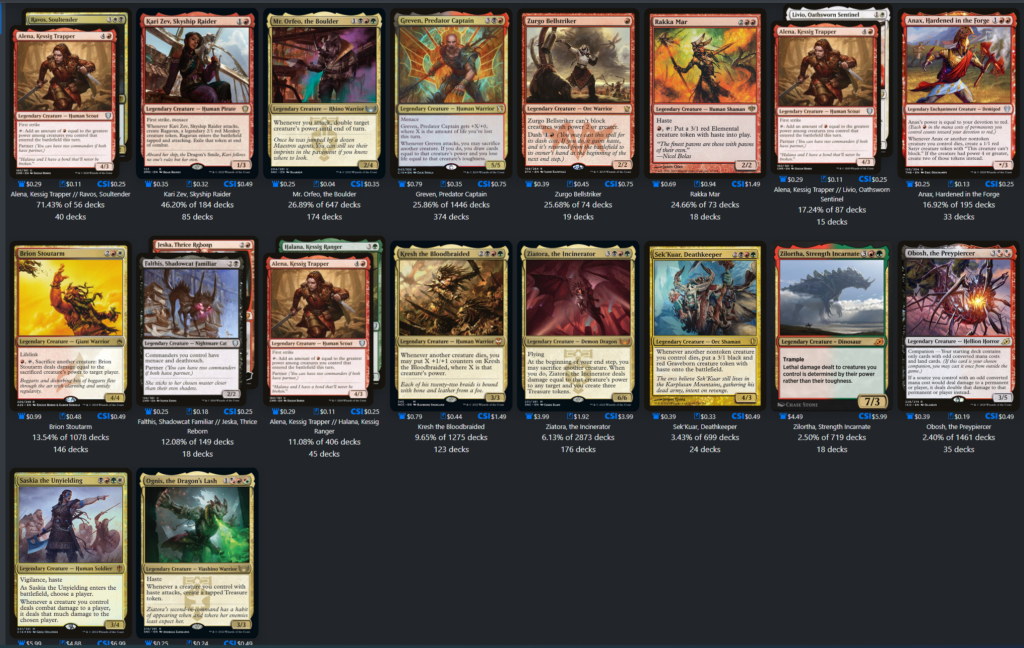 Look at these for a bit (if the image is too small, here is the page) and tell me if you see what I see. Give up?
Ognis is basically haste tribal!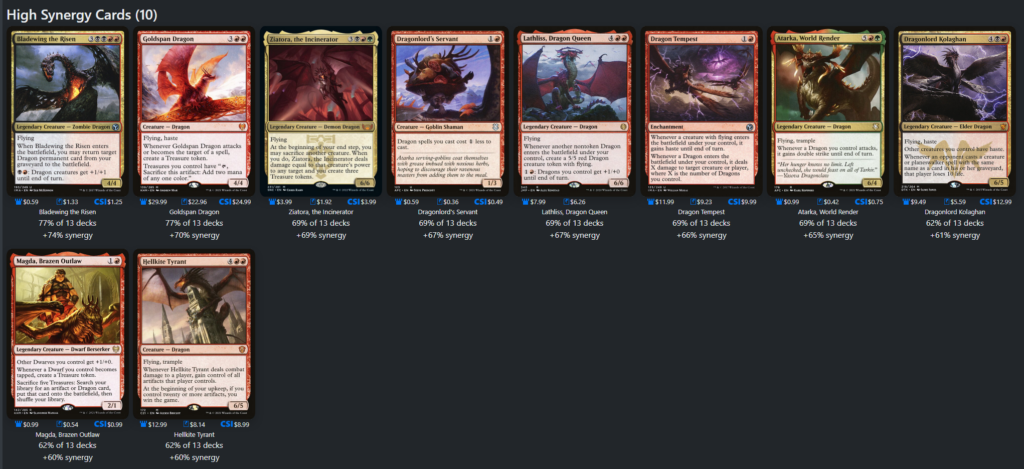 Check out the High Synergy cards for Dragon tribal!
Deathleaper is one of the most exciting creatures we've seen in a while, and here is a card I will be putting directly onto my biggest creature.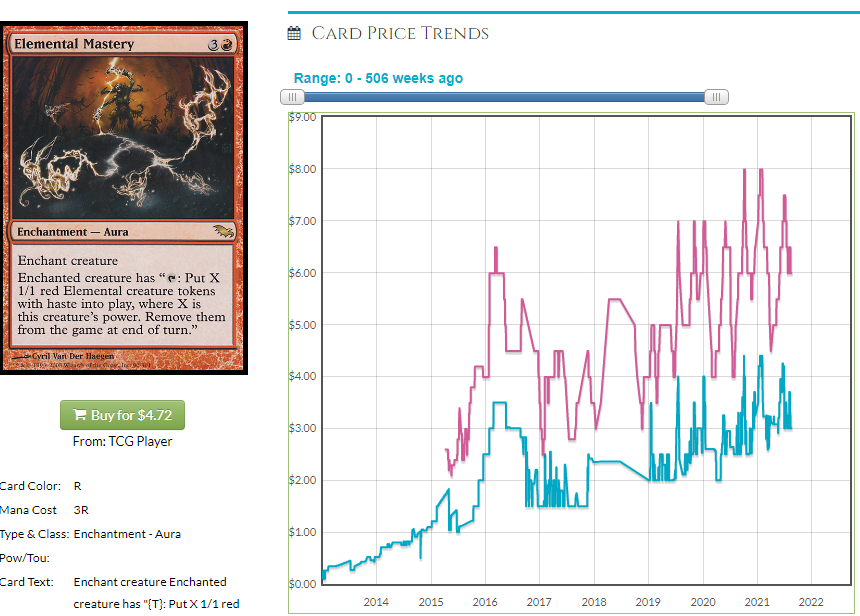 Omnath, Locus of Rage made this no longer a bulk rare, what can Deathleaper do for it?
There is a lot to unpack here and each deck likely gets its own article, but it's never too early to think about new cards even though we still haven't even scratched the surface of Dominaria United. I could do this all day but I hit my word cap which means your eyes glazed over 4 paragraphs ago. Sorry for that. I'll be back next week with more hot tips and cool quips. Until next time!