Readers!
It's that time again, the time where we have Warhammer 40K data but it doesn't matter because they have announced Unfinity, Brother's War, 5 new secret lairs and a $250 booster pack that very much violates the spirit of the Reserved List. We'd better look at 40k stuff now – it's about to be pushed off of the "recent sets list" on EDHREC and it hasn't even come out yet.
Last week we didn't have enough data but we seem to be all set this week, so let's do that thing I always do but also always feel the need to introduce like you don't already know what it is from me always doing it. That thing. Let's do that.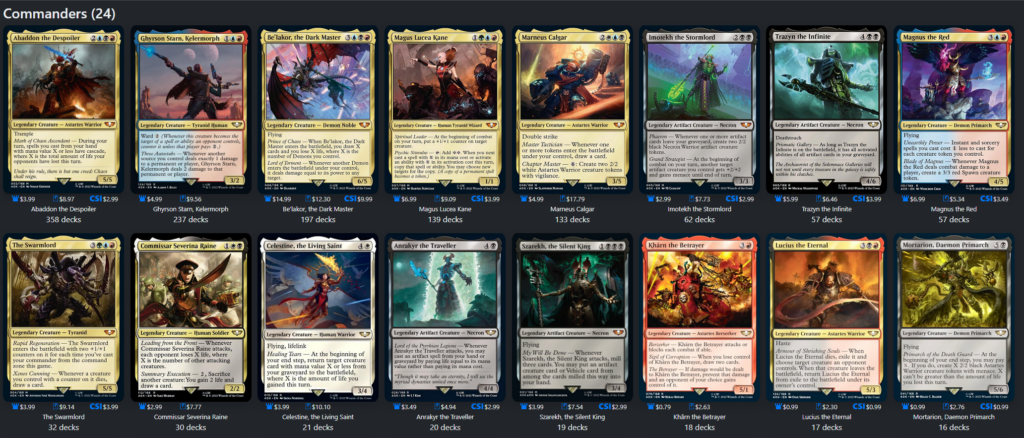 Abbadon is still in the lead by quite a bit, still, which was to be expected. He's been spoiled the longest and he was the only one we had data on for a while. Nothing has really changed with Abbadon, but let's take a quick look at High Synergy cards.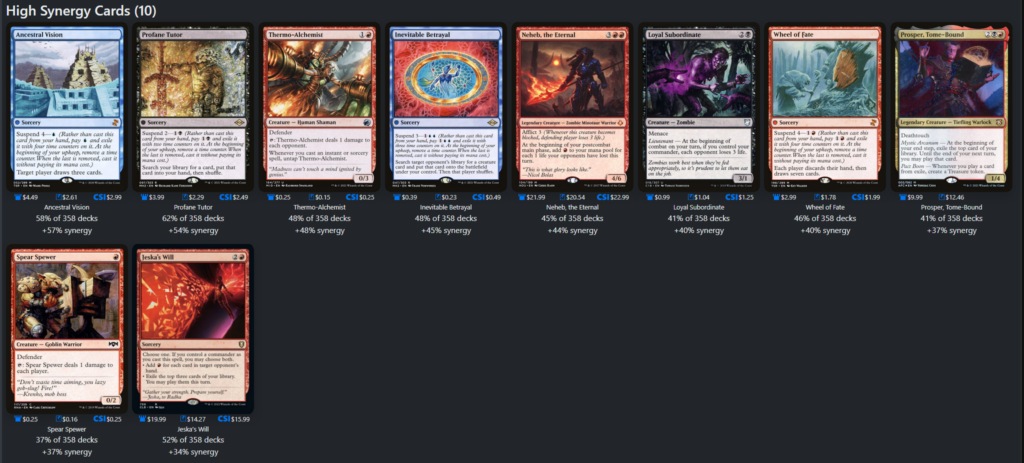 Still suspend stuff and pingers. Pingers are also going to be useful for the next commander, too.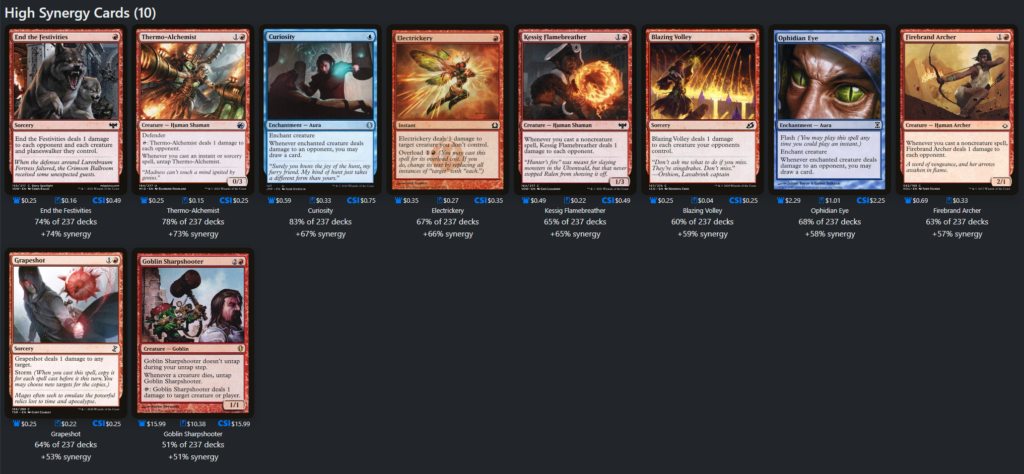 I talked about Abbadon and Starnzy 2 weeks ago, and if you didn't read that article, I go into a bit more depth about why I like older foils. Ophidian Eye, for example, has 0 reprints and a $10 foil that's pretty scarce. I think someone knew about these 40K cards a long time ago based on how all of the ping foils disappeared like 2 years after they printed Torbran. I like a lot of stuff that deals exactly 1 damage but at the rate they release new commanders, no one can really agree on a deck because by the time you get cards, they have announced 3 new sets. I prefer more stable stonks since Magic seems determined to jump the shark and I don't know if I'll have a job in a year.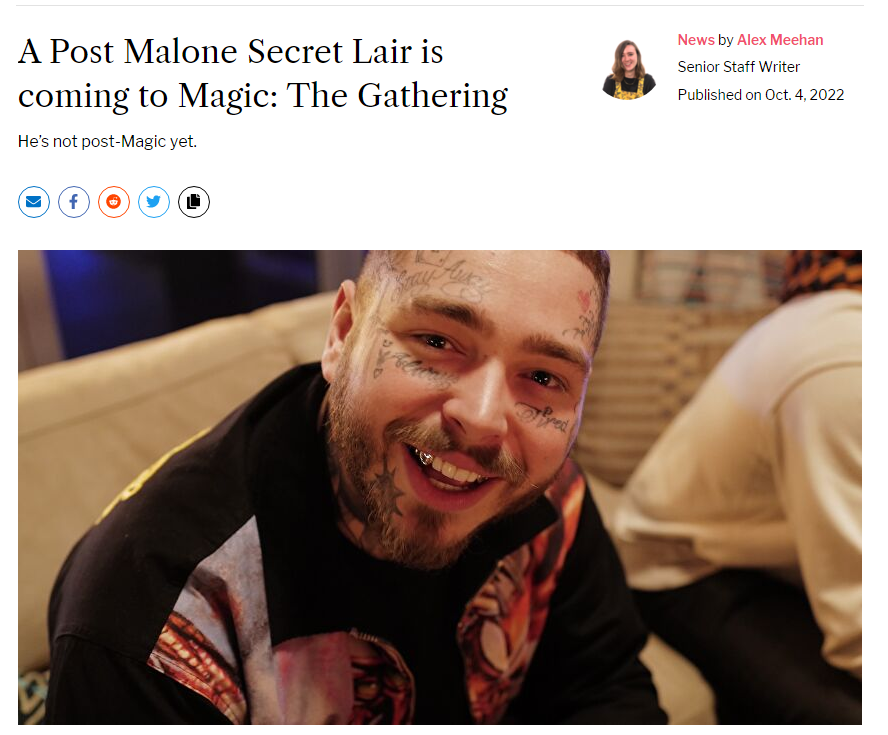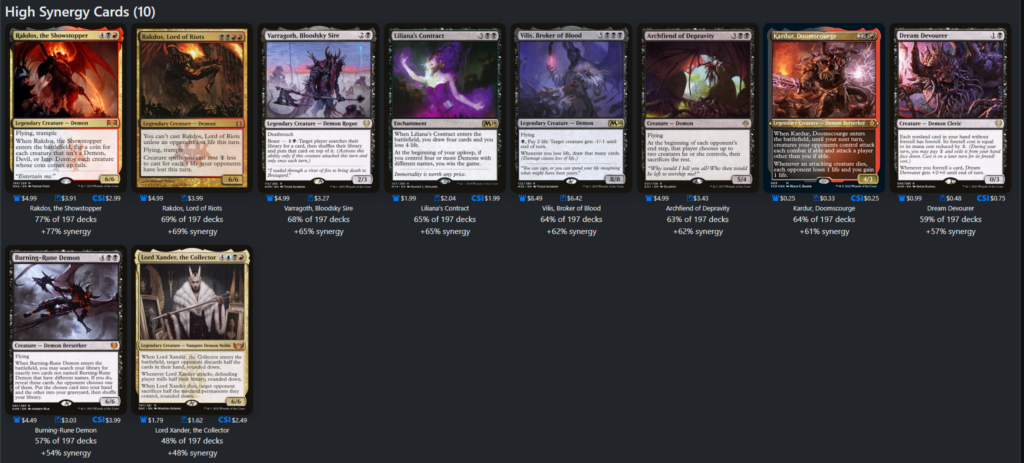 Every Demon is like $4 right now, similar to Dragons. If a good Demon tribal commander is printed, they all go up, even the OK ones and with 70 new Legendary creatures in every set, they're going to have to resort to demon tribal sooner or later.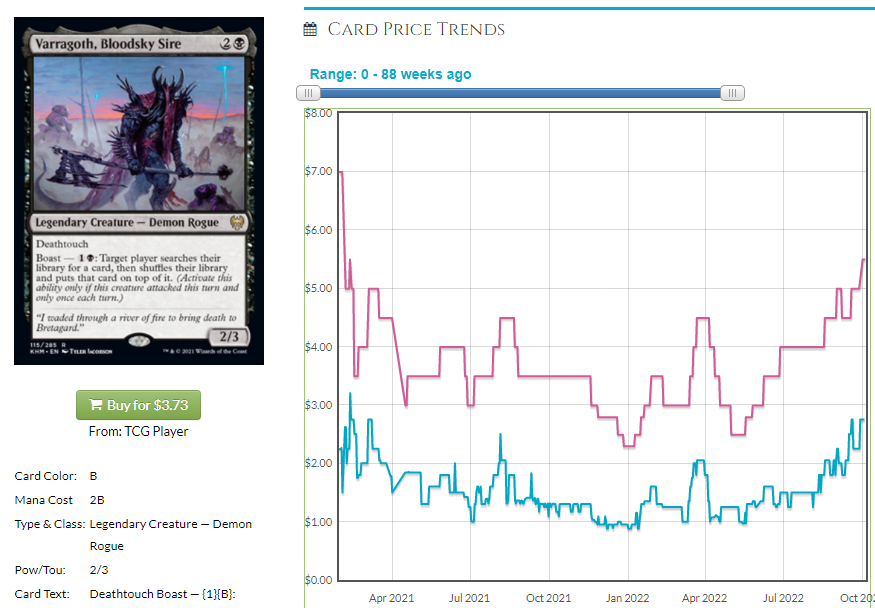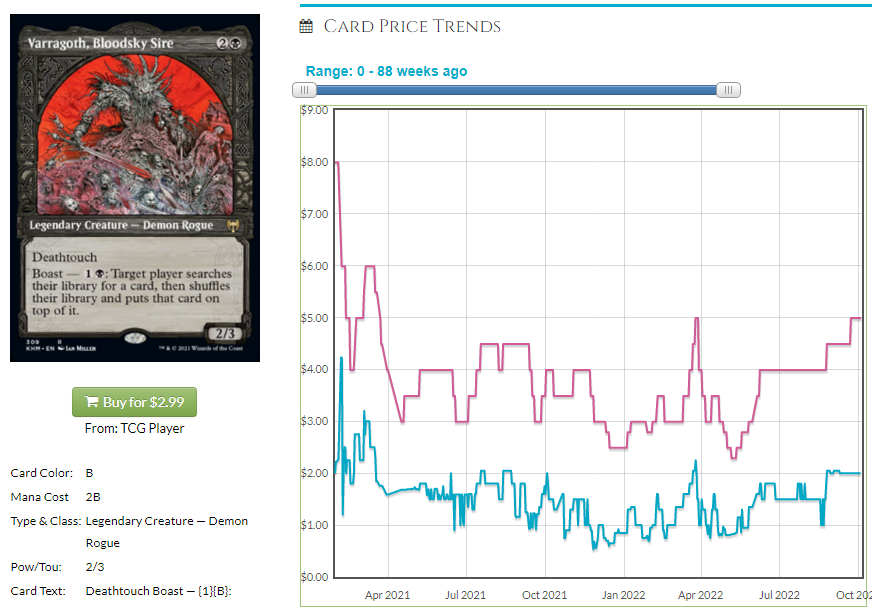 I have long been bullish on both versions of this, and it seems the markets are finally in accord. The fact that I said to buy it before it went up would suggest I sometimes know what the market will do, or every card goes up eventually. Either way, I urged people to pay $2 for the showcase version in the past and now Card Kingdom is asking $5. This card is profoundly good and people are finally noticing, though it may have taken a Demon that cares about Demons to get there.
That pic looks weird, it's because it's an NFC and I'm kind of in the zone typing right now so I'm not going to fix it, you're just going to have to be OK with my miscut pic.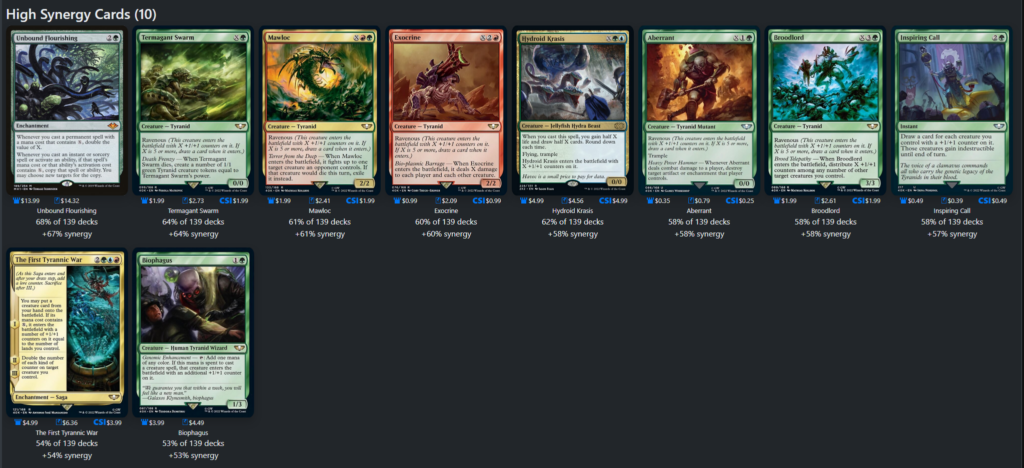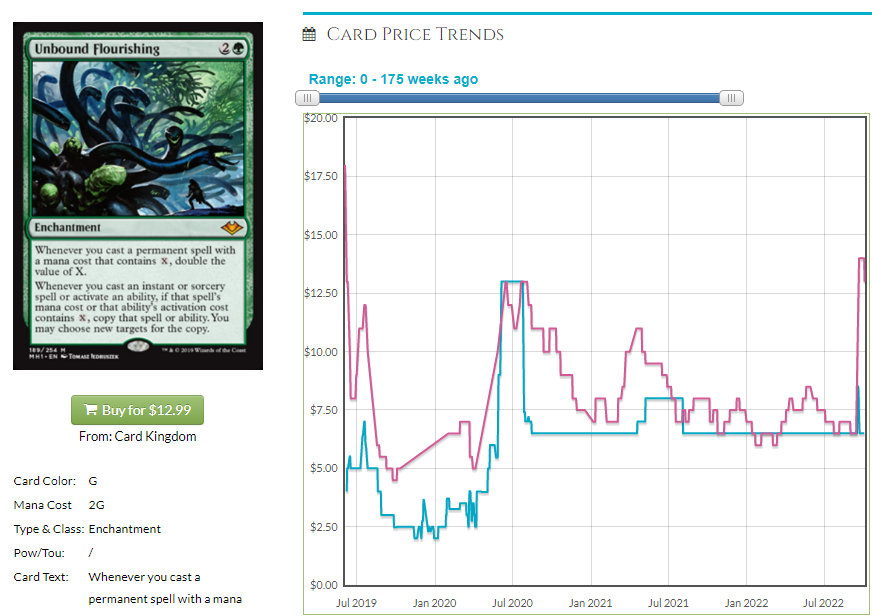 Too late to get these for $8 but you can get them before they're $20. It's on "The List" so that has helped, but not enough. I'm serious about paying $12-$15 for these if you're quick.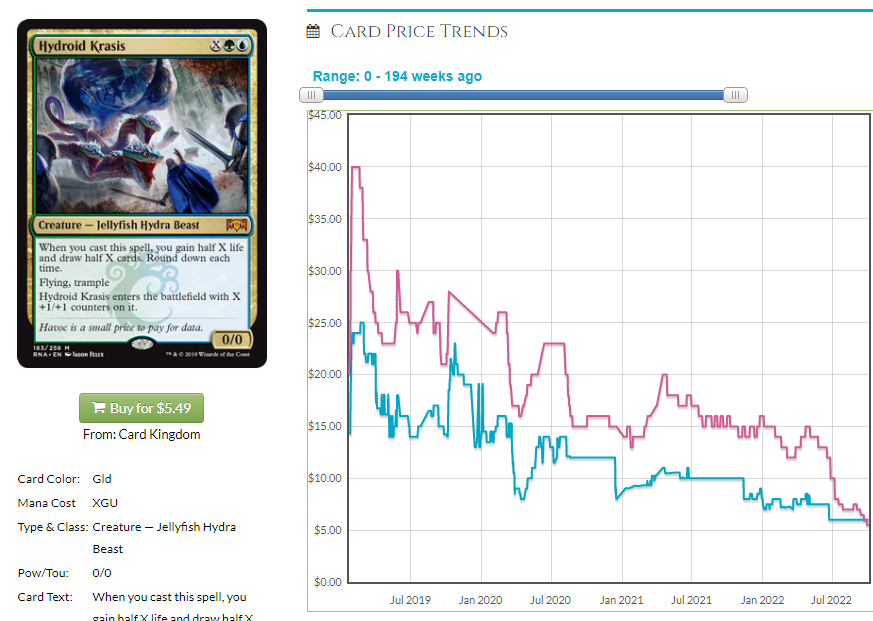 This held fairly steady at $15 before it was reprinted. I'm perfectly OK snatching some $4 copies of this and watching the reverse J turn into a U like we like.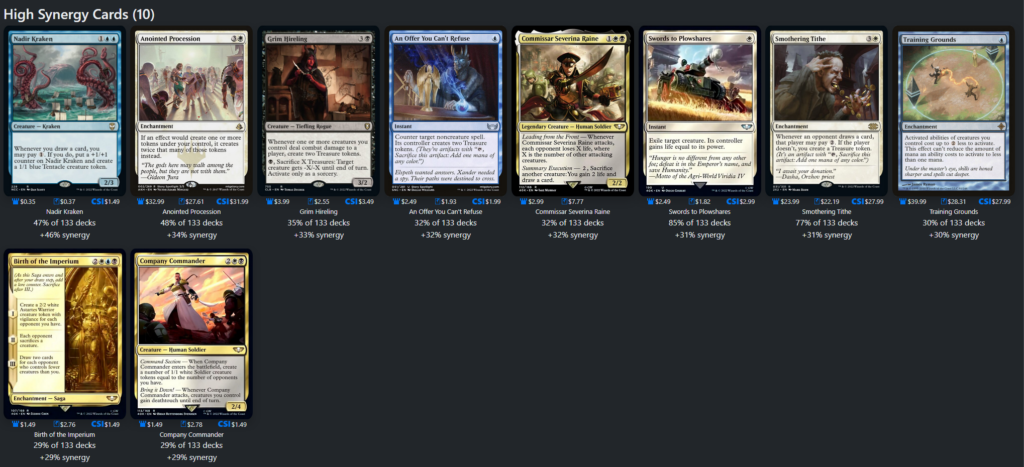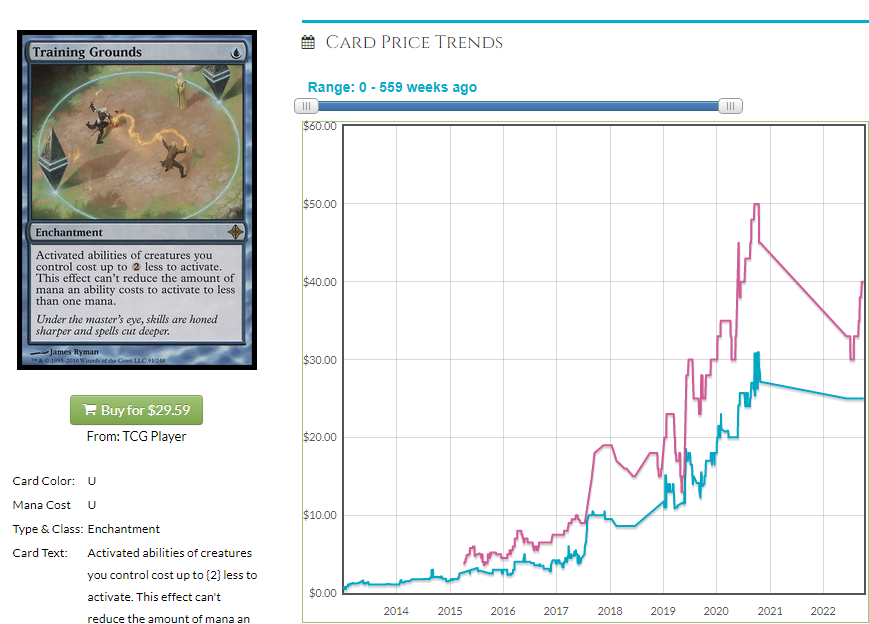 CK is just straight up getting $40 for this card and TCG is like $6 more than I paid. I am hodling on for dear life on these and I'd rather they see more play than not if I want to recoup on these. I bought at basically buylist at the time but that doesn't help me much. I really expected these to go lower, but The List doesn't add as many copies as you think it will.
This is kind of a boring deck if I'm being honest – it's being built as Esper goodstuff control for the most part which means another Thoracle deck. Fun.
Kind of a steep drop with the number of decks, but the Stormlord is built 3 times as much as the Swarmlord, which no one saw coming. Not that anyone has touched this product yet.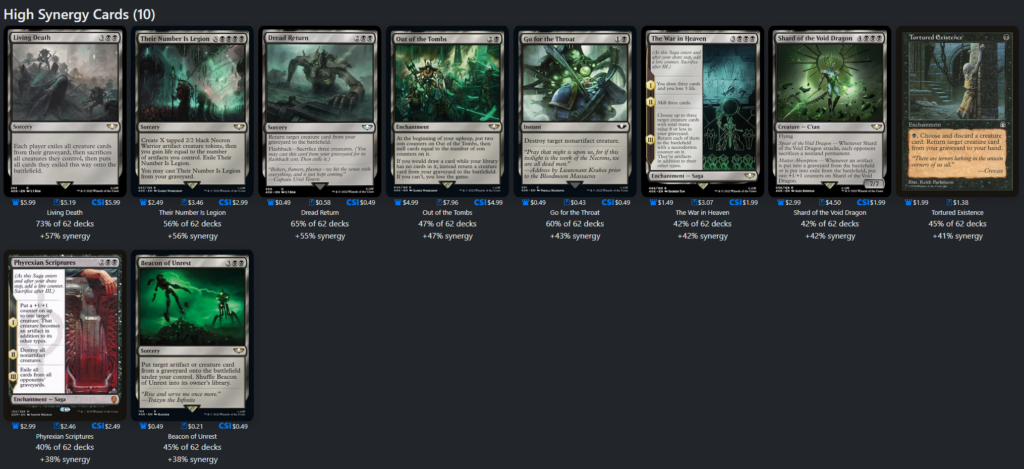 Another problem with the product being obsolete is that people don't have physical cards in their hands, so they don't construct the decks with the physical cards they have, they construct using the precon list as a guide. This almost always results in them adding way more cards from the precon to their decklists than they'll actually add when they build the deck for real, but by then no one is going to look at the EDHREC page for 20 sets ago. Stuff comes out too fast to go back for anything.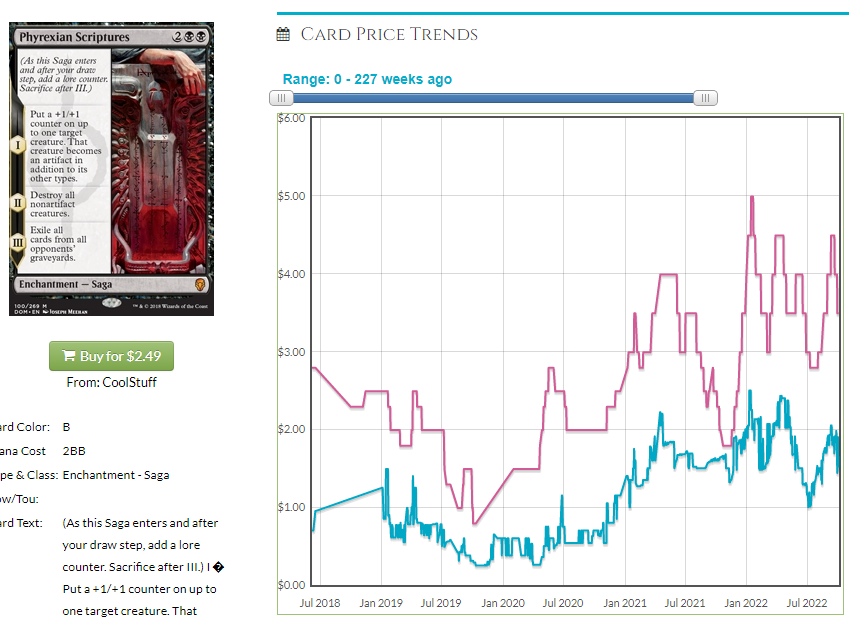 This could go up even more with people building Zur as a Saga deck, but honestly, if someone hasn't built Zur yet, they're not going to. Dominaria United feels forgotten already. This pace of products is entirely unsustainable and I think it will make or break Magic as a game and Magic as a career, but maybe I'm an old man yelling at clouds. We'll find out sooner or later. Until next time.