ADVERTISEMENT:
Readers!
Today I want to talk about a commander that has far less impact than another but is an interesting case study in cumulative effects. If a commander isn't as splashy as others but demands finite resources already in use, will enough people build the new deck while keeping the old deck together that a deck with lower individual demand can surpass another deck due to the nature of cumulative demand? Can we even measure that? We can try!
It's no surprise that this flappy girl is flapping into the top spot in decklists. It's powerful, obvious and gives Boros something it never had – tools to deal with usually falling way behind in card advantage. The numbers bear this out.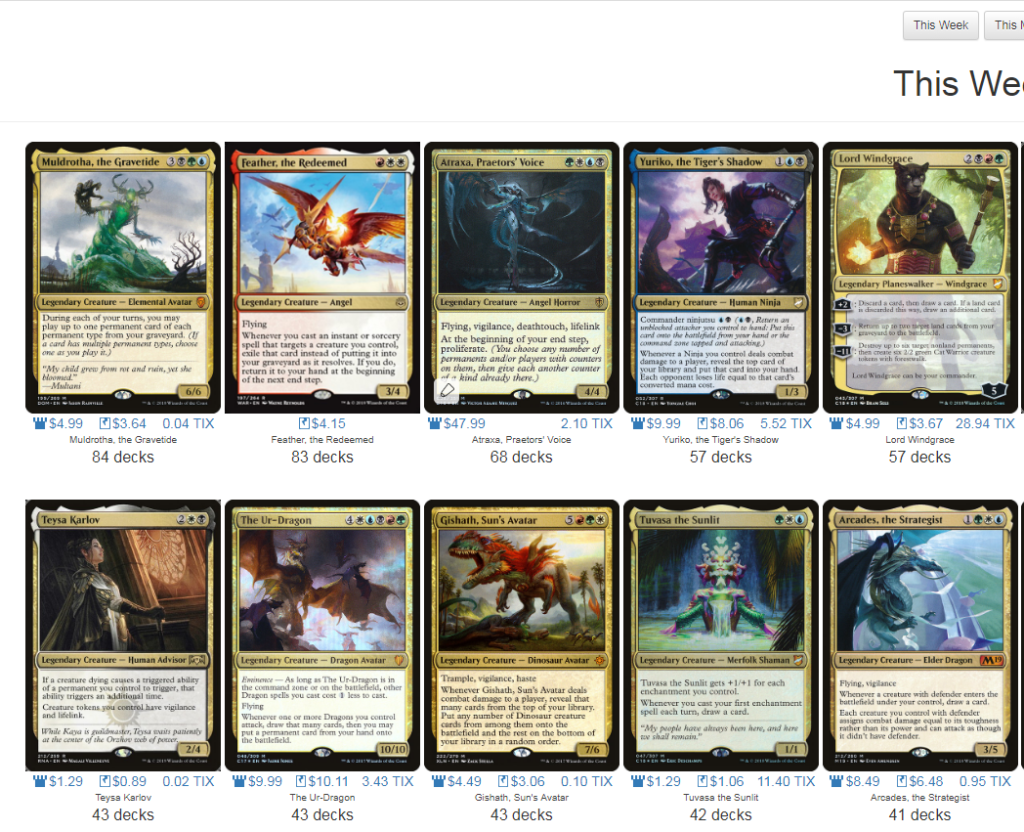 Second place for the week before the card even comes out is pretty strong, I think you'll agree with me there. However, there's a commander that didn't even make the list, coming it fewer than Alesha's paltry 37 lists this week that I think is more of the same and therefore isn't as exciting but which could be a real boost to cards that already spiked once.
Roalesk's 8 entries aren't setting the world on fire, but with a few unique twists on the classic Simic "Here's some +1/+1 counters for your creatures, you ugly idiots" scheme that we're all used to, this could be a deck people build and, more importantly, don't cannibalize their other decks to do it. If there are cards that are in a greater variety of decks that are very different and less likely to be torn apart, isn't that information worth having, also?
We can't really quantify how many people aren't tearing their decks apart, but what we can do is see how many copies of a given card they'd need if they built every similar deck. Do people do this? Yes. I have Vorel, Pir and Toothy, Kydele//Thrasios and I'm building Roalesk. I also have Riku and Maelstrom Wanderer. You know how many FNM Coiling Oracles that is? A lot. Me needing one Aurelia's Fury ever is good to know but me needing 5 copies of Inexorable Tide is worth looking into as well.
This is the first in a series where I start to set the record straight about EDHREC data. As the person who was the first one to use the data in MTG Finance analysis articles and also the person who feels compelled to clean up the mess when other writers use the data irresponsibly or capriciously. I'm not going into a ton of depth today but I will say that anyone who says "This card is in 4,000 decks on EDHREC" and leaves that out there like it means something probably don't know what they're doing, they just saw me work for 5 years developing an analytical method and summarized it as "say how many decks a card is in" which is flattering because at least they're thinking of me. The raw number is almost meaningless on its own and I'm going to spend the rest of this series talking about how much more analysis goes into my picks than that throwaway bit of ex post facto justification.
If someone is a lunatic like me, how many decks are going to run their staples? I'm going to look at the Simic decks someone may have and if they have more than one, cards they'll need spare copies of if they want to build Roalesk.
The rest of this content is only visible to ProTrader members.
To learn how ProTrader can benefit YOU, click here to watch our short video.
ProTrader: Magic doesn't have to be expensive.

Track your collection's value over time, see which cards moved the most, track wishlists, tradelists and more. Sign up at MTGPrice.com - it's free!
ADVERTISEMENT: