Two hours.
That's the buffer someone important recommends when flying domestically. Being a classic rule-follower, I tend to adhere to such recommendations. Therefore, when my flight leaving Grand Prix Las Vegas was set for 9:10am, you could have bet the farm that I'd be walking through security at around 7.
That left me with two hours to reflect on my trip to the largest Magic event of all time while sitting at my gate in McCarran International Airport. But rather than thinking through my sick draws and tough beats throughout the event, I found my mind drifting more towards the financial lessons I learned while there. These lessons shaped my entire experience and have made me a much better financier.
I could spend this week writing about my performance in the main event, but doing so would mean an incredibly short article. As it turns out, I was one of the many hundred players who dropped before the event really got going. I wasn't eager to battle in one event all weekend – I simply had too many other priorities planned. So when my sealed pool contained a foil Cryptic Command and a nonfoil Elesh Norn, I immediately decided to drop. Did I extract 100% of what I paid to enter the event? Close, but probably not. Did I make the right decision in dropping, allowing me to explore a number of other engagements and discussions? Absolutely.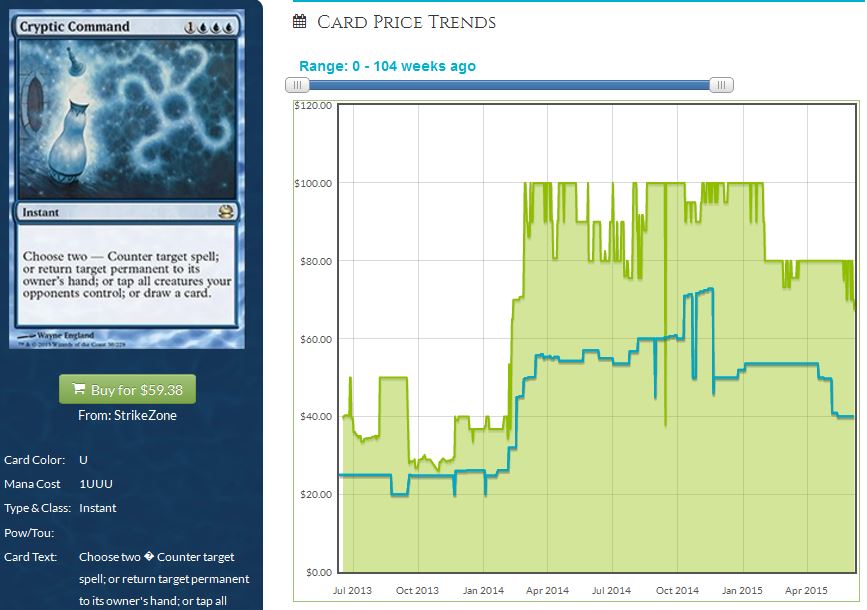 Luckily the story of my main event participation is already over. Now I can focus on the important stuff. This week my hope is to document the tidbits I learned about MTG Finance & negotiation so that you and I can benefit when participating in future events.
Top Objectives for GP Vegas
Heading into the event, I had mentally listed out three primary goals and a number of secondary ones.
– Objective 1a: Purge as much MTG inventory as possible, leveraging top buy prices online and TCG Low to ensure profitable sales were made.
– Objective 1b: Network network network by connecting with as many Twitter people I follow as possible.
– Objective 1c: Acquire some Old School MTG cards (aka 93/94) to begin building a deck for this incredible format, preferably at good prices.
– Other Objectives: Play in some side events, do a little gambling, watch some hockey, etc.
I thoroughly prepared for this event by looking up the top buy prices of all my cards and tabulating the data alongside TCG Low pricing. Doing so ensured I would be selling to a given vendor near the top range of buy prices, extracting as much value from my collection as possible. This strategy yielded tremendous success as I managed to buy list nearly everything I wanted to at target pricing. In many cases I was even able to negotiate with vendors by highlighting their competitors' buy prices. Paul Feudo (@plfeudo), buyer for MTG Deals, deserves special thanks for his openness to negotiation and for buying nearly all of my Shock Lands at top dollar.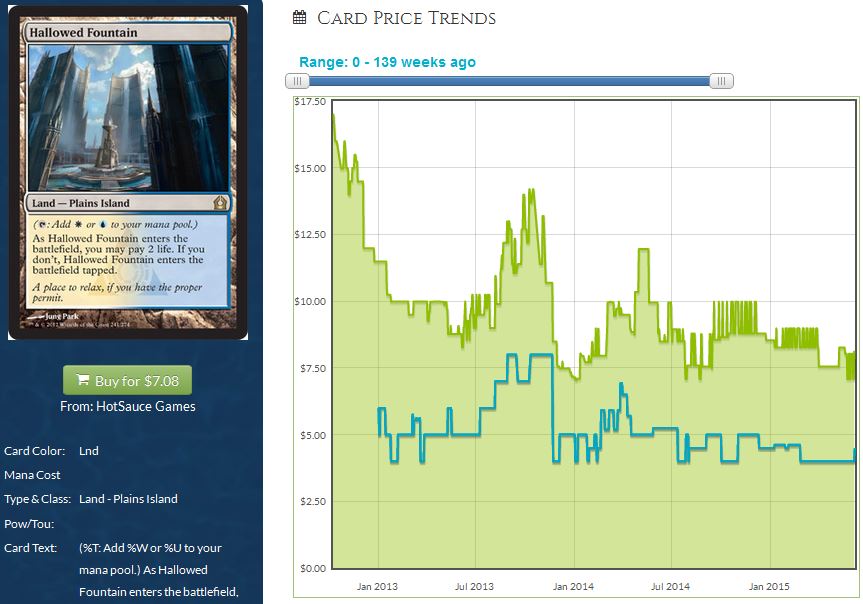 My advanced networking with Twitter people also paid tremendous dividends. I met so many new people in the MTG community; I can't fathom listing them all. By keeping engaged with Twitter throughout the event, I had many opportune meet-ups with some of my favorite Magic players. Highlights included the Friday lunch coordinated by the MTG Finance community, watching hockey and grabbing dinner with Andrew Magrini (@A_Magrini) Friday night, Saturday evening with a group of awesome people, Saturday drafting with Kaesi Corne (@GirlOnNerds), and Sunday drafting with MTGPrice's own Corbin Hosler (@Chosler88).
Two Out of Three Ain't Bad
My preparedness for objectives 1a and 1b was top notch, enabling me to accomplish both goals with impressive results. I met a ton of people and I sold a ton of cards at solid prices. Check!
This is around where Vegas luck had to kick in, because my preparations for acquiring old school cards were severely lacking. Sure, I looked up prices on a few cards I was eager to acquire.  But my research was insufficient. Guardian Beast was towards the top of my want list, but I hadn't realized how few copies would be for sale at the event. What condition was I okay with? What was I prepared to pay for a Chaos Orb? How good of a deal would I need on a Mox in order to pull the trigger? Who had the lowest prices on Juzam Djinn?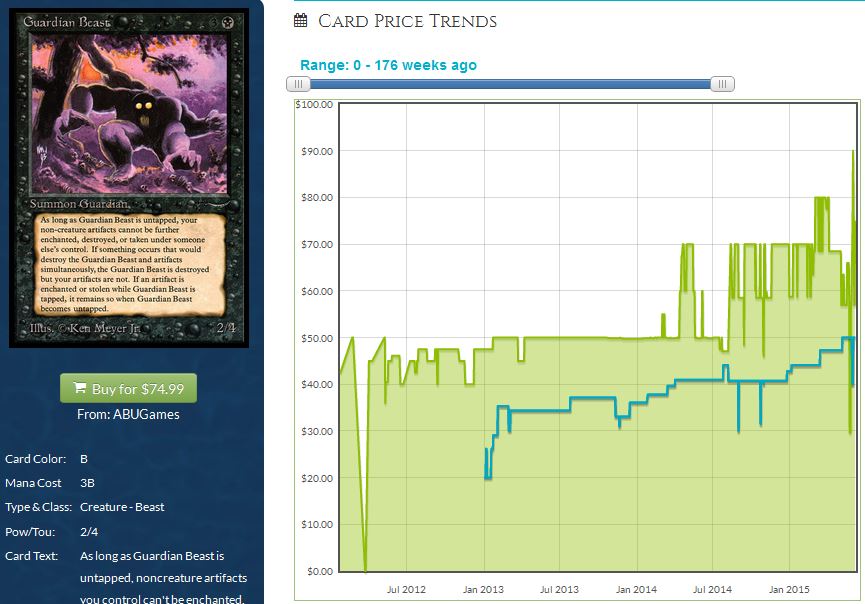 Sadly I had no definitive answers to these questions. So when faced with certain decisions – especially ones which were not obvious win/lose situations – I hesitated. Such hesitation nearly cost me some very attractive deals.
For example, I was alerted to one vendor's favorable buy prices on moderately played dual lands by @LengthyXemit. They were offering around $125 on Tropical Islands, $160 on Volcanic Islands, and $180 on Underground Seas. Prices even went higher from there for SP copies!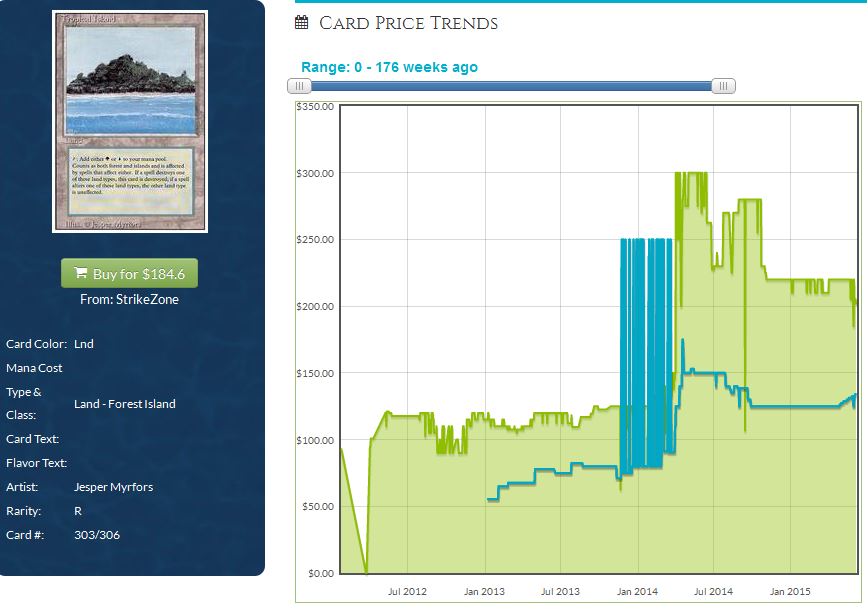 This left me with a new question I hadn't prepared for in advance: am I willing to sell my duals at roughly TCG Low minus 10% to free up cash and acquire some larger old school cards I wanted? After sleeping on the prospect I decided to pull the trigger.
The selling part was easy – I had TCG Player open, comparing quoted prices to what vendors had listed for sale. Most prices checked out.
Armed with the resources necessary, I hopped from booth to booth browsing high end cards in the hopes of finding a deal. I could not have been more unprepared for this shopping experience. Prices on high end cards are highly condition-dependent, and I hadn't done any advance research to prepare for such a purchase. Completely lost, I reached out to Xemit for his guidance.
He connected me with one particular vendor. Through open discussion, the contact mentioned to me his eagerness to sell some high end staples in order to raise some much-needed funds. Turns out they ran out of cash early in the event! I subtly indicated I'd be willing to pay cash if the price was right.
We didn't haggle long – he gave me his best price on a key card I was after. What DID take too long was my hesitancy. I sat there hemming and hawing, unsure if the offered price was truly the best. I began second guessing myself, and the vendor nearly lost patience with me as I asked him to take cards out of my binder to act as credit towards the purchase. Luckily Xemit stepped in and highlighted to me other vendors' buy prices for the card in question. That was all the convincing I needed, and I was fortunate to pull the trigger just moments before the vendor changed his mind.
That same day I serendipitously stopped by the Aether Games booth to say hi at precisely the right time. They had just picked up an HP Juzam Djinn, which they knew I was after throughout the event. The offer Kyle (@itsyourboyLOPE) made was highly attractive, but once again I felt ill-prepared. My hesitation nearly cost me again! Xemit was nearby, and he confidently stated he would make the purchase if I wouldn't. Fortunately I didn't give him the chance, as I paid up almost immediately after he made the statement.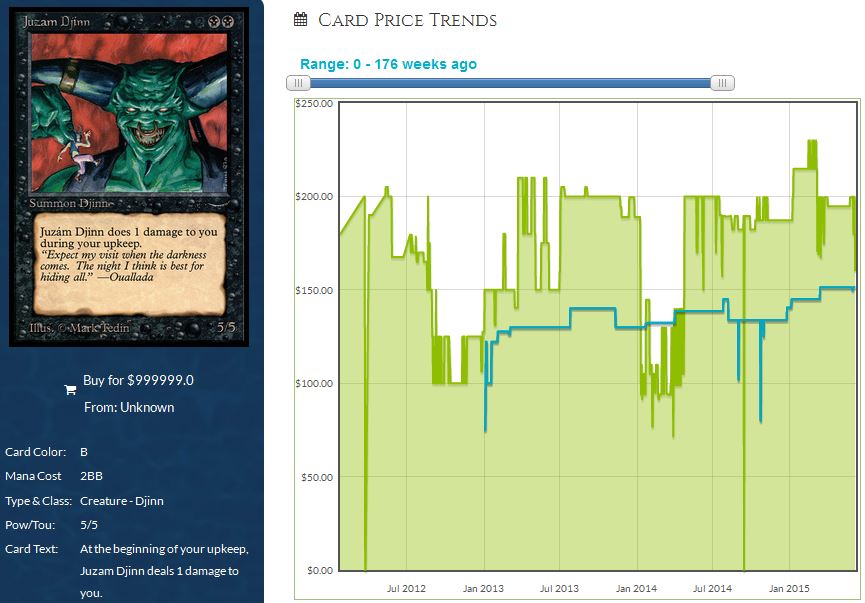 You'd think these two experiences taught me the lesson – indecisiveness is a major turn-off to vendors who are incredibly busy buying and selling at the largest Magic event of all time. Unfortunately, my thick-headedness required a third such experience before I would absorb the information.
Once again Kyle Lopez of Aether Games came across some nostalgic cards I was after. Only this time I walked by while Kyle was in the process of buying the cards I wanted.
Commence awkwardness.
Kyle looked up the two cards in question – an HP Chaos Orb and a Tawnos's Coffin, and he made a simultaneous offer. He offered a given price to buy the cards from the seller, and then offered to sell me both copies for about $10 more in total. My hesitation nearly killed Kyle. Not only was it unprofessional for me to remain indecisive, but it also incorrectly reflected a lack of appreciation on my part. Kyle was doing me a favor that no other vendors in the room would probably consider, and I didn't have the knowledge to make a call promptly.
With time nearly expired in Kyle's mental clock, I was fortunate to come to my senses. A quick head-nod, and I became the proud owner of two 93/94 cards at just a few bucks over buylist. Xemit didn't have to scold me as we walked away (although he did) – I was already scolding myself plenty.
Old Dog and New Tricks
Fortunately I did not make the same mistake a fourth time. I finally learned the power of decisiveness and I wasn't about to forfeit the knowledge so soon. Sunday night as the event neared a close, I managed to acquire a final high-end card for a favorable price. I obtained the favorable deal by making a decisive offer and stating I was ready to pay cash should the vendor accept. They hesitated a moment, but ultimately gave me the deal! I was elated! Confidence does matter and it can play a huge role when negotiating deals with vendors.  We are emotional beings, and we tend to look favorably upon people who exude confidence – something I had lacked throughout most the event.
While I was selling cards, I was fully prepared. Listing all my cards out along with their top buy prices in advance meant I could confidently negotiate and seek out top dollar from vendors. But my research ended there, leaving me weak-handed at the table when negotiating to purchase the cards I was after.
It took me a while to learn this lesson, but I finally got there after a few near-misses. It turns out you can teach this old dog some new tricks.
Wrapping it Up
Grand Prix Vegas was a tremendously valuable experience, educating me on a number of important MTG Finance matters. Next time I attend a major event such as this one, I'll make sure to do far more advanced research on the buying side. A lack of preparation nearly cost me a number of attractive deals. Given my indecisive nature, I need to go above and beyond what the average person may do when planning out a buying strategy.
I also picked up other tidbits of useful info. I learned that Zendikar basics are buy listing for as much as $0.75 each now (I cashed out of mine in advance of their potential re-appearance in Battle for Zendikar). I learned which vendors paid well on small-scale casual cards (CoolStuffInc) and which vendors paid aggressively well on obscure foils (Tales of Adventure). Some vendors were highly approachable, while others remained cold and unmoving when it came to negotiation. All of these observations have made me a stronger MTG financier.
And even though I never played in the main event, I could not have been happier with the decisions I made. All that free time enabled me to focus on each of my objectives, primary and secondary. Despite a few hiccups along the way, I managed to accomplish each and every one with time to spare!
I even managed to participate in three MM2015 drafts, where I found occasional success. I am usually horrible in Limited formats, but perhaps MM2015 is one draft format where I sort-of know what I'm doing.
Overall it was a terrific experience and I am very glad I attended. And now I look forward to the next opportunity, where I can apply and sharpen my newly learned skills and strategies, making me an even stronger negotiator and MTG financier. Hopefully after reading this column you'll also be even more prepared to take advantage of on-site deals by learning from my mistakes.
Sig's Quick Hits
A number of the most successful Modern decks in last weekend's SCG Invitational contained some number of Tasigur, the Golden Fang. I believe this creature will steadily see more play in Modern, driving his price higher as we approach Standard rotation. But I still prefer foils. Star City Games is currently sold out of set foils with a $29.99 price tag. The foil has around a 4x multiplier, and an increase in the nonfoil could lead to a magnified effect on foils.
Amulet Bloom was a highly successful deck during the same event. A few cards from the deck are likely to remain premium pricing, including Summoner's Pact. SCG has just a couple copies in stock, with NM copies retailing for $14.99. This could be the next $20 pact if it continues to see play as a 4-of in Modern.
I've noticed Arcbound Ravager gaining some price traction in recent days. The rare dodged reprint in MM2015, and now Star City Games has less than a dozen nonfoil copies in stock. Their NM price is $21.45, but if they sell out completely I could see this tick higher in the coming months.