This is the third in my (now) four-part part series on making money on Modern cards in 2017. You can find the first part, covering the cards most likely to rebound from Modern Masters 2017, over here, and the second part here.
First off, let's check in on the prices of the rares and mythics from Modern Masters 2017 to see how those potential specs are progressing.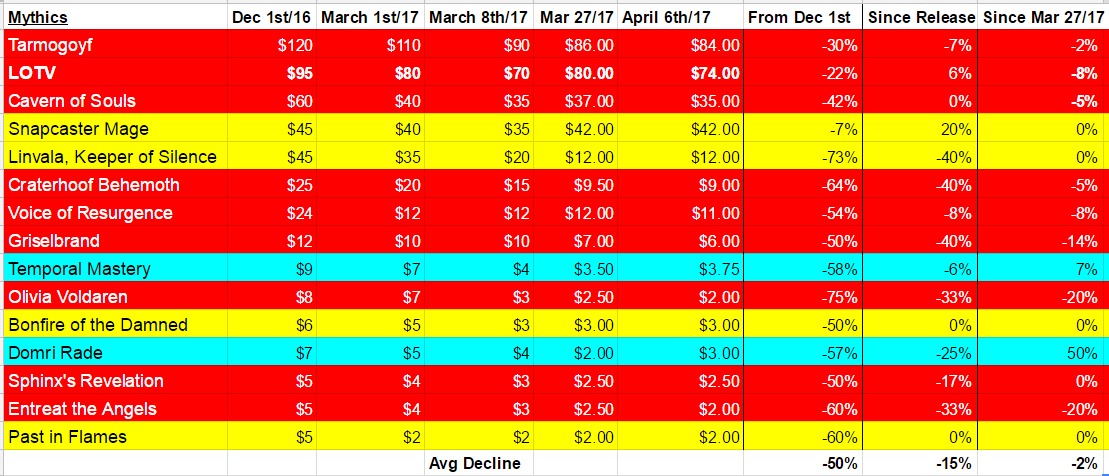 As predicted, the shift in focus to Amonkhet and the continued availability of supply has lead to even the mythics that were rebounding demonstrating contractions since we last checked in. Tarmogoyf, LOTV, Cavern of Souls, Voice of Resurgence and Griselbrand have all fallen further and the mythics are, on the whole, down 15% since release. Even Snapcaster Mage is holding steady now in the low 40s. Same logic applies as before here: you can feel free to buy the highest demand cards at these levels, but there is no real rush on the rest and you can judge your entry point when you start to either a) see supply draining out or b) catch wind of additional supply entering the market.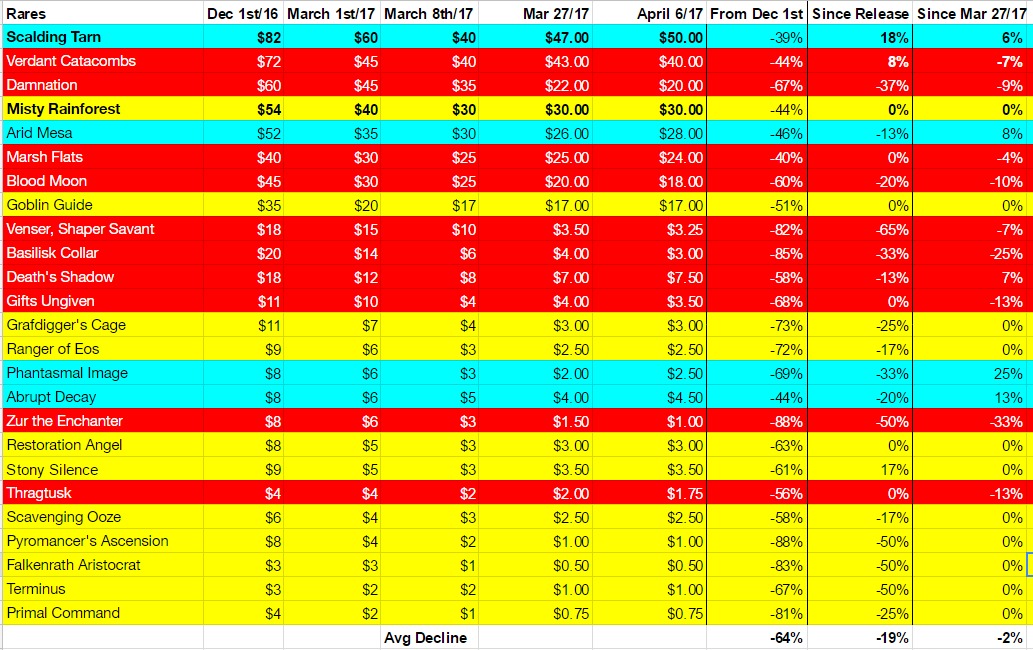 MM17 rares have been following similar patterns, and they're down an additional 2% in the last couple of weeks. Scalding Tarn, Arid Mesa, Phantasmal Image and Abrupt Decay are showing shallow gains with the rest of the rares either holding steady or falling off further. Most of the fetches, Blood Moon, Goblin Guide, Death's Shadow (which is up despite my red coloring in the chat above) and Damnation all seem fine here if you need them, and otherwise you choose your entry point as with the mythics.
A (Further) Look at The Cards Not Printed
Last week we took a look at some of the format staples that were not reprinted in Modern Masters 2017 that are likely to show gains, or have already shown gains. Let's polish off that list before we move on to newer cards that may yield further gains next week.
As per a recent video by Rogue Deckbuilder (found here), the above are some of the most expensive and/or most popular cards in Modern (and beyond, eg Doubling Season) that weren't featured in Modern Masters 2017. Let's explore some of our more interesting options here for the purposes of financial speculation:
Dark Confidant
Dark Confidant was nearly one of my picks on MTGFastFinance a couple of weeks ago, as a perennial staple that got printed twice in Modern Masters (2013) and again in Modern Masters 2015 but not in MM17. Since the release of the new set in mid-March, this Jund staple has moved up $10 from $38 to $48 or so, but there are still copies out there closer to $42 and those seem like a solid pickup. I would expect Dark Confidant will hit $60-$70 before it sees another reprint as NM inventory across the three printings is relatively low for a Top 40 creature in Modern. Not a huge home run, but a solid hold that you can play with while it gains value.
Ancient Stirrings
This card is one of the most efficient card selection spells in Modern, so long as you're on the hunt for a specific colorless card. Between Bant Eldrazi and various Tron builds there is plenty of Tier 1 demand for full playsets, and Lantern Control also runs the card. I called this on MTGFastFinance to move from $5 to $10 this year when it wasn't reprinted in MM17, and it briefly spiked, but as a common vendors managed to restock fairly easily, and we're back to the previous $5-6 plateau for now with a 150+ copies in stock on TCG. That could take a while to drain, but if you felt like going deep because of the demand profile, you could make a dent. We're unlikely to see a reprint until 2019 so the odds are solid we hit my target sooner or later.
Mox Opal
Mox Opal is a central card in Affinity decks in Modern and has been for years. It also sees lesser play in Lantern Control and Puresteel Paladin builds, and most recently as a four-of in the new Scrap Trawler/Krark-Clan Ironworks combo decks. Since January Opal has moved from $40 into the $55-$60 range and the printing of the Masterpiece version in Kaladesh means it's pretty unlikely we see this again until 2019. There is also the outside chance of a potential banning in Modern as a card that enables unreasonable mana acceleration, but I suspect there are higher priority targets this year. All of that being the case, despite the odds that you could squeeze another $5-15 from this stone, I will be staying away from regular copies.  On the other hand Masterpiece copies are still available from some sources in the $90-100 range and I suspect that they will end up over $150 within the next 18 months so long as the card dodges the slight ban potential, as the inventory is already fairly low. I've picked up a few on that premise.
Aether Vial
Aether Vial is consistently a four-of in Merfolk decks in Modern and Merfolk has been putting up reasonable numbers for a couple of years now despite many players looking down their nose at the deck. The card also shows up in Eldrazi Death & Taxes (my current deck) and GW Hate Bears, and it's a four-of in those modestly played decks as well. Despite that, it's barely a Top 100 card in the format, though it does boast some additional demand from Legacy Death & Taxes. This card is up a couple of bucks since the MM17 list was revealed, but inventory is not under much pressure, so it may be that Aether Vial needs another prominent home to drive the price towards $60 before a likely reprint in 2019. I'm not in a rush to get in on this action, but the Masterpiece versions around $90 are a bit more tempting, since they are likely to drain in fours (as opposed to something like Sol Ring) and should end up over $130 down the road.
Crucible of Worlds
Crucible of Worlds has been experiencing an upswing in play in Modern lately with many decks looking to generate value engines using Ghost Quarter to keep Tron lands and creature lands in check. Eldrazi Tron sometimes runs it main, or has a single copy in the sideboard. GW Value with Renegard Rallier, U/W Control and Lantern Control also make use of it, but not in much greater quantity. As such, most of the $60 price tag is being propped up by the fact that we haven't seen a regular printing yet of this card in any of the Modern Masters sets. It was a Fifth Dawn rare, reprinted in 10th edition, and the Masterpiece in Kaladesh was the first new printing in years. The regular copies could edge up higher between now and Modern Masters 2019, where it is a likely inclusion, but it could also show up randomly in some other supplemental product in advance and the demand profile is too shallow to get me excited. The Masterpieces in the $90-$100 range are a good bet to beat $130 at some point, which is a solid return, and inventory is already low so if you like this, maybe you'd be better off looking at that version.
Master of Waves
If you're looking for a low value target with solid upside, you could do worse than this automatic four-of mythic rare that has earned a permanent slot in the Merfolk decks. Supply is still pretty deep because this was a fall set mythic, so there isn't any rush here, but we're not likely to see this again for a while. No deck but Merfolk wants it, but you only really need 50-100 new Merfolk players over the next year or two and some speculator activity to push this into the $6-10 range.  There's also the fact that the fall set this year, Azatlan, seems to carry a strong merfolk theme, which one would imagine might give this deck a boost.
Mishra's Bauble
This is a $50 uncommon featured in a deck that many see as too powerful to be allowed to be left unscathed by the ban hammer. Either a reprint kills this, or a banning does, because I can't see this card surviving as a spec long enough to show worthwhile gains from this point on. If you had these sitting around and sold already, they likely paid for your Coldsnap boxes back in the day but I don't want to be holding or acquiring a card this dangerous right now. Move along.
Ancestral Vision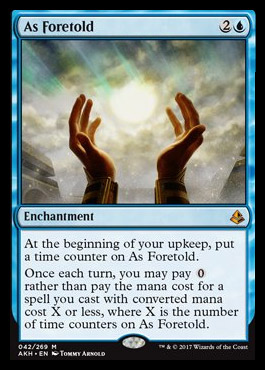 This is an odd card to be at $50 given that it doesn't even crack the Top 100 most played cards in Modern. When it is played it's usually in Grixis or U/W Control shells, but those decks haven't been at the top of the metagame for years, and blue decks in general feel like they need a bit of help to break through. Sentiment seems to be warming to reintroducing Jace, the Mind Sculptor to the format, but that could easily fail to materialize. Then of course, As Foretold was revealed this week and brewers start wondering if casting this immediately off that slow (yet powerful) enchantment might be enough to kick of a dazzling display of control. All that aside, this is another price tag that is mostly propped up by limited supply, and only the suspend mechanic really holds it back from popping up randomly in a product release. That being said, supply is shallow enough that there is a chance the card could hit $70-80 on increased play, so your decision to move in is really a bet on success before a reprint.
Join me next week when we look at some of the up and comers in Modern that might make us some money if they can break through to the top ranks.
CEO of ShelfLife.net, The Future of Collecting, Senior Partner at Advoca, a designer, adventurer, toy fanatic and an avid Magic player and collector since 1994.