We're at the end, readers. You made it through the first two parts, and I think some of you are pretty excited for part three. I can't pretend I'm not excited myself—I called Purphoros as my pick of the week in the latest episode of Brainstorm Brewery, a podcast I hope you're all listening to. You get it a day before the rest of the plebians by virtue of being a ProTrader, so that's pretty cool. If you think my opinion is worth reading, why not give the podcast a listen?
Is that a bad endorsement? "Listen to the podcast where I mention Purphoros a week after I wrote about him!" Look, I don't have to justify myself to you nerds. I just felt I'd be remiss if I didn't plug the podcast where you get to hear three other finance experts agree or disagree with my called shots. I don't imagine this is a super tough sell to a bunch of finance article readers, but what do I know? Besides what I think about the last five Theros block gods, that is.
We saved the best for last, I think, and my favorite god of the 15 is going to get a really in-depth look. I'm excited to write up this last batch, so forgive me my digressions. I'm sufficiently pumped now. Let's do dis.
Athreos, God of Passage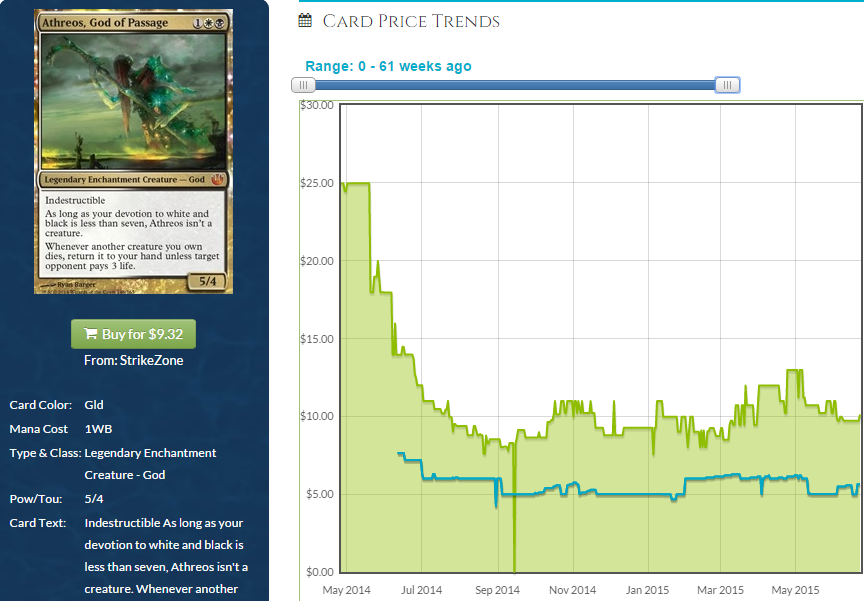 $10?!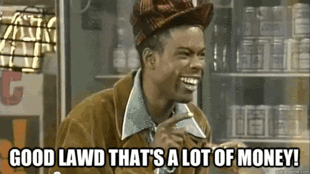 Athreos certainly got a ton of buzz from its release, and why not? The card looked and smelled an awful lot like some other cards that existed in a similar vein, only it seemed better.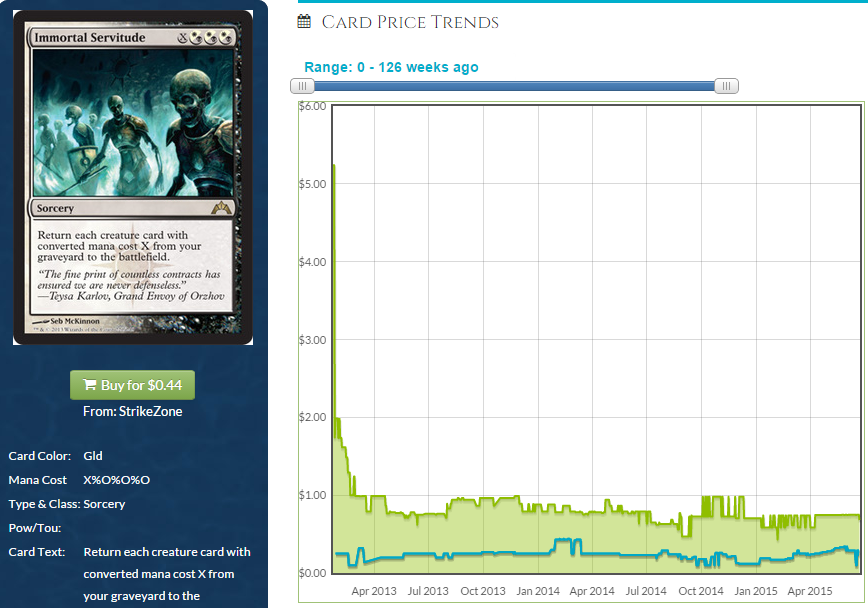 Though it failed to do much financially, Immortal Servitude was the basis for a (tier, like, 10) deck that was fun to play and that's about it. But what if your Immortal Servitude effect were on a permanent and getting enough dudes into play let that permanent attack? People had enough experience playing the gods to know that if Thassa could get there, Athreos could certainly do so too, given its low mana cost and inherent unfairness. What would we do with this? Run wraths to take us to value town? Loop Elvish Visionary for value? Whatever it was people thought they were going to do, they mostly haven't. Athreos hasn't made much of an impact if any on Standard, and its price has stayed within a couple bucks of $10 basically as long as it's been a card.
Could EDH be a reason for this? Certainly it could. I think Athreos is absolutely the top choice of general for a deck with lots of Shadowborn Apostles in it. Does that make it a $10 card on its own? No. Athreos is a fine commander in other builds as well, but I think third-set stickiness is propping the price up to an extent. Can we rule that out if we see the other generals coming in cheap? We'll cross that bridge when we get to it. If EDH is really the culprit here, will we expect to see that reflected in the foil price? Yes. Yes, we will.
You've got to be getting pretty good at analyzing these graphs by now. What do we think? A multiplier of three on a card that already seems pretty overpriced? Is Standard doing that? Or is EDH?
Personally, I think we can see EDH's influence here pretty significantly. The price looks so flat compared to the non-foil, which means copies aren't moving very quickly, but quickly enough for the dealers not to change their buy prices. Honestly, $30 may be just about perfect, which for our purposes, is actually a bad thing.
We want our gods to be the wrong price or to look like they're going to be the right price soon. Athreos seems neither. With EDH propping the price up as well as third-set scarcity, I don't expect the foil or non-foil to drop a ton at rotation. Certainly the non-foil has room to fall, but the foil likely isn't going anywhere, either up or down, in the near future. I am a 2/5 on this card both in foil and non-foil.
The non-foil does have some chance of getting more reasonable at rotation, but dealers are actually cutting their buy prices rather than raising them. Could that be in anticipation of the price coming way down soon or is it in anticipation of people wanting to ship a ton of these while the buy price is $5 and the dealers would end up stuck with cards they paid $5 for and can't sell for $4? I think it could be a bit of both. What I see is low demand and a high price for this card and both those factors kind of suck.
Is Athreos good in EDH? Sure, but all 15 cards sort of are, and I'm not bullish on the ones where I don't see room to make a profit. I could be persuaded to go in one these at like $4, which seems unlikely but not impossible. I'm certainly keeping an eye out.
Iroas, God of Victory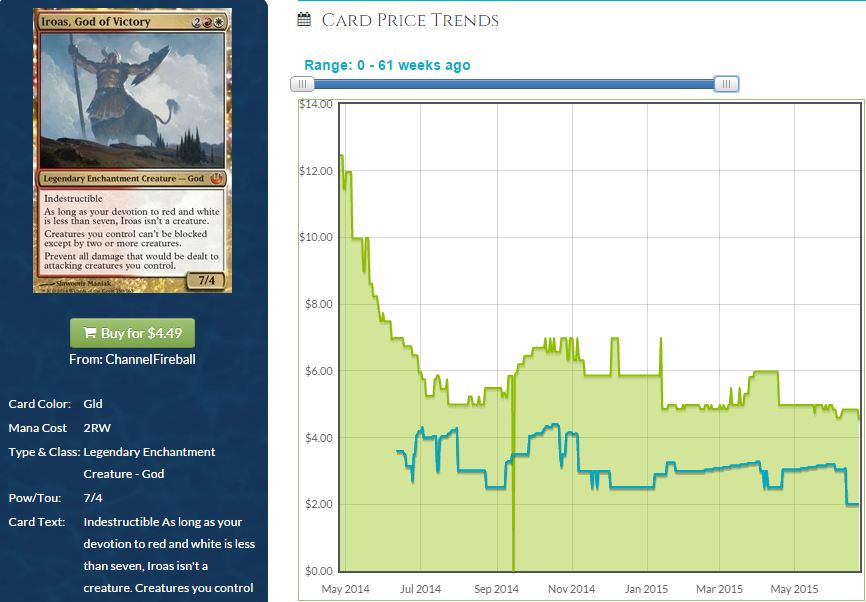 Remember what I said about third-set stickiness? Well, here's a great baseline. Worth half as much as Athreos but well below half as playable, Iroas never made an impact in Standard. This card is $5 for the same reason Godsend is $5: it has a non-zero amount of casual appeal, it's in a durdly third set with not a lot to be excited about, and it is technically not unplayable in EDH. I could see Iroas getting there as a utility-enchantment-cum-beater in a deck with a different commander, like Jor Kadeen, but I'm not jazzed about him otherwise. Neither are dealers, who are cutting buy prices significantly, probably in anticipation of rotation. While the price is relatively flat, dealers have tried to pay as little as $2 for this card. I've seen people no-sir offers of $4 on Godsend before so nothing surprises me a ton, but I don't see demand for this. Heliod at $0.75 tells me gods have a long way to fall, some farther than others. I'm a 1/5 at $5 and a 4/5 at $0.75. I imagine you will be able to get them for somewhere in the middle, but unless it's closer to $1, I don't know that you want to.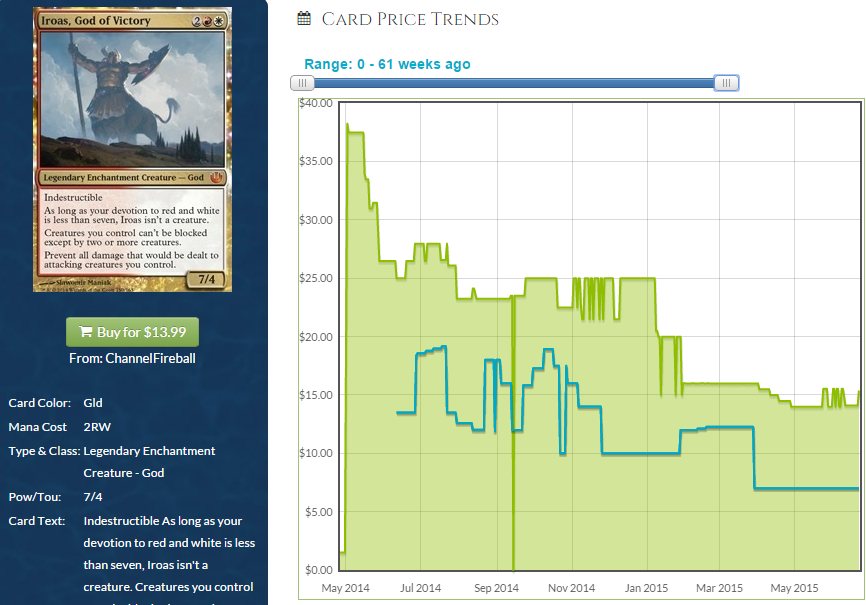 A multiplier of three, as well. That's very interesting. It kind of puts the multiplier on Athreos into perspective, doesn't it? When I said, "This price is likely due to EDH," above, I think what I meant was, "This price isn't not EDH," but judging by Iroas, a mostly-ignored card, the multiplier appears to be some sort of weird standard.
---
Quck aside: Isn't it fascinating that the gods seem to get their cues vis-a-vis their prices from their expansion set rather than their playability? It's a good thing I grouped these by set or I may never have noticed these trends. I literally almost did all 15 gods alphabetically the first week. It's a good thing I write too much or this could have been a mess and we would have learned way less. Should we predict the same multiplier for Kruphix or Keranos? Absolutely not, but nothing would surprise me. However, if we do see that for Pharika, I think we can pretty safely conclude the multiplier is a supply issue. I'm interested to see what we come up with when we get there.
---
As for Iroas, I feel the same as the dealers who have been slashing their buy prices. I'm like a 1/5 at its current foil price. You'd have to make these pretty cheap to make me get into the 3/5 or 4/5 range. Like, if current buy price became the new retail price, I'm probably a 3/5 at the price dealers are paying then. Maybe even not that. Iroas seems like this set's Heliod or Ephara.
Keranos, God of Storms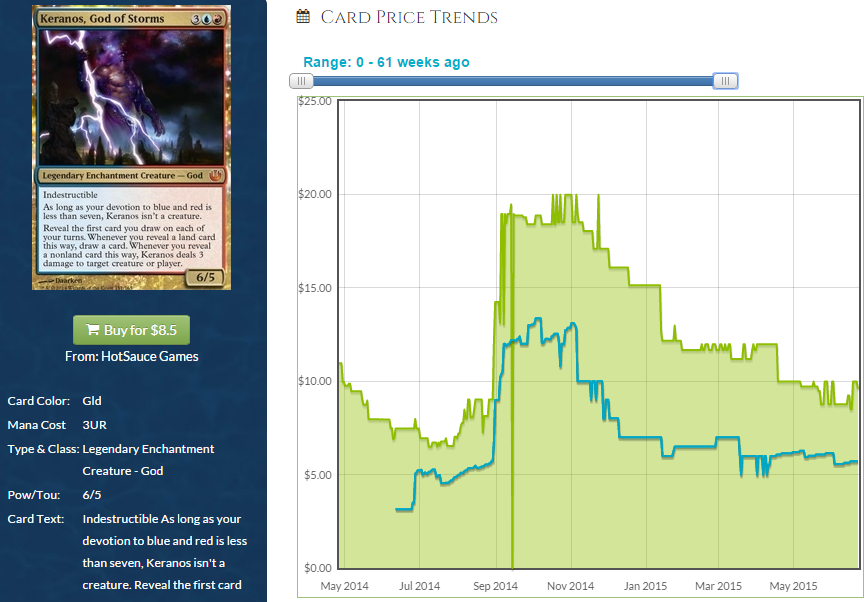 I have been quoted numerous times saying, "If it weren't for EDH, only about 100 Magic cards would be worth more than $1." While I think that's true and smile whenever I hear someone repeat it, we can acknowledge that Modern has been a real bro and made some cardboard worth some moolah. Thanks, Modern!
Keranos was touted as a Modern option, and while that hype appears to have trailed off, dumping Keranos nearly back where it was before all the hype, I expect its EDH playability to have a real effect on the foil. I understand why Keranos was $20 for a while—what I can't figure out is why it's the same as Athreos.
EDH clearly can't pull the non-foils above $10 unless the card is played a ton (like I imagine we'll see for Kruphix) and the dive back to $10 seems to indicate that Modern demand has all but evaporated. Keranos was never more than a one- or two-of in Modern anyhow, and that can mimic EDH demand in some ways. I expect expensive foils if only because we won't see the race to the bottom the way we did with the non-foils.
Keranos may not be played in Modern as much anymore, but the fact that it's an option can work both for and against us. Price memory is going to make the price stickier come rotation, which makes me pretty bearish on the card unless it comes down more than it probably will.
While the buy price for most of the rest of the gods is tailing off, Keranos is actually increasing. Dealers are going to buy super aggressively if the spread is low at rotation, making it harder to get your hands on Keranos and limiting the chance the price falls below where the buy price is now. Do I like these at $6? Not a ton, no. They've demonstrated an ability to be $20, but you'd have to think that will happen again to pay $6. Should these miraculously fall to $3 or $4, I'll change my attitude significantly, but this still won't make it past a 3/5 in my excitement. My money is better-invested elsewhere, in my opinion.
Yuck. You see the price spike as a result of Modern, but the price has not come down the way the non-foil has. I don't think EDH is the culprit for the price staying up as much as scarcity is. See those "mini" fluctuations? Those point to a very, very low supply. If one or two purchases can upset the price balance, you'll see little jumps like that when the stock is completely bought out by virtue of buying a small number of copies.
So the demand is non-zero, but if buying a few copies can make the price "twitch" like that, steady demand would completely wreck the price and we haven't seen that. I'm not super bullish on the foils here, honestly. EDH demand isn't going to put much upward pressure on the price and buy prices aren't really moving despite the retail price coming down a smidge. This graph is ugly, folks. I'm like a 1/5 for foils and I don't get to a 2/5 until the price gets somewhere the price won't get.
I have a good feeling about this next one, though.
Kruphix, God of Horizons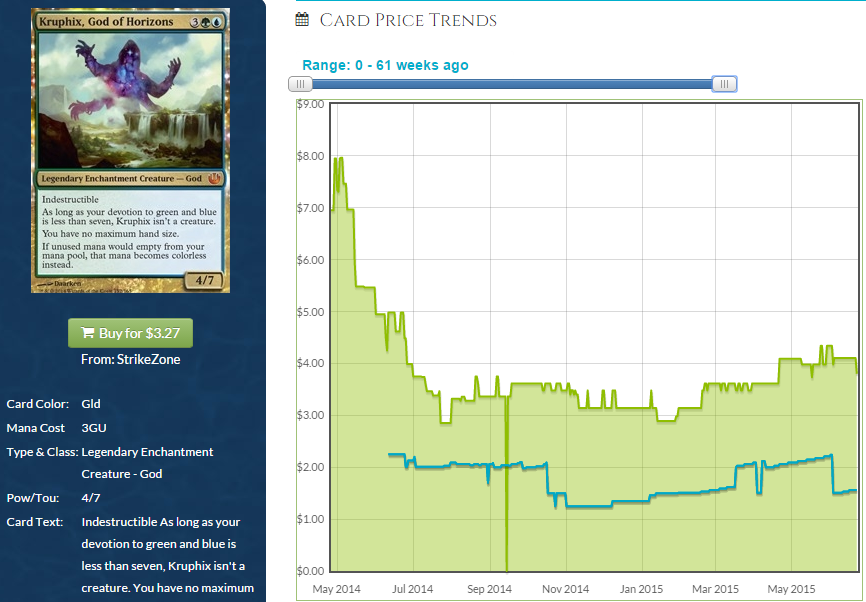 Get. Hype.
This is what opportunity looks like. Cheaper than Iroas, steadier than Keranos, more playable in EDH than Athreos—this card has it all. The spread is currently pretty wide, so even dealers aren't really on this guy. However, Kruphix is the most EDH-playable out of the crop it's in and its price is not reflecting that fact.
I'm a 3/5 on this card at its current price, and if it gets really cheap, I'm even deeper. This is never going to get the boost Keranos gets from Modern, Athreos gets from casual, or Iroas gets from the people who have made Godsend $5, but it does get help from being very good.
Don't let the low price fool you, as it's a good thing. This card is unplayable in Standard and that has made its price plummet, but it has a ton of upside and I'm deep on these if I can pay what dealers are paying now. I want a big old pile of these. This is Purphoros-tier as far as I am concerned: useful in decks but best as a commander. Let's see if the foil agrees with us.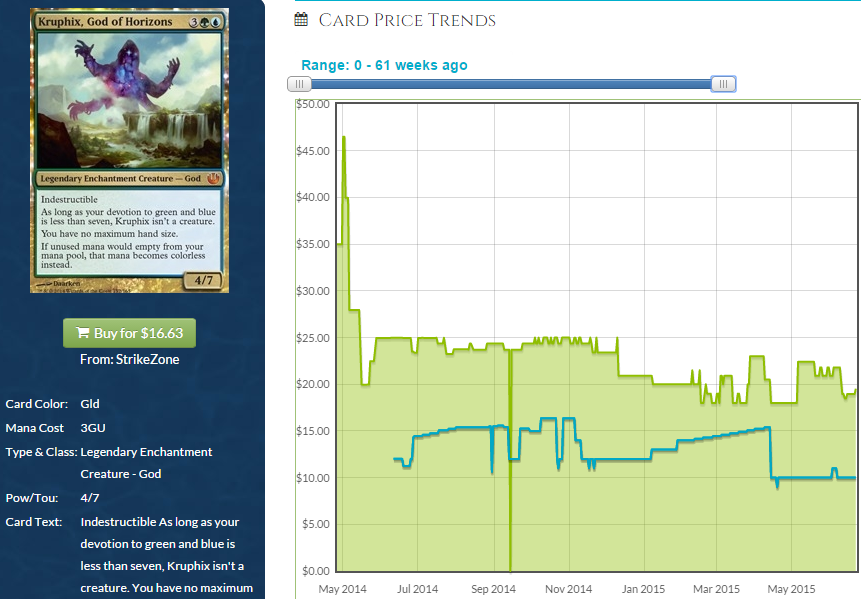 Here's a nice gut-check. The prices are very low for the foil and the non-foil. Did we misevaluate something? Is Iroas more playable than we think? Is Kruphix worse than we think? Did I overreact to the cheap price because I don't understand that it's cheap for a good reason?
Let's check our multiplier, shall we? What's that? It's five? Not only that, it's been five forever? I think that tells us that we're onto something. Not only that, it tells us we have real upside on the foils. If the non-foil is $4, then that multiplier gives us $20 foils. If the non-foil hits $10, we're looking at $50 foils, provided the multiplier holds.
And why shouldn't it? This is a real EDH card. If I can pay what dealers are paying now for foils, I'm a 5/5. I don't expect that to happen and I am still a 2/5 at its current price. If it doesn't fall at all, I may buy a bit down the road if I start to see any upward movement at all.  Kruphix is money, and I am glad there is actual opportunity here.
Pharika, God of Affliction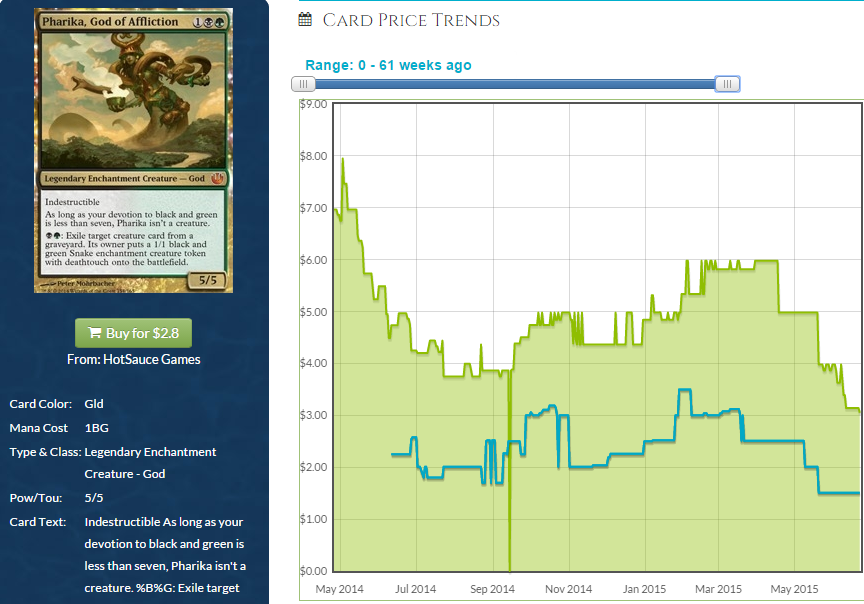 This was pretty heavily touted early by the likes of Conley Woods, but it never made the impact on Standard anticipated. EDH isn't propping this up more than it's propping up Kruphix and the few times it's flirted with $6 are confusing and an insult to the god of horizons, frankly.
We can really see the relative difference in distributions between sets here: both the distribution of the cost of a redemption set over the total cards in Journey into Nyx and the distribution of Theros relative to Journey. We have $1 Heliod and that's a damn sight more playable than Pharika, even though Pharika is a general people are going to try and try to build around.
I'm losing steam, folks. I saved a card I don't care about for last.
Dealers are not thrilled about this card, so why should I be? At the $1.50 dealers are paying, I think this is okay, since in a few years, even bad gods strike me as $5ish cards (I'm basing this off of what we saw with planeswalkers when there were relatively few of them), but I'm not going to throw cash at Pharika at basically any price. This is played a bit in EDH and that could indicate upside if we're buying very cheap. The foil can tell us how much EDH play there is.
Care to try and guess the multiplier for the foil?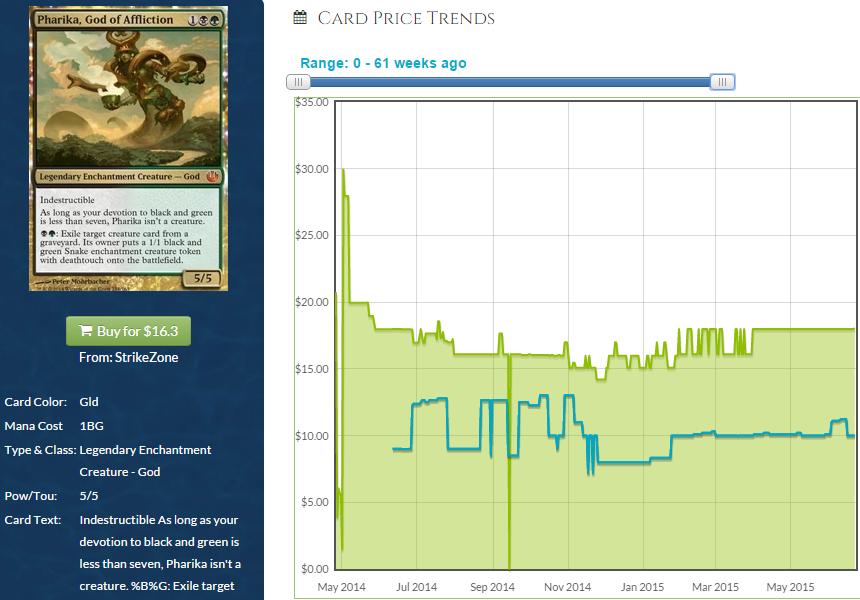 Did you guess a multiplier of six? I will admit I did not. Not only is it six, it has been for a while and dealers don't appear to disagree! That's wacky.
Is EDH propping this up? It must be that, which makes the non-foils a bit more attractive but leaves a lot of questions unanswered. The plateau indicates there isn't a ton of sales-action happening, but a race to the bottom would throw the price into at least a bit of disarray. This is honestly just mostly puzzling. Still, if the price is this flat and irrespective of Standard play, there is little potential movement in the price at rotation. I'm not bullish on these at the current price. If I could buy at buylist, sure, fine, but I don't see this being as good a pickup as Kruphix, although that could be pure bias.
Objectively, this card looks strong, but subjectively, I'm not jazzed. With Kruphix seeming like a better pickup, why would I hedge my bets anyhow? Still, if you clicked the link and looked at how many Pharika decks there are (gorgon tribal could be a thing, I imagine, but Damia or Sidisi seem better for that), you might feel differently than I do. I'm leaving these alone, so more for you, I guess.
Something Something Omega
That concludes my series on gods. I'm a little saddened by this realization, because I enjoyed writing this series and how much good feedback I got from all of you about it.
I'll be back next week with something different, so stay tuned for that. You won't want to miss the next series I potentially start because I can't keep it under 10,000 words. Leave your questions and comments in the section below and let's make some money.